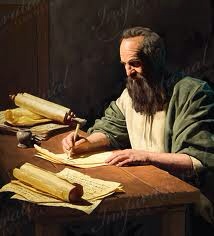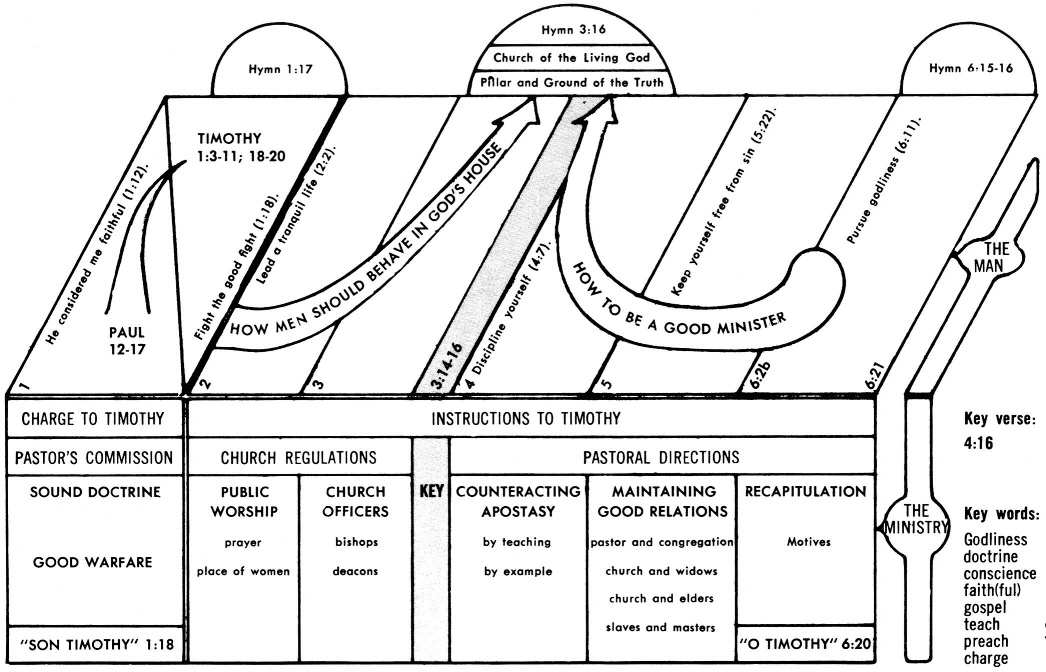 GODLINESS AND PASTORAL CARE
Click chart to enlarge
Charts from Jensen's Survey of the NT - used by permission
Another Overview Chart - 1 Timothy - Charles Swindoll
Another Overview Chart
THE PASTOR'S PRIMER:
PAUL'S PRACTICAL PASTORAL
INSTRUCTIONS REGARDING THE LOCAL CHURCH
1 Timothy 1
1 Timothy 2-3
1 Timothy 4
1 Timothy 5
1 Timothy 6
TIMOTHY'S
CHARGE…
TIMOTHY'S
INSTRUCTIONS…
Concerning
Sound
Doctrine
Concerning
Prayer
& Church
Concerning
Last Days
Apostasy
Concerning
Widows
& Elders
Concerning
Conflict &
Contentment
Danger of
False Doctrine
Public Worship
Church Officers
Antidote
for Apostasy
Pastoral Duties
Toward Others
Instructions for
the Man of God
Warning
Worship
Wisdom
Widows
Wealth
Written in Macedonia
Circa 62-64AD
Key Verses:1Ti 3:15-16, 1Ti 6:11, 1Ti 6:12
Godliness (1Ti 2:2, 2:10, 3:16, 4:7, 4:8, 6:3, 5, 6, 11,
Doctrine (1Ti 4:6, 6:1, 6:3),
Sound (1Ti 1:10, 4:6, 6:3),
Conscience (1Ti 1:5, 19, 3:9, 4:2),
Faith/faithful (20x),
Gospel (1Ti 1:11),
Preach (1Ti 2:7, 3:16, 5:17, 6:2),
Charge (In KJV) (1Ti 1:3, 18, 5:7, 16, 5:21, 6:13, 17).
Introduction: 1 Timothy-MacArthur Study Bible
Purpose of this Epistle: 1Ti 3:15 states "I write so that you may know how one ought to conduct himself in the household of God, which is the church of the living God, the pillar and support of the truth." Gaebelein writes "The epistle therefore contains practical and important instructions on the order which is to be maintained in the church, as the house of God… Pure doctrine, pure worship and a faithful ministry are the leading thoughts of this pastoral letter, but he also enters into the godly conduct of the individuals which are in the church of the living God. Blessed instructions!"
See Caveats regarding Barclay's theology which was not always orthodox. This resource is listed because he gives some excellent background and helpful word studies.
Short Pithy Comments
C H Spurgeon wrote that Bengel's NT commentary "is the Scholar's delight! Bengel condensed more matter into a line than can be extracted from pages of other writers."
Hint: Do a "control + find" when you open a "hit" and search 1Ti as well as the full name.
D Edmond Hiebert - A concise, conservative, phrase-by-phrase interpretation by a missionary in India who understands the positions of Timothy and Titus in the light of his own missionary experience.
"Designed for Pastors and Sunday Schools"
These Function Like a Verse by Verse Commentary. Recommended
Less emphasis on original Greek but overall well done
Spurgeon's assessment of Fairbairn's pastoral epistles: "What with a good translation, full defense of the Apostolic authorship of the Epistles, fruitful comments, and profitable dissertations, this volume is about as complete a guide to the smaller epistles as one could desire." (From Spurgeon's Commenting on Commentaries - Pastoral Epistles) (Fairbairn is amillennial)
John Cereghin - What a good translation, full defense of the apostolic authorship of the epistles, fruitful comments and profitable dissertations, this volume is as complete a guide to the smaller epistles as one could desire. his old, standard treatment shows how pastors may use the Greek text to aid their exposition. A fine work in spite of its age.
D Edmond Hiebert - Uses the Greek text of Tischendorf and the author's translation on facing pages. A voluminous (nearly 450 pages) exposition by a conservative Scottish theologian. Still worth consulting but devoid of the results of recent scholarship.
Cyril Barber - A particularly appropriate reprint in light of the fact that so many men are leaving the ministry on account of its unusual pressures. Fairbairn provides a delightful example of exegesis aiding the exposition of the text.
Another Source - Allows copy and paste
Most are Audio with a few transcripts. Contributors include Mark Dever, Kent Hughes, Alistair Begg, D A Carson, etc
Each Message is 15-20 pages
Audio & Transcripts
Excellent Expository Sermons. Recommended
CYRIL BARBER - from "The Minister's Library - Volume 2" and "The Minister's Library - Volume 3"
*Bernard, John Henry. The Pastoral Epistles. Grand Rapids: Baker Book House, 1980. First published in the Cambridge Greek Testament series in 1899, this exegetical study is preceded by a lengthy introduction. A critical edition of the Greek text follows and then a word-byword or phrase-by-phrase exposition of the text. Excellent.
Caird, George Bradford. Paul's Letters from Prison. New Clarendon Bible. London: Oxford University Press, 1976. One of the better works in this series. Of value for its exegetical insights.
*Calvin, John. Sermons on the Epistles of Timothy and Titus. Edinburgh, U.K./Carlisle, Pa.: Banner of Truth Trust, 1983. First published in 1579, this facsimile edition consisting of 1,248 pages of exposition and application contains the great Reformer's messages delivered before the congregation of the Cathedral of St. Peter, Geneva. The messages were taken down in shorthand and were later translated by a person who signed himself "L.T" Spurgeon highly esteemed these messages, and they are now available again in the same format as that which graced the homes of Puritan laypeople three hundred years ago. Their richness and relevance will amply repay the time spent mastering their contents. This is a worthy reprint, beautifully bound, and printed on fine paper. Recommended
*Clark, Gordon Haddon. The Pastoral Epistles. Jefferson, Md.: Trinity Foundation, 1983. Uses these epistles to address some of the complex problems facing the church today. Provides an informative exposition, and deftly applies the truth of what Paul taught to the needs of believers. Favors the Reformed tradition.
Dibelius, Martin, and Hans Conzelmann. The Pastoral Epistles. Translated by P Buttolph and A. Yarbro. Edited by H. Koester. Philadelphia: Fortress Press, 1972. A commentary built on the premise that these epistles are unauthentic and that a form-critical approach is indispensable to exegesis and a proper understanding of their meaning. The handling of the text is thorough and exacting. The work, however, does not give evidence of having any of those features that a pastor will find helpful as he prepares his messages.
Fairbaim, Patrick. The Pastoral Epistles. Minneapolis: Klock & Klock Christian Publishers, 1980. A particularly appropriate reprint in light of the fact that so many men are leaving the ministry on account of its unusual pressures. Fairbairn provides a delightful example of exegesis aiding the exposition of the text.
Fee, Gordon D. First and Second Timothy, Titus. Revised ed. New International Commentary on the New Testament. Peabody, ME: Hendricksen Publishers, 1988. Based on the NIV, this verse-by-verse commentary succeeds in highlighting the most important elements of these epistles. Conservative and non-technical. Ideal for lay Bible study.
Fernando, Ajith. Leadership Lifestyle: A Study of 1 Timothy. Wheaton, Ill.: Tyndale House Publishers, 1985. Drawing heavily on other authors for his information on leadership, Fernando deals solely with the English text of 1 Timothy. The result is a work of interest but one that lacks depth and fails to provide the reader with anything of lasting significance.
*Gromacki, Robert Glenn. Stand True to the Charge: An Exposition of I Timothy. Grand Rapids: Baker Book House, 1982. A fine treatment of Paul's message to a young pastor. Describes the essence of the ministry with guidelines for the establishment of local churches.
Guthrie, Donald. The Pastoral Epistles: An Introduction and Commentary. Revised ed. Tyndale New Testament Commentaries. Grand Rapids: Wm. B. Eerdmans Publishing Co., 1990. First published in 1957, this excellent lay-level commentary has already proven its worth many times over. Now in its revised format it will continue to enrich the lives of those who read it. Recommended.
Hanson, Anthony Tyrell. The Pastoral Epistles. New Century Bible Commentary. Grand Rapids: Wm. B. Eerdmans Publishing Co., 1982. This totally new work is not to be confused with Hanson's Studies in the Pastoral Epistles (1968). His comments are incisive and worthy of serious consideration.
Houlden, J. L. The Pastoral Epistles: 1 and 2 Timothy, Titus. Penguin New Testament Commentaries. London: Penguin Books, 1975. (Exceedingly brief. This well-written but biased interpretation attempts to establish a nonPauline authorship for these letters. Its redeeming feature lies in its exegetical insights. In other matters, however, it is unreliable.
Hughes, R. Kent, and Bryan Chapell. 1 & 2 Timothy and Titus. Wheaton, IL: Crossway, 2000. The authors include personal anecdotes in these commentaries, and this gives their work a downto-earth quality. They adhere to the text and are not afraid to champion interpretations (e.g., of 1 Timothy 2:11-12) that are unpopular in today's milieu. Anyone teaching or preaching on these "pastoral" epistles will find considerable help in these pages.
Johnson, Luke Timothy. First Timothy, Second Timothy, Titus. Knox Preaching Guides. Atlanta: John Knox Press, 1987. Begins with the reasons for the neglect of the Pastorals, but ignores the effect those who have denied their Pauline authorship has had on others. Provides new ideas on the values inherent in these canonical works.
*Kent, Homer Austin, Jr. The Pastoral Epistles: Studies in 1 and 2 Timothy and Titus. Rev ed. Chicago: Moody Press, 1982. This exemplary study has stood the test of time. Now, in this new, revised edition, Kent's commentary should continue to enjoy wide-spread acceptance.
Knight, George William, III. The Pastoral Epistles: A Commentary on the Greek Text. Grand Rapids: Wm. B. Eerdmans Publishing Co., 1992. Whatever Knight writes about is deserving of our serious consideration. In this full-scale commentary on the Greek text Knight pays careful attention to the comments of previous interpreters, both ancient and modern, before offering his own detailed explanation of the meaning of Paul's words. For the benefit of preachers, he makes available the meanings and interrelationships of Greek words, and then identifies Paul's probable intent behind his usage of a specific word or phrase. Included is the background of each letter, the personalities and circumstances of the recipients, and the kind of data that preachers will find useful as they apply the text
Lea, Thomas D., and Hayne P. Griffin, Jr. 1, 2 Timothy, Titus. New American Commentary. Nashville: Broadman Press, 1992. Written in a readable style, this volume aims at explaining the doctrinal teaching of each letter. The introductions are helpful and defend Paul's authorship. Outlines and summaries will be welcomed by pastors.
*Liddon, Henry Parry. Explanatory Analysis of St. Paul's First Epistle to Timothy. Minneapolis: Klock & Klock Christian Publishers, 1978. This "first century message to twentieth century pastors" is a work of rare merit, and we welcome its reappearance.
MacArthur, John F., Jr. First Timothy. MacArthur New Testament Commentary. Chicago: Moody Press, 1995. This, the first of MacArthur's commentaries on the Pastoral Epistles, makes available to readers a wealth of information about the local church, its organization and outreach. The author is conservative in his handling of the Biblical text, adheres to the Pauline authorship, and dates 1 Timothy about A.D. 63-64. Recommended.
Marshall, I. Howard. The Pastoral Epistles. International Critical Commentary. Edinburgh: Clark, 1999. As always Marshall provides an excellent discussion of these letters, though he hedges the issue of Paul's authorship. The treatment of Greek words and syntax places this work among the best ever written on these canonical books. Marshall brings together a vast amount of material, and preachers will find his discussion of different topics helpful.
Mounce, William D. Pastoral Epistles. Word Biblical Commentary. Nashville: Nelson, 2000. Defends the Pauline authorship, but adopts a vacillating approach to passages dealing with gender roles. Some disturbing elements are to be noted in Mounce's presentation, for example his statement that "there is no salvation apart from discipleship" (p. 434). This is a very full work and the judicious reader has much to gain from it.
Oden, Thomas C. First and Second Timothy. Interpretation, a Biblical Commentary for Teaching and Preaching. Louisville, KY: John Knox Press, 1989. Defends the Pauline authorship as well as two Roman imprisonments for the apostle Paul. Provides the kind of comments on the text that preachers will find most helpful.
Quinn, Jerome D., and William C. Wacker. The First and Second Letters to Timothy: A New Translation with Notes and Commentary. Grand Rapids: Eerdmans, 2000. The inaugural volume of the new Eerdmans Critical Commentary series. Gives a fresh, readable translation and commentary that shows how the apostle Paul's teaching—whether addressing the problems of church leadership, the roles of women in the church, the use of wealth, false doctrine, worship, and ethics--is relevant to church life today
Ramsay, William Mitchell. Historical Commentary on the Pastoral Epistles. Edited by Mark Wilson. Grand Rapids: Kregel Publications, 1996. First published in The Expositor, 1909-1911. F. F. Bruce wrote of Ramsay's studies: "My debt to the writings of Sir William Ramsay [is great]. I am repeatedly amazed by scholars of a later date who seem unaware of the contributions of particular value which he made to certain areas of New Testament study." Crammed with valuable insights into the culture and geography of the first century A.D., this is a volume that pastors should turn to repeatedly.
*Rowland, Alfred. Studies in First Timothy. Minneapolis: Klock & Klock Christian Publishers, 1985. "We may say it is a work of no ordinary value, and Christians will find it a rich feast. It is needless, of course, to say that [this study] is a work of a scholar; it is also the work of a wholehearted believer and its design was intended for the use of all who love the Lord in simplicity and truth" (The English Churchman).
Stott, John Robert Walmsey. Guard the Truth: The Message of 1 Timothy and Titus. Downers Grove, IL: InterVarsity, 1996. Stott contends that the "true apostolic succession is a continuity not of order but of doctrine, namely the teaching of the apostles handed on from generation to generation." In this companion volume to Guard the Gospel Stott places before his readers the fruit of his study of the NT and diligent labor. Each section is well outlined with numerous summaries in the paragraphs. Highly recommended.
Holman Christian Standard Bible -Study Bible (HCSB Study Bible) - Below is a representative sample of the quality of comments in these study notes...
1Ti 1:15-16 The designation of certain sayings as trustworthy is a particular distinctive of 1 Timothy, 2 Timothy, and Titus. Paul used this designation for emphasis. The apostle's earlier statements may sound as if his salvation was due to his own faithfulness or his ignorance, but these two verses make it clear that Paul marveled at his conversion since he knew himself to be so bad. He was an example of what true instruction was supposed to accomplish. He was the sort of person for whom the law was intended (1Tim 1:9-10). The result of the gospel in his life was not idle speculation but transformation.
1Ti 1:18 The point here is that God had spoken through others to set Timothy aside for the task of ministry. The purpose of this assurance of divine call was to strengthen Timothy for the work (see note at 4:14).
1Ti 1:19 The phrase shipwreck of their faith is strong language. It refers to someone who once professed faith but has now destroyed it, showing they were never truly converted.
1Ti 1:20 Delivered... to Satan is a typical way of referring to excommunication, or being put out of the church (1Co 5:5). This language highlights the importance and protection of church membership since being put out of the fellowship makes a person more vulnerable to Satan.
PASTORLIFE - sermons
Sermon Notes for 1 Timothy
Through the Bible Series
D Edmond Hiebert - Greek text. The introductions provide a satisfactory study of the problems connected with the Pastorals from a conservative viewpoint. The exegetical notes on the text of the epistles are thorough, thoughtful, and scholarly.
D Edmond Hiebert - A full, vigorous interpretation with a clear Plymouth Brethren emphasis.
D Edmond Hiebert - The introduction adequately treats the critical problems from a conservative position. Full and informative notes on the text; valuable appendixes.
D Edmond Hiebert - Greek text. Lock leans to the conservative view but makes no pronouncements on the vexing critical problems. The notes on the Greek text are rather thin. Not up to the high standard of this series.
John Cereghin - . Popular expositions. He urges the joy of soulwinning (14); stressses the enabling power of God (34); teaches unlimited redemption in Christ (55); emphasizes that only God can qualify men for the ministry (73); attacks Theosophy, Seventh Day Adventism, Christian Science (103); warns against the "social gospel" (111): holds that the Sermon on the Mount is for all believers (139); warns against evolution (155).
D Edmond Hiebert - Uses author's own translation. A scholarly, conservative work giving a comprehensive discussion of the Pastorals as a group as well as the individual epistles. A verse-by-verse exposition characterized by spiritual warmth and practical appeal.
D Edmond Hiebert - Greek text. A full exegetical treatment of these epistles by an evangelical German scholar of the past century. Scholarly and technical, providing references to scholarly views of the authors own times.
D Edmond Hiebert - The abundant material is in three sections: exegetical and critical; doctrinal and ethical; homiletical and practical. A full evangelical treatment by a Dutch Reformed minister and theologian of the past century.
Excellent sermon Illustrations
Interesting Resource -"Germ Notes", Sermon Ideas
NOTE: If you are not familiar with the great saint Charles Simeon see Dr John Piper's discussion of Simeon's life - you will want to read Simeon's sermons after meeting him! - click Brothers We Must Not Mind a Little Suffering (Mp3 even better)
1 Timothy 4:15
True Heart Energy - "Meditate upon these things, give thyself wholly tothem; that thy profiting may appear to all."
THIS is, practically, a promise that, by diligent meditation and the giving up of our whole mind to our work for the Lord, we shall make a progress which all can see. Not by hasty reading, but by deep meditation, we profit by the Word of God. Not by doing a great deal of work in a slovenly manner, but by giving our best thought to what we attempt, we shall get real profit. "In all labor there is profit," but not in fuss and hurry without true heart energy.
If we divide ourselves between God and mammon, or Christ and self, we shall make no progress. We must give ourselves wholly to holy things, or else we shall be poor traders in heavenly business; and at our stock-taking, no profit will be shown.
Am I a minister? Let me be a minister wholly, and not spend my energies upon secondary concerns. What have I to do with party politics, or vain amusements? Am I a Christian? Let me make my service of Jesus my occupation, my lifework, my one pursuit. We must be in-and-in with Jesus, and then out-and-out for Jesus, or else we shall make neither progress nor profit, and neither the church nor the world will feel that forceful influence which the Lord would have us exercise.
Well Done Expositions
Well Done Expositions
Notes on original Greek text
Book