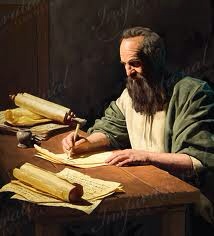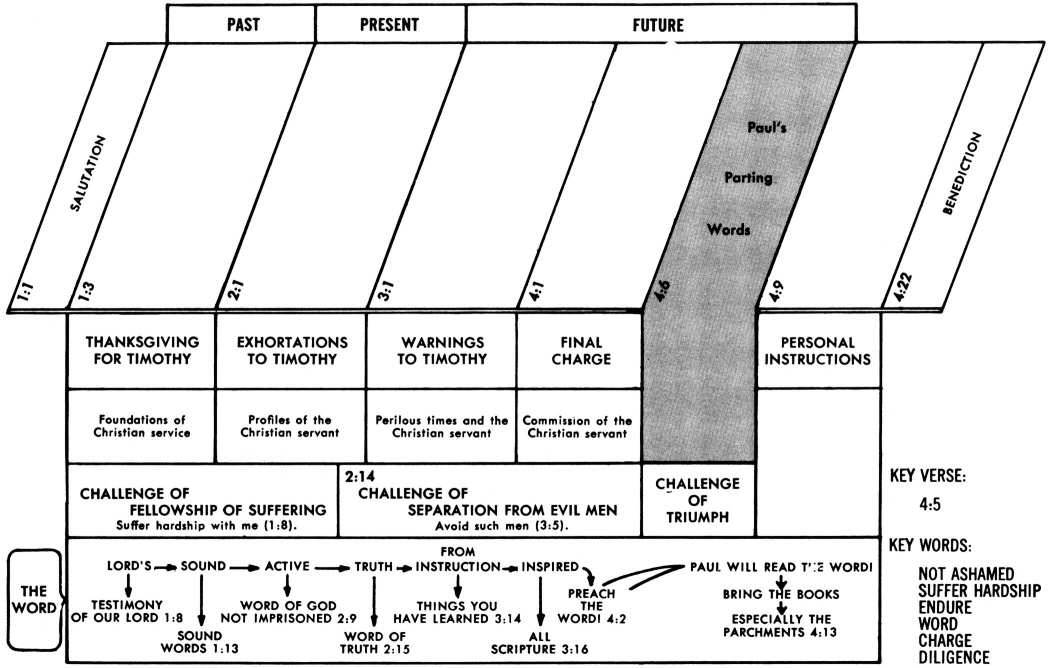 ENDURANCE AND SEPARATION IN THE MINISTRY
Click chart to enlarge
Charts from Jensen's Survey of the NT - used by permission
Another Overview Chart - 2 Timothy - Charles Swindoll
Another Overview Chart
This version is similar to the one below but has the Greek text translated into English.
See Caveats regarding Barclay's theology which was not always orthodox. This resource is listed because he gives some excellent background and helpful word studies.
His word studies are often exceptional but see "The Enigmatic William Barclay" which discusses some of Barclay's unorthodox teachings. The upshot is "Be a Berean" (Acts 17:11-note)
H Spurgeon wrote that Bengel's NT commentary "is the Scholar's delight! Bengel condensed more matter into a line than can be extracted from pages of other writers."
John Wesley said "I know of no commentator on the Bible equal to Bengel" and referred to him as "The great light of the Christian world."
Similar to Alford's resource above but less Greek
Rosscup - Earlier this was published in The Cambridge Greek Testament (Cambridge: University, 1922). It is one of the finest older works which grapples seriously with the Greek. Bernard was a fine scholar in his day.
Very Nice Graphics!
Almost 400 pages of material!
SERMONS ON 2 TIMOTHY-VERSE BY VERSE (click arrow to go to next verse)
D Edmond Hiebert - A concise, conservative, phrase-by-phrase interpretation by a missionary in India who understands the positions of Timothy and Titus in the light of his own missionary experience.
Rosscup - One will not go wrong here, but find considerable insight on what verses mean. He will, however, be wise to go to several commentaries which offer even more on exegetical concerns, views, reasons, etc. while being enriched by this perceptive mind.
Sermons Function much like a commentary. Recommended.
2 Timothy 1:1-5 Commentary
Rosscup - Though brief, Ellicott is outstanding in the Greek and very helpful.
Well Done Verse by Verse Commentary.
Matthew Henry's Concise Commentary on the Bible
Critical and Explanatory on the Whole Bible - Unabridged
Rosscup discusses both of King's expositional studies on the two letters to Timothy - "They are based on the English text and are outstanding popular treatments with many thoughts provocative for the preacher and the teacher. The very interesting writing style makes them ideal to recommend to laymen. King, a noted spiritual life speaker in his day, has given much rich food for thought here, presenting it simply yet in provocative words."
Dr MacArthur's sermons function Like Verse by Verse Commentary
James Rosscup on MacArthur's Commentary - One of the world's most widely-known pastors gives articulate and rather detailed, basic expositions of verses with arresting illustrations. He deals with word meaning, flow of context, background, and sometimes mentions other views. The works are especially profitable for pastors, students, and lay readers aroused to read about main expositional issues and to grow.
Mp3 Audios from Dr McGee's famous radio program Thru the Bible.
NOTE: If you have high speed internet you might prefer downloading the entire book in a zip file - 34.8 MB consisting of 31 tracks for a total listening time of 2 hours, 42 minutes. Click 2 Timothy
Rosscup - This work, with that of Bernard among older efforts, deals with the Greek text in a thorough manner and offers the student much help. It is one of the more valuable commentaries on the Greek.
2 Timothy Commentary- Our Daily Homily (Devotional Thoughts on each chapter)
Note as of 9/25/2015 his site is being renovated so some may not be available
Only messages available below are in bold font
Study Note Links on right side of page
D Edmond Hiebert comments that this work is "Marked by careful scholarship, spiritual insight, and reverent faith. One of the outstanding volumes of the series. Appended is a long poem by the author on the martyrdom of Paul.
MISCELLANEOUS STUDIES ON 2 TIMOTHY
Alphabetized by Author
GORDON FEE
RUSSELL SMITH
2 Timothy - List of Audio Sermons - Variety of preachers - Jim Cymbala, David Wilkerson, David Roper, William MacDonald (author of the excellent "Beleiver's Bible Commentary"),
E K SIMPSON
DON ANDERSON The Twelve Steps to a Fantastic Finish
ADRIAN ROGERS - devotional
GREGG ALLEN - sermon
JARED WILSON
RICK WARREN - devotional
EDWARD DENNETT
GREGG ALLEN - sermon
ADRIAN ROGERS - devotional
RICK WARREN - devotional
ROBERT E HEMPY - journal article
Scroll to page 13 for article (185 page doc is the entire year of Chafer Theo Journal for 1998)
ADRIAN ROGERS - devotional
RICK RENNER - devotional & Greek word studies
RICK WARREN - devotional
ADRIAN ROGERS - devotional
Comment: More Technical notes but you will often discover some very helpful insights.
Make great sermon illustrations
100's of devotionals on one page:
All of these messages have transcripts.
Rosscup - The author is lucid in his statements and has written a fair commentary based upon the Greek. Among older works it is not as helpful as Bernard and Huther, however.
NOTE: If you are not familiar with the great saint Charles Simeon see Dr John Piper's discussion of Simeon's life - you will want to read Simeon's sermons after meeting him! - click Brothers We Must Not Mind a Little Suffering (Mp3 even better)
The first set of sermons is from the 2011 series on 2 Timothy
These sermons are from the 2014 series on 2 Timothy but they are very difficult to follow by chapter and verse
For example beginning at about 2 Timothy 2:10 below the sermons go on a "rabbit trail" and are not direct expositions of 2 Timothy
Outline & References
2 Timothy 1 Commentary
2 Timothy 2 Commentary
2 Timothy 3 Commentary
2 Timothy 4 Commentary
Note: The best commentary on Scripture is Scripture (Compare Scripture with Scripture) and these cross references compiled by Torrey are the most comprehensive work of this type with over 500,000 entries. However, always check the context (Keep Context King) to make sure that the cross reference is referring to the same subject as the original Scripture. The Puritan writer Thomas Watson said it this way - "The Scripture is to be its own interpreter or rather the Spirit speaking in it; nothing can cut the diamond but the diamond; nothing can interpret Scripture but Scripture." See an example of the value of comparing Scripture with Scripture. See also Use of Cross-References
Caveat: Amillennial
Book