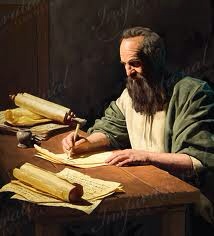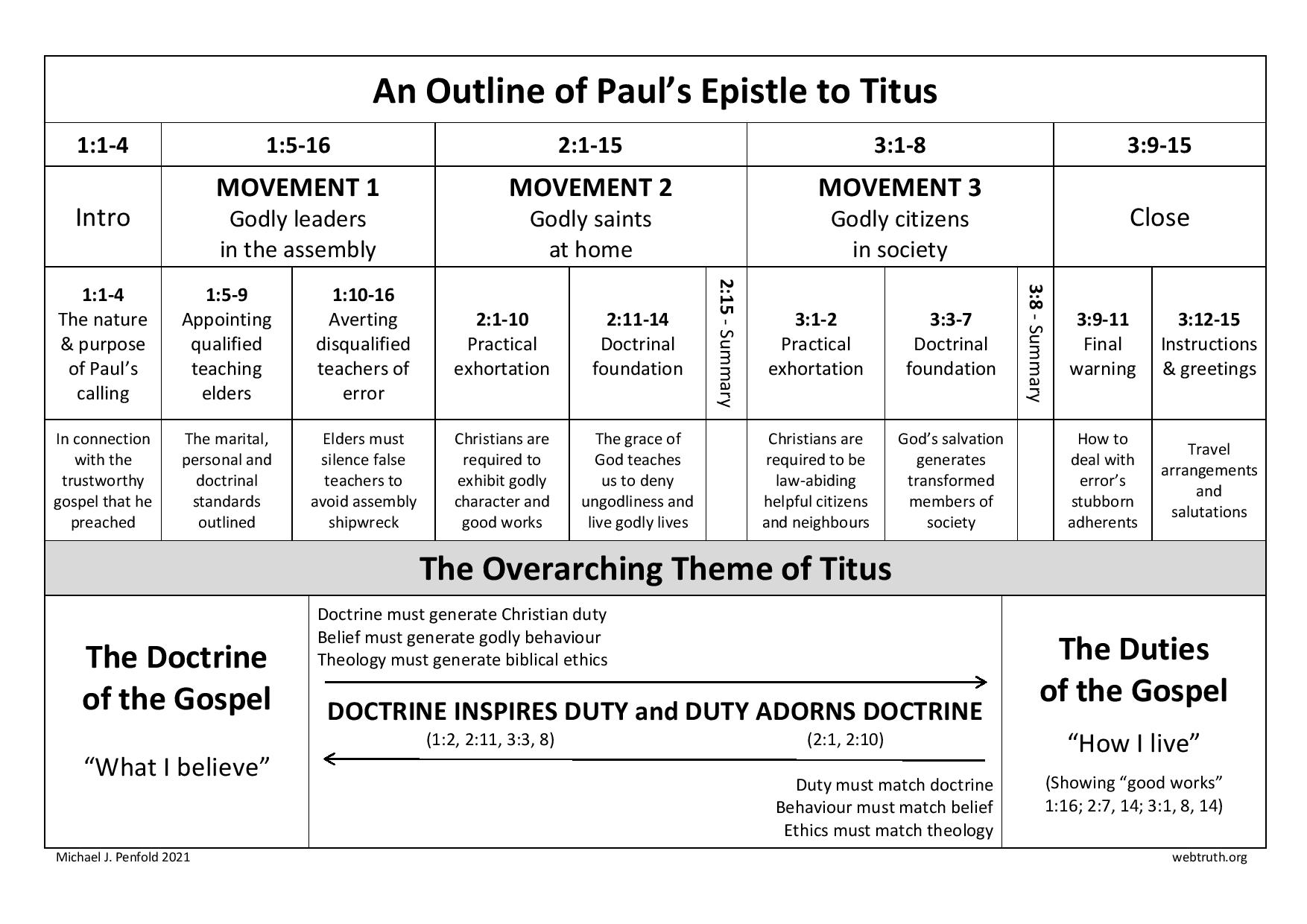 ---
J. Sidlow Baxter - The same kind of urgent interest clings around this letter to Titus as we have found in the two letters to Timothy. The Lord's return is in view (Titus 2:11-15). Paul's sense of responsibility is strong upon him as his own ministry nears its end (Titus 1:3). The progress of the Gospel is endangered by "unruly men, vain talkers and deceivers" (Titus 1:10). Titus was a Greek, and one of Paul's own converts. He had proved himself a loyal and zealous co-worker, and was very dear to the apostle (Gal 2:3; Tit 1:4; 2 Co 2:13; 7:6; 8:1-6,16,17). At the time when Paul wrote this epistle to him Titus was in the island of Crete. No account of Paul's own visit has been preserved for us; but he had evidently gone there, taking Titus, whom he afterward left there to consolidate the work, and constitute the Christian "assemblies" there on an orderly basis. The little epistle was written about the same time as 1 Timothy. It has much in common with the two epistles to Timothy, but it strikes a different emphasis. In 1 and 2 Timothy the emphasis is on doctrine: in Titus it is on good works. First Timothy is a charge. Second Timothy is a challenge. The epistle to Titus is a caution - a strong and urgent reminder that sound faith must be accompanied by good works. The doctrine must be adorned by doing. These three "Pastoral" epistles are really a trinity in unity, exhorting us to "guard" the precious "deposit" of the Gospel. In 1 Timothy we are to protect it. In 2 Timothy we are to proclaim it. In Titus we are to practice it....High doctrine with low conduct is intolerable to New Testament Christianity. Notice the threefold incentive in this chapter - first a reminder of what we once were (Titus 3:3), second, the wonder of our conversion (Titus 3:4-6), third, our now being "heirs of eternal life" (Titus 3:7). Somehow as we ponder this short but weighty note to Titus, we have an uneasy feeling that all too many of us modern Christians live far below its simply worded but searching standards. Although there is a transparent courtesy about it, there is a plainspoken directness which goes straight to inner motives, and a simple forthrightness concerning Christian conduct which shames our polite modern evasions. Oh, we have much need to linger often among the purifying paragraphs of this little letter. We may well spill tears of joy over some, and tears of contrition over others. Remember again, our Saviour "gave Himself for us" on awful Calvary, "that He might redeem us from all iniquity, and purify unto Himself a people for His own possession, zealous of good works." How the sinnings of Christians, then, must hurt Him! Read Titus again for a lesson in practical Christlikeness. Thank God, if its final injunction is "Maintain good works" (verse 14), its final benediction shows how to do it: "Grace be with you all." (Explore the Book)
---
Henrietta Mears - This is a personal letter written by the apostle Paul to a young minister whom he had left on Crete. Like the Timothy correspondence, the letter to Titus is practical and discusses the everyday problems confronted by a young church leader. The importance of good works is stressed in this epistle. Not that we are saved by good works, but that we are saved for good works. Here also God presents His ideal for the Church and its officers and members. The epistle to Titus was written by Paul. Titus was bishop of Crete, a hard post (see Titus 1:12–13). Paul had given Titus a difficult task before, that of settling the differences at Corinth and tactfully persuading the Church to do the right thing in the matter of divisiveness. Paul's second letter to the Corinthians shows how successful Titus was in this mission. Titus was a Gentile. No doubt he was one of Paul's converts during the early years of the apostle's ministry. He accompanied Paul and Barnabas to Jerusalem 17 years after Paul's conversion. When Paul heard that Apollos was about to go to Crete, he took the opportunity to send this letter to Titus (see Titus 3:13). It is full of practical advice to the young pastor, giving him directions for church administration and warning him against the heretics of his day. He asks Titus to come to him and to report about the condition of the church on the island. Although this is a personal letter, it undoubtedly was meant to be read to the church also. The letter is very much like Paul's first letter to Timothy, being written about the same time and dealing with the same subjects.
---
James Van Dine - Sound doctrine, applied and promoted by spiritual leadership, produces good works unto the adorning of the gospel of Christ....Paul's greeting adds "servant" to the usual "apostle" thus making the focal point of his service the preaching of the Word. Sound doctrine will be the basis for Titus' instruction, which has a view to a life of good works (cf. Titus 1:9; 2:1, 10)....The theme of good works ties this letter together (Titus 1:16; 2:7, 14; 3:1, 8, 14). When the assembly is properly ordered (1:5) and dutifully instructed (1:9) then good works will be promoted and Jesus Christ will be glorified....Good works can never be divorced from sound doctrine, and sound doctrine must be held and promulgated by sound leadership.
---
Charles Swindoll - Many churches today focus more on the form of their worship—music styles, lighting, and building designs—than they do on the content of the faith they mean to proclaim. And while the form of a church's worship is vital to reaching its community for Christ, without a firm base of sound doctrine, the church will lay its foundation in shifting and sinking sand. Make doctrine a priority in your own life, as well as encouraging it in your churches. Nothing is more significant than a solid foundation in Christ. Nothing is more motivational than grace to live a life of good deeds. (Titus)
---
J Vernon McGee - 
THE NEW TESTAMENT CHURCH: Here is a fine picture of the New Testament church in its full-orbed realization in the community as an organization. Many boast today that they belong to a New Testament church. In this epistle is found the measuring rod. The ideal church is one that has an orderly organization, is sound in doctrine, pure in life, and "ready to every good work" (Titus 3:1).
THE RETURN OF CHRIST: In the first two epistles that Paul wrote (1 and 2 Thessalonians), the return of Christ is a great pulsing hope. This has led some critics to say that Paul believed this only when he was young and that he changed when he became more mature. However, in this epistle to Titus, one of his last, the blessed hope still possesses the soul of this intrepid pioneer of faith, "Looking for that blessed hope, and the glorious appearing of the great God and our Saviour, Jesus Christ" (Titus 2:13+). The word for "looking" (prosdechomai) has the root meaning of entertaining. This is the hope that occupied the guest chamber in the heart of Paul during all of his life, beginning at the Damascus Road and going on to the Appian Way.
---
Hiebert - ALTHOUGH one of Paul's intimate friends, Titus is never mentioned in the Acts. All that we know of him must be gathered from the references to him in the Pauline epistles. His name occurs only thirteen times in the New Testament, nine times in 2 Corinthians. Yet these scanty notices give us an attractive picture of the young man to whom Paul addressed the Epistle to Titus. He is seen to be one of Paul's devoted companions and a capable and trusted worker for the Lord. It is a testimony to Paul's practical wisdom and foresight that he drew into association with himself such young men as Titus and Timothy in the work of the Gospel.
Titus - 13x in 12v - 2 Co. 2:13; 2 Co. 7:6; 2 Co. 7:13; 2 Co. 7:14; 2 Co. 8:6; 2 Co. 8:16; 2 Co. 8:23; 2 Co. 12:18; Gal. 2:1; Gal. 2:3; 2 Tim. 4:10; Tit. 1:4
The Purpose of Titus
1. Authorization.
One of the purposes of the epistle was to provide Titus with the needed written authorization for his work on Crete. Paul was aware that, having been left there as his representative, Titus would encounter opposition in carrying out the instructions given him. Some would despise him, as implied in the admonition, "Let no man despise thee" (2:15b). Others would openly reject him. This may be assumed from the explicit statement at the opening of the epistle that he had been left there to order the affairs of the churches (1:5), as well as from Paul's strong words about the false teachers: "whose mouths must be stopped" (1:11). The epistle, then, was intended to strengthen Titus personally and to arm him with apostolic authorization for his work "by placing in his hand written instructions to which he might be able to appeal, whenever the occasion should arise, in proof that he was not acting arbitrarily, but in accordance with positive Apostolic directions." 
2. Instruction.
The epistle was further intended to provide Titus with specific instructions concerning his work in the churches. He is enjoined to appoint elders in the various churches who have the necessary moral and doctrinal qualifications (1:6-9), and this is urged as all the more important in view of the work of the false teachers there (1:10-16). He is also urged to insist on the need for sound teaching and a high type of moral living on the part of Christians (2:1-10; 3:1-3). This demand for consistent Christian living must be grounded in a personal faith in the basal truths of the Gospel (2:11-14; 3:4-8).
3. Information.
The epistle also served to impart information to Titus personally. It served as Paul's message of commendation and instruction to him concerning Zenas and Apollos (3:13). It further informed Titus of Paul's decision to spend the winter at Nicopolis (3:12). Zahn lists nine cities by that name in various parts of the Roman world, commemorating some victory. The Nicopolis Paul had reference to was located on the western shores of Greece, in the ancient Epirus. The city was founded by Augustus as a memorial of the victory over Mark Anthony at Actium. The letter also served to notify Titus that Paul was planning on sending either Artemas or Tychicus to replace him and that he wished for Titus to join him at Nicopolis. (An Introduction to the New Testament)
---
Key Words -- Key Words -- see importance of key words - learn how to mark key words and the associated discipline of how to interrogate them with 5W/H questions. Practice "interrogating" key words as well as term of conclusion (therefore), term of explanation (for), terms of purpose or result (so that, in order that, that, as a result), terms of contrast (but, yet), expressions of time (including then; until, after) and terms of comparison (like, as). You will be amazed at how your Teacher, the Holy Spirit, will illuminate your understanding, a spiritual blessing that will grow the more you practice! Be diligent! Consider the "5P's" - Pause to Ponder the Passage then Practice it in the Power of the Spirit. See also inductive Bible study  - observation (Observe With a Purpose), Interpretation (Keep Context King, Read Literally, Compare Scripture with Scripture, Consult Conservative Commentaries), and then be a doer of the Word with Application. Do not overlook "doing the word" for if you do you are deluding yourself, and are just a "smarter sinner," but not more like the Savior! As Jesus said "blessed are those who hear the word of God, and observe it." (Lk 11:28+, cf James 1:22+), 
Savior (God our Savior, Jesus our Savior, Christ our Savior) - Titus 1:3 Titus 1:4 Titus 2:10 Titus 2:13 Titus 3:4 Titus 3:6

Grace - Titus 1:4 Titus 2:11 Titus 3:7 Titus 3:15

Sound - Titus 1:9 Titus 1:13 Titus 2:1 Titus 2:2 Titus 2:8

Doctrine - Titus 1:9 Titus 2:1 Titus 2:7 Titus 2:10

Good Deeds (5x out of 12 NT uses) - Titus 2:7 Titus 2:14 Titus 3:1 Titus 3:8 Titus 3:14 contrast the deeds in Titus 1:16

Teach - Titus 1:9 Titus 1:11 Titus 2:3

Word - Titus 1:3, Titus 1:9, Titus 2:5

Faith  - Titus 1:1 Titus 1:4 Titus 1:13 Titus 2:2 Titus 2:10 Titus 3:15 (most refer to "the faith" - the Gospel they believed). Compare "faithful Word" (Titus 1:9) and "Trustworthy (faithful") statement (Titus 3:8)
---
John MacArthur - Several major themes repeat themselves throughout Titus. They include: work(s) (Titus 1:16; 2:7,14; 3:1,5,8,14); soundness in faith and doctrine (Titus 1:4,9,13; 2:1,2,7,8,10; 3:15); and salvation (Titus 1:3,4; 2:10,13; 3:4,6). (Introduction)
---
William Orr - Key to Titus
1. BACKGROUND:
Writer is the Apostle Paul; the place, Macedonia about A.D. 65.

Titus was one of Paul's trusted helpers. He was a Greek, possibly a native of Syrian Antioch. He was used largely in Paul's ministry to Corinth (II Corinthians 2:13; 7:6; 8:23). Evidently on Paul's release from his first Roman imprisonment, Titus joined him. Soon Paul left him to stay in Crete (Titus 1:5) while he, Paul, went on to Macedonia. While in Macedonia Paul wrote this letter along with the first letter to Timothy. We last hear of Titus (II Timothy 4:10) as Paul sends him to minister to the churches in Dalmatia (N.W. coast of Greece).
2. THEME:
This book has much in common with I Timothy. The subject matter is the work of the pastor. Titus was charged to ordain elders, and to train the constituency. There is perhaps a twofold application:

first to correct churches grown careless as to the truth of GOD; then,
second, to correct churches who had become lax as to the order of GOD's house.

Here is the divine order for churches of all times.
3. MAIN DIVISIONS:
The qualifications and functions of an elder (1); the pastoral work of a true elder (2; 3).
4. SPECIAL CHARACTERISTICS:
It is possible that the church in Crete was founded by one of the converts from the day of Pentecost (Acts 2:11). Also, it is implied that Paul himself had visited and evangelized on the island.

The Cretians were thought to be akin to the Philistines. They were daring sailors and famous bowmen but with a very bad moral reputation. In Paul's day many Jews lived there. The degree of civilization in Crete was not too high. One of their own poets called them "liars, evil beasts, slow bellies." But Paul felt sure the power of the Gospel could transform lives there too.

Evidently Paul did not purpose that Titus should settle down permanently in Crete but that he might be relieved by either Artemas or Tychicus, for he instructs Titus to meet him at Nicopolis (Titus 3:12) where he intended to winter. 
6. OUTSTANDING TEACHINGS:
The terms "Elder" and "Bishop" are synonymous. One emphasizes the person and the other the office. Very strict and rigid qualifications are required, for this is a most important office in the Church of the living GOD.
The problem of false teachers is again dealt with (Titus 1:10-16) with the term "whole houses" meaning whole churches. The mouths of the unruly and deceivers were to be stopped by a vigorous proclamation of the truth.
Strong emphasis is given here on "good works," not as a means of salvation, but as an evidence. (See Titus 2:7; 2:14; 3:1; 3:8). The power of beautiful lives is shown to be a complete answer to the critics of the Gospel Titus (2:8).
Here is the place in the New Testament where the rapture of the church is spoken of as "the blessed hope" (Titus 2:11-14), and is a compelling motive for godly living.
The "genealogies" referred to evidently concerned false teachers seeking to prove Davidic lineage, or to claim kinship with CHRIST.
7. KEY: Put yourself in Titus' place as a pastor laboring under difficult circumstances. This letter is instruction from your teacher.
---
Myer Pearlman - Theme:
The Epistle to Titus follows that of I Timothy in order of composition. After writing the last-named Epistle, Paul sailed with Titus to Crete where he left him to set in order the unorganized churches. Titus, a heathen by birth (Galatians 2:3), was probably one of Paul's converts (Titus 1:4). He was present with the apostle at the council at Jerusalem (Acts 15), where, in spite of the insistence of the Judaizers, Paul refused to circumcise him (Galatians 2:3). The apostle had great confidence in him and entrusted him with important missions (II Corinthians 7:6, 7, 13-16; II Corinthians 8:16-24).

Knowing that the untrustworthy and vicious character of the Cretians and the presence of false teachers would render his task a difficult one, Paul wrote Titus a letter to instruct and encourage him in his duties. The Epistle is short, containing only three chapters, but it compresses in a short compass a large amount of instruction embracing doctrine, morals and discipline. Martin Luther said of it: "This is a short Epistle, but such a quintessence of Christian doctrine, and composed in such a manner that it contains all that is needful for Christian knowledge and life."

We shall sum up the theme as follows:

The organizing of a true church of Christ;
An appeal to the church to be true to Christ.
---
Charles Ryrie - OUTLINE OF TITUS  
 I.  Opening Greetings, Titus 1:1-4 
II.  Elders in the Church, Titus 1:5-9 
   A.  Their Desirability, Titus 1:5 
   B.  Their Qualifications, Titus 1:6-9 
III.  Offenders in the Church, Titus 1:10-16 
IV.  Operation of the Church, Titus 2:1-3:11 
   A.  Duties of the Minister, Titus 2:1-10 
   B.  Living in Response to God's Grace, Titus 2:11-15 
   C.  Demonstration of Good Works, Titus 3:1-11 
      1.  In relation to governments, Titus 3:1 
      2.  In relation to all people, Titus 3:2-8 
      3.  In relation to false teachers, Titus 3:9-11 
V.  Personal Messages and Greetings, Titus 3:12-15 
     Ryrie Study Bible
---
Outline from D Edmond Hiebert - An Introduction to the New Testament
THE SALUTATION (Titus 1:1–4)
    1. The writer (Titus 1:1–3)
         a. The designation of his office (Titus 1:1a)
         b. The nature of his office (Titus 1:1b)
         c. The basis of his office (Titus 1:2–3a)
         d. The function of his office (Titus 1:3b)
    2. The reader (Titus 1:4a)
    3. The greeting (Titus 1:4b)
I. CONCERNING ELDERS AND ERRORISTS IN CRETE (Titus 1::5–16)
         1. The appointment of elders in the Cretan churches (Titus 1: 5–9)
             a. The duties of Titus in Crete (Titus 1:5)
             b. The qualification of elders in the congregations (Titus 1:6–9)
                        i. The general qualifications of the elder (Titus 1:6)
                        ii. The personal qualifications of the bishop (Titus 1: 7–8)
                           a. The need for blamelessness as God's steward (Titus 1:7a)
                           b. The qualifications as God's steward (Titus 1:7b–8)
                       iii. The doctrinal qualification of the bishop (Titus 1:9)
         2.      The refutation of the false teachers in Crete (Titus 1:10–16)
             a.      The picture of the false teachers (Titus 1:10–13a)
                        i. The character of the false teachers (Titus 1:10)
                        ii. The necessary refutation of the false teachers (Titus 1:1a)
                        iii. The effect of the seductive work of these teachers (Titus 1:11b)
                        iv. The justification for the severity (Titus 1:12–13a)
             b. The exhortation to the churches concerning false teaching (Titus 1:13b–14)
             c. The condemnation of the false teachers (Titus 1:15–16)
                        i. The impurity of mind of the false teachers (Titus 1:15)
                        ii. The self-contradictory position of the false teachers (Titus 1:16)
II. CONCERNING THE NATURAL GROUPS IN THE CONGREGATIONS (Titus 2:1–15)
         1. The instructions to the groups as to character and conduct (Titus 2:1–10)
             a. The duty of Titus properly to instruct the members (Titus 2:1)
             b. The instructions relative to various age groups (Titus 2: 2–6)
                        i. The instructions concerning the old men (Titus 2:2)
                        ii. The instructions concerning the old women (Titus 2:3)
                        iii. The instructions concerning the young women (Titus 2:4–5)
                        iv. The instructions concerning the younger men (Titus 2:6)
             c. The personal example of Titus (Titus 2:7–8)
                        i. The duty to be an example of good works (Titus 2:7a)
                        ii.  The directions concerning the nature of his teaching (Titus 2:7b–8a)
                        iii. The result of such an example (Titus 2:8b)
             d. The exhortation to the slaves (Titus 2:9–10)
                        i. The attitude to be enjoined on slaves (Titus 2:9a)
                        ii. The conduct of the slaves (Titus 2:9b–10a)
                        iii. The motive for such conduct by slaves (Titus 2:10b)
         2. The grace of God as the motive power for the Christian life (Titus 2:11–14)
             a. He manifestation of the grace of God (Titus 2:11)
             b. The instruction of the grace of God (Titus 2:12)
             c. The expectation of Christ's return (Titus 2:13)
             d. The summary of our redemption (Titus 2:14)
         3. The restatement of the duty of Titus (Titus 2:15)
III. CONCERNING BELIEVERS AMONG MEN GENERALLY (Titus 3:1–11)
         1. The obligations of believers as citizens (Titus 3:1–2)
             a. The obligation in relation to the government (Titus 3:1)
             b. The obligation in relation to citizens generally (Titus 3:2)
         2. The motives for such a godly life (Titus 3:3–8a)
             a. The motive from our past life (Titus 3:3)
             b. The motive from our present salvation (Titus 3:4–7)
                        i. The source of the salvation (Titus 3:4)
                        ii. The basis of the salvation (Titus 3:5a)
                        iii. The means of the salvation (Titus 3:5b–6)
            a. The washing of regeneration (Titus 3:5b)
            b. The renewing of the Holy Spirit (Titus 3:5c–6)
                        iv. The result of the salvation (Titus 3:7)
             c. The motive from the connection between doctrine and conduct (Titus 3:8a)
         3. The reaction of spiritual truth and error (Titus 3:8b–11)
             a. The evaluation of these things as profitable (Titus 3:8b)
             b. The attitude of Titus toward false teaching (Titus 3:9–11)
                        i.  His attitude toward false teaching (Titus 3:9)
                        ii. His attitude toward a factious man (Titus 3:10–11)
THE CONCLUSION (Titus 3:12–15)
    1. The personal matters (Titus 3:12–14)
         a. The instructions concerning Titus himself (Titus 3:12)
         b. The instructions concerning Zenas and Apollos (Titus 3:13)
         c. The instructions concerning the Cretan Christians (Titus 3:14)
    2. The salutations (Titus 3:15)
    3. The benediction (Titus 3: 15)
---
---
DICTIONARY ARTICLES:
Literal, conservative, millennial, evangelical perspective
Explanation - The following list includes not only commentaries but other Christian works by well known evangelical writers. Most of the resources below are newer works (written after 1970) which previously were available only for purchase in book form or in a Bible computer program. The resources are made freely available by archive.org but have several caveats - (1) they do not allow copy and paste, (2) they can only be checked out for one hour (but can be checked out immediately when your hour expires giving you time to read or take notes on a lengthy section) and (3) they require creating an account which allows you to check out the books free of charge. To set up an account click archive.org and then click the picture of the person in right upper corner and enter email and a password. That's all you have to do. Then you can read these more modern resources free of charge! I have read or used many of these resources but not all of them so ultimately you will need to be a Berean (Acts 17:11+) as you use them. I have also selected works that are conservative and Biblically sound. If you find one that you think does not meet those criteria please send an email at https://www.preceptaustin.org/contact. The resources are listed in alphabetical order by the author's last name and some include reviews of the particular resource. 
---
COMMENTARIES ON 1 Timothy
The Bible Exposition Commentary - Ephesians through Revelation  -  Warren Wiersbe
Rosscup - One of America's most appreciated staunchly evangelical Bible conference teachers gives diligent, refreshing expositions. These are all of his 23 separate, earlier books in the "Be" series on the New Testament. He strikes a particular appeal with lay people as he crystallizes sections, deals with some of the verses, handles certain problems and backgrounds and applies principles. He is premillennial.
Be faithful (1 & 2 Timothy, Titus) by Wiersbe, Warren Or here - Be ready
1 & 2 Timothy, Titus, Philemon : it's always too soon to quit! by Wiersbe, Warren 
Wiersbe's Expository Outlines on the New Testament by Wiersbe, Warren W
Cyril Barber - This is a book of exceptional merit. Pastors, missionaries, and Christian workers will profit from its use. Wiersbe introduces each book of the NT, provides an outline, and then furnishes his readers with a chapter-by-chapter discussion of the contents. The homiletic style is a "plus." Recommended.
With the Word - Devotional Commentary - Warren Wiersbe - 428 ratings - Chapter by chapter. Helpful insights.
The Preacher's Outline & Sermon Bible : New Testament, King James Version - Acts, Romans, 1 Corinthians, 2 Corinthians, Galatians, Ephesians, Philippians, Colossians - This is a very useful resource which always includes numerous related cross-references. It will be of aid to you preaching and teaching. 
Titus and Philemon by Hiebert, D. Edmond (David Edmond), 1910-1995
James Rosscup - These three works in the Everyman's Bible Commentary series are fine brief commentaries by a careful conservative scholar. They are helpful on most verses and on certain problems, showing clarity in most cases.
Exposition of the Pastoral Epistles by Hendriksen, William, 
James Rosscup - As usual, Hendriksen is detailed and offers much aid in word meanings, possible views which he documents, and full discussion of the passages. His commentary is one of the finer works for serious students.
The pastoral epistles : an introduction and commentary by Guthrie, Donald,
James Rosscup - A recent work, this has a good introduction, but the commentary lacks detail. The author is better known for his three-volume work on New Testament introduction. This book is helpful, especially for an up-to-date conservative answer to critical views concerning introductory matters. The revisions are not extensive since the 1957 edition.
1 and 2 Timothy, Titus, Philemon, Hebrews, James by Morris, Leon,
Guard the truth : the message of 1 Timothy & Titus by Stott, John R. W
James Rosscup - An articulate and well-organized exposition of Second Timothy that is very suggestive for messages on the epistle. Though brief, Stott has quite good insight into the meaning of verses and has a rare ability to state truth succinctly.

Cyril Barber - The first volume in a new series entitled The Bible Speaks Today. Deserves to be read by all who are interested in living dynamically for Christ. Highly recommended. 

See also Fighting the good fight : 12 studies with commentary for individuals or groups by Stott, John R. W
1 & 2 Timothy and Titus : to guard the deposit by Hughes, R. Kent, Rosscup ranks the #3 (out of 6) expositional commentary. These always have excellent illustrations. 
Cyril Barber - The authors include personal anecdotes in these commentaries, and this gives their work a downto-earth quality. They adhere to the text and are not afraid to champion interpretations (e.g., of 1 Timothy 2:11-12) that are unpopular in today's milieu. Anyone teaching or preaching on these "pastoral" epistles will find considerable help in these pages.

James Rosscup - Hughes does the Timothys, Chapell Titus, both giving frequently refreshing survey expositions along homiletically useful, applicational lines for pastors, teachers, students, and laity. Illustrations occur often, and solid explanation in between is not always present (cf. I Tim. 2:1–2; and v. 8, the significance of raised hands). On some texts basic explanation is quite good (2:11–15), yet on v. 15 the light hint at a meaning does not give much to go on (cf. also on 4:10, 16, or 2 Tim. 4:8, in the latter a vagueness on the NT "crown" concept). Overall, the treatments help mostly on often choice illustrations and pastoral applications, and this is well worth the time.
The letters to Timothy and Titus by MacDonald, William (2003) 148 pages.
Pastoral Epistles by Mounce, William D
James Rosscup - Here is one of the best three exegetical works in recent years for advanced students and teachers wanting detail (cf. also Marshall and Knight). The 641 big pages, in typical WBC form, provide much detailed grappling with grammar, word study, context, background, customs, etc., while showing helpful sources from voluminous awareness on issues. Mounce is open to Pauline authorship, and usually puts forth solid help by carefully explaining data.

Cyril Barber - Defends the Pauline authorship, but adopts a vacillating approach to passages dealing with gender roles. Some disturbing elements are to be noted in Mounce's presentation, for example his statement that "there is no salvation apart from discipleship" (p. 434). This is a very full work and the judicious reader has much to gain from it.
The letters to Timothy and Titus by Towner, Philip H.,
James Rosscup - Favoring authorship by Paul (30–32), Towner provides a succinct, lucid commentary that sometimes explains verses or parts of them, sometimes ignores things (as "especially those who believe," 4:10; "save both yourself and your hearers," 4:16; or 2 Tim. 4:8, where the words do not really resolve Towner's idea that a faithful life is necessary for receiving a crown, final righteousness, with this being of grace and not earned). Overall, the work seems below average, a mixture of being of some help and of little help, this depending on which verse. It will be of mediocre benefit only to those wanting a cursory, yet easily flowing guide. It grew out of Towner's Ph. D. dissertation under I. Howard Marshall at the University of Aberdeen, Scotland, but does not approach Marshall's usual kind of serious explanation.
The Pastoral Epistles : studies in 1 and 2 Timothy and Titus by Kent, Homer Austin,
James Rosscup - This is a fairly detailed exposition that usually gives various views on many of the larger interpretive problems and provides reasons for the view favored. Kent uses his own translation. The outline is very clear, and the evangelical exposition is geared for Bible college students, pastors desiring a brief, knowledgeable survey that comes right to the point without being technical, and laymen wanting a commentary that will satisfy them without losing them.

Cyril Barber - This exemplary study has stood the test of time. Now, in this new, revised edition, Kent's commentary should continue to enjoy wide-spread acceptance. 2
1 Timothy, 2 Timothy, Titus by Johnson, Luke Timothy
James Rosscup - A highly regarded scholar provides clear results of great industry in older and newer thought. One gains access to much on word study, exegetical details, ways of grasping Paul's meaning, and literature that probes issues. Johnson is confident that Paul was the author. The work is quite worthwhile in opening up many parts of the books.

Cyril Barber - Begins with the reasons for the neglect of the Pastorals, but ignores the effect those who have denied their Pauline authorship has had on others. Provides new ideas on the values inherent in these canonical works.
The interpretation of st. paul's epistles to the colossians, to the thessalonians, to timothy, to titus and to philemon by R.C.H. Lenski - Lutheran commentator who writes excellent notes. 
1 and 2 Timothy, Titus by Fee, Gordon D; Gasque, W. Ward
James Rosscup - This is a reworking of his 1984 work in the Good News Commentary (San Francisco: Harper and Row). As in his work on I Corinthians, Fee is clear in most cases (not easy to follow when he gets too terse), capable on Greek grammar and local setting, unity and integrity of the books. Each section has a summary. He aims to be of help to teachers, preachers and students. His belief is that Paul authored the books and wrote to meet specific situations in the churches, not to give a manual for the church as some have held. The work has switched from the GNT to the NIV. Fee is evangelical.
The communicator's commentary. 1, 2 Thessalonians, 1, 2 Timothy, Titus by Demarest, Gary W (Now published as the Preacher's Commentary)
First and second Timothy and Titus by Oden, Thomas C
Cyril Barber - Defends the Pauline authorship as well as two Roman imprisonments for the apostle Paul. Provides the kind of comments on the text that preachers will find most helpful.
1 & 2 Timothy and Titus by Gangel, Kenneth - This is more like a workbook with questions and short explanatory notes
Walking in power, love, and discipline - 1 Timothy  and 2 Timothy and Titus by Arthur, Kay,
The pastoral epistles : based on the Revised Standard Version by Hanson, Anthony T
The faithful sayings in the pastoral letters by Knight, George W. (George William), 1931-
Titus, patterns for church living by Draper, James T
The pastoral letters: commentary on the first and second letters to Timothy and the letter to Titus by Hanson, Anthony Tyrrell
The pastoral epistles : based on the Revised Standard Version by Hanson, Anthony Tyrrell
Cyril Barber - This totally new work is not to be confused with Hanson's Studies in the Pastoral Epistles (1968). His comments are incisive and worthy of serious consideration.
Exalting Jesus in 1 & 2 Timothy and Titus by Platt, David
1 and 2 Timothy/Titus : the NIV Application Commentary from Biblical text--to contemporary life by Liefeld, Walter L
A commentary on the Pastoral Epistles : I Timothy, II Timothy, Titus (Black's NT Commentaries) by Kelly, J. N. D.
---
STUDY BIBLES:
Note: The first 4 resources have no time restriction and allow copy and paste function: 
(1) KJV Bible Commentary - Hindson, Edward E; Kroll, Woodrow Michael. Over 3000 pages of the entire OT/NT. Well done conservative commentary that interprets Scripture from a literal perspective. Pre-millennial.  User reviews - it generally gets 4/5 stars from users. - 372 ratings
Very well done conservative commentary that interprets Scripture from a literal perspective   user reviews 

The King James Version Bible Commentary is a complete verse-by-verse commentary. It is comprehensive in scope, reliable in scholarship, and easy to use. Its authors are leading evangelical theologians who provide practical truths and biblical principles. Any Bible student will gain new insights through this one-volume commentary based on the timeless King James Version of the Bible.
(2) The King James Study Bible Second Edition 2240 pages (2013) (Thomas Nelson) General Editor - Edward Hindson with multiple contributing editors. . 3,194 ratings. Pre-millennial. See introduction on How to Use this Study Bible.
(3) NKJV Study Bible: New King James Version Study Bible (formerly "The Nelson Study Bible - NKJV") by Earl D Radmacher; Ronald Barclay Allen; Wayne H House. 2345 pages. (1997, 2007). Very helpful notes. Conservative. Pre-millennial.  917 ratings
(4) The Wycliffe Bible Commentary - only the New Testament (for OT see below to borrow) - 1126 pages. (1971) Everett F Harrison - Editor of New Testament. Uses the KJV.  Strictly speaking not a study Bible, but short notes are similar. KJV text in left column, commentary notes in right column. The comments are generally verse by verse, short, conservative and to the point. Pre-millennial.
Quote from Henry Alford (1810-1871 - not a dispensationalist!) on Revelation 20 - "It will have been long ago anticipated by the readers of this Commentary, that I cannot consent to distort words from their plain sense and chronological place in the prophecy, on account of any considerations of difficulty, or any risk of abuses which the doctrine of the millennium may bring with it. Those who lived next to the Apostles, and the whole Church for 300 years, understood them in the plain literal sense: and it is a strange sight in these days to see expositors who are among the first in reverence of antiquity, complacently casting aside the most cogent instance of consensus which primitive antiquity presents. As regards the text itself, no legitimate treatment of it will extort what is known as the spiritual interpretation now in fashion."
---
Dictionary of Biblical Imagery - free for use online with no restrictions (i.e., you do not need to borrow this book). Editors Leland Ryken, J C Wilhoit, Tremper Longman III - This is a potential treasure chest to aid your preaching and teaching as it analyzes the meaning of a host of Biblical figures of speech. Clue - use the "One-page view" which then allows you to copy and paste text. One downside is there is no index, so you need to search 3291 pages for entries which are alphabetical. 
Zondervan NIV Study Bible - (2011) 2570 pages  - Use this one if available as it has more notes than edition below. One hour limit
NIV Study Bible by Barker, Kenneth L; Burdick, Donald W (1995) 2250 pages. This is the first edition. This resource has been fully revised in 2020. One hour limit 
Believer's Bible Commentary - OT and NT - MacDonald, William (1995) 2480 pages. Conservative. Literal. Often has very insightful comments. John MacArthur, says "Concise yet comprehensive - the most complete single-volume commentary I have seen." Warren Wiersbe adds "For the student who is serious about seeing Christ in the Word." One hour limit.
Rosscup - This work, originally issued in 1983, is conservative and premillennial, written to help teachers, preachers and people in every walk of life with different views, explanation and application. The 2-column format runs verse by verse for the most part, usually in a helpfully knowledgeable manner, and there are several special sections such as "Prayer" in Acts and "Legalism" in Galatians. The premillennial view is evident on Acts 1:6, 3:20, Romans 11:26, Galatians 6:16, Revelation 20, etc.
HCSB Study Bible : Holman Christian Standard Bible - General Editor Jeremy Royal Howard (2010) 2360 pages. Conservative. Good notes. Include Holmans excellent maps. One hour limit
Life Application Study Bible: Old Testament and New Testament: New Living Translation. Has some very helpful notes especially with application of texts. 4,445 ratings One hour limit
The MacArthur Study Bible - John MacArthur. Brief but well done notes for conservative, literal perspective. 1,275 ratings
ESV Study Bible - Excellent resource but not always literal in eschatology and the nation of Israel 6,004 ratings
The David Jeremiah Study Bible - (2013) 2208 pages. 2,272 ratings Logos.com - "Drawing on more than 40 years of study, Dr. David Jeremiah has compiled a legacy resource that will make an eternal impact on generations to come. 8,000 study notes. Hundreds of enriching word studies"50+ Essentials of the Christian Faith" articles."
Wycliffe Bible Commentary - Charles Pfeiffer - 1560 pages (1962). 214 ratings Less detailed than the KJV Bible Commentary. Conservative. Notes are generally verse by verse but brief. 
Rosscup - Conservative and premillennial scholars here have been experts in their fields. The work contains brief introductions and attempts to give a verse-by-verse exposition, though it does skip over some verses. The treatments vary with the authors, but as a whole it is a fine one-volume commentary for pastors and students to use or give to a layman. Outstanding sections include, for example: Whitcomb on Ezra-Nehemiah-Esther; Culver on Daniel; Ladd on Acts; Harrison on Galatians; Johnson on I Corinthians; and Ryrie on the Johannine Epistles.
The Defender's Study Bible : King James Version by Morris, Henry M. Excellent notes by well known creationist. 45 ratings 
New Bible Commentary - (1994) See user reviews
Compact Bible commentary by Radmacher, Earl D; Allen, Ronald Barclay; House, H Wayne, et al - 954 pages.  424 ratings Multiple contributors to the comments which are often verse by verse. The comments are brief but meaty and can really help your study through a given book. A sleeper in my opinion. 
The Experiencing God Study Bible: the Bible for knowing and doing the will of God - Blackaby, Henry (1996) 1968 pages - CHECK THIS ONE! Each chapter begins with several questions under the title "PREPARE TO MEET GOD." Then you will interesting symbols before many of the passages. The chapter ends with a "DID YOU NOTICE?" question. This might make a "dry chapter" jump off the page! Read some of the 48 ratings
NLT Study Bible (Illustration Version) 
Disciple's Study Bible: New international version 54 ratings Not that helpful for verse by verse study. Focuses on application of Christian doctrines. 10,000 annotations; doctrinal summaries, "Life Helps" section relate doctrine to everyday discipleship. 
The Living Insights Study Bible : New International Version - Charles Swindoll. Notes are good but somewhat sparse and not verse by verse.
The Apologetics Study Bible Understand Why You Believe by Norman Geisler
NIV Archaeological Study Bible (2005) 2360 pages 950 ratings (See also Archaeology and the Bible - OT and NT)
"Readers who desire a more intimate knowledge of the historical context of the Bible will appreciate the NIV Archaeological Study Bible. Full of informative articles and full-color photographs of places and objects from biblical times, this Bible examines the archaeological record surrounding God's Word and brings the biblical world to life. Readers' personal studies will be enriched as they become more informed about the empires, places, and peoples of the ancient world. Features include: • Four-color interior throughout • Bottom-of-page study notes exploring passages that speak on archaeological and cultural facts • Articles (520) covering five main categories: Archaeological Sites, Cultural and Historical Notes, Ancient Peoples and Lands, the Reliability of the Bible, and Ancient Texts and Artifacts • Approximately 500 4-color photographs interspersed throughout • Detailed book introductions that provide basic, at-a-glance information • Detailed charts on pertinent topics • In-text color maps that assist the reader in placing the action "
NIV Cultural Backgrounds Study Bible. Bringing to Life the Ancient World of Scripture Keener, Craig and Walton, John. Editors (2017)
The Holman Illustrated Study Bible 120 ratings Includes the excellent Holman maps but otherwise of little help in serious study.
Zondervan King James Version Commentary - New Testament
NIV Celebrate Recovery Study Bible
Daily Study Bible for Women : New Living Translation
The Woman's Study Bible : the New King James Version
The Study Bible for Women : Holman Christian Standard Bible
Daily Study Bible for Men : New Living Translation
NIV Topical Study Bible : New International Version
Ryrie Study Bible - Charles Ryrie (1978) 2142 pages. Conservative.  216 ratings 
Ryrie Study Bible Expanded Edition (1994) 2232 pages
The Hebrew-Greek Key Study Bible : New American standard study by Strong, James, 1822-1894; Zodhiates, Spiros 
The New Inductive Study Bible : updated New American Standard Bible - Introductions of each book give suggestions how to perform an inductive study on that specific book. Not strictly speaking a "study Bible" with notes but a Bible to help you study inductively. Has wide margins for making notes. This is one that works best in "paper," not digitally. 
With the Word - Devotional Commentary - Warren Wiersbe - 428 ratings
Evangelical Commentary on the Bible - Judges by Andrew Boling (20 pages); editor Walter Elwell (1989) 1239 pages. User reviews. (See also Boling's 380 page commentary on Judges the Anchor Bible Series)
Halley's Bible Handbook Henry H. Halley - (2000) 2720 pages (much larger than original edition in 1965 and no time limit on use). (Halley's Bible handbook : an abbreviated Bible commentary - one hour limit 1965 872 pages)
Rosscup - A much-used older evangelical handbook bringing together a brief commentary on Bible books, some key archaeological findings, historical background, maps, quotes, etc. It is helpful to a lay Bible teacher, Sunday School leader, or pastor looking for quick, pertinent information on a Bible book. This is the 72nd printing somewhat revised. Halley packed in much information. Unger's is better overall, but that is not to say that Halley's will not provide much help on basic information.
The Shaw Pocket Bible Handbook - Editor - Walter Elwell (1984) 408 pages.
"This hardback is small in size but packed full of content: Brief summaries of every book of the bible, cultural, archaeological and historical info, word definitions, pictures, maps and charts." Worth checking! 
(Read his fascinating brief biography - Henry Alford and Phil Johnson's related comments)
James Rosscup writes that Alford's series on the New Testament "contains much that is valuable in the Greek New Testament...though all of the Greek New Testament words have been changed to English throughout." (Commentaries for Biblical Expositors: An Annotated Bibliography of Selected Works).
Charles Haddon Spurgeon (see his comments in following entry on Alford).
Editorial Note: If you are not proficient in Greek, you will find this work considerably more useful than the following work by Alford, because in this volume he translates the Greek and Latin into English. While the "The Greek New Testament" is longer (e.g., English version of 1John = 66 pages compared to Greek version = 94 pages in part because the latter includes comments of more technical nature), the substance of the commentary is otherwise similar to that found in the "NT for English Readers".
James Rosscup writes that "This was the great work in the life of the versatile Dean of Canterbury. An outcome of this production was the New Testament for English Readers (4 vols.). Alford was a Calvinist, conservative and premillennial, though not dispensational. He takes a literal interpretation of the thousand years in Rev. 20 and has a famous quote there, is strong on sovereign election as in Ro 8:29, 30 and 1Pe 1:2, but, unfortunately, holds to baptismal regeneration in such texts as Titus 3:5 and John 3:5. He shows a great knowledge of the Greek text and faces problems of both a doctrinal and textual nature." (Commentaries for Biblical Expositors: An Annotated Bibliography of Selected Works)
John Piper writes ""When I'm stumped with a...grammatical or syntactical or logical [question] in Paul, I go to Henry Alford. Henry Alford...comes closer more consistently than any other human commentator to asking my kinds of questions."
Charles Haddon Spurgeon writes that this text "is an invaluable aid to the critical study of the text of the New Testament. You will find in it the ripened results of a matured scholarship, the harvesting of a judgment, generally highly impartial, always worthy of respect, which has gleaned from the most important fields of Biblical research, both modern and ancient, at home and abroad. You will not look here for any spirituality of thought or tenderness of feeling; you will find the learned Dean does not forget to do full justice to his own views, and is quite able to express himself vigorously against his opponents; but for what it professes to be, it is an exceedingly able and successful work. The later issues are by far the most desirable, as the author has considerably revised the work in the fourth edition. What I have said of his Greek Testament applies equally to Alford's New Testament for English Readers,* which is also a standard work." (Spurgeon, C. H. Lectures to my Students, Vol. 4: Commenting and Commentaries; Lectures Addressed to the students of the Pastors' College, Metropolitan Tabernacle)
This material is helpful if you are preaching or teaching through Titus. 
Click for Mp3's of Lessons on Titus
Titus 1:1-4 – study 1  39:26
Titus 1:5-9 – study 2  42:53
Titus 1:10-16 – study 3  43:34
Titus 2:1-10 – study 4  43:27
Titus 2:11-15  – study 5  41:05
Titus 3:1-7 – study 6  41:04
Titus 3:8-11 – study 7  41:06
Titus 3:12-15 – study 8 41:35
Titus Teacher Notes
Titus Lecture Notes - note used to prepare the "Teacher Notes" - includes comments, illustrations, etc
Recommended Resource - a modern commentary from a pastor
James Rosscup: This is a lucid and well-organized exposition of the epistles with many helpful lists on different facets of truth John can have in mind at different points as on "light" and "darkness" in 1 John 1:5. There is stimulating background material and warm application. (Commentaries for Biblical Expositors: An annotated bibliography of selected works).

D Edmond Hiebert - Prints the author's own translation. A series of popular studies whose strong point is word study. Contains good illustrative material. Part of the author's interpretation follows a liberal position. Barclay holds that Christ's descent into Hades gave those who there heard Him a second chance.

Comment: I appreciate Barclay's unique insights on Greek words, but clearly his teaching about a "second chance" is NOT sound doctrine! Be an Acts 17:11 Berean with Barclay. See discussion of his orthodoxy especially the article "The Enigmatic William Barclay".
James Rosscup writes that Barnes "includes 16 volumes on the Old Testament, 11 on the New Testament. The New Testament part of this old work was first published in 1832–1851. Various authors contributed. It is evangelical and amillennial...Often the explanations of verses are very worthwhile." (Commentaries for Biblical Expositors: An Annotated Bibliography of Selected Works)

C H Spurgeon "Albert Barnes is a learned and able divine, but his productions are unequal in value, the gospels are of comparatively little worth, but his other comments are extremely useful for Sunday-school teachers and persons with a narrow range of reading, endowed with enough good sense to discriminate between good and evil....Placed by the side of the great masters, Barnes is a lesser light, but taking his work for what it is and professes to be, no minister can afford to be without it, and this is no small praise for works which were only intended for Sunday-school teachers." (Spurgeon, C. H. Lectures to my Students, Vol. 4: Commenting and Commentaries; Lectures Addressed to the students of the Pastors' College, Metropolitan Tabernacle)
Spurgeon comments on the goal to make Bengel's Gnomon (listed above) more accessible -- "Such is the professed aim of this commentary, and the compilers have very fairly carried out their intentions. The whole of Bengel's Gnomon is bodily transferred into the work, and as 120 years have elapsed since the first issue of that book, it may be supposed that much has since been added to the wealth of Scripture exposition; the substance of this has been incorporated in brackets, so as to bring it down to the present advanced state of knowledge. We strongly advise the purchase of this book, as it...will well repay an attentive perusal. Tischendorf and Alford have contributed largely...to make this one of the most lucid and concise commentaries on the text and teachings of the New Testament" (Spurgeon, C. H. Lectures to my Students, Vol. 4: Commenting and Commentaries; Lectures Addressed to the students of the Pastors' College, Metropolitan Tabernacle)
F W Farrar writes that Bengel's "Gnomon is a mine of priceless gems. It contains sentence after sentence exquisitely terse and finished, and throbbing with spiritual light. Few writers have so admirably succeeded in expressing in a few words the inmost purpose of each of the Epistles. A generation crowded with writers whose theology abounded in mutual anathemas is yet redeemed from the charge of sterility which has produced such a theologian as Bengel. His work must continue to have its value so long as men can recognise the richest fruits of a noble intellect, a pure spirit, and a blameless life. "Lord Jesus, unto Thee I live, unto Thee I suffer, unto Thee I die; Thine I am, living or dying." These words were repeated to him in his last moments, and on hearing them he pointed with his right hand to his heart, and fell asleep in peace." (Amen!) (History of Interpretation: Eight Lectures Preached Before the University of Oxford in the Year 1885).
John Wesley said of Bengel "I know of no commentator on the Bible equal to Bengel" and referred to him as "The great light of the Christian world."
Similar to above but less Greek
C H Spurgeon wrote that Bengel's NT commentary "is the Scholar's delight! Bengel condensed more matter into a line than can be extracted from pages of other writers."
James Rosscup writes "This work (Gnomon), originally issued in 1742, has considerable comment on the Greek, flavoring the effort with judicious details about the spiritual life. It has much that helps, but has been surpassed by many other commentaries since its day." (Commentaries for Biblical Expositors: An Annotated Bibliography of Selected Works)
Multiple Resources from Various Older Writings
D Edmond Hiebert - Westminster Commentaries. London: Methuen & Co. (1917). A concise, conservative, phrase-by-phrase interpretation by a missionary in India who understands the positions of Timothy and Titus in the light of his own missionary experience.
James Rosscup - Calvin was not only a great theologian but also a great expositor, and his insight into Scripture contributed to his grasp of doctrinal truth. His commentaries are deep in spiritual understanding, usually helpful on problem passages, and refreshing in a devotional sense to the really interested reader. He usually offers good help on a passage. The present work skips Judges, Ruth, Samuel, Kings, Chronicles, Ezra, Nehemiah, Esther, Job, Ecclesiastes, Song of Solomon, II and III John and Revelation. Calvin is amillennial on long-range prophecy, but in other respects usually has very contributive perception on passages and doctrinal values edifying to the believer. He also can be very wordy, but the serious and patient glean much. 
D Edmond Hiebert - Valuable for insights into Reformation day views.
---
D Edmond Hiebert - The introduction adequately treats the critical problems from a conservative position. Full and informative notes on the text; valuable appendixes.
D Edmond Hiebert - Greek text. The introductions provide a satisfactory study of the problems connected with the Pastorals from a conservative viewpoint. The exegetical notes on the text of the epistles are thorough, thoughtful, and scholarly.
Cyril Barber - This....1886 commentary from the Cambridge Greek Testament series readily interacts with critical issues raised by the publication of the NT texts of Tischendorf and Tregelles. Plummer then treats these letters in a most commendable way, providing some unique insights into the thought of the apostle and the nuances of the original text. (The Minister's Library, Volume 2)
James Rosscup writes "Though old, this is a good study from the Greek text which will be helpful in any more advanced study of the epistles. There are other works more highly recommended, however." (Commentaries for Biblical Expositors: An Annotated Bibliography of Selected Works)
"Designed for Pastors and Sunday Schools"
Excellent Exposition
Charles J Ellicott - editor H. D. M. Spence - author
Tom Nettles, et al authors.
Rosscup - This is a thorough exegesis of the Greek text. It is considered to be one of the standard tools for exegetical study.
James Rosscup - This dispensationally oriented work is not verse-by-verse, but deals with the exposition on a broader scale, treating blocks of thought within the chapters. Cf. also Arno C. Gaebelein, Gaebelein's Concise Commentary on the Whole Bible (I Volume, Neptune, NJ: Loizeaux, 1985), the Annotated Bible revised. The author was a popular evangelical Bible teacher of the first part of the century, much like H. A. Ironside in his diligent but broad, practical expositions of Bible books. Gaebelein was premillennial and dispensational, and editor for many years of Our Hope Magazine.
James Rosscup - Gill (1697–1771), a pastor of England, wrote these which are two-column pages, ca. 900–1,000 pages per volume, Originally they were 9 volumes, folio. He also wrote Body of Divinity, 3 volumes, and several other volumes. His commentary is evangelical, wrestles with texts, is often wordy and not to the point but with worthy things for the patient who follow the ponderous detail and fish out slowly what his interpretation of a text is. He feels the thousand years in Revelation 20 cannot begin until after the conversion of the Jews and the bringing in of the fullness of the Gentiles and destruction of all antiChristian powers (volume 6, p. 1063) but in an amillennial sense of new heavens and new earth coming right after Christ's second advent (1064–65), and the literal thousand years of binding at the same time. He feels the group that gathers against the holy city at the end of the thousand years is the resurrected wicked dead from the four quarters of the earth (i.e. from all the earth, etc. (1067).  
Spurgeon - Beyond all controversy, Gill was one of the most able Hebraists of his day, and in other matters no mean proficient...His ultraism is discarded, but his learning is respected: the world and the church take leave to question his dogmatism, but they both bow before his erudition. Probably no man since Gill's days has at all equalled him in the matter of Rabbinical learning.
He preached in the same church as C. H. Spurgeon over one hundred years earlier. Yet most people today have never heard of John Gill. This is unfortunate, since his works contain priceless gems of information that are found nowhere except in the ancient writings of the Jews. 
UNABRIDGED
Spurgeon - A Christian man wishing for the cream of expository writers could not make a better purchase. Ministers, as a rule, should not buy condensations, but get the works themselves.
James Rosscup - This evangelical work, devotional in character, has been in constant demand for about 280 years. Its insight into human problems is great, but it often does not deal adequately with problems in the text. The one-volume form eliminates the Biblical text and is thus less bulky. It has sold very well. The late Wilbur M. Smith, internationally noted Bible teacher, seminary professor and lover of books, tabbed this "The greatest devotional commentary ever written". Henry was born in a Welch farmhouse, studied law, and became a Presbyterian minister near London. He wrote this commentary in the last 13 years before he died at 52 in 1714. The first of six volumes was published in 1708. He completed through Acts, and the rest of the New Testament was done by 14 clergymen. (Ed: Thus James are not the comments of Matthew Henry).
Frequent Use of Illustrations
James Rosscup - Favoring authorship by Paul (30–32), Towner provides a succinct, lucid commentary that sometimes explains verses or parts of them, sometimes ignores things (as "especially those who believe," 4:10; "save both yourself and your hearers," 4:16; or 2 Tim. 4:8, where the words do not really resolve Towner's idea that a faithful life is necessary for receiving a crown, final righteousness, with this being of grace and not earned). Overall, the work seems below average, a mixture of being of some help and of little help, this depending on which verse. It will be of mediocre benefit only to those wanting a cursory, yet easily flowing guide. It grew out of Towner's Ph. D. dissertation under I. Howard Marshall at the University of Aberdeen, Scotland, but does not approach Marshall's usual kind of serious explanation.
Note - No longer available at Biblegateway. You can borrow the commentary The letters to Timothy and Titus by Towner, Philip H.
Links below may work but be slow loading
D Edmond Hiebert -    Lock, Walter, "A Critical and Exegetical Commentary on the Pastoral Epistles." The International Critical Commentary. Edinburgh: T. & T. Clark (1924). Greek text. Lock leans to the conservative view but makes no pronouncements on the vexing critical problems. The notes on the Greek text are rather thin. Not up to the high standard of this series.
James Rosscup - He is staunchly evangelical, showing good broad surveys based on diligent study, practical turns, even choice illustrations. In prophecy he is premillennial dispensational....Many preachers have found that Ironside works, read along with heavier books on details of exegesis, help them see the sweep of the message and prime their spirits for practical relevance.
Rosscup - This is a helpful old set of 1863 for laypeople and pastors to have because it usually comments at least to some degree on problems. Though terse, it provides something good on almost any passage, phrase by phrase and is to some degree critical in nature. It is evangelical. There is also a 1-volume edition, briefer at some points (Grand Rapids: Zondervan, 1961). Especially in its multi-volume form this is one of the old evangelical works that offers fairly solid though brief help on many verses. Spurgeon said, "It contains so great a variety of information that if a man had no other exposition he would find himself at no great loss if he possessed this and used it diligently" (Commenting and Commentaries, p. 3). Things have changed greatly since this assessment! It is primarily of help to pastors and lay people looking for quick, though usually somewhat knowledgeable treatments on verses.
Spurgeon - A really standard work. We consult it continually, and with growing interest. Mr. Fausset's portion strikes us as being of the highest order. 
My Comment - This is one of the best older (Pre-1800) works on interpretation of prophecy as it tends to interpret the text literally and not allegorically. 
John Cereghin - A careful exposition by a voluminous Plymouth Brethren scholar of the 19th century.
D Edmond Hiebert -  Oosterzee, J. J. Van, "The Pastoral Letters," J. P. Lange's Commentary on the Holy Scriptures. Translated from the German.  (1863). The abundant material is in three sections: exegetical and critical; doctrinal and ethical; homiletical and practical. A full evangelical treatment by a Dutch Reformed minister and theologian of the past century.
James Rosscup - The treatments of books within this evangelical set vary in importance. Generally, one finds a wealth of detailed commentary, background, and some critical and exegetical notes. Often, however, there is much excess verbiage that does not help particularly. On the other hand, it usually has something to assist the expositor on problems and is a good general set for pastors and serious lay people though it is old.
D Edmond Hiebert - A scholarly, conservative work (published in 1901) giving a comprehensive discussion of the Pastorals as a group as well as the individual epistles. A verse-by-verse exposition characterized by spiritual warmth and practical appeal.
Cyril Barber (commenting on MacArthur's printed commentary which is similar to his sermons) - This homiletic exposition ranks as one of the best on Paul's letter to Titus. It is thorough, practical, and vitally related to the needs of both people and the church. Pastors as well as lay people will appreciate the writer's insights. Recommended. (The Minister's Library - Volume 3)
Audio Only (Mp3's)  - Through the Bible comments in a uncompromising, pithy style.
D Edmond Hiebert - Greek text. A full exegetical treatment of these epistles by an evangelical German scholar of the past century (1893). Scholarly and technical, providing references to scholarly views of the authors own times.
Note: The comments are in the links to the right side of the Scripture annotation. The words and phrases are based on the KJV.
Borrow the book The Defender's Study Bible : King James Version
Titus 1 Commentary
Titus 2 Commentary
Titus 3 Commentary
JOHN CHRYSOSTOM - Homilies
Cyril Barber on Getz's written work on Titus - Published first in 1978 by Zondervan. This practical study now takes its place alongside the author's other "Measure of" books. It is a pleasing series of meditations on Paul's letter to his youthful prot6# and edifies as well as instructs the reader. (The Minister's Library - Volume 2)
Preaching series from 2021
Preaching series from 2005
THIRD MILLENNIUM - sermons
John Cereghin - What a good translation, full defense of the apostolic authorship of the epistles, fruitful comments and profitable dissertations, this volume is as complete a guide to the smaller epistles as one could desire. This old, standard treatment shows how pastors may use the Greek text to aid their exposition. A fine work in spite of its age. Uses Tischendorf's Greek text. Holds that Christ was a substitutionary ransom for sin (117); stresses the divine inspiration of Scripture (379); concludes with three appendixes on problem passages (405ff). Very thorough commentary on the Greek text. Defends Pauline authorship (1- 19); favors view that Jesus Christ is called "our great God and Saviour" (283); attacks the idea of baptismal regeneration (295); has a special appendix on the treatment of slavery in the New Testament (432). 

D Edmond Hiebert - Uses the Greek text of Tischendorf and the author's translation on facing pages. A voluminous (nearly 450 pages) exposition by a conservative Scottish theologian. Still worth consulting but devoid of the results of recent scholarship.
JOHN SCHULTZ
James Rosscup - This old, conservative Wesleyan Methodist work is good devotionally and aggressive for righteous living. Laypeople can find it still valuable today. It is Arminian in viewpoint and thus helpful, for example, in showing the reader how this approach deals with texts involving the eternal security question. The work contains much background material from many sources on all books of the Bible.

Spurgeon - Adam Clarke is the great annotator of our Wesleyan friends; and they have no reason to be ashamed of him, for he takes rank among the chief of expositors. His mind was evidently fascinated by the singularities of learning, and hence his commentary is rather too much of an old curiosity shop, but it is filled with valuable rarities, such as none but a great man could have collected....If you have a copy of Adam Clarke, and exercise discretion in reading it, you will derive immense advantage from it, for frequently by a sort of side-light he brings out the meaning of the text in an astonishingly novel manner. I do not wonder that Adam Clarke still stands, notwithstanding his peculiarities, a prince among commentators. I do not find him so helpful as Gill, but still, from his side of the question, with which I have personally no sympathy, he is an important writer, and deserves to be studied by every reader of the Scriptures.
"The knowledge of the truth that leads to godliness."  Titus 1:1
Doctrine is nothing, dissociated from deed. 
Abstract truth is poor, compared to living principle.
OCTAVIUS WINSLOW
Titus 1:2 - LOOK upon all the Lord's covenant dealings with you as but preparatory to your approaching emancipation from all sin, suffering, and sorrow. Welcome your trials—they are sent by your Father. Welcome the stroke of His rod—it is a Parent smiting. Welcome whatever detaches you from earth, and wings your spirit heavenward. Welcome the furnace that consumes the dross and the tin, and brings out the precious gold and silver, to reflect in your soul, even now, the dawnings of future glory. Oh! be submissive, meek, and quiet, under God's chastening and afflicting hand, and receive all His dispensations as only tending to fit you more perfectly for "the inheritance of the saints in light." Let his "hope of eternal life" cheer and comfort the bereaved of the Lord, from whose hearts have fled the loved and sanctified ones of earth, to the eternal heaven. Oh! how full of consolation is this prospect! Where have the departed fled, who sleep in Jesus? They have but exchanged the region of darkness and shadow for the regions of light and glory. They have gone from the scene of impurity, defilement, and sin, to the place of perfect holiness, complete sanctification, and eternal love. Then dry your tears—then press the consolations of the gospel to your sorrowing heart, and look up with that eye of faith that pierces the penetrates the dark clouds that intervene between them and you, and behold them now "partakers of the inheritance of the saints in light." And oh! yourselves anticipate the blessed moment when the Savior shall send, not an enemy, but a friend—for such is death to the Christian—to open the cage that imprisons your spirit, and let you escape to the abodes of eternal glory. Oh! anticipate and, by anticipating, be preparing, day by day, for its realization; anticipate the happy moment which releases you from "the body of sin and death," and ushers you into the full enjoyment of "eternal life." Such is heaven, and such is the consummation of the inner life. As that life descended from God so to God it shall ultimately and finally return. It shall never, never die. Not a spark shall be quenched, nor shall a pulse cease to beat—not a thought that it has conceived, nor a desire it has cherished, nor a prayer it has breathed, nor a work it has accomplished, nor a victory it has won, shall die; all, all shall survive in ever-growing, ever-enduring glory.

The babe in grace shall be there! The young man, strong in overcoming the wicked one, shall be there! The father, matured in experience, and laden with the golden fruits of age, shall be there! All, all shall reach heaven at last—the end and the consummation of the life of God in their souls. Oh, to have this heaven in our hearts now! Heaven is love—the place of love—the perfection of love. And what is God's love in our hearts but the foretaste of heaven—the foretaste of heaven—the first gatherings of the vintage—the pledge and earnest of all that is to come?
Titus 1:16 (cf Lk 6:46, 2 Ti 2:19)  A professed atheist—is a monster that we do not often meet with. But the more absurd and astonishing phenomenon of a practical atheist; one who is orthodox in principle—but an infidel in practice—we find wherever we turn!
J C RYLE - #2-7 Are the Chapters in Thoughts for Young Men (great read for old men!!!)
JOHN ANGELL JAMES
Titus 2:10  Your duty is to adorn the gospel by your life. The words signify to deck or adorn the gospel, to make it attractive and lovely to the eyes of beholders. When there is a beautiful harmony and lovely proportion between Christ's doctrine  and our practice—then do we walk suitably to the Lord of glory.
Titus 2:10 - Christ enjoined upon every one of His disciples to study Him, to learn of Him, and to imitate His example. A true Christian is the representative of Christ in this world — the only embodiment of gospel teaching and influences, that is presented in human society. How vitally important is it, then, that those of us who profess and call ourselves Christians, should make our Christianity attractive! Multitudes of people know very little and think very little about the Lord Jesus; nearly all the ideas they get of His religion — is what they see in those who profess it!

An attractive Christian is the one who hits the most nearly that golden mean between love on the one hand — and firmness on the other hand. He is strict — but not censorious. He is sound — and yet sweet and mellow, as one who dwells much in the sunshine of Christ's countenance. He never incurs contempt by compromising with wrong — nor does he provoke others to dislike of him by doing right in a very harsh or hateful or bigoted fashion. 

Our Master is our model. What marvelous example of gentleness, forbearance, and unselfish love adorned His life! What He was — we, in our imperfect measure, should pray and strive after. Study Jesus, brethren. Get your souls saturated with His spirit. His grace imparted to you and His example imitated — can turn your deformity into beauty, and adorn your lives with those things which are true and honest and lovely. We must make our daily religion more winsome!
Titus 2:10 Winning Church Membership - Article
Devotional - "So that in every way they will make the teaching about God our Savior attractive." Titus 2:10
Martin Luther's insignia was a rose; in the rose a heart; in the heart a cross. 
The rose suggests fragrance and beauty — a Christian life should be beautiful, winning, attractive. It should be sweet, pouring forth the fragrance of holy love wherever it goes. 
The heart in the rose suggests that all true living for Christ is from the heart.
But at the center of all was the cross. Until we have Christ, we can have neither fragrance nor beauty. We must never forget that nothing but the self-sacrificing love of Christ in our hearts can transform our lives. 
We sometimes sing, "Take the world, but give me Jesus" — but do we really mean it? It is a very sweet hymn, but do we mean it? Are we ready to have the prayer answered, fully, wholly — whatever it may cost? 
We expect to be like Christ in Heaven, but do we think earnestly about being like Him here and now? Would we exchange our poor, meager measure of Christlikeness today — for Christ to have the complete control of our lives? It would make a tremendous change in our lives, at least, in some of our lives. "If any want to become My followers, let them deny themselves and take up their cross daily and follow Me." Luke 9:23
Devotional - It makes no difference what a man believes, or what doctrines he holds
"It makes no difference what a man believes, or what doctrines he holds — it is only his conduct that counts." 
That is the way some people talk, as they sneer at Bible doctrines. But it does matter what one believes. Wrong believing leads to wrong living. The heathen worships a god conceived of as lustful, cruel, and unholy. The Christian worships a God, who is revealed as holy, righteous, pure, and good, and becomes holy, righteous, pure, and good. 
Beliefs shape our lives. It is important, therefore, that we know the truths about the character and will of Christ, as our conception of Christ will imprint itself upon our life.
"Let the word of Christ dwell in you richly" Colossians 3:16 
"He must hold firmly to the trustworthy message as it has been taught, so that he can encourage others by sound doctrine and refute those who oppose it." Titus 1:9 
"You must teach what is in accord with sound doctrine." Titus 2:1
Titus 2:13 Looking For the Blessed Hope - Let us now contemplate the appropriate and spiritual posture in which it behooves all, and especially Christ's church, to be found in view of so glorious and near an event as the second coming of Jesus. For "behold the Lord comes, with ten thousand of his saints." Faith in the doctrine of a coming Savior is the basis of a holy posture of expectation. Without a belief of this truth, there can be no looking for this blessed hope. "When the Son of man comes, will He find faith"—in this doctrine—"on the earth?" No, it is to be feared that many in the church will be found sadly wanting here. They had believed in the coming of death, but they had not believed in the coming of Him who "abolished death." They had expected with trembling the "king of terror," but had not expected with joy the "King of glory." They had hoped to go to Christ, but they had not hoped that Christ would come to them. But the "glorious appearing" of Jesus, and not the death of the saints, is the "blessed hope" of the church of God. On this one grand event the eye of faith is bade to rest, as the pole-star of the soul, "until the day-star arise in your hearts." And how much more soothing to a believing mind is such an object of faith than the terrific monster—Death! To look up upon the "bright and morning Star," and not down in to the misty vault of the grave—to anticipate the glorious coming of the great Captain of my salvation, and not the gloomy and subtle approach—perhaps by slow and lingering steps—of the "last enemy of my being—to hope for the coming of the Conqueror, and not to live in dread expectation of the foe—surely is more strengthening to faith, animating to hope, and stimulating to love.

Faith, thus firmly grasping the doctrine that reveals, will inspire the hope that expects the event. The child of God, first believing it, will then be found looking for it. Resembling the faithful and affectionate wife, who frequently retires to read over the letters of her long-absent and far-distant husband, lingering with especial interest and delight over the assurances of his certain and speedy return to her again, love will constrain you to dwell upon the promise—"I go to prepare a place for you. And if I go to prepare a place for you, I will come again and receive you unto myself; that where I am, you may be also." Thus a quickening power and holy exercise are given to these sister graces of the Spirit, faith, hope, and love. Faith believes it; hope expects it; love desires it.

With this firm belief in the doctrine of the Lord's coming, the truth itself will be found an eminently influential one. Is it asked, of what practical use is this blessed hope to the church of God? We answer, "much every way." Chiefly in the emptiness and nothingness to which it reduces all worldly glory, and in the holy elevation which it gives the believer above all sublunary enjoyments. And is this no great attainment in holiness? The grand duty of the believer is to live above the world: he is not of the world, even as Christ was not of it. But we require powerful motives to influence us to this. We are moved by motive, and the religion of Jesus is preeminently a religion of motive. The certain and speedy coming of Christ to glorify His church, oh, what a motive is here! Were you to rise in the morning impressed with this truth, how sweetly would it carry you through the day!—how effectually would it dim the luster of the world's pomp, deaden its joys, soothe your sorrows, dry your tears, lighten your burdens, reconcile you to poverty, to crosses, to losses, yes, to whatever your Lord ordains! You would feel, "What have I do with the world's vanities, its smiles, and its glories? I am waiting, expecting, looking, hoping, praying, for that blessed hope, the appearing of my Redeemer." Oh, what an eminent Christian would you be! What a burning and shining light! What vigorous faith, what lively hope, what fervent love, what a holy living for God, for Christ, and for eternity, would henceforth distinguish you!
SERMONCENTRAL
SERMONS BY VERSE
Titus 3:5-6 Not By Works of Righteousness - The conversion of a sinner to God is a convincing and precious evidence that Jesus is alive. In the regeneration wrought in the soul by the Holy Spirit, the life of Jesus is imparted. He breathes into the soul morally dead the breath of life, and it becomes a living soul. Until, in the exercise of His distinct office, this Divine Person of the adorable Trinity convinces of sin, quickens and brings the soul to Christ for acceptance, risen with Christ though that soul mystically is, it yet remains totally dead to, and insensible of, its great privilege—an utter stranger to that new life which springs from oneness with the "second Adam." The new nature which the Eternal Spirit now imparts is nothing less than the creation of the life of Christ in the soul; yes, even more than this, it is the bringing of Christ Himself into the soul to dwell there the "hope of glory" through time, and glory itself, through eternity. 

Here, then, is an evidence that Jesus is alive, to a renewed mind the most convincing and precious. Thus quickened by the Eternal Spirit, believers become temples of Christ. Jesus lives in them. "I in them." "Know you not that Christ is in you?" "Christ lives in me." "Christ in you the hope of glory." Thus every believer is a living witness that Jesus is alive, because he bears about with him the very life of Jesus. By the indwelling of the Spirit, and realized by faith, Christ abides in the believer, and the believer abides in Christ. "I in them, and you in me, that they may be made perfect in one; that they also may be one in us." 

We have already stated that this glorious entrance of Christ within the soul transpires at the period of the new birth. What, then, is every new conversion, every fresh trophy of redeeming grace, but a new manifestation to the universe of the life of Jesus? I see the sinner pursuing his mad career of folly, rebellion, and guilt. Suddenly he is arrested, I see him bowed to the earth, his heart broken with sorrow, his spirit crushed beneath the burden of sin. He smites upon his breast; acknowledges his transgression, confesses his iniquity, deplores it in the dust. Presently I see him lift his eye, and rest it upon a bleeding Savior; he gazes, wonders, believes, adores—is saved! By whom is this miracle of grace wrought?—The Spirit has descended to testify that Jesus is alive. That newly-converted soul, so lately dead in sins, but now quickened with Christ—that sinner but recently dwelling among the tombs, whom no human power could tame, now sitting at the feet of Jesus, clothed and in his right mind—demonstrates that Christ is in heaven, and is alive, for evermore. Oh, it is the heaven-descending life of Jesus. Show me, then, a soul just passed from death unto life, and I will show you an evidence that Jesus is alive at the right hand of God. 
See most of Our Daily Bread listed below and Today in the Word devotionals on a single page - over 90 devotionals:
---
Updated November 16, 2022
Interesting Resource - "Germ Notes", Sermon Ideas
Titus 1:1-16 The Ministry of Character
Titus 1:1 Christian Ministry
Titus 1:1 Truth and Life
Titus 1:1-4 Redemptive Truth
Titus 1:2 The Immortal Hope
Titus 1:2 The Immortal Hope
Titus 1:2 The Divine Veracity
Titus 1:2 The Divine Foresight
Titus 1:3 The Divine Proclamation
Titus 1:4 Believed in Everywhere
Titus 1:5-9 Church Order
Titus 1:5 Apostolic Preparation
Titus 1:6,7 The Character of Bishops-Negative Qualifications
Titus 1:7-9 The Overseers
Titus 1:8 Bishops' Positive Qualifications
Titus 1:8 Bishops' Qualifications as to Doctrine
Titus 1:10-13 The Character of the Adversaries at Crete
Titus 1:10-14 The Sins of the Sect and the Sins of the Tribe
Titus 1:13,14 The Necessity of Godly Rebuke
Titus 1:15 A Great Counter-Principle Against this Ascetic Tendency
Titus 1:15 Pure Heartedness
Titus 1:15 Inner Defilement
Titus 1:15, 16 The Supreme Importance of Moral Character
Titus 1:16 The Great Contradiction
Titus 2 Practical Godliness the End (Goal) of Spiritual Doctrine
Titus 2:1 Special Instructions as to Titus' Own Preaching
Titus 2:1-10 Genuine Morality
Titus 2:2 The Duty of Aged Men
Titus 2:2 Aged Christian Men
Titus 2:3 Aged Christian Women
Titus 2:3-5 The Duties of Aged Women
Titus 2:4,5 Counsels to Young Women
Titus 2:6 Counsels to Young Men
Titus 2:6 The Duty of Young Men
Titus 2:7,8 A Teacher's Influence
Titus 2:7,8 Titus Himself a Pattern of Good Works
Titus 2:9,10 The Duties of Servants
Titus 2:9,10 Counsels to Slaves
Titus 2:11 Christ For Every Man
Titus 2:11-15 The Soul Culture of the World
Titus 2:12 True Self Denial
Titus 2:11-13 The Grace of God the True Ground of All Sanctification
Titus 2:13 The Coming Day
Titus 2:14 The Giving of Self
Titus 2:14 The Purport and Extent of Christ's Saviorship
Titus 2:15 The Cultivation of Respect
Titus 2:15 Pastoral Work and Authority
Titus 3:1 Political Duties
Titus 3:1-3 Duty
Titus 3:1, 2 Subjection to the State
Titus 3:1-7 Mercy Begetting Mercy
Titus 3:2 The Right Deportment of Christians
Titus 3:3 A Humbling Retrospect
Titus 3:4-7 Salvation, Not of Works, but of Grace
Titus 3:4-7 The Origin, Nature, Means and End of Salvation
Titus 3:5 The Mercy of God
Titus 3:7, 8 Justification, Faith, Works
Titus 3:8 The Necessary Connection Between Gospel Doctrine and Good Works
Titus 3:8, 14 Christian Character
Titus 3:8-15 Pearls Before Swine
Titus 3:9-15 The Worthless, the Pernicious, and the Desirable in Social Life
Titus 3:9 A Warning Against Frivolous and Disputative Teaching
Titus 3:10, 11 The Right Attitude of Christian Ministers Toward Divisive Errorists
Titus 3:12,13 Personal Directions
Titus 3:14 A Last Reminder Concerning Good Works
Titus 3:15 Salutation and Conclusion
Peninsula Bible Church
Emphasis on Greek Word Study
Click here to access the 16titles listed below - the Pdf has 190 pages of sermons. Rogers is conservative, pithy and practical! He is one of the stellar expositors of the twentieth century. Highly recommended to aid your sermon and teaching preparation. Illustrations in green font.
  Trophies of Grace—Titus 1:1–4
  God's Amazing Grace—Titus 1:1–4
  God's Pattern for a Pastor—Titus 1:4–14
  How to Make a Home Beautiful—Titus 2:1–5
  The Magnificence of Motherhood—Titus 2:1–5
  The Wonders of Womanhood—Titus 2:1–5
  What Now?—Titus 2:1–5
  God's Amazing Grace—Titus 2:11–14
  Zeal: The Good, the Bad, and the Ugly—Titus 2:11–14; 3:8–9
  Don't Be a Disgrace to Grace—Titus 2:11–15
  From Grace to Glory—Titus 2:11–15
  Living in the Light of the Blessed Hope—Titus 2:11–15
  Godly Zeal and Ungodly Extremism—Titus 2:11–15; 3:8–11
  The Dangers of Extremism—Titus 2:14–15
  God's Amazing Grace—Titus 3:1–7
  This Is Your Life—Titus 3:3–7
Titus 1  371 pdf's 11/18/22 (audios also available)
Titus 2  541 pdf's 11/18/22 (audios also available)
Titus 3  270 pdf's 11/18/22 (audios also available)
NOTE:If you are not familiar with the great saint Charles Simeon see Dr John Piper's discussion of Simeon's life - you will want to read Simeon's sermons after meeting him! See Brothers We Must Not Mind a Little Suffering (Mp3 even better)
D Edmond Hiebert -  Simpson, E. K., The Pastoral Epistles. Grand Rapids: Wm. B. Eerdmans Pub. Co. (1954). Greek text. Presents a robust defense of Pauline authorship. The notes on the text are designed to give an adequate understanding of the original message, reinforced by a wealth of classical learning.
Paradoxically "Third Millennium" has an amillennial perspective. These are the old notes.
Titus 1 Commentary Notes
Titus 2 Commentary Notes
Titus 3 Commentary Notes
Amillennial
Emphasis on Greek Word Study
TITUS 1

A Servant of God
Dean Church.
Titus 1:1
Christian Ministry
W.M. Statham
Titus 1:1
God's Elect
T. Taylor, D. D.
Titus 1:1
High Office Means Chief Service in the Church
T. Taylor, D. D.
Titus 1:1
Lessons
F. Wagstaff.
Titus 1:1
On the Gospel Being the Truth After Godliness
R. South, D. D.
Titus 1:1
Redemptive Truth
D. Thomas, D. D.
Titus 1:1
The Doctrine of the Gospel
T. Taylor, D. D.
Titus 1:1
The Grandest End and Means of Life
Homilist
Titus 1:1
The Honour of Being a Servant of God
T. Taylor, D. D.
Titus 1:1
Truth and Life
W.M. Statham
Titus 1:1
Truth as a Medium of Godliness
T. W. Jenkyn, D. D.
Titus 1:1
Willing Service
 
Titus 1:1
Apostolic Address and Salutation
T. Croskery
Titus 1:1-4
Redemptive Truth
D. Thomas
Titus 1:1-4
All the Promises, Promises to Christ
H. Melvill, B. D.
Titus 1:2
Christianity a Hope-Inspiring Promise
Homilist
Titus 1:2
Eternal Life
G. Clayton, M. A.
Titus 1:2
God Cannot Lie
 
Titus 1:2
Hope Reaching Beyond the Revolutions of Time
Homilist
Titus 1:2
Lessons
F. Wagstaff.
Titus 1:2
The Covenant -- its Deathless Life and Hope
C. J. Brown, D. D.
Titus 1:2
The Divine Foresight
W.M. Statham
Titus 1:2
The Divine Veracity
W.M. Statham
Titus 1:2
The Grace of Hope
T. Taylor, D. D.
Titus 1:2
The Immortal Hope
W.M. Statham
Titus 1:2
The Inspiration of Hope
 
Titus 1:2
What God Cannot Do
C. H. Spurgeon., T. Taylor, D. D.
Titus 1:2
A Timely Revelation
F. Wagstaff.
Titus 1:3
God's Word Manifested Through Preaching
W. Lucy.
Titus 1:3
Preaching in God's Name
J. G. Ryle.
Titus 1:3
Salvation Revealed
T. Taylor, D. D.
Titus 1:3
The Best Ally in Christian Work
T. H. Hunt.
Titus 1:3
The Christian Ministry
T. Taylor, D. D.
Titus 1:3
The Divine Proclamation
W.M. Statham
Titus 1:3
Believed in Everywhere
W.M. Statham
Titus 1:4
Grace Bringing Peace
T. Taylor, D. D.
Titus 1:4
Lessons
F. Wagstaff.
Titus 1:4
Peace Through Christ
Preacher's Lantern.
Titus 1:4
Spiritual Children
 
Titus 1:4
Spiritual Parentage
T. Taylor, D. D.
Titus 1:4
An Embertide Sermon
J. G. Carleton, B. D.
Titus 1:5
Apostolic-Preparation
W.M. Statham
Titus 1:5
Church Order
D. Thomas, D. D.
Titus 1:5
Directions Regarding the Appointment of Elders
A. Plummer, D. D.
Titus 1:5
Ministers as Moral Leaders
F. Wagstaff.
Titus 1:5
Perfecting the Order of the Church
T. Taylor, D. D.
Titus 1:5
Titus Left in Crete
W. Burkitt, M. A.
Titus 1:5
Titus's Commission in Crete
T. Croskery
Titus 1:5
Church Order
D. Thomas
Titus 1:5-9
A Man of Scandalous Life is Unfit to be a Minister
T. Taylor, D. D.
Titus 1:6
Importance of Good Ministerial Character
 
Titus 1:6
Lessons
F. Wagstaff.
Titus 1:6
Rules to Keep a Man Unreprovable
T. Taylor, D. D.
Titus 1:6
The Husband of One Wife
W. Graham, D. D.
Titus 1:6
The Secret of a Blameless Life
Conybeare and Howson.
Titus 1:6
The Character of Bishops - Their Negative Qualifications
T. Croskery
Titus 1:6, 7
Church Order
D. Thomas
Titus 1:5-9
The Character of Bishops - Their Negative Qualifications
T. Croskery
Titus 1:6, 7
A Faithful Steward
S. Cook, D. D.
Titus 1:7-9
An Ideal Bishop
Archdeacon Farrar.
Titus 1:7-9
Drunkenness
W. Graham, D. D.
Titus 1:7-9
Frowardness Most Dangerous in a Minister
T. Taylor, D. D.
Titus 1:7-9
Good Companionship
W. Graham, D. D.
Titus 1:7-9
Good Ministerial Qualities
W. Graham, D. D.
Titus 1:7-9
Hastiness to Anger a Great Blot in a Minister
T. Taylor, D. D.
Titus 1:7-9
Hospitality in Ministers
T. Taylor, D. D.
Titus 1:7-9
Means to Repress Rash Anger
T. Taylor, D. D.
Titus 1:7-9
Ministerial Stewardship
T. Taylor, D. D.
Titus 1:7-9
No Striker
Adam Clarke.
Titus 1:7-9
Qualifications for the Eldership
J. O. Dykes, D. D.
Titus 1:7-9
Rules for the Subduing of Covetous Desires
T. Taylor, D. D.
Titus 1:7-9
Sound Doctrine and Faithful Exhortation
T. Taylor, D. D.
Titus 1:7-9
Stewards of God
 
Titus 1:7-9
The Bible Inflexible in its Requirements
T. Champness.
Titus 1:7-9
The Characteristics of a Successful Preacher
F. Wagstaff.
Titus 1:7-9
The Faithful Word
T. Taylor, D. D.
Titus 1:7-9
The Faithful Word to be Improved
T. Taylor, D. D.
Titus 1:7-9
The Lover of the Good
A. Raleigh, D. D.
Titus 1:7-9
The Overseers
W.M. Statham
Titus 1:7-9
The True Hospitality
W. Graham, D. D.
Titus 1:7-9
Victory Through Preaching Sound Doctrine
 
Titus 1:7-9
Why a Minister Should not be Addicted to Wine
T. Taylor, D. D.
Titus 1:7-9
The Bishop's Positive Qualifications
T. Croskery
Titus 1:8
The Bishop's Qualification as to Doctrine
T. Croskery
Titus 1:9
Danger from False Teachers
 
Titus 1:10-11
Faithful Teachers Must Oppose Seducers
T. Taylor, D. D.
Titus 1:10-11
Hindrances to Religion
F. Wagstaff.
Titus 1:10-11
Stopping Foolish Speech
 
Titus 1:10-11
The Characteristics of False Teachers
T. Taylor, D. D.
Titus 1:10-11
The Silencing of Evil Talkers
W. Graham, D. D.
Titus 1:10-11
The Character of the Adversaries At Crete
T. Croskery
Titus 1:10-13
The Sins of the Sect and the Sins of the Tribe
D. Thomas
Titus 1:10-14
A Classical Quotation
H. R. Reynolds, D. D.
Titus 1:12-13
A Sharp Rebuke
 
Titus 1:12-13
Bestiality in Men
T. Taylor, D. D.
Titus 1:12-13
Christian Reproof
F. Wagstaff.
Titus 1:12-13
Different Modes of Dealing with Different Sins
T. Taylor, D. D.
Titus 1:12-13
Falsehood
T. Taylor, D. D.
Titus 1:12-13
Fidelity in Administering Reproof
 
Titus 1:12-13
Like a Beast
T. Taylor, D. D.
Titus 1:12-13
Ministers Must not be Discouraged from Their Duty
T. Taylor, D. D.
Titus 1:12-13
Sharp Rebukes Sometimes Needed
W. R. Burkitt, M. A.
Titus 1:12-13
Sharply
H. R. Reynolds, D. D.
Titus 1:12-13
The Character of the Cretians
H. R. Reynolds, D. D.
Titus 1:12-13
The Gospel Offered to the Worst
W. Graham, D. D.
Titus 1:12-13
The Object of Rebukes
T. Taylor, D. D.
Titus 1:12-13
The Punishment of Liars
 
Titus 1:12-13
The Reproof of a Good Man
 
Titus 1:12-13
The Necessity of Godly Rebuke
T. Croskery
Titus 1:13, 14
Jewish Fables to be Rejected
T. Taylor, D. D.
Titus 1:14
Rules to Preserve Us from Being Turned from the Truth
T. Taylor, D. D.
Titus 1:14
The Perverting Power of Trivialities
F. Wagstaff.
Titus 1:14
A Great Counter-Principle Against This Ascetic Tendency
T. Croskery
Titus 1:15
A Pure Conscience Cast Aside
Old Curiosity Shop.
Titus 1:15
Defilement of Mind and Conscience
H. R. Reynolds, D. D.
Titus 1:15
Inner Defilement
W.M. Statham
Titus 1:15
Pollution of Mind and Conscience
T. Taylor, D. D.
Titus 1:15
Pure-Heartedness
W.M. Statham
Titus 1:15
Purity
F. W. Robertson, M. A.
Titus 1:15
Purity
T. Taylor, D. D.
Titus 1:15
Purity
W. M. Statham, M. A.
Titus 1:15
Purity of Mind Indispensable
A. Fuller.
Titus 1:15
The Faithlessness of Conscience
J. Foot, D. D.
Titus 1:15
The Pure in Heart
Charles Kingsley
Titus 1:15
The Supreme Importance of Moral Character
D. Thomas, D. D.
Titus 1:15
The Supreme Importance of Moral Character
D. Thomas
Titus 1:15, 16
Conventional Christians
Homilist
Titus 1:16
Hypocrites in the Church
T. Taylor, D. D.
Titus 1:16
Inconsistencies of Christians
T. Guthrie, D. D.
Titus 1:16
Of the Name of God
Hugh Binning
Titus 1:16
Professing God, But Denying Him
W. Burkitt, M. A.
Titus 1:16
Religion not to be Rejected Because of Hypocrites
T. Seeker.
Titus 1:16
The Great Contradiction
T. Croskery
Titus 1:16
The Judgment of Hypocrisy
F. Wagstaff.
Titus 1:16

TITUS 2

Connexion with Previous Chapter
T. Taylor, D. D.
Titus 2:1
Dealing with Individuals
 
Titus 2:1
Genuine Morality
D. Thomas, D. D.
Titus 2:1
Healthy Teaching
J. Halsey.
Titus 2:1
Lessons for Hearers
T. Taylor, D. D.
Titus 2:1
Lessons for Ministers
T. Taylor, D. D.
Titus 2:1
Sound Doctrine
L. Adamson, D. D.
Titus 2:1
Special Instructions as to Titus's Own Preaching
T. Croskery
Titus 2:1
The Minister's Directory
F. Wagstaff.
Titus 2:1
Wholesome Doctrine Must be Applied to the Several Ages and Conditions of Men
T. Taylor, D. D.
Titus 2:1
Genuine Morality
D. Thomas
Titus 2:1-10
Aged Christian Men
W.M. Statham
Titus 2:2
Behaviour Suitable for the Aged
W. Attersoll.
Titus 2:2
If Age be Blended with Naughtiness, the Older the Worse
T. Adams.
Titus 2:2
Suitable Characteristics for the Aged
H. R. Reynolds, D. D.
Titus 2:2
The Duties of Aged Men
T. Croskery
Titus 2:2
The Duty of Old Men
T. Taylor, D. D.
Titus 2:2
The Limit of Law and Reason
J. O. Dykes, D. D.
Titus 2:2
The Temptations and Duties of Old Men
F. Wagstaff.
Titus 2:2
The Theological Use of Old Age
J. Halsey.
Titus 2:2
Aged Christian Women
W.M. Statham
Titus 2:3
A Faithful Wife
D. Webster.
Titus 2:3-5
A Heartless Mother Reproved by a Sparrow
G. W. McCree.
Titus 2:3-5
A Husband Endeared
 
Titus 2:3-5
A Sermon to Young Wives
J. H. Hitchens, D. D.
Titus 2:3-5
A Worker At Home
Christian Age
Titus 2:3-5
Another's Love
 
Titus 2:3-5
Apostolic Advice to the Aged Women
H. R. Reynolds, D. D.
Titus 2:3-5
Christian Home Life
Dean Church.
Titus 2:3-5
Christianity At Home
C. H. Spurgeon.
Titus 2:3-5
Discretion
T. Taylor, D. D.
Titus 2:3-5
Early Christian Women
 
Titus 2:3-5
False Accusation
E. L. Magoon.
Titus 2:3-5
Holiness Consists of Little Duties
 
Titus 2:3-5
Home the Place for Women
T. Taylor, D. D.
Titus 2:3-5
Influence of a Good Wife
 
Titus 2:3-5
Pastoral Dealings with Young Women
J. O. Dykes, D. D.
Titus 2:3-5
Religious Home Life
F. Wagstaff
Titus 2:3-5
Rules to Avoid False Accusing
T. Taylor, D. D.
Titus 2:3-5
The Bloom of the Aged
Great Thoughts
Titus 2:3-5
The Dangers and Duties of Women
F. Wagstaff
Titus 2:3-5
The Duties of Aged Women and Young Women
T. Croskery
Titus 2:3-5
The Education of Young Women
W. Graham, D. D.
Titus 2:3-5
The Highest Motive to Duty
H. R. Reynolds, D. D.
Titus 2:3-5
True Marriage
J. G. Pilkington.
Titus 2:3-5
Counsels to Young Women
W.M. Statham
Titus 2:4, 5
Counsels to Young Men
W.M. Statham
Titus 2:6
Discretion the Safeguard of Youth
F. Wagstaff.
Titus 2:6
Exhortation to Sober Mindedness
J. Clayton.
Titus 2:6
Exhortation to Young Persons
B. Kennet, D. D.
Titus 2:6
Hints to Young Men
T. Taylor, D. D.
Titus 2:6
On Sober Mindedness
J. Foster.
Titus 2:6
Our Young Men
 
Titus 2:6
Rules for Young Men
 
Titus 2:6
Self-Control
 
Titus 2:6
Sober Mindedness
Matthew Henry, D. D.
Titus 2:6
Sober Mindedness
R. C. Pritchett.
Titus 2:6
Sober Mindedness
W. Peddle.
Titus 2:6
Sober Mindedness as Opposed to Excitement
Dean Vaughan.
Titus 2:6
Sober-Minded Youth
D. Moore, M. A.
Titus 2:6
Sobriety of Mind Urged on Young Men
T. D. Woolsey.
Titus 2:6
The Duty of Young Men
T. Croskery
Titus 2:6
A Consistent Christian
Major Mathers.
Titus 2:7-8
A Good Example
T. Taylor, D. D.
Titus 2:7-8
A Scoffer Silenced
Prof. Graham.
Titus 2:7-8
A Teacher's Influence
W.M. Statham
Titus 2:7, 8
Lessons
T. Taylor, D. D.
Titus 2:7-8
Titus Himself a Pattern of Good Works
T. Croskery
Titus 2:7, 8
Adorning
James Wells.
Titus 2:9-10
Adorning the Doctrine of God
H. W. Beecher.
Titus 2:9-10
Adorning the Truth
C. Wadsworth, D. D.
Titus 2:9-10
All-Round Christianity
W. Ewen, B. D.
Titus 2:9-10
Christians Making the Gospel Beautiful
A. Maclaren, D. D.
Titus 2:9-10
Counsels to Slaves
W.M. Statham
Titus 2:9, 10
Duties of Servants
T. Taylor, D. D.
Titus 2:9-10
Fidelity in a Servant
 
Titus 2:9-10
Gospel Adornment
C. H. Spurgeon.
Titus 2:9-10
Honesty in Little Things
T. Chalmers, D. D.
Titus 2:9-10
Living Ornaments
W. Birch.
Titus 2:9-10
Not Answering Again
 
Titus 2:9-10
Religion Adorned
W. Birch.
Titus 2:9-10
Servants Adorning the Gospel
T. Taylor, D. D.
Titus 2:9-10
Slaves Adorning the Doctrine of God
A. Plummer, D. D.
Titus 2:9-10
The Duties of Servants
T. Croskery
Titus 2:9, 10
The Duties of Servants
F. Wagstaff.
Titus 2:9-10
The Duty of Adorning Our Christian Profession
J. Benson.
Titus 2:9-10
The Duty of Advancing the Christian Religion
J. Lambe.
Titus 2:9-10
The Grammar of Ornament
W. L. Watkinson.
Titus 2:9-10
Christ for Every Man
W.M. Statham
Titus 2:11
The Grace of God the True Ground of All Sanctification
T. Croskery
Titus 2:11-13
A Perfect Redemption
T. Taylor, D. D.
Titus 2:11-14
A Threefold Description of Christians
G. A. Sowter, M. A.
Titus 2:11-14
All Men Must Come to the Grace of Salvation
 
Titus 2:11-14
An Acquaintance with Christ the Foundation of Experimental and Practical Religion
J. Benson
Titus 2:11-14
Christ Must be Received
T. Taylor, D. D.
Titus 2:11-14
Christ the Promoter of the Right
Homilist
Titus 2:11-14
Christ's Gift of Himself
T. Taylor, D. D.
Titus 2:11-14
Christ's Gift of Himself for Our Redemption
A. Alexander, D. D.
Titus 2:11-14
Christ's Gift of Himself for Us
Local Preacher's Treasury
Titus 2:11-14
Christ's Gift to Us, and Ours to Him
A. Mclaren, D. D.
Titus 2:11-14
Cleansing Through Christ's Death
T. Taylor, D. D.
Titus 2:11-14
Duty to Our Father in Heaven Must be United with Duty to Our Brother on Earth
J. Halsey.
Titus 2:11-14
Everyday Life
H. R. Reynolds, D. D.
Titus 2:11-14
Expectation of Christ's Coming
J. King, B. A.
Titus 2:11-14
Genuine Christianity
Jas. Foster, B. A.
Titus 2:11-14
Godliness Must Calculate the Resisting Element
C. H. Parkhurst, D. D.
Titus 2:11-14
God's Family, a School of Good Works
Plain Sermons by Contributors to, Tracts for the Times
Titus 2:11-14
Good Works
H. Thorpe.
Titus 2:11-14
Good Works
C. H. Spurgeon.
Titus 2:11-14
Grace and its Lessons
J. A. Alexander, D. D.
Titus 2:11-14
Grace Our Teacher
W. H. M. H. Aitken, M. A.
Titus 2:11-14
In This Present World
T. Taylor, D. D.
Titus 2:11-14
Love Made Visible
A. Maclaren, D. D.
Titus 2:11-14
Our State of Expectation and the Reasons for It
Abp. Magee.
Titus 2:11-14
Our Teacher's Mode of Teaching
W. H. M. H. Aitken, M. A.
Titus 2:11-14
Peculiar But not Eccentric
W. H. M. H. Aitken.
Titus 2:11-14
Present Day Christian Life
F. G. Peabody, D. D.
Titus 2:11-14
Redemption and its Obligations
J. C. Miller, M. A.
Titus 2:11-14
Right Living
R. S. MacArthur, D. D.
Titus 2:11-14
Sobriety and Righteousness
T. Taylor, D. D.
Titus 2:11-14
The Appearing of Christ
The Pulpit
Titus 2:11-14
The Blessed Hope
A. Maclaren, D. D.
Titus 2:11-14
The Blessed Hope of Grace
W. H. M. H. Aitken.
Titus 2:11-14
The Christian's Blessed Hope
Wm. Best.
Titus 2:11-14
The Christian's Business
H. Cadell, M. A.
Titus 2:11-14
The Coming of Christ
F. Wagstaff.
Titus 2:11-14
The Consecrating Saviour and the Consecrated People
F. Wagstaff.
Titus 2:11-14
The Denial of Worldly Lust
W. H. M. H. Aitken.
Titus 2:11-14
The Duty of Using One's Life for Others
H. W. Beecher.
Titus 2:11-14
The Effects of the Grace of God
W. Graham, D. D.
Titus 2:11-14
The Epiphany and Mission of Grace
W. H. M. H. Aitken, M. A.
Titus 2:11-14
The Extensiveness of the Gospel Offers
T. Bissland, M. A.
Titus 2:11-14
The Future State
Homilist
Titus 2:11-14
The Glorious Appearing of Christ
J. M. Sherwood, D. D.
Titus 2:11-14
The Glorious Expectation
Weekly Pulpit
Titus 2:11-14
The Godly Life
W. H. M. H. Aitken.
Titus 2:11-14
The Gospel Described
W. Burkitt, M. A.
Titus 2:11-14
The Gospel for All Sorts of Men
T. Taylor, D. D.
Titus 2:11-14
The Gospel of the Grace of God
T. Raffles, D. D.
Titus 2:11-14
The Grace of God
T. Manton, D. D.
Titus 2:11-14
The Grace of God
T. Taylor, D. D.
Titus 2:11-14
The Grace of God in Bringing Salvation to All Men
J. Burns, D. D.
Titus 2:11-14
The Grace of Salvation Appearing to All Men
A. Ross, M. A.
Titus 2:11-14
The Great Redemption
The Evangelist
Titus 2:11-14
The Happy Hope
A. Maclaren, D. D.
Titus 2:11-14
The Hope of the Church Under the Gospel Dispensation
F. Hewson, M. A.
Titus 2:11-14
The Hope of the Resurrection
Dean Alford.
Titus 2:11-14
The Lessons that Grace Teaches
T. Manton, D. D.
Titus 2:11-14
The Necessity of Positive Duty or Actual Goodness
W. Lupton, D. D.
Titus 2:11-14
The Negative Teaching of Grace
W. H. M. H. Aitken, M. A.
Titus 2:11-14
The Practical Effects of the Grace of God
J. Benson.
Titus 2:11-14
The Practical Result of the Teaching of Grace
W. H. M. H. Aitken.
Titus 2:11-14
The Purpose of the Discipline of Grace
A. Maclaren, D. D.
Titus 2:11-14
The Redemption from Lawlessness
W. H. M. H. Aitken.
Titus 2:11-14
The Revisers' Rendering of This Passage
A. Plummer, D. D.
Titus 2:11-14
The Righteous Life
W. H. M. H. Aitken.
Titus 2:11-14
The Second Advent of Christ
Homilist
Titus 2:11-14
The Sober Life
W. H. M. H. Aitken.
Titus 2:11-14
The Soul Culture of the World
D. Thomas, D. D.
Titus 2:11-14
The Soul's Rest
 
Titus 2:11-14
The Tonic of Hopeful Life
 
Titus 2:11-14
The True Value of Morality
H. W. Beecher.
Titus 2:11-14
The Two Appearings, and the Discipline of Grace
C. H. Spurgeon.
Titus 2:11-14
The Universal Offer of Salvation
F. Wagstaff.
Titus 2:11-14
The Zeal of God's People for Good Works
D. Charles.
Titus 2:11-14
Waiting the Coming of Christ
D. McEwan.
Titus 2:11-14
Why Believers are Called a Peculiar People
T. Taylor, D. D.
Titus 2:11-14
Zeal in Good Works
T. Taylor, D. D.
Titus 2:11-14
Zeal in Works and Worship
E. Garbett, M. A.
Titus 2:11-14
The Soul-Culture of the World
D. Thomas
Titus 2:11-15
True Self-Denial
W.M. Statham
Titus 2:12
The Coming Day
W.M. Statham
Titus 2:13
Christ's Marvellous Giving
Charles Haddon Spurgeon
Titus 2:14
God's True Treasure in Man
Alexander Maclaren
Titus 2:14
The Giving of the Self
W.M. Statham
Titus 2:14
The Purport and Extent of Christ's Saviorship
T. Croskery
Titus 2:14
A Sermon to Ministers of the Gospel
C. F. Deems, D. D.
Titus 2:15
A Summary of the Things Titus was to Speak
H. R. Reynolds, D. D.
Titus 2:15
Care in Presentment of Divine Truth
 
Titus 2:15
Cultivation of Respect
W.M. Statham
Titus 2:15
Despising the Preacher
F. Wagstaff
Titus 2:15
Hints to Ministers
F. Wagstaff.
Titus 2:15
Lessons
J. A. Alexander, D. D.
Titus 2:15
Ministers to be Preserved from Contempt
T. Taylor, D. D.
Titus 2:15
Pastoral Work and Authority
T. Croskery
Titus 2:15
Teaching Out of the Scriptures
T. Taylor, D. D.
Titus 2:15
The Causes of Disrespect in the Character of a Clergyman
A. Donnan.
Titus 2:15
The Duties of the Episcopal Function
R. South, D. D.
Titus 2:15

TITUS 3

Political Duties
T. Croskery
Titus 3:1
Avoiding Evil Speaking
W. Baxendale.
Titus 3:1-2
Christian Duty
T. Taylor, D. D.
Titus 3:1-2
Christian Gentleness
T. Taylor, D. D.
Titus 3:1-2
Christian Meekness
T. Taylor, D. D.
Titus 3:1-2
Christian Usefulness
J. Burns, D. D.
Titus 3:1-2
Christians Should be Taught Good Citizenship
Professor B. Pierce.
Titus 3:1-2
Civil Duties
J. O. Dykes, D. D.
Titus 3:1-2
Contention to be Avoided
T. Taylor, D. D.
Titus 3:1-2
Cure for Evil Speaking
A. W. Hare, M. A.
Titus 3:1-2
Detraction
W. Moodie, D. D., T. Taylor, D. D.
Titus 3:1-2
Duty
D. Thomas, D. D.
Titus 3:1-2
Evil Speaking
Archbishop Tillotson.
Titus 3:1-2
Evil Speaking
Isaac Barrow, D. D.
Titus 3:1-2
Gentleman Defined
J.C. Hare.
Titus 3:1-2
Honouring Authority
H. W. Beecher.
Titus 3:1-2
Meekness
 
Titus 3:1-2
Ministers Remembrancers
T. Taylor, D. D.
Titus 3:1-2
Obedience to Civil Magistrates
N. Emmons, D. D.
Titus 3:1-2
On Evil Speaking
J. Jortin, D. D.
Titus 3:1-2
Readiness to Good Works Explained and Recommended
J. Benson.
Titus 3:1-2
Sin of Evil Speaking
F. W. Robertson, M. A.
Titus 3:1-2
Subjection to Civil Rulers
Henry Dove, D. D.
Titus 3:1-2
Subjection to the State
W.M. Statham
Titus 3:1, 2
The Authority of Law
F. Wagstaff.
Titus 3:1-2
The Christian Citizen
C. S. Robinson, D. D.
Titus 3:1-2
The Christian Citizen
Monday Club Sermons
Titus 3:1-2
The Christian's Loyalty to Secular Government
D. C. Hughes, M. A.
Titus 3:1-2
The Might of Meekness
J. O. Dykes, D. D.
Titus 3:1-2
The Subject's Duty
John Cleaver, M. A.
Titus 3:1-2
To the Active Christian
G. Brooks.
Titus 3:1-2
Duty
D. Thomas
Titus 3:1-3
Of Evil-Speaking in General
Isaac Barrow
Titus 3:2
The Right Deportment of Christians Toward All Men
T. Croskery
Titus 3:2
A Significant Contrast
J. O. Dykes, D. D.
Titus 3:3
An Humiliating Retrospect
T. Croskery
Titus 3:3
Before Conversion and After
T. Taylor, D. D.
Titus 3:3
Foolish
T. Taylor, D. D.
Titus 3:3
Frowardness
T. Taylor, D. D.
Titus 3:3
Living in Malice and Envy, Hateful, and Hating One Another
T. Taylor, D. D.
Titus 3:3
Lusts and Pleasures
T. Taylor, D. D.
Titus 3:3
Malice
T. Watson.
Titus 3:3
Malice and Rancour
G. Crabb.
Titus 3:3
Malice Self-Destructive
 
Titus 3:3
The Difference Between the Present and the Past of Life
T. Taylor, D. D.
Titus 3:3
The Slavery of Sin
Bp. Moberly.
Titus 3:3
The Transforming Power of the Gospel
F. Wagstaff.
Titus 3:3
Transforming Power of the Holy Spirit
J. Lawson.
Titus 3:3
Various Kinds of Deceived Persons
T. Taylor, D. D.
Titus 3:3
Abundant Supply of Grace
T. Taylor, D. D.
Titus 3:4-7
Eminent Holiness
The Evangelist
Titus 3:4-7
God's Kindness
 
Titus 3:4-7
God's Kindness Only Partially Seen by the Soul
 
Titus 3:4-7
God's Love Incomparable
John R. Miller.
Titus 3:4-7
God's Love to Men
Richard Newton.
Titus 3:4-7
God's Method of Justification
J. Bunting.
Titus 3:4-7
Good Work, no Ground of Acceptance with God
Major Whittle.
Titus 3:4-7
Good Works not to be Relied On
T. Secker.
Titus 3:4-7
Heirs of Eternal Life
T. Taylor, D. D.
Titus 3:4-7
Looking for the Hope of Eternal Life
Mrs. Bottome.
Titus 3:4-7
Regeneration
Weekly Pulpit
Titus 3:4-7
Regeneration
H. Quick.
Titus 3:4-7
Relation of Justification to Regeneration
R. W. Hamilton, D. D.
Titus 3:4-7
Salvation
O. McCutcheon.
Titus 3:4-7
Salvation by Grace
Expository Outlines
Titus 3:4-7
Salvation Viewed from God's Side
Bp. Jackson.
Titus 3:4-7
Salvation, not of Works, But of Grace
Homilist
Titus 3:4-7
Salvation, not of Works, But of Grace
D. Thomas
Titus 3:4-7
Spiritual Washing
 
Titus 3:4-7
St. Paul's Gospel
J. O. Dykes, D. D.
Titus 3:4-7
That Being Justified by His Grace
D. Thomas, D. D.
Titus 3:4-7
The Difficulty of Removing the Pollution of Sin
 
Titus 3:4-7
The Disposition of God
H. W. Beecher.
Titus 3:4-7
The Finished Work of Christ
 
Titus 3:4-7
The Laver of Regeneration
T. Taylor, D. D.
Titus 3:4-7
The Laver of Regeneration
A. Plummer, D. D.
Titus 3:4-7
The Origin, Nature, Means, and End of Salvation
T. Croskery
Titus 3:4-7
The Power of God's Kindness
J.W. Lance.
Titus 3:4-7
The Renewing of the Holy Ghost
D. Moore, M. A.
Titus 3:4-7
The Renewing of the Holy Spirit
E. H. Hopkins.
Titus 3:4-7
The Source of Salvation
F. Wagstaff.
Titus 3:4-7
The Way of Salvation
 
Titus 3:4-7
Working Hard for Salvation
 
Titus 3:4-7
Of the Necessity of Divine Influences to Produce Regeneration in the Soul
Philip Doddridge
Titus 3:5
The Mercy of God
W.M. Statham
Titus 3:5
Justification; Faith; Works
D. Thomas
Titus 3:7, 8
Creed and Conduct
A. Maclaren, D. D.
Titus 3:8
Good Works
J. King, B. A.
Titus 3:8
Good Works
T. B. Baker, M. A.
Titus 3:8
Good Works
T. Selden.
Titus 3:8
Morality the Proper Subject of Preaching
W. Enfield.
Titus 3:8
On the Necessity of Christian Morality
D. Stevenson.
Titus 3:8
On the Necessity of Good Works
Abp. Tillotson.
Titus 3:8
Practical Christianity
Homilist
Titus 3:8
Some Hints to Preachers
F. Wagstaff.
Titus 3:8
The Connection of Faith and Good Works
R. Ferguson, LL. D.
Titus 3:8
The Maintenance of Good Works the Fruit of Faith
W. Taylor.
Titus 3:8
The Necessary Connection Between Gospel Doctrine and Good Works
T. Croskery
Titus 3:8
The Practice of Good Works
Thos. Whincop, D. D.
Titus 3:8
Christian Character
W.M. Statham
Titus 3:8, 14
A Warning Against Frivolous and Disputative Teaching
T. Croskery
Titus 3:9
Avoiding Unprofitable Questions
Memoir of Dr. Brock.
Titus 3:9
Controversy Foolish and Unprofitable
T. Adams.
Titus 3:9
Foolish Questions Reproved
B. Beddome, M. A.
Titus 3:9
It is Better not to Try to Understand Too Much
T. Adams.
Titus 3:9
Profitless Questions
 
Titus 3:9
Religious Disputes
B. Calamy.
Titus 3:9
The Polemical and the Practical Christian
 
Titus 3:9
The Right and Wrong Use of Genealogies
T. Taylor, D. D.
Titus 3:9
Unanswerable Questions to be Avoided
Otto Funcke.
Titus 3:9
The Worthless, the Pernicious, and the Desirable in Social Life
D. Thomas
Titus 3:9-15
Condemning of Himself
Saturday Magazine
Titus 3:10-11
Contagion of False Doctrine
C. H. Spurgeon.
Titus 3:10-11
Dilution of the Truth
C. H. Spurgeon.
Titus 3:10-11
Heresy Hunters
H. W. Beecher.
Titus 3:10-11
Heresy not to be Trifled With
C. H. Spurgeon.
Titus 3:10-11
The Right Attitude of Christian Ministers Toward Divisive Errorists
T. Croskery
Titus 3:10, 11
The Treatment of Heresy
F. Wagstaff.
Titus 3:10-11
Treatment of Heretics
T. Taylor, D. D.
Titus 3:10-11
Treatment of Heretics
A. Plummer, D. D.
Titus 3:10-11
Wilful Heresy
James Foster., T. Taylor, D. D.
Titus 3:10-11
Personal Directions
T. Croskery
Titus 3:12, 13
Christianity Enjoins Courtesy
T. Taylor, D. D.
Titus 3:13
Sermon to the Legal Profession
T. De Witt Talmage, D. D.
Titus 3:13
Titus' Duty to His Fellow Ministers
G. Lawson, D. D.
Titus 3:13
A Last Reminder Concerning Good Works
T. Croskery
Titus 3:14
Christianity Fruitful
T. Taylor, D. D.
Titus 3:14
Fruifulness the True Test
Jonathan Edwards.
Titus 3:14
The Mutual Property and Purpose of Good Men
Homilist
Titus 3:14
Christian Love
T. Taylor, D. D.
Titus 3:15
Christian Love
 
Titus 3:15
Salutation and Conclusion
T. Croskery
Titus 3:15
Shake Hands
 
Titus 3:15
Book