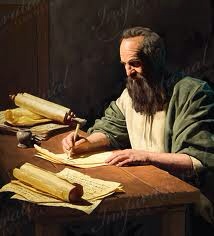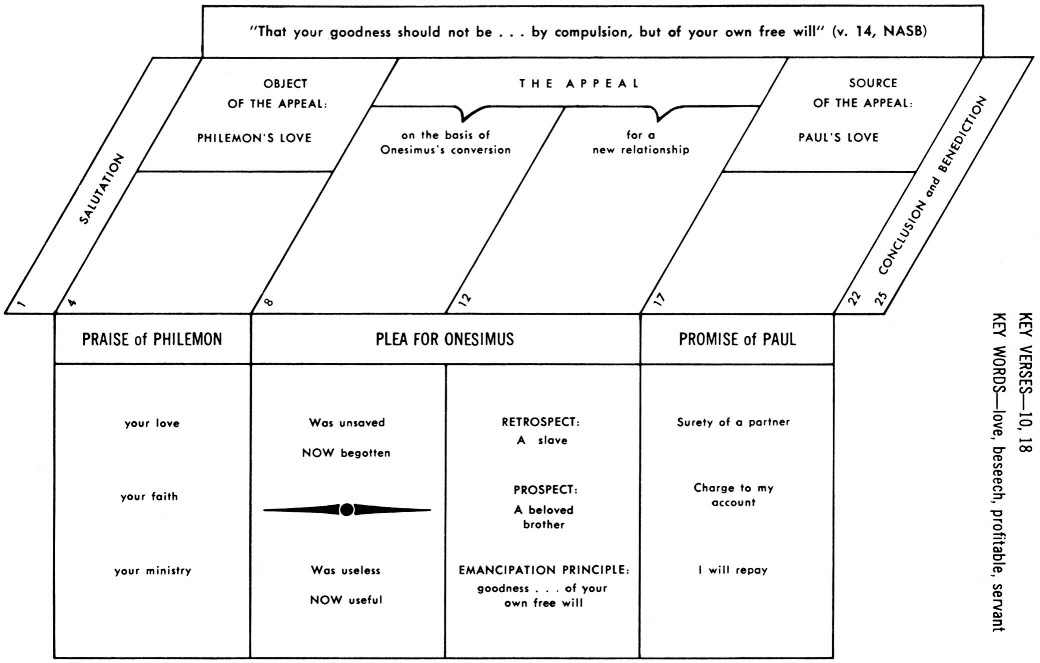 APPEAL FOR FORGIVENESS
Click chart to enlarge
Charts from Jensen's Survey of the NT - used by permission
Another Overview Chart - Philemon - Charles Swindoll
Another Overview Chart
Detailed Chart by W Graham Scroggie
Carson, Herbert M., "The Epistle of Paul to the Colossians and Philemon." The Tyndale New Testament Commentaries. Grand Rapids: Wm. B. Eerdmans Pub. Co. (1960).
Drysdale, A. H., "The Epistle of St. Paul to Philemon." Devotional Commentaries. London: The Religious Tract Society (1870; 1925 reprint). -- Rich in devotional value, yet a work of scholarly exposition. Full, lucid, and abounding in practical applications.
Ernst, Karl J., The Art of Pastoral Counselling. A Study of the Epistle to Philemon. Grand Rapids: Zondervan Publishing House (1941). -- Philemon viewed as a case in pastoral counseling. Interesting and stimulating analysis of the epistle.
Gaebelein, Frank E., Philemon the Gospel of Emancipation. Wheaton: Van Kampen Press (1939). -- A brief exposition based on careful study of the text, with applications to daily life.
Hendriksen, William, "Exposition of Colossians and Philemon." New Testament Commentary. Grand Rapids: Baker Book House (1964).
Hiebert, D. Edmond, "Titus and Philemon." Everyman's Bible Commentary. Chicago: Moody Press (1968). -- An exegetical treatment of both epistles in the light of the original as the basis for an interpretation of the text.
Johnson, Philip C., "The Epistles To Titus and Philemon." Shield Bible Study Series. Grand Rapids: Baker Book House (1966). -- A concise, well-outlined interpretation intended as a study guide to these epistles.
Kelly, William, An Exposition of the Epistle of Paul to Titus and of that to Philemon, With Translation of an Amended Text. Denver: Wilson Foundation (1968 reprint). -- A careful exposition by a voluminous Plymouth Brethren scholar of the past century.
Knox, John, and Buttrick, George A., "The Epistle to Philemon," The Interpreter's Bible. Vol. XI. New York: Abingdon Press (1955). -- Introduction and exegesis by Knox; exposition by Buttrick. -- Knox propounds the novel view that the real owner of Onesimus was Archippus and that the purpose of the letter was to secure the return of Onesimus to Paul for his own service.
Lenski, R. C. H., The Interpretation of St. Paul's Epistles to the Colossians, to the Thessalonians, to Timothy, to Titus and to Philemon. Columbus, Ohio: Lutheran Book Concern (1937).
Lightfoot, J. B., Saint Paul's Epistle to the Colossians and to Philemon. London: Macmillan and Co. (1927 reprint).
Lohse, Eduard, "Colossians and Philemon, A Commentary on the Epistles to the Colossians and to Philemon." Hermenia—A Critical and Historical Commentary on the Bible. Translated by William R. Poehlmann and Robert J. Karris. Edited by Helmut Koester. Philadelphia: Fortress Press (1971).
Maclaren, Alexander, "The Epistles of St. Paul to the Colossians and to Philemon," The Expositor's Bible. Grand Rapids: Wm. B. Eerdmans Pub. Co. (1943 reprint).
Martin, Ralph P., "Colossians and Philemon." New Century Bible Based on the Revised Standard Version. London: Oliphants (1974).
Müller, Jac. J., "The Epistles of Paul to the Philippians and to Philemon." The New International Commentary on the New Testament. Grand Rapids: Wm. B. Eerdmans Pub. Co. (1955). -- A concise interpretation by a conservative professor of South Africa. Seeks to maintain a balance between exact scholarship and the practical import of the letters. Technical matters are confined to the footnotes.
Moule, C. F. D., "The Epistles of Paul the Apostle to the Colossians and to Philemon." Cambridge Greek Testament Commentary. Cambridge: University Press (1957).
Moule, H. C. G., "The Epistle of Paul the Apostle to the Colossians and to Philemon." Cambridge Bible for Schools and Colleges. Cambridge: University Press (1893; 1932 reprint).
Radford, Lewis B., "The Epistle to the Colossians and the Epistle to Philemon." Westminster Commentaries. London: Methuen & Co. (1931).
Scroggie, W. Graham, A Note to a Friend, Paul to Philemon. London: The Hulbert Publishing Co. (n.d.). -- An in-depth study of this brief letter, based upon a detailed outline, with warm practical lessons. Richly rewarding.
Thomas, W. H. Griffith, Studies in Colossians and Philemon. Edited by Winifred G. T. Gillespie, his daughter. Grand Rapids: Baker Book House (1973).
Vincent, Marvin R., "A Critical and Exegetical Commentary on the Epistles to the Philippians and to Philemon." Edinburgh: T. & T. Clark (1897; 1950 reprint). -- Greek text. A scholarly, generally conservative interpretation with valuable introductions and word studies and exegetical comments
From Hiebert's highly recommended resource: An Introduction to the New Testament.
Short Pithy Comments similar to following but less Greek
C H Spurgeon wrote that Bengel's NT commentary "is the Scholar's delight! Bengel condensed more matter into a line than can be extracted from pages of other writers."
F W Farrar writes that Bengel's "Gnomon is a mine of priceless gems. It contains sentence after sentence exquisitely terse and finished, and throbbing with spiritual light. Few writers have so admirably succeeded in expressing in a few words the inmost purpose of each of the Epistles. A generation crowded with writers whose theology abounded in mutual anathemas is yet redeemed from the charge of sterility which has produced such a theologian as Bengel. His work must continue to have its value so long as men can recognise the richest fruits of a noble intellect, a pure spirit, and a blameless life. "Lord Jesus, unto Thee I live, unto Thee I suffer, unto Thee I die; Thine I am, living or dying." These words were repeated to him in his last moments, and on hearing them he pointed with his right hand to his heart, and fell asleep in peace." (Amen!) (History of Interpretation: Eight Lectures Preached Before the University of Oxford in the Year 1885).
John Wesley said of Bengel "I know of no commentator on the Bible equal to Bengel" and referred to him as "The great light of the Christian world."
A. Lukyn Williams (1853–1943) was ordained to the priesthood in 1877, and became principal of Moore Theological College in 1878. On Philemon, Williams also discusses its canonicity, as well as its relation to slavery.
H. C. G. Moule (1841–1920) was the son of the vicar of Fordington, Dorchester, and was educated at home prior to attending university at Cambridge. He was ordained in 1867 and was curate at Fordington before being appointed as dean of Trinity College, Cambridge, 1873 to 1876. During his tenure at Cambridge he became first principal of Ridley Hall Theological College, in 1881, and Norrisian Professor of Divinity in 1899. In 1901, he succeeded B.F. Westcott as Bishop of Durham.
He wrote Colossians and Philemon in a single volume - This volume is divided into two distinct sections, covering first Colossians and then Philemon. Before the verse-by-verse commentary on each epistle, facts and background information are laid out in a detailed manner. Included is an essay entitled "Slavery, and the Attitude of Christianity Towards It."
"Designed for Pastors and Sunday Schools"
His sermons function much like a verse by verse commentary
Philemon Commentary - scroll on "bookshelf" to entry for "Philippians, Colossians, Philemon" - click the book for notes
D Edmond Hiebert - Rich in devotional value, yet a work of scholarly exposition. Full, lucid, and abounding in practical applications.
ADDRESS AND SALUTATION
I Name and Title of the Writer - Philemon 1:1
II Friendly Greetings and Compliments - Philemon 1:1,2
III Salutation to the Church-Fellowship - Philemon 1:2
IV A General Benediction - Philemon 1:3-7
THE EXORDIUM OR PROLOGUE
Preliminary Note
I Devout Thanks and Prayer - Philemon 1:4
II Reasons for the Devout Thanks - Philemon 1:5
III Purport of the Prayer - Philemon 1:6
IV Good Occasion for Thanks - Philemon 1:7
THE BODY OF THE EPISTLE
I Approaching the Subject - Philemon 1:8,9
II Paul Unveiling the Subject - Philemon 1:9-12
III Paul Explaining the Subject - Philemon 1:13,14
IV Paul Arguing the Subject - Philemon 1:15
V Paul Pleading the Subject - Philemon 1:16
VI Paul Enforcing the Subject - Philemon 1:17
VII Paul Guarding the Subject - Philemon 1:18-20
VIII Paul Commending the Subject - Philemon 1:21,22
THE CONCLUSION
Parting Salutations and Benediction - Philemon 1:23, 25
Warren W. Wiersbe - If you can locate the six-volume edition of the Expositor's Bible, buy it immediately! It takes up less space than the original fifty-volume set, and not everything in the original set is worth owning. Samuel H. Kellogg on Leviticus is a classic; so is Alexander Maclaren on the Psalms and on Colossians. (A Basic Library for Bible Students)
Rosscup - A good practical discussion of the book, with Ironside's usual illustrative richness. (Commentaries for Biblical Expositors: An annotated bibliography of selected works)
Hiebert - A careful exposition by a voluminous Plymouth Brethren scholar of the past century.
Rosscup - Many regard (his) commentary (on Colossians) as the best older work on the Greek text… As earlier stated, this work is excellent on Colossians and is also helpful on Philemon in the Greek text. (Commentaries for Biblical Expositors: An annotated bibliography of selected works)
This series by MacArthur in 1991 is entitled "Forgiveness: How to Restore Broken Relationships" - It's the simple mathematics of being human. Two people plus one relationship equals inevitable pain. One unkind word, careless act, or intentional attack, and a gulf is opened that could potentially damage a relationship forever. That's where the need for real, biblical forgiveness comes in. Forgiveness can heal even the worst damage between husbands and wives, children and parents, longtime friends, and everyone in between. In Forgiveness, John MacArthur looks to the life of Philemon to illuminate one of Scripture's greatest examples of human forgiveness in action.
HISTORICAL AND THEOLOGICAL THEMES - Philemon provides valuable historical insights into the early church's relationship to the institution of slavery. Slavery was widespread in the Roman Empire (according to some estimates, slaves constituted one third, perhaps more, of the population) and an accepted part of life. In Paul's day, slavery had virtually eclipsed free labor. Slaves could be doctors, musicians, teachers, artists, librarians, or accountants; in short, almost all jobs could be and were filled by slaves. Slaves were not legally considered persons, but were the tools of their masters. As such, they could be bought, sold, inherited, exchanged, or seized to pay their master's debt. Their masters had virtually unlimited power to punish them, and sometimes did so severely for the slightest infractions. By the time of the NT, however, slavery was beginning to change. Realizing that contented slaves were more productive, masters tended to treat them more leniently. It was not uncommon for a master to teach a slave his own trade, and some masters and slaves became close friends. While still not recognizing them as persons under the law, the Roman Senate in A.D. 20 granted slaves accused of crimes the right to a trial. It also became more common for slaves to be granted (or to purchase) their freedom. Some slaves enjoyed very favorable and profitable service under their masters and were better off than many freemen because they were assured of care and provision. Many freemen struggled in poverty. The NT nowhere directly attacks slavery; had it done so, the resulting slave insurrections would have been brutally suppressed and the message of the gospel hopelessly confused with that of social reform. Instead, Christianity undermined the evils of slavery by changing the hearts of slaves and masters. By stressing the spiritual equality of master and slave (Philemon 1:16; Gal 3:28; Eph 6:9; Col 4:1; 1Ti 6:1, 2), the Bible did away with slavery's abuses. The rich theological theme that alone dominates the letter is forgiveness, a featured theme throughout NT Scripture (cf. Mt 6:12–15; 18:21–35; Eph 4:32; Col 3:13). Paul's instruction here provides the biblical definition of forgiveness, without ever using the word. (Philemon: Introduction)
Outline & References
Notes on the Text
Philemon 6 - That the fellowship of thy faith may become effectual.
That was the burden of Paul's prayer for Philemon; and in sending Onesimus back to him, he was creating a new opportunity for his realization of that very thing. Philemon had faith, as Paul had already said; and it was a double faith, "toward the Lord Jesus, and toward air the saints." That faith necessarily placed him in the realm of fellowship, and that was also two-sided: fellowship with the Lord Jesus, and fellowship with all the saints. Such was his faith, his conviction, that to which he had yielded himself. Such was his fellowship, his vital relationship, the good thing which was in him. Paul's prayer for him was that it might be effec­tual; that is, effective. Faith and fellowship are at once made valuable and vindicated as they are active. While a number of names are found in this letter, three stand out prominently, those of Paul, Philemon, and Onesimus. They share a common faith; they are members of one fellowship. The circumstances were such as to give the fellowship of their faith an oppor­tunity for action; that is, to become effectual. It was so in the case of Paul, as he sent Onesimus back to his master, even though he would have been serviceable to himself in his prison. It was so in the case of Onesimus, in that he went back to the master whom he had wronged in running away from him. The letter was written that it might be so in the case of Philemon as he received Onesimus, "no longer as a servant … but a brother beloved."
Excerpt from the intro - What's the big idea? - Paul's message to Philemon was a simple one: based on the work of love and forgiveness that had been wrought in Philemon's heart by God, show the same to the escaped and now-believing slave Onesimus. The apostle's message would have had extra force behind it because he knew Philemon personally. Paul had explained the gospel to Philemon and had witnessed the profound result: new life blossoming in a once-dead heart (Philemon 1:19). Paul knew that conversion is nothing to trifle with, but that it should be honored and fostered. So Paul made a request. He wanted Philemon to forgive Onesimus, to accept the slave as a brother in Christ, and to consider sending Onesimus back to Paul, as the apostle found him useful in God's service (Philemon 1:11–14). Paul did not minimize Onesimus's sin. This was not some kind of cheap grace that Paul asked Philemon to offer. No, there was sacrifice required in this request, and because of that, Paul approached the topic with gentleness and care (Philemon 1:21). His letter to Philemon presents in full color the beautiful and majestic transition from slavery to kinship that comes as a result of Christian love and forgiveness.

How do I apply this? - Live long enough, and you will understand the difficulty of offering forgiveness when you have been wronged. It does not come easy, yet as believers, we have to recognize that our ability and willingness to offer it are the result of Christ's saving work on the cross. Because of that fact, forgiveness serves as a determining factor in who we say we are and how we hope to live our lives. When we do not forgive, bitterness takes root in our hearts and chokes the vitality out of us. In what ways has forgiveness been a struggle for you since you accepted Christ's forgiveness? Allow Paul's letter to Philemon to encourage forgiveness in your own life, and trust God to foster renewed life in your heart and your relationships.
PAUL CHAPPELL - devotionals
Excerpt: The usual penalty for an escaped slave was death or branding with a hot iron to mark him with the letter "F" forfugitivus, a fugitive. Paul is not expecting Philemon to do any of this.....What happened to Onesimus? Church history records that Onesimus was set free as a slave by his master Philemon (Apostolical Canons [73]). The Apostolical Constitutions [7.46] state that he was consecrated by Paul to be bishop of Berea, in Macedonia, and that he was martyred at Rome.
Excerpt from sermon illustrating Providence - John Wesley's father, Samuel, was a dedicated pastor, but there were those in his parish who did not like him. On February 9, 1709, a fire broke out in the rectory at Epworth, possibly set by one of the rector's enemies. Young John, not yet six years old, was stranded on an upper floor of the building. Two neighbors rescued the lad just seconds before the roof crashed in. One neighbor stood on the other's shoulders and pulled young John through the window. Samuel Wesley said, "Come, neighbors, let us kneel down. Let us give thanks to God. He has given me all my eight children. Let the house go. I am rich enough." John Wesley often referred to himself as a "brand plucked out of the fire" (Zech 3:2; Amos 4:11). In later years he often noted February 9 in his journal and gave thanks to God for His mercy. Samuel Wesley labored for 40 years at Epworth and saw very little fruit; but consider what his family accomplished! (Warren Wiersbe, Wycliffe Handbook of Preaching and Preachers, p. 251) You see, while you are going through a difficult situation you may not understand why, in fact it may even be discouraging to you, you may wonder what in the world God is doing. But as you look back, as you pass through that situation, you see the hand of God all through it, that He has a plan and a purpose. My prayer as we go through these passages this morning in Philemon and some other Scriptures, is that we would learn to trust in the providence of God and see that God means things for good in the end, even though we may not see it in the present situation we are in.
DAVID LEGGE - sermon
CHRIS BENFIELD - sermon
ARTHUR PEAKE - commentary
PETER PETT - commentary
EASY ENGLISH - commentary
W A CRISWELL - sermon
ROBERT RAYBURN - sermons
MONERGISM - sermons - Mp3
JAMES T DENNISON - article
Paul, Philemon, Onesimus and the New Creation in Christ Jesus
DANNY OLINGER - article
MICHAEL A G HAYKIN - journal article
JERRY DODSON - 11 page article
JOHN PIPER - article
GOSPEL COALITION - sermons, most Mp3's, Gary Inrig, Alistair Begg, Iain Campbell, Mark Dever
R C SPROUL - Devotionals - Tabletalk
DAVID STRAIN - sermons
GENE GETZ - Short videos with emphasis on principles
Philemon; Principle #1; Phm. 1-3; Confronting Sensitive Issues: To resolve certain problems, spiritual leaders must communicate with everyone in a local church. Video
Philemon; Principle #2; Phm. 4-16; Demonstrating Wisdom: To carry out Christ's mission to the world, we must demonstrate wisdom toward all people. Video
Philemon; Principle #3; Phm. 17-22; The Judeo-Christian Ethic: Though God has not promised that we can significantly change our culture at large, as believers we are to be faithful in demonstrating biblical values. Video
GOTQUESTIONS - articles
BRUCE GOETTSCHE - sermon (topic - forgiveness)
RICK EZELL - sermon
VALLEY BIBLE CHURCH - article
JAMES HASTINGS - great texts
JAMES GRAY - overview article
FRED H WRIGHT - Manners and customs
WILLIAM ORR - overview article
MYER PEARLMAN - overview article
GEORGE MULLER - sermon notes
ROBERT HAWKER - devotional
JON COURSON - devotional
NORMAN GEISLER - article
ROBERT MORGAN - devotional & sermon
J C PHILPOT - devotional
IAN PAISLEY - devotional
VANCE HAVNER - devotional
JOHN HENRY JOWETT - devotional
JOHN BUTLER - sermon starters
See Devotionals-Philemon for Our Daily Bread and other devotional works.
Scroll down for homiletics and notes
Scroll down for homiletics or click for Pulpit Commentary Homiletics
Comment: This excellent commentary is filled with "pearls," is a very easy to understand and is imminently applicable to real life. Scroggie writes 171 pages on ONE CHAPTER and discusses not just each verse but even each phrase. Excellent exposition!
D Edmond Hiebert an excellent expositor in his own right writes - "An in-depth study of this brief letter, based upon a detailed outline, with warm practical lessons. Richly rewarding."
Dr John Cereghin pastor and writer of a short work on Philemon comments - " A rewarding and in depth study. One of the best ever produced on this epistle." (I agree!)
SEE ALSO…
Philemon Sermons
Philemon Commentary - short expositions on following verses
Outline & References
Notes on the Text
Rosscup comments on Vincent's commentary in the ICC series - "Obtain this work for a detailed examination of the Greek text with good word studies." (Commentaries for Biblical Expositors: An annotated bibliography of selected works)
D Edmond Hiebert on his commentary - Greek text. A scholarly, generally conservative interpretation with valuable introductions and word studies and exegetical comments.
Book