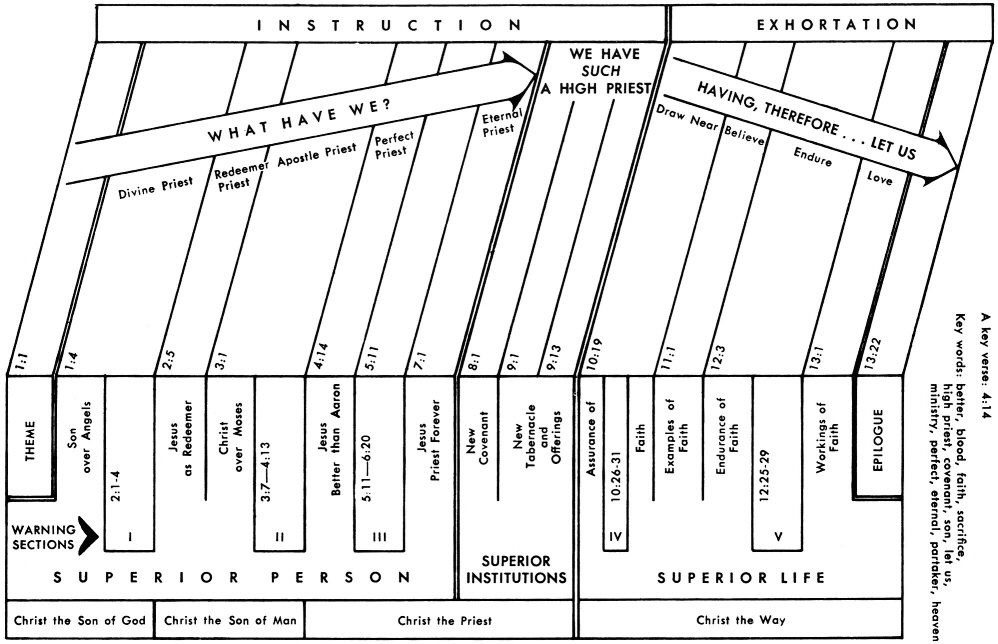 CONSIDER JESUS OUR GREAT HIGH PRIEST
Click chart to enlarge
Charts from Jensen's Survey of the NT - used by permission
Another Overview Chart - Hebrews - Charles Swindoll
Another Overview Chart
The Epistle
to the Hebrews

INSTRUCTION
Hebrews 1-10:18
EXHORTATION
Hebrews 10:19-13
Superior Person
of Christ
Hebrews 1:1-4:13
Superior Priest
in Christ
Hebrews 4:14-10:18
Superior Life
In Christ
Hebrews 10:19-13
BETTER THAN
PERSON
Hebrews 1:1-4:13
BETTER
PRIESTHOOD
Heb 4:14-7:28
BETTER
COVENANT
Heb 8:1-13
BETTER
SACRIFICE
Heb 9:1-10:18
BETTER
LIFE
MAJESTY
OF
CHRIST
MINISTRY
OF
CHRIST
MINISTERS
FOR
CHRIST

DOCTRINE

DUTY

DATE WRITTEN:
ca. 64-68AD
Key Words/Phrases: (Click for complete listing of Key Words in Hebrews) Better, Blood, Faith, Eternal, Once, Sacrifice, High Priest, Jesus, Covenant, Perfect, Eternal, Partaker, Ministry. See discussion of key words, a vital component of inductive Bible study.
My personal favorite phrase in Hebrews is "He is able" -Meditate on Hebrews 2:18 and Hebrews 7:25 to see what Your Great High Priest is able to accomplish for you, dear child of God!
Key Verses: Hebrews 4:14, Hebrews 4:12, Hebrews 10:19-22
Type of literature: Letter or epistle - a "word of exhortation" (Heb 13:22). Exhortations introduced by "Let us" (Hebrews 4:1, 11, 14, 16, 6:1, 10:22, 23, 24, 12:1, 28, 13:13, 15).
Author: Unknown. Paul is often mentioned.
Recipients: Hebrew Christians-genuine and professing (specifically those tempted to lapse into Judaism)
Old Testament Quotations (or Allusions): click for OT passages in Hebrews
Introductions, Arguments and Outlines
Henrietta Mears writes...
We as Christians have that which is better—better in every way. The key word to the book of Hebrews is "better." It occurs thirteen times (in the KJV)....

How often when you take a trip for the first time over a new road, you drive straight along anticipating where it will lead, and what difficulties you may encounter. It seems to be the thing to do. Coming back over the same road, you look around and notice things. Do this in studying the book of Hebrews. Read it through, and do not be overanxious about the things you cannot understand. Then you can go back over the road in your reading and take notice of the many things along the way. You could spend months in Hebrews. It presents so many wonderful truths. At the first reading, you will be impressed by one fact above all others: that Jesus Christ is prominent on every page...

This book was written to strengthen the faith of wavering believers. Paul's great argument is the superiority of Christ over all others.

Do we know the real difference between having Christ as a Savior and as a Priest? Well, this book answers the question.

The book of Hebrews proves that we can never understand the Old Testament without the New, or the New without the Old....

Consider Jesus -This is our weakness. We look at ourselves and our own weakness. Consider Him (Hebrews 3:1). This is the astronomer's word. Set your telescope to the heavens and gaze upon Him....

Joshua could not lead the children of Israel into this perfect rest and trust in God, but Jesus did. Cease from self-effort and yield yourself to Christ (Hebrews 4:10). Trust Jesus as your Joshua and "enter in" to His land of promise. Cease struggling and place all in His hand. (Read Psalm 37:5.)

Excerpts from What the Bible is All - highly recommended to aid your overview and integration of all 66 books of the Bible
J Sidlow Baxter writes...
I shall not forget my first sight of Mont Blanc towering up beyond the Chamonix Valley, king among Alpine giants, crowned with a sun-transfigured majesty. One may well feel a similar, reverential wonder with this transcendent "Epistle to the Hebrews" opening up to view. It is one of the greatest two theological treatises in the New Testament. (Ed: Romans being the other)

Here is Baxter's Outline entitled:

CHRIST THE "NEW AND LIVING WAY"

1. JESUS - THE NEW AND "BETTER "DELIVERER (Heb 1-7).
Jesus the God-Man - better than angels (Heb 1:1-2:18).
Jesus the new Apostle - better than Moses (Heb 3:1-19)
Jesus the new Leader - better than Joshua (Heb 4:1-13).
Jesus the new priest - better than Aaron (Heb 4:14-7).
2. CALVARY - THE NEW AND "BETTER" COVENANT (Heb 8:1-10:18)
New covenant has better promises (Heb 8:6-13).
And it opens up a better sanctuary (Heb 9:1-14).
And is sealed by a better sacrifice (Heb 9:15-28).
And it achieves far better results (Heb 10:1-18).
3. FAITH - THE TRUE AND "BETTER" PRINCIPLE (Heb 10:19-13).
Faith the true response to these "better" things (Heb 10:19-39)
It has always been vindicated as such: examples (Heb 11:1-40).
Is now to endure, patiently looking to Jesus (Heb 12:1-13).
Is to express itself in practical sanctity (Heb 12:14-13:21).
Parting words Heb 13:22-25.
From Baxter's Explore the Book - Recommended Resource - excellent overview of the Bible
A M Hodgkin (Christ in All the Scriptures) writes:
The glories of our Savior are exhibited in this Epistle; it is one of the most precious books in the Bible. It has been called "The Fifth Gospel." Four describe Christ's ministry on earth, this describes His ministry in heaven. It was written to Hebrew disciples, probably of Jerusalem, to avert the danger of their drifting back into Judaism. They are exhorted to let go everything else, in order to hold fast the faith and hope of the Gospel. The Epistle is attributed to Paul, and though many question this, there is abundance of evidence in its favor. To give one example only, the concluding salutation, "Grace be with you all," is Paul's "sign-manual" in every Epistle.
The Key-note is the High-Priesthood of the Lord Jesus...Throughout this Epistle we note that whatever Christ touches He makes eternal. Trace the word "eternal" throughout (Hebrews 5:9, 6:2, 9:12, 14, 15, 13:20). (Ed: There is another "time word", once, which speaks of finality in Hebrews - see Hebrews 6:4, 7:27, 9:7, 12, 26, 27, 28, 10:2, 10, 12:26, 27)
Hebrews 1-2. Christ better than the angels both in His deity and His humanity.
As our great High Priest, Christ is able to understand all our need, because He is perfect Man. He is able to meet all our need, because He is perfect God. The central point is Christ's eternal Priesthood and all-availing sacrifice for sin. The Epistle dwells upon the supreme importance and power of the blood of Christ in obtaining eternal redemption for us, in purging the conscience, in opening to us the heavenly sanctuary.
Hebrews 3. Christ better than Moses.
Hebrews 4. Christ better than Joshua.
Hebrews 5, 6, 7. Christ better than Aaron.
Hebrews 8. A better Covenant.
Hebrews 9. A better Tabernacle.
Hebrews 10. A better Sacrifice.
Hebrews 11. Examples of Faith's better choice.
Hebrews 12. Call to follow this glorious company and the great Captain Himself in the path of outward loss for eternal gain.
Hebrews 13. Call to go forth unto Him without the camp bearing His reproach.
Daniel Wallace in his introduction writes...
Philip Edgcumbe Hughes opens the introduction to his commentary on Hebrews with some insights into this very enigmatic book:

If there is a widespread unfamiliarity with the Epistle to the Hebrews and its teaching, it is because so many adherents of the church have settled for an understanding and superficial association with the Christian faith. Yet it was to arouse just such persons from the lethargic state of compromise and complacency into which they had sunk, and to incite them to persevere wholeheartedly in the Christian conflict, that this letter was originally written. It is a tonic for the spiritually debilitated.… We neglect such a book to our own impoverishment. (Hebrews Introduction)
Leonard S. Walmark writes that...
The theological epicenter of the Epistle to the Hebrews may be summed up in one word: Christology. No biblical document outside of the four Gospels focuses as totally and forcefully on the Person and redemptive achievement of Jesus...For purposes of analysis the epistle may be divided into two major sections. In Hebrews 1:1-10:18, the primary theme is the superiority of Christ as eternal High Priest. He is declared ultimately superior to the most cherished institutions of the ancient Hebrew faith. He is superior to the word of God spoken through the prophets since He Himself is God's ultimate redemptive Word. He is superior to the angelic hosts because no angel can boast of being the Son of God, fully Divine (Heb 1:4-14), and yet fully Human (Heb 2:5-18). These two factors qualify Him uniquely to be the faithful and perpetual sin-bearer of His people. On the basis of that same uniqueness of being, He is as superior to Moses the great lawgiver of Israel (Heb 3:1-6), as Creator is to the created. The spiritual rest from dead works offered by Jesus is superior to that temporal one represented in Moses and Joshua through the occupation of the promised land (Heb 4:1-11; esp. Heb 4:9-10). Beginning with Hebrews 5:1 the central theological concern of the epistle emerges: the eternal spiritual priesthood assumed by Jesus through offering up Himself as the once-for-all sacrifice for sins. It is infinitely superior to the temporal earthly ministry exercised by Aaron and his descendants (Heb 4:14-5:11; 7:1-10:18). (Hebrews Theology)
Onsite - Literal, conservative, millennial, evangelical perspective
Click the link below to open 344 page Pdf and Enter the Page Number to go to the Chapter of Interest
Click to open Pdf: Hebrews: Looking Unto JESUS
Enter Page #
Introduction………………………………………………........………….....….4
Hebrews 1:1-4 The Doctrine of God………………………………………...6
Hebrews 1:5-14 His Superiority Should Inspire Us…………………….16
Hebrews 2:1-4 His Superiority Should Warn Us…………………….....28
Hebrews 2:5-9 A Lesson on Angels Should Challenge Us…………...42
Hebrews 2:10-13 Who We Are Because of Who He Is………………..57
Hebrews 2:14-18 Christ the Partaker…………………….……………......75
Hebrews 3:1-6 Whom Should We Consider……………………...........89
Hebrews 3:7-19 Do Not Be Hindered by Unbelief ……………………104
Hebrews 4:1-10 Rest……………………………………………….............119
Hebrews 4:11-16 Cure for Unbelief……………………………………....134
Hebrews 5:1-5 A Further Look at the Great High Priest…………….148
Hebrews 5:6-10 The Order of Melchisedec……………………………..162
Hebrews 5:10-14 When Truth is Neglected…………………………….176
Hebrews 6:1-6 Let Us Go On…………………………………………….....189
Hebrews 6:7-20 The Rain, the Seed, and the Anchor……………...205
Hebrews 7:1-28 Let Melchisedec Show You Jesus…………...........223
Hebrews 8:1-13 Good Math……………………………......................241
Hebrews 9:1-10 The Earthly, the Eternal, and the Enduring Priesthood Pt 1.....256
Hebrews 9:11-28 The Earthly, the Eternal, and the Enduring Priesthood Pt 2...269
Hebrews 10:1-18 No Pleasure……………………………......……........279
Hebrews 10:19-39 Let Us Draw Near With a True Heart…………..288
Hebrews 11:1-40 Faith's Hall of Fame…………………………………...298
Hebrews 12:1-17 Looking Unto Jesus………………………………......310
Hebrews 12:18-29 The Two Mountains………………….......….......321
Hebrews 13:1-25 A Final Challenge To Holy Living………………….335
James Rosscup writes that Alford's series on the New Testament "contains much that is valuable in the Greek New Testament...though all of the Greek New Testament words have been changed to English throughout." (Commentaries for Biblical Expositors: An Annotated Bibliography of Selected Works or Logos)
John Piper writes ""When I'm stumped with a...grammatical or syntactical or logical [question] in Paul, I go to Henry Alford. Henry Alford...comes closer more consistently than any other human commentator to asking my kinds of questions."
Charles Haddon Spurgeon writes that this text "is an invaluable aid to the critical study of the text of the New Testament. You will find in it the ripened results of a matured scholarship, the harvesting of a judgment, generally highly impartial, always worthy of respect, which has gleaned from the most important fields of Biblical research, both modern and ancient, at home and abroad. You will not look here for any spirituality of thought or tenderness of feeling; you will find the learned Dean does not forget to do full justice to his own views, and is quite able to express himself vigorously against his opponents; but for what it professes to be, it is an exceedingly able and successful work. The later issues are by far the most desirable, as the author has considerably revised the work in the fourth edition. What I have said of his Greek Testament applies equally to Alford's New Testament for English Readers,* which is also a standard work." (Spurgeon, C. H. Lectures to my Students, Vol. 4: Commenting and Commentaries; Lectures Addressed to the students of the Pastors' College, Metropolitan Tabernacle)
Similar to following but less Greek
C H Spurgeon wrote that Bengel's NT commentary "is the Scholar's delight! Bengel condensed more matter into a line than can be extracted from pages of other writers."
John Wesley said of Bengel "I know of no commentator on the Bible equal to Bengel" and referred to him as "The great light of the Christian world."
These function like a 500+ Page Commentary! Highly Recommended. Very well done.
HINT: Click here to Scroll Bible text synchronized with Constable's notes. Very useful feature! Recommended: NETBible notes are in the right panel. You can also select the tab for "Constable's Notes." As you scroll the Bible text in the left panel, the notes are synchronized and will scroll to the same passage. This is a very helpful feature.
Each lesson on this study of Hebrews is designed fit into the whole of the book. The attached Powerpoint and audio were given during the teaching of these lessons. The attached word document (study guides) are questions for the congregation, handed out the week prior to the lesson. They are intended for reflection and self study before reading/listening to the lesson.
Note that each of these messages are in depth studies.
Frequent use of sermon illustrations.
An Outlined Commentary - Pdf
Very well done sermons on Hebrews.
These well done sermons function much like a verse by verse commentary
Mp3's Only - Click on the links below for multiple Mp3's on each chapter.
Frederick Brotherton Meyer (April 8, 1847 – March 28, 1929), a contemporary and friend of D. L. Moody was a Baptist pastor and evangelist in England involved in ministry and inner city mission work on both sides of the Atlantic. Author of numerous religious books and articles, many of which remain in print today, he has been described as The Archbishop of the Free Churches.
NETBible notes are in the right panel with Constable's Notes.
Rosscup writes - The student will find this a helpful volume on the English text much like Newell's valuable works on Romans and Revelation. Newell was premillennial and dispensational. On Hebrew 6, Newell takes the stance that professors are in view. (Commentaries for Biblical Expositors)
Appendices
A - Why to "Hebrews?"
B - The Teachings of Baptisms (Hebrews 6:2)
C - The Nature of the Church
D - Three Greek Words for "Place"
E - Three Elements of Divine Forgiveness
F - Delayers of Our Lord's Coming (Hebrews 10:37)
G - Authorship of Hebrews
H - The Books Which Follow Hebrews
Well Done Expositional Sermons
These Devotionals are an excellent source of Sermon Illustrations
Our Daily Bread Devotionals On Site: Some duplication of above listing
Hint - Scroll down each of the pages on "Exposition" for multiple Homilies.
Note: Allusions marked with asterisk (*)
Note also that many of the OT quotes are from the Septuagint (Lxx)
which is why the wording may appear somewhat different.
NAS identifies OT quotes in the NT with Small Caps. NET Bible uses bold italics. NKJV uses italics
The Theological Journal Library on galaxie.com
An annual $50 or monthly $5 subscription (click here) is required to view the entire article but will give you access to literally thousands of conservative articles. Click the following links to search by topic, author, or bible reference.
Theological Journal Articles on "Rest"
Journal Articles - The articles below allow view of full article without fee
Hebrews 1:6 - Hebrews 1:6:Source and Significance - Gareth L Cockerill
Hebrews 2 - Hermeneutical Issues and Principles in Hebrews as Exemplified in the Second Chapter - Lanier Burns
Hebrews 2:5-18 - Christ and His People - An Exegetical and Theological Study of Hebrews 2:5-18 - Geoffrey W Grogan
Hebrews 3:1-6 - Scott, Brett R. "Jesus' Superiority over Moses in Hebrews 3:1-6 Bibliotheca Sacra 155 (1998) 201-10.
Hebrews 4 - I Will Give you Rest-Background and Significance of the Rest Motif in the New Testament - John Laansma
Hebrews 4:1-11 - God's Rest in Hebrews 4:1-11 - Andrew S Kulikovsky
Hebrews 4:1-13 - Hebrews 4:11-13 God's Lethal Weapon - Andrew T Lincoln
Hebrews 5:11-6:20 - Christology and the Concept of Faith in Hebrews 5:11-6:20 - Victor Rhee
Hebrews 6 - Toussaint Stanley D. "The Eschatology of the Warning Passages in the Book of Hebrews," Grace Theological Journal 3.1 (Spring, 1982) 67-80
Hebrews 6:4-6 - Hebrews 6:4-6 Persevering and Falling Away: A Reexamination of Hebrews 6:4-6 - Bruce Compton
Hebrews 6:4-6 - Reading Heb 6-4-6 in light of the OT- Dave Mathewson
Hebrews 6:4-6 - Hebrews 6:4-6 From an Oral Critical Perspective - Casey W Davis
Hebrews 6:4-6 - Exegesis 15: Falling Away - Hebrews 6:4-6 - Michael Plant
Hebrews 6:19-20 - Inauguration or Day of Atonement?...Hebrews 6:19-20 Revisited - Richard M Davidson
Hebrews 6:19-20 - Christ's Entry "Within the Veil" in Hebrews 6:19-20: The Old Testament Background - Richard M Davidson
Hebrews 7 - Melchizedek - G H Lang
Hebrews 9:15-17 - Hebrews 9:15-17 A Lawyer Looks at Hebrews 9:15-17
Hebrews 9:15-22 - A Broken Covenant and the Curse of Death: A Study of Hebrews 9:15-22 - Scott W Hahn
Hebrews 9:16-17 - THE ALTAR OF INCENSE IN HEBREWS 9-3-4 - Harold Camacho
Hebrews 9:16-17 - Covenant or Testament? Hebrews 9:16-17 Reconsidered - K M Campbell
Hebrews 10:1-18 - Christ's Sacrifice as Apologetic: An Application of Hebrews 10:1-18 - William D Spencer
Hebrews 10:26-31 - The Eschatology of the Warning in Hebrews 10:26-31 - Randall Gleason
Hebrews 10:26-31 - No Sacrifice Remains: A Study of Hebrews 10:26-31 - Graham Buck
Hebrews 10:26-31 - Total Depravity - Gordon Girod
Hebrews 11:40 -"Not Apart from Us" (Hebrews 11:40): Physical Community in the Letter of Hebrews - Stephen Motyer
Hebrews 11 - The Cloud of Witnesses in Hebrews 11 - S M Baugh
Hebrews 12:25 - The One Who is Speaking in Hebrews 12:25 - Gene Smillie
Hebrews 13:9-14 - Jerusalem in Hebrew 13:9-14 and the Dating of the Epistle - Peter Walker
Hebrews 13:23 - Our Brother Timothy (Author of Hebrews?) - John D Legg
Hebrews 2:9, 3:6, 4:2, 6:2, 9:11, 19, 10:1, 38, 11:11, 37, 12:1, 3 - Textual Problems in the Epistle to the Hebrews - F F Bruce
Hughes, Philip E. "The Blood of Jesus and His Heavenly Priesthood in Hebrews: Part I: The Significance of the Blood of Jesus," Bibliotheca Sacra 130 (April, 1973)
Hughes, Philip E. "The Blood of Jesus and His Heavenly Priesthood in Hebrews: Part II: The Significance of the Blood of Jesus," Bibliotheca Sacra 130 (July, 1973) (or Pdf)
Hughes, Philip E. The Blood of Jesus and His Heavenly Priesthood in Hebrews Part III- The Meaning of "The True Tent" and "The Greater and More Perfect Tent"
Hughes, Philip E. "The Blood of Jesus and His Heavenly Priesthood in Hebrews: Part IV: The Present Work of Christ in Heaven," Bibliotheca Sacra 131 (Jan. 1974) 26-33. (or Pdf)
MacLeod, David J. "The Doctrinal Center of the Book of Hebrews," Bibliotheca Sacra 146 (July 1989) 291-300
Miller, Merland, R. "Seven Theological Themes in Hebrews," Grace Theological Journal 8.1 (1987) 131-140
Recent Literature on the Epistle to the Hebrews - F F BruceHebrews 6:4-6 Irretrievable Apostasy (Problem Texts) - F F Bruce
Reading Through Hebrews 1-7 Listening Especially for the Theme of Jesus as High Priest - Paul Ellingworth
Note: Click arrow to go to next set of sermons in the respective chapter:
Charles Spurgeon = "goodly volume," recommended "attentive perusal"
Spurgeon writes - "Dr. David Smith says of this work: "There is not a single instance of carelessness in investigating the true meaning of a text, or of timidity in stating the conclusion at which the author had arrived." What more could be said in praise of any exposition?" (Note Brown calls this "The epistle of the apostle Paul" but the authorship is by no means certain.
Note: Click links in right column for notes on that verse - not all verses have notes. Scroll to bottom of page for additional notes from Third Millennium Study Bible Notes.
Spurgeon: "Thoroughly learned, but wants unction. Not adapted for common readers, but scholars will prize it greatly."
Spurgeon: "This is generally to be found in connection with the author's "Brief Exposition on Matthew." (No. 1035.) We need say no more than—get it, and you will find abundance of suggestions for profitable trains of thought."
Spurgeon's critique: We greatly prize Gouge. Many will think his system of observations cumbrous, and so, perhaps, it is; but upon any topic which he touches he gives outlines which may supply sermons for months.
Spurgeon: "A posthumous work, and issued, not as a finished exposition, but as "Notes of an intended Exposition." Very valuable for all that."
Spurgeon: "One of those great expository works with which the Scotch ministry has so frequently enriched the Church. We wonder if any one ever read this excellent exposition through; we should not like to be sentenced to do so."
Spurgeon: "One of the most judicious and solid expositions ever written."
James Rosscup - "Some regard this work rather highly for its exegetical excellence at times in the Greek."
D A Carson writes "the book remains a collection of marvelously pious and spiritually-minded gems strung out on a string of abysmal exegesis."
Rosscup writes - Kregel in Grand Rapids has a 1-volume abridgement that makes the comments more manageable. Owen, a Puritan scholar, was voluminous on just about everything he wrote, and he did many masterful works. Here, the patient will meet with ponderous discussion of connections between New Testament fulfillments in Christ and Old Testament preparation for Him. Much is rich and worthwhile if one has time to sort through the laborious discussions to follow through to what he can use. Theologically Owen has a lot to contribute. He has many points and sees things from various sides, reasons through views and arguments, and often is very helpful to the person who begins his study early enough to devote the time it takes. In Hebrews 6 and 10, Owen decides reference is to mere professors who fall away or shrink back, never having been actually born again.(Commentaries for Biblical Expositors)

Spurgeon: "Out of scores of commendations of this colossal work we select but one. Dr. Chalmers pronounced it "a work of gigantic strength as well as gigantic size; and he who hath mastered it is very little short, both in respect to the doctrinal and practical of Christianity, of being an erudite and accomplished theologian."
Rosscup writes - This is a rich study of the English text with many suggestive channels of thought which help the student in preparing messages or lessons. Though Pink's earlier writings reveal a dispensational belief, his later works such as this and An Exposition of the Sermon on the Mount show a switchover to an amillennial system. (Commentaries for Biblical Expositors)
James Rosscup writes that this work exhibits "Careful insight into the text and fine articulation of the meaning by a Hebrew Christian."

Spurgeon: Mr. Saphir has always something to say worthy of the attention of spiritual minds. His mind finds a track of its own, but he is never speculative. We always enjoy his remarks, though he is not specially terse or brilliant.
Spurgeon: We are constantly differing from Moses Stuart, but are bound to consult him. He is one of the greatest of American scholars, and this is one of his best comments.
Rosccup - This famous work discusses the Greek text and presents valuable studies on subjects related to it. Many have rated it as the best older commentary from the standpoint of dealing seriously with the Greek, so it offers substantial help.
His works are superb, easy to read, authoritative and practical
J C RYLE
ALAN CARR
RBC BOOKLET - Discovery House
Book