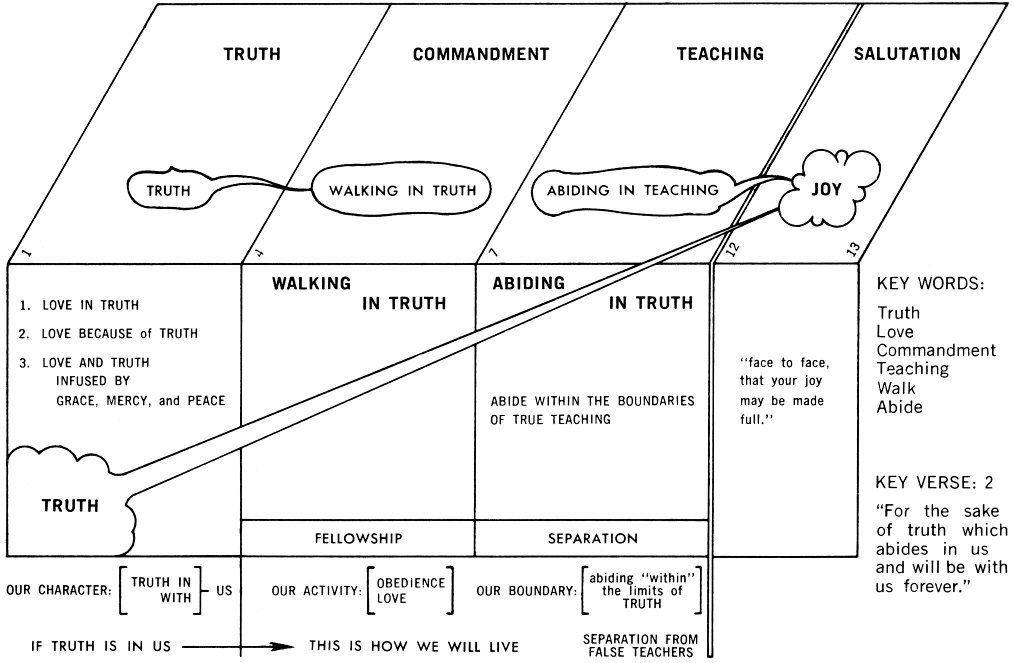 TRUTH AND THE CHRISTIAN
Click chart to enlarge
Charts from Jensen's Survey of the NT - used by permission
Another Overview Chart - 2 John- Charles Swindoll
Another Overview Chart
(Read his fascinating brief biography - Henry Alford and Phil Johnson's related comments)
James Rosscup writes that Alford's series on the New Testament "contains much that is valuable in the Greek New Testament… though all of the Greek New Testament words have been changed to English throughout." (Commentaries for Biblical Expositors: An Annotated Bibliography of Selected Works).
Charles Haddon Spurgeon (see his comments in following entry on Alford).
Editorial Note: If you are not proficient in Greek, you will find this work considerably more useful than the following work by Alford, because in this volume he translates the Greek and Latin into English. While the "The Greek New Testament" (see next entry below) is longer (e.g., English version of 1John = 66 pages compared to Greek version = 94 pages in part because the latter includes comments of more technical nature), the substance of the commentary is otherwise similar to that found in the "NT for English Readers".
Charles Haddon Spurgeon writes that this text "is an invaluable aid to the critical study of the text of the New Testament. You will find in it the ripened results of a matured scholarship, the harvesting of a judgment, generally highly impartial, always worthy of respect, which has gleaned from the most important fields of Biblical research, both modern and ancient, at home and abroad. You will not look here for any spirituality of thought or tenderness of feeling; you will find the learned Dean does not forget to do full justice to his own views, and is quite able to express himself vigorously against his opponents; but for what it professes to be, it is an exceedingly able and successful work. The later issues are by far the most desirable, as the author has considerably revised the work in the fourth edition. What I have said of his Greek Testament applies equally to Alford's New Testament for English Readers,* which is also a standard work." (Spurgeon, C. H. Lectures to my Students, Vol. 4: Commenting and Commentaries; Lectures Addressed to the students of the Pastors' College, Metropolitan Tabernacle)
James Rosscup writes that Barnes "includes 16 volumes on the Old Testament, 11 on the New Testament. The New Testament part of this old work was first published in 1832–1851. Various authors contributed. It is evangelical and amillennial… Often the explanations of verses are very worthwhile." (Commentaries for Biblical Expositors: An Annotated Bibliography of Selected Works or Logos)
C H Spurgeon "Albert Barnes is a learned and able divine, but his productions are unequal in value, the gospels are of comparatively little worth, but his other comments are extremely useful for Sunday-school teachers and persons with a narrow range of reading, endowed with enough good sense to discriminate between good and evil… Placed by the side of the great masters, Barnes is a lesser light, but taking his work for what it is and professes to be, no minister can afford to be without it, and this is no small praise for works which were only intended for Sunday-school teachers." (Spurgeon, C. H. Lectures to my Students, Vol. 4: Commenting and Commentaries; Lectures Addressed to the students of the Pastors' College, Metropolitan Tabernacle)
Good illustrations
James Rosscup writes "This work (Gnomon), originally issued in 1742, has considerable comment on the Greek, flavoring the effort with judicious details about the spiritual life. It has much that helps, but has been surpassed by many other commentaries since its day." (Commentaries for Biblical Expositors: An Annotated Bibliography of Selected Works or Logos)
Represents Combination of Bengel's Gnomon (above) and Comments by more modern expositors (in brackets) to make this more usable for those who do not read Greek.
Spurgeon comments on the goal to make Bengel's Gnomon (listed above) more accessible -- "Such is the professed aim of this commentary, and the compilers have very fairly carried out their intentions. The whole of Bengel's Gnomon is bodily transferred into the work, and as 120 years have elapsed since the first issue of that book, it may be supposed that much has since been added to the wealth of Scripture exposition; the substance of this has been incorporated in brackets, so as to bring it down to the present advanced state of knowledge. We strongly advise the purchase of this book, as it… will well repay an attentive perusal. Tischendorf and Alford have contributed largely… to make this one of the most lucid and concise commentaries on the text and teachings of the New Testament" (Spurgeon, C. H. Lectures to my Students, Vol. 4: Commenting and Commentaries; Lectures Addressed to the students of the Pastors' College, Metropolitan Tabernacle)
Resources that Reference 2 John
MULTIPLE COMMENTARIES ON 2 JOHN
2 John 1-6 Today in the Word
2 John 6 This is love, that we should walk after his commandments. (r.v.) (F B Meyer)
Here is a solution to many difficulties, and given so easily and naturally by this beloved elder to the elect lady and her children. He had been laying much emphasis on truth, and combining truth and love in an exquisite unity. Probably we can never love perfectly, till we are perfectly true. If you examine yourself in the feelings of distance and dislike which you have towards some individual, it is almost certain that you will come on some want of transparency and sincerity in your dealings with him. It is also the case that if we put away all insincerity, and want of consecration, as between us and God, we shall come to love God more perfectly.
What deep, sweet rhythm of meaning there is in the first three verses of this letter! One reads them over and over again. Oh that that grace, mercy, and peace, may be with us, from God the Father, and from Jesus Christ, the Son of the Father, in truth and love.
The difficulty that you feel is that you do not love enough. You would like to love with a strong, undying flame, burning steadily towards Jesus Christ, cleansing you with its heat, constraining you with its love. But perhaps you fail to distinguish between love and the emotion of love. They are not the same. We may love without being directly conscious of love, or being able to estimate its strength and passion. Here is the solution to many of our questionings They love who obey.
It is recorded of Dr. Chalmers that when a Scotch girl applied to be admitted to the sacrament, her testimony was so halting that it seemed as though she must stand back; but as she was leaving his room she turned back and said, "I canna speak for the Lord Jesus, but I could dee for Him." (Our Daily Homily)
---
2 John 9 Whosoever goeth onward and abideth not in the teaching of Christ, hath not God.-2 John 9.
Dr. Findlay has pointed out in his wonderful volume on the letters of John, that both the second and the third have to do with the subject of Christian hospitality. In this one, addressed to "the elect lady," perhaps a church, and perhaps a person, the persons to whom no Christian hospitality is to be extended are dealt with. These are described as "deceivers . even they that confess not that Jesus Christ cometh in the flesh." It is with reference to such that this declaration is made. They were persons who claimed to be leaders; they were advanced thinkers, they were progressive. The Gnostic teachers of the time were claiming that while the Gospel of the historic Jesus might be all very well for unenlightened people, they had a profounder knowledge. Such were to receive no hospitality. In this warning, we find a principle of perpetual application. There is always room for advanced thinking, for progressive interpretation, for the things of Christ are as profound as God and life. We never ought to be content to tarry with the first principles of truth. We should in know-ledge go on unto perfection. But there is one infallible test for such advanced thinking, for such progressive interpretation. It is that the advanced thinking do not contradict the first principles, or deny the fundamental facts of our faith —those of the historic Jesus, that of the fact that He came in the flesh. Such advanced thinking as denies these things, is not progress, but retrogression and apostasy. (G Campbell Morgan)
---
The story is told of a king who had a silver bell placed in a high tower of his palace early in his reign. He announced that he would ring the bell whenever he was happy so that his subjects would know of his joy.
The people listened for the sound of that silver bell, but it remained silent. Days turned into weeks, and weeks into months, and months into years. But no sound of the bell rang out to indicate that the king was happy.
The king grew old and gray, and eventually he lay on his deathbed in the palace. As some of his weeping subjects gathered around him, he discovered that he had really been loved by his people all through the years. At last the king was happy. Just before he died, he reached up and pulled the rope that rang the silver bell.
Think of it--a lifetime of unhappiness because he didn't know that he was warmly loved and accepted by his loyal subjects.
Like that monarch, many lonely souls live out their days without the joy of knowing they are loved and appreciated by others. Do you know people who need an encouraging word? If so, tell them how much they mean to you. It may be just what's needed to bring joy into their lives. --R W DeHaan (Our Daily Bread, Copyright RBC Ministries, Grand Rapids, MI. Reprinted by permission. All rights reserved)
Someone gave me a cheering word
Of which I was in need,
And faith was bolstered once again
By just that tiny deed. --Sheldon
The human spirit rings with hope at the sound of an encouraging word.
---
Don't Go Down There - 2 John 1:6 - In his book Lessons Learned Early, Jerry Jenkins tells a story about his freshman year in college. It was 1968, a year of tremendous political and social upheaval in the US.
Riots had broken out in many major cities. From the rooftop of his dorm in Chicago, Jerry heard sirens and saw fires burning. Students had been told to stay on campus, but Jerry wanted to see what was happening.
As he ran toward a store that was blazing a few blocks away, a police car pulled up beside him. "Don't go down there," the officer warned.
Jerry waited till the car pulled away and then kept walking. The officer returned. This time he made it more clear as he repeated, "Don't go down there"—and leveled a shotgun out the window.
Our rebellious or willful streaks often lead to unhappy outcomes. In anger, Moses struck the rock to get water rather than just speak to it as God had commanded. He forfeited the privilege of entering the Promised Land with his people (Nu. 20:7, 8, 9, 10, 1112). Jonah disobeyed an order to go to Nineveh and was given 3 days to think about his choice—inside a big fish (Jonah 1).
What does it take for us to obey Him? Will we obey simply because we love Him? (John 14:15,21).— Cindy Hess Kasper
Nothing between, like worldly pleasure:
Habits of life, though harmless they seem,
Must not my heart from Him ever sever—
He is my all! There's nothing between. —Tindley
© 1968 by Singspiration, Inc.
Obedience is another word for love and loyalty.
Book