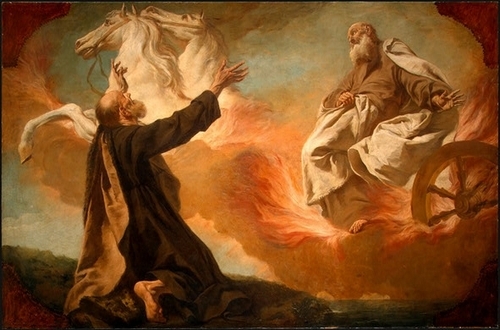 Elijah Departs Elisha 2 Kings 2:11, 12
1107

1011

971

931

853

722

586

1 Samuel
2 Samuel
1 Kings
1 Kings
2 Kings

31

1-4
5-10
11-20
21-24
1-11
12-22
1-17
18-25

1Chr
10

1Chr
11-19
1Chr
20-29

2 Chr
1-9

2Chr
10-20

2Chr
21-36

Legend: B.C. dates at top of timeline are approximate. Note that 931BC marks the division of the Kingdom into Southern Tribes (Judah and Benjamin) and Ten Northern Tribes. To avoid confusion be aware that after the division of the Kingdom in 931BC, the Southern Kingdom is most often designated in Scripture as "Judah" and the Northern Kingdom as "Israel." Finally, note that 1Chronicles 1-9 is not identified on the timeline because these chapters are records of genealogy.
1 Chronicles covers the same period of time as 2 Samuel and both describe the reign of David (See the Timeline above) whereas 2 Chronicles covers the same period of time as 1 Kings and 2 Kings and both describe the time from Solomon to the Babylonian Captivity. In Chronicles the kings of Israel (See table below where Jeroboam I identifies first of the kings of the 10 Northern tribes) are not mentioned unless they do something that relates to the kings of Judah. Note that the word "chronicle" means "a continuous and detailed account of historical events arranged in order of time." In First and Second Chronicles God has given us a very accurate history so that we can know all that He wants us to know about the period of the kings.
DIFFERENCES BETWEEN
SAMUEL, KINGS & CHRONICLES
SAMUEL &
KINGS
FIRST & SECOND
CHRONICLES
Prophetic Perspective:
Message of Judgment
Priestly Perspective:
Message of hope
Prophetic authorship:
Emphasizes the prophetic ministry
and moral concerns
Priestly authorship:
Emphasizes the priestly ministry
and spiritual concerns
The Fortunes
of the Thrones
Continuity
of the Davidic line
More Negative:
Rebellion & Tragedy
More Positive:
Apostasy, but hope in face of tragedy
Record of both
Israel and Judah
Record primarily
of Judah
Man's Failings
God's Faithfulness
Morality
Redemption
Emphasizes the throne
of earthly kings
Earthly throne (temple)
of the heavenly King
Emphasizes Kings
and Prophets
Emphasizes the Temple
and the Priests
Political
and kingly
Religious
and priestly
Compiled by authors
soon after the events
Compiled by by a priest:
Ezra many years after the events
Written shortly after the
beginning of the captivity in Babylon
Written shortly after
the return from the captivity

Adapted Wilkinson's Talk thru the Bible & Jensen's Survey of the OT
2Kings --Power for Service.
The blessing that Elisha craved, in asking for a double portion of the spirit of his master, when Elijah was about to be taken from him [2Kings 2:9], was not to be twice as great, but to have the portion of the first-born son. The first-born son inherited a double portion of his father's property, twice as much as each of the other sons [Deut 21:17]. Elisha asked to have the prophetic office, and with it the power of the Spirit to enable him to fulfil it. In this last scene, we sometimes almost wonder whether we are in the Old Testament or the New. We have an ascending master, a waiting disciple, a descending power. ''Ye shall receive power, after that the Holy Ghost is come upon you: and ye shall be witnesses unto Me'' [Acts 1:8]. No Christian is exempt from the call to be a witness. Christ wants witnesses everywhere, and we cannot do it without His power.

'Thou hast asked an hard thing'' [2Kings 2:10]. There are two conditions:
(1) Absolute surrender. In his first call, Elisha showed this thoroughness. He shows it now. Unhindered by the discouragement of others, and even by the seeming discouragement of his master, he pressed on from point to point, having counted the cost. It is a serious thing to follow Christ; He always bids us count the cost. At last it meant Jordan itself: death to the self-life. The baptism of the Spirit always means a baptism into the death of Christ [Rom 8:8-13; Gal 2:20].
(2) The second condition was faith. ''If thou see me when I shall be taken from thee, it shall be so.'' He kept his eye fixed on his master. ''And Elisha saw it.'' The result was, he rent his own clothes-- no more dependence on self-- and took up the mantle of Elijah, for that was to be his only power now. He put it to the test at once, and was able to do the same works as Elijah had done. ''The works that I do shall ye do also'' [Joh 14:12]. And the prophets found it out [2Kin 2:14,15], and a life of blessing and service to others was the outcome (Rev. E.W. Moore).
Salt. [2Kings 2:19-22]
The healing of the waters of Jericho at their source, by casting in salt from a new dish, touched the people of Elisha's day, and is full of significance for us. It shows the power of the Gospel to change men's lives at their source. Christ brought this life-giving power in His perfect manhood. But we may recognize the ''new vessel'' also in every renewed heart which brings the power of the Gospel to other lives. Christians are to be ''the salt of the earth'' [Mat 5:13]. Dr. Thomson tells us there seems no reason to doubt the identity of the fountain which tradition points out as the scene of the miracle. The water is abundant, transparent, sweet and cool, and abounds in fish, and on the margin of this delightful brook grow a great number of bushes.
Ditches. [2Kings 3:1-27]
The miracle by which water was brought to relieve the need of the hosts of Israel, Judah, and Edom, who had combined to put down the rebellion of Moab, also contains a lesson on the manner of the Spirit's coming. When the hand of the Lord came upon Elisha, he said: ''Make this valley full of ditches.'' It was a valley to begin with, a low place, a place of humility. God's rivers choose the valleys to flow in. Water always seeks the lowest level. But ditches had to be cut, the humbling work carried still further. If we would be the means of blessing to others, we must allow the Lord to cut His channels deep in our hearts. ''For thus saith the Lord, Ye shall not see wind, neither shall ye see rain; yet that valley shall be filled with water, that ye may drink, and your beasts.'' No sound, but the waters came. So it is with the Spirit:
He came sweet influence to impart,

A gracious, willing Guest,

While He can find one humble heart

Wherein to rest.
''And it came to pass in the morning, when the meat offering was offered, that, behold, there came water by the way of Edom, and the country was filled with water.'' Again we are reminded that it was Calvary that procured the blessing of Pentecost.
A Pot of Oil. [2Kings 4:1-7]
In the multiplication of the widow's pot of oil, we have another illustration of the work of the Spirit. Again, it is a lesson of emptying. The poor widow had nothing in the house wherewith to discharge her debt, save a pot of oil. We also owe a debt we cannot pay. We are debtors to live after the Spirit [Rom 8:12,13], we are debtors to love one another [Rom 13:8], we are debtors to carry the Gospel both to the Greek and the Barbarian, both to the wise and to the unwise [Rom 1:14]. Nothing of our carnal nature can avail to discharge the debt. The oil-- the Holy Spirit-- will alone avail. But as in faith we begin, at God's bidding, to pour it out into the empty vessels around us, we shall find that His supply is an inexhaustible one, and that the only limit is the measure of our expectation. ''Go and pay thy debt, and live of the rest.'' The power of the Spirit is enough both for life and for service.
Soul-Winning. [2Kings 4:8-37]
In the raising of the Shunammite's son, we have a lesson for the messenger of the Gospel. Gehazi had the outward symbol of office [but] without power. When he laid the prophet's staff upon the dead child, nothing happened. But with Elisha was the secret of the Lord. ''He went in, and shut the door upon them twain, and prayed unto the Lord. And he went up, and lay upon the child, and put his mouth upon his mouth, and his eyes upon his eyes, and his hands upon his hand; and he stretched himself upon the child, and the flesh of the child waxed warm.'' We see in the action of Elisha the secret of dependence upon God, of power in prayer, of personal influence. It gives us a picture of how much it costs to win souls; he seemed to give his very life, as Paul was ready to do when he said, ''We were willing to have imparted unto you, not the Gospel of God only, but also our own souls, because ye were dear unto us'' (1The 2:8).
Influence.
In the healing of the deadly pottage [2Kings 4:38-41], we have a picture of how a Christian may cleanse the moral atmosphere around him, or purify the conversation, by the introduction of an element that is positively good.

In the multiplying of the barley loaves [2Ki 4:42-44], we have a foreshadowing of a greater miracle, by the shores of the Sea of Galilee [Luke 9:10-17; John 6:1-14].
Naaman. [2Kings 5:1-27]
And now we come to the healing of Naaman the Syrian, and in it we see the whole Gospel in miniature. Naaman, a great man, honourable, gracious, exalted, a victorious captain, a mighty man of valour-- but he was a leper. There is that ''but'' in every life that has not come to Jesus Christ for cleansing. ''If I wash thee not, thou hast no part with Me'' [John 13:8]. The leprosy of sin, be the outward show of it ever so slight, incurs God's declaration ''utterly unclean.'' ''If any man keep the whole law, and yet offend in one point, he is guilty of all'' [James 2:10]. God says, ''There is no difference: for all have sinned, and come short of the glory of God'' [Rom 3:19-23].
Nine steps of humbling brought Naaman low enough to receive the blessing.
He accepted the testimony of a little captive maid.

He found it was not the great King of Israel who was to cleanse him.

He found that the cleansing could not be bought, even with [a great sum of money].

He had to go to the house of a poor prophet.

The prophet did not even come out to work the miracle, but sent a message.

He was to wash in the despised little river of Jordan.

He had to be guided by the good advice of his servants.

He had to obey.

He had to become as a little child [v.14].''And he was clean!''
Before his cleansing, Naaman said ''I thought'' [v.11]. Now he could say ''I know'' [v.15]. In some such manner, God has to remove one by one, all our preconceived notions of how we will be saved, and bring us to Calvary. We may hear the message of salvation from a very humble source. No good deeds or fancied merits of our own can purchase it. No earthly rivers of reformation or culture can remove the guilt of sin. There is only one thing in all the universe that can do it: ''The blood of Jesus Christ His Son cleanseth us from all sin'' [1John 1:7].
The Lost Axe-Head. [2Kings 6:1-7]
John McNeil of Australia [in his book The Spirit-filled Life] has drawn a lesson for us from the lost axe-head. We may lose that sharp axe-head, the power of the Spirit for service, by disobedience, by want of separation, by neglect of the Bible, by neglect of communion, by lack of faith. If you have lost it, go back and look for it. You will find it where you lost it: just there and nowhere else. Have you found the spot where obedience failed? Yield, and obey just there. Do not continue at work chopping with the axe-handle. Many do this; there is much effort but no results-- no chips fly off at the stroke. If we have enjoyed and have lost the fulness of the Spirit, let us confess, betake ourselves to the open fountain [Zech 13:1], and obey, and He will put away our sin, and give us afresh of His fulness. For His sake, for the sake of our souls, for our own sake, we must not try to live and labor without being filled.
Chariots of Fire. [2Kings 6:8-33]
Elisha lived in the calm sense of God's immediate presence. This was the secret of his power. When he and his servant were surrounded in the city of Dothan with the army of Syria, ''a great host,'' and the servant said, ''Alas, Master! How shall we do?'' Elisha said, ''Fear not; for they that be with us are more than they that be with them. And Elisha prayed, and said, Lord I pray Thee, open his eyes, that he may see. And the Lord opened the eyes of the young man; and he saw: and, behold, the mountain was full of horses and chariots of fire round about Elisha.'' If we lived continually in the sense of God's protecting presence, what calm power there would be in our lives!

Witnessing. [2Kings 7]

The four lepers, who carried the good tidings of the plentiful supply in the deserted camp of the Syrians to the starving people of Samaria, are an example for us as Christians. If we have discovered the riches of Christ for ourselves, ''we do not well to hold our peace.'' We should make the same resolve they did: ''Now therefore, come, that we may go and tell the King's household.''

Loyalty.

''Is thine heart right?'' said Jehu to Jehonadab the son of Rechab, ''Is thine heart right, as my heart is with thy heart?'' And Jehonadab answered, ''It is.'' ''If it be, give me thine hand. And he gave him his hand; and he took him up with him into his chariot.'' [2Kings 10:15].

Our King sees us toiling along life's journey, and He puts to us this question: ''Is thy heart right towards Me? Lovest thou Me more than these?'' [John 21:15]. If we can reply, ''It is. Thou knowest that I love Thee,'' our King, as it were, stretches out His hand and draws us up and seats us with Himself in heavenly places, and makes us to ride in His chariot of power. We have the same thought in the Book of Chronicles: ''The eyes of the Lord run to and fro throughout the whole earth, to show Himself strong on the behalf of those whose heart is perfect toward Him'' [2Chron 16:9].

The history of Judah is so bound up with the history of the Temple that it will be better for us to study it as a whole, in the Book of Chronicles. Those books, as we have already seen, are written from the Temple standpoint.
2 KINGS
We now come to perhaps the saddest book of all Jewish history. It records the carrying away into captivity of Israel by Assyria in 721 B.C. and the captivity of Judah by Babylon in 586 B.C.
Second Kings is often called the ''book of dispersion.'' In 1Kings we read that Solomon succeeded David, and we saw how Israel reached the zenith of her earthly splendor. But Solomon failed. He sinned by unduly taxing the people to support his lifestyle, and the kingdom was divided.
The result of his sin was God's hand of chastening. This is expressed best in what many consider to be the key verse of 2Kings, ''In those days the Lord began to cut off a part of Israel'' (10:32).
The reader will better understand the setting and circumstances in Israel and Judah if he will read the prophetic books written during that time.
To Israel: Amos and Hosea.
To Judah: Obadiah, Joel, Isaiah, Micah, Nahum, Habakkuk, Zephaniah, and Jeremiah.
OUTLINE OF THE BOOK--
Israel and Judah until the Fall of Samaria (2Kings 1-17)
The History of Judah to the Destruction of Jerusalem (2Kings 18-25)
The book of 2Kings opens with the record of Elijah's translation, the succession of Elisha, and the wonderful shout, ''The spirit of Elijah doth rest on Elisha'' (2Kings 2:15). The book closes with the sad plight of King Jehoiachin (2Kings 25:27-30). The book begins with the blessing from heaven upon God's prophet; it closes with the king of Judah under a regular allowance from a heathen ruler (2Kings 25:30).
Second Kings is filled with teaching concerning Christ, even though His name is not mentioned. The ministry of Elisha, whose name means ''my God is salvation,'' is a graphic picture of our Lord Jesus Christ in the midst of abounding evils. Let us consider three of these pictures.
CHRIST AND THE BELIEVER (2Kings 2:1-22)
As you consider the account of the translation of Elijah into heaven and the transfer of his power to Elisha, you almost feel as if you are reading the first chapters of the book of Acts.
Elijah ascended into heaven bodily, personally, and visibly. Note the progression of Elisha's walk to power. He refused to remain at Gilgal, the place where the reproach of Egypt had been rolled away [Josh 5:9,10]. He went with Elijah to Bethel, ''the house of God.'' But he needed more than that. So he proceeded with the prophet from Bethel to Jericho, the place of the curse. But a further step followed in the progression. He walked on to the Jordan, the place of death, and passed through the river with Elijah and on to the other side. This says to the believer that we reckon ourselves ''to be dead indeed unto sin, but alive unto God through Jesus Christ, our Lord'' (Rom 6:11).
Then, like Christ's disciples centuries later, Elisha watched his mentor being taken up from him into heaven (2Kings 2:11). Take note of the energy of his faith! True faith always counts upon God's faithfulness. Elisha had met God's conditions, so he expected God to fulfill His part. By faith, he took the mantle of Elijah and struck the waters, and they parted. Then he came back across the Jordan the same way he had gone. The power of Elijah was his.
All of this is a beautiful picture of our identification with the Lord Jesus in His death, His resurrection, His ascension, and His present position at the Father's right hand. And, as the spirit of Elijah became Elisha's, so the Holy Spirit indwells the believer to demonstrate through him the resurrection life of the Lord Jesus Christ.
CHRIST AND THE WORD (2Kings 4:38-41)
The land was plagued with a drought. Every effort had failed; famine had spread throughout the nation [1Kin 8:35-39]. Even a superficial consideration of the account brings to mind similarities to the present spiritual condition in Christendom [Amos 8:11,12].
Not only was there dearth in the land, there was also ''death in the pot.'' The food had been poisoned with wild gourds. Those who were to partake of the food did not know of this deadly ingredient. In the New Testament, our Lord warned of ''leaven'' that had been slipped into the flour [Mat 13:33; 16:6,11,12]. And Jude says that ''certain men crept in unawares, … ungodly men, turning the grace of our God into lasciviousness, and denying the only Lord God, and our Lord Jesus Christ'' (Jude 1:4). God's children are to be alert to any ''death in the pot,'' any infiltration of sin and error.
How are we to counteract evil's presence? In the biblical account, Elisha ordered meal to be brought and cast into the pot. In the feasts of Jehovah and the sacrifices of the tabernacle, meal pictured the Word of God. That is the antidote for theological poison! ''To the Law and to the Testimony; if they speak not according to this word, it is because there is no light in them'' (Isa 8:20). The Lord Jesus prayed, ''Sanctify them through thy truth; Thy word is truth'' (John 17:17). Although the written Word of God reveals the living Word, the Lord Jesus, they are inseparable. False doctrine can be counteracted only by the preaching and the teaching of the Bible.
CHRIST AND THE SINNER (2Kings 5:1-14)
The cleansing of Naaman the leper is a gem among Old Testament stories. This incident depicts beautifully the provision God has made in Christ for one afflicted with the terrible leprosy of sin.
Although Naaman had an exalted position with the king of Syria, was honored by his master, and was a courageous man, the fatal word concerning him is stated starkly in the account. ''He was a leper.'' Leprosy speaks of the defilement of sin, which afflicts every individual. Regardless of fine heredity, acquired culture, extensive education, or moral character, man in the sight of God is a spiritual leper. ''There is none righteous, no, not one'' (Rom 3:10).
This thrilling story of a great man's cleansing is highlighted by the faithful witness of a little maid who had been taken captive into Syria. She was a servant in Naaman's household, and she bore fruitful testimony to God's power through His servant Elisha. The Holy Spirit chooses to use men and women, boys and girls, to give the message of redeeming grace in Christ. Our Lord said to His disciples, ''But ye shall receive power, after the Holy Spirit is come upon you; and ye shall be witnesses unto Me'' (Acts 1:8).
Satan bitterly opposes the operation of the Word of God and the Spirit of God in the work of cleansing spiritual lepers. This is seen clearly in the account of Naaman, where three forces worked against his recovery from leprosy. We read first that he went to the king of Israel, rather than the prophet Elisha (2Kin 5:5).
Second, Naaman had a preconceived idea of the way his cleansing should be accomplished. How like human nature to want some show of the flesh, some spectacular demonstration, rather than simply believing the Word! Naaman said, ''I thought, he will surely come out to me, and stand, and call on the name of the Lord his God, and strike his hand over the place, and cure the leprosy'' (2Kings 5:11).
The third form of opposition came in the form of prejudice. The leper said, ''We have better rivers than this at home'' (see 2Kings 5:12). This tendency is often seen today in the stringent denominational formulas that add to the pure gospel. They mix in such demands as joining their church or submitting to some ordinance in order to be assured of salvation. Cleansing for Naaman came only when he obeyed the word of God's prophet and went into the only river specified. No ''rivers'' of man's choosing can ever remove the guilt of sin. There is only one way. ''The blood of Jesus Christ, His Son, cleanseth us from all sin'' (1John 1:7).
Precept Ministry International 1-800-763-8280 To Order Studies
Download Lesson 1 of Precept Inductive Course on Samuel, Kings and Chronicles
Click discussion of the value of Inductive Study
Links below to lectures related to 2Kings/2Chronicles study
From Revival or Captivity?
From Good, Bad, Ugly
Illustrations, Outlines, Anecdotes - Expositions, Homiletics, Commentary
Well Done Notes
Click for brief critique
ROBERT JAMIESON, A. R. FAUSSET AND DAVID BROWN PUBLISHED 1871
Spurgeon's Comment: "Of this I have a very high opinion. It is the joint work of Mr. Jamieson, A. R. Fausset, and Dr. David Brown. It is to some extent a compilation and condensation of other men's thoughts, but it is sufficiently original to claim a place in every minister's library; indeed it contains so great a variety of information that if a man had no other exposition he would find himself at no great loss if he possessed this and used it diligently."
Click here to Scroll Bible text synchronized with Constable's notes. Very useful feature! /p>
Written for the LifeWay Explore the Bible Sunday School curriculum
Find Your Focus (2 Kings 1:1-13:25)
Guard Your Focus (1 Kings 14:1-25:30)
Warren W. Wiersbe - If you can locate the six-volume edition of the Expositor's Bible, buy it immediately! It takes up less space than the original fifty-volume set, and not everything in the original set is worth owning. Samuel H. Kellogg on Leviticus is a classic; so is Alexander Maclaren on the Psalms and on Colossians. (A Basic Library for Bible Students)
Cyril J. Barber - This set, originally published in 1903, contains expositions by both conservative and liberal theologians. The most important works are by Dod (Genesis), Chadwick (Exodus and Mark), Kellogg (Leviticus), Blaikie (Joshua, I and II Samuel), Adeney (Ezra, Nehemiah and Esther), Maclaren (Psalms), Moule (Romans), Findlay (Galatians and Ephesians), Plummer (Pastoral Epistles and the Epistles of James and Jude), and Milligan (Revelation.) (The Minister's Library)
Thru the Bible Teaching Notes
Conservative, Evangelical, Millennial Perspective. Well Done
From 10,000 Illustrations Bible.org
2 Kings 4:1-7 Beneficiary
Widowed, childless, and past 80 years of age, Bill Cruxton wanted his $500,000 fortune to make a difference in someone's life. A 17-year-old waitress who had been kind to him seemed the perfect choice. So when Cruxton died on November 9, 1992 he left the bulk of his estate to Cara Wood, a high school senior who befriended him during the 13 months she worked part-time at a restaurant. Even after she quit her job, Cara kept in touch with Cruxton, running errands for him and helping him around the house. Because of his poor eyesight, she often helped him read his mail and pay his bills. Like Cara Wood, the widow in today's story became the recipient of another's wealth. But the riches she received came from the hand of God. The woman had known great heartache. She had lost her husband, who was of the men from the "company of the prophets." Soon she would lose her sons as well, since they were about to become slaves. The Mosaic Law gave a creditor the right to claim the person and children of a debtor who was unable to pay. They were obliged to serve as the creditor's hired workers until the year of Jubilee, when they were set free (Lev. 25:39–41). It was not a happy prospect, and the prophet Elisha, who knew her husband's devotion to the Lord, wanted to help this desperate widow. When he learned that she had nothing in her house but a small flask of oil, he told her to collect from her neighbors as many empty jars as she could—leaving the number of jars, and the size of her faith, up to her. The woman was to shut herself and her sons inside the house and pour from her flask until all of the jars were full. Nobody else was to see or know about the miracle. Nobody needed to know about it, or Elisha would surely have been swamped with "business offers." The woman did as Elisha instructed, and had enough oil to pay her debts and live off the rest. God's prophets were not only messengers of His judgment, but instruments of His miraculous provision for His people. Today in the Word, May 12, 1993
2 Kings 4:8-37 Unusual Arrangement
Because the father of British composer Thomas Arne was an undertaker, the younger Arne's violin teacher, the eminent violinist Michael Festing, once found Arne practicing with his music propped up on the lid of a coffin. Rattled by his student's unusual arrangements, Festing said that he himself would be unable to play under such conditions for fear there might be a body in the coffin. "So there is," replied Arne coolly, raising the lid to provide proof. Death is always unsettling, and Festing was certainly not alone in feeling uncomfortable in its presence. But when death is sudden and untimely, its effects are more than just unsettling. Witness, for example, the agony and bewilderment of the Shunammite woman in verses 22–28 of today's lesson. Shunem was a tiny village, nestled in the rolling hills south of the Sea of Galilee. This woman seemed to have everything. She was wealthy and apparently happily married—just the opposite of the widow we met yesterday. Her only regret may have been that she was childless. One day she saw the prophet Elisha walking down a street in her village. Realizing that he was a stranger in town, she invited him in for a meal. That meal started a family tradition in which the prophet and his servant Gehazi would eat at her house each time they visited Shunem. Eventually the woman and her husband built a cozy bed-and-breakfast for the prophet on the roof of their house, and he became a regular guest. Wanting to repay the woman, Elisha told her that she would have a son. But what God gave, God seemed to take away when the boy fell ill and died. After his death, the woman searched separately for Elisha. The look on her face and distress in her voice was enough to tell him what had happened, for the boy's death was never mentioned to the prophet. In seeking Elisha, of course, the woman was really reaching out in faith to God—and she was rewarded with the restoration of her son, just like the widow from Zarephath (I Kings 17). Elisha duplicated the greatest miracle of Elijah, and another village had undeniable testimony to the true God. Today in the Word, May 13, 1993
2 Kings 5:1-19 Godly House Servant
The Earl of Shaftesbury was a dedicated Christian reformer and member of the House of Lords who did much to relieve the plight of the poor and suffering in 19th-century England. Among his many accomplishments were improved conditions for the mentally ill, the abolition of women and children as mine laborers, and better housing conditions for the poor. He was also very active in mission work with a number of Christian ministries. In looking back over his life, the Earl made a very interesting observation in light of today's text. He said he owed his faith to a house servant, his Christian nurse. His parents took little interest in raising their son, but this godly woman loved him and pointed him to Christ. Today in the Word, MBI, January, 1990, p. 40
2 Kings 6:1-7 The Lost Axehead
Emerging unscathed from a duel fought in a secluded corner of London, British aristocrat Lord William Alvanley handed a guinea to the hackney coachman who had conveyed him to the spot and home again. Surprised at the size of the tip, the man protested. "But, my lord, I only took you a mile."

Alvanley waved aside the objection. "The guinea's not for taking me, my man, it's for bringing me back." Alvanley knew that getting into a duel was the easy part. Surviving the ordeal was another story. Losing something of value and finding it again is sort of like that. Losing the valued item is the easy part. Recovering it, like surviving a duel, is something else altogether.

In this brief and fascinating account from the ministry of Elisha, the miraculous recovery of a lost axehead became a powerful reminder of God's care for His faithful servants.

At first reading, this may seem like a trivial incident. So an axehead was lost. Just pay the owner for it and go on. But there's more going on here than a slip of an ax. The various "compan(ies) of the prophets" in Israel were crucially important if the worship of the true God was to be preserved in a nation where the majority of the people had fallen into Baal worship. So building needed living quarters for these men was important. The importance of these prophetic "schools" was also underscored by Elisha's presence with them (vv. 3–4). He knew how critical their role was in keeping alive the worship of God. They evidently didn't have much financial support from the people, so the loss of a borrowed axehead was a fiscal crisis.

Most important of all, Elisha turned the loss into an opportunity for God to demonstrate His power and His care for these prophets. Was that important to them in a hostile environment where they were probably outnumbered? Of course it was. This miracle was God's way of saying to the prophetic band, "Don't fear, I am with you." That's always a welcome message! Today in the Word, May 15, 1993
2 Kings 14 He Did What Was Right …
And he did that which was right in the sight of the Lord, yet not like David. 2 Kings 14:3

When a person tries to justify his wrong behavior by pointing to the conduct of others, he isn't aiming high enough. This is also true if he patterns himself after someone who gives the Lord only partial obedience. A college student learned this lesson when he was reprimanded by the school president for misbehavior. The young fellow offered this lame excuse for his questionable conduct: "But, Sir, you'd find it difficult to locate 10 men in this school who wouldn't have done as I did if they had been in my circumstances." The president replied, "Has it ever occurred to you that you could have been one of those 10?"

Amaziah was a good king. He worshipped the true God and showed mercy to the children of some who had conspired against him. Apparently he set a good moral example. But he foolishly led his troops into a shameful defeat and was finally executed by a group of rebels. In 2 Kings 14:3, we are told why Amaziah did not experience the full blessing of the Lord. The text says, "And he did that which was right in the sight of the Lord, yet not like David." He followed the example of his father Joash and failed to put a stop to the semi-pagan worship conducted on hills throughout the land. He should have patterned himself after his forefather David. He simply didn't aim high enough. - Our Daily Bread, Herbert Vander Lugt, Friday, July 17
2 Kings 18:4 The Brazen Serpent (Nehushtan)
The footnote in the New International Version at II Kings 18:4 is most interesting. When Hezekiah found the brazen serpent made by Moses in the wilderness still being worshipped, he destroyed it. The NIV says, "… he called it Nehushtan." The footnotes explain the meaning—"a serpent made of brass."

One is made to wonder how such an idol could have existed so long. It would seem that in the reformation movements of one of the judges or kings, it would have been destroyed. My opinion is that it was not recognized as an idol and hence was preserved. Perhaps they justified it by not calling it an idol. Hezekiah, however, came and called it what it really was—a brass image of a snake.

How often we justify sin by calling it a different name! Some call adultery, "a meaningful relationship." We excuse covetousness by calling it "prudence" or "economy." A life of sensual pleasure is "living with gusto."

In answer to a critic, Abraham Lincoln asked, "How many legs does a cow have?" "Four," was the reply. "If you call her tail a leg, how many does she have? asked Lincoln. "Five," was the answer. "No," Lincoln said, "Just calling a tail a leg, doesn't make it a leg."

Have we made a similar mistake? Do we think that sin is not sin, just because we do not call it by its right name? Ancil Jenkins
Kings found in 1 & 2 Kings; 1 & 2 Chronicles
James Rosscup - "Keil, C. F. and Franz Delitzsch. Commentary on the Old Testament. 25 volumes. Grand Rapids: Eerdmans, 1950. This is the best older, overall treatment of a critical nature on the Old Testament Hebrew text verse by verse and is a good standard work to buy. The student can buy parts or the whole of this series. Sometimes it is evangelical, at other times liberal ideas enter." (Commentaries for Biblical Expositors: An Annotated Bibliography of Selected Works)
Spurgeon's Comments on Kitto: "Then, of course, gentlemen, you will economize rigidly until you have accumulated funds to purchase Kitto's Pictorial Bible. You mean to take that goodly freight on board before you launch upon the sea of married life. As you cannot visit the Holy Land, it is well for you that there is a work like the Pictorial Bible, in which the notes of the most observant travellers are arranged under the texts which they illustrate. For the geography, zoology, botany, and manners and customs of Palestine, this will be your counselor and guide… A work of art as well as learning."
Spurgeon comments-"Should always be consulted… Exceeding meritorious. Refer to it frequently… They are not exactly a commentary, but what marvelous expositions you have there! You have reading more interesting than any novel that was ever written, and as instructive as the heaviest theology. The matter is quite attractive and fascinating, and yet so weighty, that the man who shall study these volumes thoroughly, will not fail to read his Bible intelligently and with growing interest."
Lutheran Perspective
Expositions and Homilies
Spurgeon's Comments on Lange's Series: "These volumes are not all of equal value, but as a whole, they are a grand addition to our stores. The American translators have added considerably to the German work, and in some cases these additions are more valuable than the original matter. For homiletical purposes these volumes are so many hills of gold, but, alas, there is dross also, for Baptismal Regeneration and other grave errors occur… We are very far from endorsing all Zöckler's remarks." (Caveat: Be a Berean - Acts 17:11)
These are Mp3's Only.
Functions much like a Devotional Commentary on 2 Kings
An annual $50 or monthly $5 subscription (click here) is required to view the entire article but will give you access to literally thousands of conservative articles. Click the following links to search by topic, author, or bible reference.
Examples of articles you can access:
Challies rates Dale Ralph Davis book #1 - Click for an except of comments on first chapter of 2 Kings Commentary Below are the "Contents" from Davis' book which have interesting titles that in essence are an outline 2 Kings…
The Torn Kingdom (continued) 2 Kings 1–17
1. The Fire This Time (2 Kings 1:1-18)

2. Seismic Shift in the Kingdom of God (2 Kings 2:1-25)

3. We Three Kings (2 Kings 3:1-27)

4. Help of the Helpless and Nameless (2 Kings 4:1–7)

5. The Sad and the Glad of God (2 Kings 4:8–37)

6. The Peril of Church Suppers (2 Kings 4:38–41)

7. Christ and Our Deficiencies (2 Kings 4:42–44)

8. Grace Goes International (2 Kings 5:1-27)

9. When God Gave a Preacher the Axe (2 Kings 6:1–7)

10. Safe in the Shadow of the Lord (2 Kings 6:8–23)

11. A Sure and Severe Deliverance (2 Kings 6:24–7:20)

12. The Lord Who Revives and Slays (2 Kings 8:1–15)

13. One, Big Evil Family (2 Kings 8:16–29)

14. Terrible Swift Word (2 Kings 9:1-37)

15. When Heads Roll (2 Kings 10:1-36)

16. The Lady Who Saved Christmas (2 Kings 11:1-21)

17. Repairs and Payoffs (2 Kings 12:1-21)

18. Grace and Grave Notes (2 Kings 13:1-25)

19. A Little Bit of October (2 Kings 14:1-29)

20. Fast Forward to Oblivion (2 Kings 15:1-38)

21. Is the Grass Greener …? (2 Kings 16:1-20)

22. God of the Last Days (2 Kings 17:1–23)

23. A Religion Fair? (2 Kings 17:24–41)
The Last Days 2 Kings 18–25
24. Fresh Air, Dark Day (2 Kings 18:1-37)

25. The Terror of the Night (2 Kings 19:1-37)

26. Yahweh Is All You Need! Or Is He? (2 Kings 20:1-21)

27. The Point of No Return (2 Kings 21:1-26)

28. Can a Reformation Save Us? (2 Kings 22:1–23:30)

29. Rush to Ruin (2 Kings 23:31–25:26)

30. A Whisper of Hope? (2 Kings 25:27–30)
Barber, Cyril John. The Books of Kings 2 Eugene, OR: Wipf & Stock, 2004. "A plain, highly readable study that pastors, college students, seminarians, and lay people will find helpful."
DeVries, Simon J. 1 Kings. Word Biblical Commentary. Waco, Tex.: Word Books, 1985. A capable, reasonably conservative treatment of the text. The introduction is most helpful, and the bibliographies are exceedingly valuable. Though pastors will find the critical issues discussed of marginal worth, this is the best commentary on 1 Kings to be produced in many years.
Dilday, Russell H. One [and] Two Kings. The Communicator's Commentary. Waco, TX: Word Books, 1987. A well-articulated commentary. The Introduction is brief and to-the-point. Dilday sees the purpose of these book as illustrating the "Sovereign Lord of History using men and nations to work out his redemptive purposes." Throughout there is evidence of the author's wide reading. Prominence is given, however, to liberal and Baptist writers (a strange mix when one considers the historic roots of the Southern Baptist movement). The comments on the text are very brief. While the chapters are well-written, they lack a homiletic outline. They do follow the text, and Dilday's rhetorical acumen is evident on every page.
Ellul, Jacques. The Politics of God and the Politics of Man. Grand Rapids: Wm. B. Eerdmans Publishing Co., 1972. Basing his political theory on the fact that the problems of our times are theological and not sociological, the writer shows from a study of 2 Kings how God has provided a blueprint for selfgovernment in the Bible. Rewarding reading.
Farrar, Frederick William. The First Book of Kings. Minneapolis: Klock & Klock Christian Publishers, 1981. A thorough and delightful exposition of this history of Israel from Solomon to Elijah. In places it manifests an unwise dependence on the LXX and follows some higher critical theories in vogue at the time.
*_______ The Second Book of Kings. Minneapolis: Klock & Klock Christian Publishers, 1981. Treats Israel's history from the ascension of Elijah to the deportation of Judah. Remains one of the most satisfactory works for the expository preacher.
Gray, John. I and II Kings: A Commentary. Old Testament Library. 2d ed. rev. Philadelphia: Westminster Press, 1971. †An expansion and revision of the writer's earlier commentary. Includes a vast amount of archaeological and exegetical material, covers every significant verse, and makes a valuable though critical contribution to the study of these books.
Jones, Gwilynm H. 1 and 2 Kings. 2 vols. Grand Rapids: Wm. B. Eerdmans Publishing Co., 1984. Capably introduced. Carefully attends to the history, customs, culture, and etymology of Hebrew words. Deals adequately with the text of these two books. Helpful.
*Kirk, Thomas, and George Rawlinson. Studies in the Books of Kings. 2 vols. in 1. Minneapolis: Klock & Klock Christian Publishers, 1983. It is difficult to refrain from speaking eloquently of the value of this work. Kirk's handling of the life of Solomon (1 Kings 1-9) is done so well that it suggests messages by the score and provides, in addition, pertinent areas of application. It is instructive as well as revealing, edifying, and also enlightening. And Rawlinson's handling of the remainder of 1 Kings 10-2 Kings 25 provides one of the finest syntheses of biblical history (set against the background of the ancient Near East) that has ever been written. Rawlinson's chronology is lacking, but this in itself is not sufficient to condemn his work to oblivion. The chronology of other similar treatises was also faulty up to the time Thiele produced his Mysterious Numbers of the Hebrew Kings. Any deficiencies, therefore, can easily be corrected by checking Rawlinson against Thiele. What is important is that here we have a work that makes the OT come alive.
Long, Burke O. Second Kings. Forms of the Old Testament Literature. Grand Rapids: Wm. B. Eerdmans Publishing Co., 1991. Walter Bruggemann wrote of this book, "Long has written a shrewd, discerning, and comprehensive study that will become an enduring point of reference for future study. It is evident that Long knows all the literature in a thorough and masterful way. He is, moreover, intentional about method, and works his method with power and insight.... The focal point of his study is form analysis ... [and] in his case the study of the text spills over, well beyond form criticism into a wealth of analytic and interpretive insight. His book is a model for mobilizing detail into a sensible and illuminating whole."
Nelson, Richard D. First and Second Kings. Interpretation, a Bible Commentary for Teaching and Preaching. Atlanta: John Knox Press, 1987. Examines the Books of Kings, treating the text as theological literature. Emphasizes the literary impact this work had when it was first released. Disregards the inspiration and authority of the text in favor of its canonical importance. Deftly draws readers into an examination of the text.
Wallace, Ronald S. Readings in I Kings: An Interpretation Arranged for Personal and Group Bible Study, with Questions and Notes. Grand Rapids: Wm. B. Eerdmans Publishing Co., 1995. "In this concise, practical commentary on I Kings, Wallace succeeds in giving 'fresh thoughts fresh clothing.'... He draws readers into biblical characters' lives ... and his love for the Bible is evident as he bridges the centuries to show each stories' modern practicality. He sees 'persons like ourselves in situations that we can easily match with our own today,' and he pulls no punches exposing their human foibles and weaknesses."--Bookstore Journal.
*Whitcomb, John Clement, Jr. Solomon to the Exile: Studies in Kings and Chronicles. Grand Rapids: Baker Book House, 1971. An ideal book for discussion groups. Recreates the OT setting, graphically depicts the cause of decline in Israel and Judah, and draws valid lessons from these incidents that are applied to the needs of the present.
Excellent, conservative, literal study Bible notes from a leading creationist commentator. See links to notes in right margin.
Introduction to 2 Kings
The division between 1 Kings and 2 Kings is seemingly quite arbitrary; originally the two were one book. The second book continues the history of Judah and Israel until their eventual captivities. Like 1 Kings, the book of 2 Kings was probably compiled from records of the earlier prophets by Jeremiah or one of the later prophets of Judah. The ministries of Elijah and Elisha constitute the dominant subject of the first third of the book. The portion of the history devoted to Israel is sad in the extreme, with one ungodly king after another leading the people away from God, until finally the Assyrians destroyed their land and carried the people off into captivity. The last king of Israel was Hoshea (2 Kings 17). There were, of course, believers and faithful servants of God in the northern kingdom during all those years of spiritual decline and apostasy. The most notable were the prophets Elijah and Elisha, but two of the prophets of the Biblical canon also had ministries primarily in Israel. Hosea's initial ministry to Israel was during the long reign of Jeroboam II, but it evidently continued even beyond Israel's exile into Assyria (Hosea 1:1). The prophet Amos was a contemporary of Hosea who also ministered especially in the northern kingdom of Israel (sometimes called Ephraim). In Judah, several of the kings were God-fearing men, and Hezekiah and Josiah in particular led in great national revivals. Of the writing prophets, those whose ministry was mainly centered in Judah were—in more or less chronological order—Obadiah, Joel, Isaiah, Micah, Nahum, Habakkuk, Zephaniah and Jeremiah. Isaiah, in the days of Ahaz and Hezekiah, and Jeremiah, during the last days of the kingdom under Josiah and the kings who briefly followed him, had especially significant influence on the kings and the nation as a whole. No doubt because of the influence of these prophets, and the several God-fearing kings of Judah, God allowed Judah to remain in the land for about 130 years after Israel had been carried away to Assyria. Eventually, however, even Judah became so wicked and apostate, especially under her final kings (Jehoiakim, Jeconiah and Zedekiah) that God sent Nebuchadnezzar and the armies of Babylon to destroy Jerusalem with its temple and to carry the king and all the leaders of the people into exile and captivity in Babylon. There were other godly prophets and priests in both Israel and Judah, of course, besides those whose prophecies have been preserved in the Bible. Some among these, no doubt, were the original writers of the records now incorporated in the books of Kings. The last of them, Jeremiah, quite possibly was the man who compiled and edited all of these earlier documents into their present, divinely inspired form.
A Chronological Daily Bible Study of the Old Testament- 7-Day Sections with a Summary-Commentary, Discussion Questions, and a Practical Daily Application
STEVE KRELOFF
Historical and Theological Themes - Kings concentrates, then, on the history of the sons of Israel from 971 to 561 B.C. First Kings 1:1–11:43 deals with Solomon's accession and reign (971–931 B.C.). The two divided kingdoms of Israel and Judah (931–722 B.C.) are covered in 1 Kings 12:1; 2 Kings 17:41. The author arranged the material in a distinctive way in that the narration follows the kings in both the N and the S. For each reign described, there is the following literary framework. Every king is introduced with: 1) his name and relation to his predecessor; 2) his date of accession in relationship to the year of the contemporary ruler in the other kingdom; 3) his age on coming to the throne (for kings of Judah only); 4) his length of reign; 5) his place of reign; 6) his mother's name (for Judah only); and 7) spiritual appraisal of his reign. This introduction is followed by a narration of the events that occurred during the reign of each king. The details of this narration vary widely. Each reign is concluded with: 1) a citation of sources; 2) additional historical notes; 3) notice of death; 4) notice of burial; 5) the name of the successor; and 6) in a few instances, an added postscript (i.e., 1 Kings 15:32; 2 Kings 10:36). Second Kings 18:1–25:21 deals with the time when Judah survived alone (722–586 B.C.). Two concluding paragraphs speak of events after the Babylonian exile (2 Kings 25:22–26, 27–30).
Three theological themes are stressed in Kings. First, the Lord judged Israel and Judah because of their disobedience to His law (2 Kin 17:7–23). This unfaithfulness on the part of the people was furthered by the apostasy of the evil kings who led them into idolatry (2 Kings 17:21, 22; 21:11), so the Lord exercised His righteous wrath against His rebellious people. Second, the word of the true prophets came to pass (1 Kings 13:2, 3; 22:15–28; 2 Kings 23:16; 24:2). This confirmed that the Lord did keep His Word, even His warnings of judgment. Third, the Lord remembered His promise to David (1 Kings 11:12–13, 34–36; 15:4; 2 Kings 8:19). Even though the kings of the Davidic line proved themselves to be disobedient to the Lord, He did not bring David's family to an end as He did the families of Jeroboam I, Omri, and Jehu in Israel. Even as the book closes, the line of David still exists (2 Kings 25:27–30), so there is hope for the coming "seed" of David (see 2 Sam. 7:12–16). The Lord is thus seen as faithful, and His Word is trustworthy.

A second major interpretive challenge deals with Solomon's relationship to the Abrahamic and Davidic Covenants. 1 Kings 4:20, 21 has been interpreted by some as the fulfillment of the promises given to Abraham (cf. Ge 15:18–21; 22:17). However, according to Nu 34:6, the western border of the Land promised to Abraham was the Mediterranean Sea. In 1Ki 5:1ff., Hiram is seen as the independent king of Tyre (along the Mediterranean), dealing with Solomon as an equal. Solomon's empire was not the fulfillment of the Land promise given to Abraham by the Lord, although a great portion of that land was under Solomon's control. Further, the statements of Solomon in 1Ki 5:5 and 1Ki 8:20 are his claims to be the promised seed of the Davidic Covenant (cf. 2Sa 7:12–16). The author of Kings holds out the possibility that Solomon's temple was the fulfillment of the Lord's promise to David. However, while the conditions for the fulfillment of the promise to David are reiterated to Solomon (1Ki 6:12), it is clear that Solomon did not meet these conditions (1Ki 11:9–13). In fact, none of the historical kings in the house of David met the condition of complete obedience that was to be the sign of the Promised One. According to Kings, the fulfillment of the Abrahamic and Davidic Covenants did not take place in Israel's past, thus laying the foundation for the latter prophets (Isaiah, Jeremiah, Ezekiel, and the Twelve) who would point Israel to a future hope under Messiah when the Covenants would be fulfilled (see Isa 9:6, 7).
Outline of 1 and 2 Kings
Since the division of 1 and 2 Kings arbitrarily takes place in the middle of the narrative concerning King Ahaziah in Israel, the following outline is for both 1 and 2 Kings.
I. The United Kingdom: The Reign of Solomon (1 Kings 1:1–11:43)
A. The Rise of Solomon (1 Kings 1:1–2:46)

B. The Beginning of Solomon's Wisdom and Wealth (1 Kings 3:1–4:34)

C. The Preparations for the Building of the Temple (1 Kings 5:1–18)

D. The Building of the Temple and Solomon's House (1 Kings 6:1–9:9)

E. The Further Building Projects of Solomon (1 Kings 9:10–28)

F. The Culmination of Solomon's Wisdom and Wealth (1 Kings 10:1–29)

G. The Decline of Solomon (1 Kings 11:1–43)
II. The Divided Kingdom: The Kings of Israel and Judah (1 Kings 12:1–2 Kings 17:41)
A. The Rise of Idolatry: Jeroboam of Israel/Rehoboam of Judah (1 Kings 12:1–14:31)

B. Kings of Judah/Israel (1 Kings 15:1–16:22)

C. The Dynasty of Omri and Its Influence: The Rise and Fall of Baal Worship in Israel and Judah (1 Kings 16:23–2 Kings 13:25)

1. The introduction of Baal worship (1 Kings 16:23–34)

2. The opposition of Elijah to Baal worship (1 Kings 17:1–2 Kings 1:18)

3. The influence of Elisha concerning the true God (2 Kings 2:1–9:13)

4. The overthrow of Baal worship in Israel (2 Kings 9:14–10:36)

5. The overthrow of Baal worship in Judah (2 Kings 11:1–12:21)

6. The death of Elisha (2 Kings 13:1–25)
D. Kings of Judah/Israel (2 Kings 14:1–15:38)

E. The Defeat and Exile of Israel by Assyria (2 Kings 16:1–17:41)
III. The Surviving Kingdom: The Kings of Judah (2 Kings 18:1–25:21)
A. Hezekiah's Righteous Reign (2 Kings 18:1–20:21)

B. Manasseh's and Amon's Wicked Reigns (2 Kings 21:1–26)

C. Josiah's Righteous Reign (2 Kings 22:1–23:30)

D. The Defeat and Exile of Judah by Babylon (2 Kings 23:31–25:21)
IV. Epilogue: The People's Continued Rebellion and the Lord's Continued Mercy (2 Kings 25:22–30)
The Kings of Israel and Judah
(see here also)
United Kingdom
Saul
1 Samuel 9:1–31:13; 1 Chronicles 10:1–14
David
2 Sa; 1 Kings 1:1–2:9; 1 Chronicles 11:1–29:30
Solomon
1 Kings 2:10–11:43; 2 Chronicles 1:1–9:31
Northern Kingdom (Israel)
Jeroboam I
1 Kings 12:25–14:20
Nadab
1 Kings 15:25–31
Baasha
1 Kings 15:32–16:7
Elah
1 Kings 16:8–14
Zimri
1 Kings 16:15–20
Tibni
1 Kings 16:21, 22
Omri
1 Kings 16:21–28
Ahab
1 Kings 16:29–22:40

1 Kings 22:51–53; 2 Kings 1:1–18

Jehoram; Joram
2 Kings 2:1–8:15
Jehu
2 Kings 9:1–10:36
Jehoahaz
2 Kings 13:1–9
Jehoash; Joash
2 Kings 13:10–25
Jeroboam II
2 Kings 14:23–29
Zechariah
2 Kings 15:8–12
Shallum
2 Kings 15:13–15
Menahem
2 Kings 15:16–22
Pekahiah
2 Kings 15:23–26
Pekah
2 Kings 15:27–31
Hoshea
2 Kings 17:1–41
Southern Kingdom (Judah)

1 Kings 12:1–14:31; 2 Chronicles 10:1–12:16

Abijam (Abijah)
1 Kings 15:1–8; 2 Chronicles 13:1–22
Asa
1 Kings 15:9–24; 2 Chronicles 14:1–16:14
Jehoshaphat
1 Kings 22:41–50; 2 Chronicles 17:1–20:37
Jehoram; Joram
2 Kings 8:16–24; 2 Chronicles 21:1–20
Ahaziah
2 Kings 8:25–29; 2 Chronicles 22:1–9
Athaliah (Queen)
2 Kings 11:1–16; 2 Chronicles 22:1–23:21
Jehoash; Joash
2 Kings 11:17–12:21; 2 Chronicles 23:16–24:27
Amaziah
2 Kings 14:1–22; 2 Chronicles 25:1–28
Uzziah (Azariah)
2 Kings 15:1–7; 2 Chronicles 26:1–23

2 Kings 15:32–38; 2 Chronicles 27:1–9

Ahaz
2 Kings 16:1–20; 2 Chronicles 28:1–27
Hezekiah
2 Kings 18:1–20:21; 2 Chronicles 29:1–32:33
Manasseh
2 Kings 21:1–18; 2 Chronicles 33:1–20
Amon

2 Kings 21:19–26; 2 Chronicles 33:21–25

Josiah
2 Kings 22:1–23:30; 2 Chronicles 34:1–35:27
Jehoahaz
2 Kings 23:31–33; 2 Chronicles 36:1–4
Jehoiakim
2 Kings 23:34–24:7; 2 Chronicles 36:5–8
Jehoiachin
2 Kings 24:8–16; 2 Chronicles 36:9, 10
Zedekiah
2 Kings 24:18–25:21; 2 Chronicles 36:11–21
2 Kings 1:1-16 ELIJAH, THE MAN OF GOD.
2 Kings 2:1-15 ELISHA; Or, EQUIPPED FOR SERVICE.
2 Kings 2:1-15 ELIJAH AND CHRIST.
2 Kings 2:19-22 THE HEALING OF THE WATERS.
2 Kings 3:6-25 FLOODS OF BLESSING IN NEW-MADE DITCHES.
2 Kings 4:1-7 THE WIDOW'S OIL; Or, GRACE SUFFICIENT.
2 Kings 4:8-37 THE GREAT SHUNAMMITE; Or, FEATURES OF A CHRISTIAN WOMAN.
2 Kings 4:18-35 LIFE THROUGH THE LIVING; Or, HOW TO WIN SOULS.
2 Kings 4:38-41 DEATH IN THE POT.
2 Kings 5:1-15 NAAMAN, THE LEPER.
2 Kings 5:20-27 GEHAZI; Or, SIN FOUND OUT.
2 Kings 6:1-7 THE BORROWED AXE; Or, LOST POWER.
2 Kings 6:8-17 A BLIND SERVANT.
2 Kings 7:1-16 THE LEPERS' DISCOVERY.
2 Kings 13:14-24 LESSONS FROM THE DEATH OF ELISHA.
2 Kings 18:1-8 HEZEKIAH; Or, DARE TO DO RIGHT.
2 Kings 19 HEZEKIAH; Or, PREVAILING PRAYER.
2 Kings 20:1-11 A SUDDEN CALL.
2 Kings 22 JOSIAH AND THE BOOK.
2 Kings 25:27-30 JEHOIACHIN; Or, SAVED BY GRACE.
Excerpt - How do I apply this? - Second Kings teaches an important life lesson: actions have consequences. "Repent! Sin will incur judgment," God warned in effect through the prophets. Israel and Judah learned the hard way that God means what He says. How will we learn? Consider your heart. Is it hard, resistant to God's call? Or can you acknowledge your sin and turn back to Him?
Links Related to Bitterness…
CHRIS BENFIELD - sermons
CHRIS BENFIELD - sermons
2 Kings 18:4 - Painting of an allegory of salvation - cp John 3:14-15 and Nu 21:7-9, but see how they turned this into an idol!!! See 2 Ki 18:4 = The bronze serpent was preserved for 730 years until Hezekiah (715–686BC) broke it in pieces because the people were worshipping it instead of the One to Whom it was supposed to point them!!! In contempt he gave it the name 'Nehushtan' (a play on the word nahas/nachash, = 'serpent'), meaning a 'trifling thing', because it had become an object of worship. Before we are "too hard" on Israel we need to remember that Israel's rebellion in the OT is a picture of our old flesh nature, and thus this incredible story begs the question "Have I turned something good and glorious into an idol? Am I willing to pray Psalm 139:23, 24?"
These are excellent full color, modern maps with events marked on many of the maps
The Kingdom of David and Solomon
The Kingdoms of Israel and Judah
Judah Alone amid International Powers
The Babylonian Exile
Many excellent illustrations
NETBible notes are in the right panel. You can also select the tab for "Constable's Notes." As you scroll the Bible text in the left panel, the notes are synchronized and will scroll to the same passage. This is a very helpful feature.
Updated August, 2017
| | | | |
| --- | --- | --- | --- |
| The Arm of Flesh Will Fail You | 2 Kings | Trust in God; Flesh, Weakness of; Hezekiah | David E. Owen |
| Where Is The Lord God Of Elijah? | 2 Kings 2:14 | Commitment; God, Power of; God, Presence of | Sammy Burgess |
| Elisha's Question about the Father | 2 Kings 2:14 | God, Where is; God, Presence of | David E. Owen |
| When A Mother Trusts The Father | 2 Kings 4 | Mother; Family; Trust; Faith, A Mother's | Terry Trivette |
| A Desperate Mother | 2 Kings 4:1-7 | Mother; Family; Parenting | David E. Owen |
| What Do You Have? | 2 Kings 4:1-7 | Provision, God's; Salvation | Mark Adams |
| Elisha's Question about a Favor | 2 Kings 4:2 | Holy Spirit; God, Help of; Prayer; Trouble | David E. Owen |
| Elisha's Question About The Family | 2 Kings 4:26 | Family; Burdens | David E. Owen |
| Fatal Food on the Fire | 2 Kings 4:39-40 | Falsehood; Lies; Truth | Donnie L. Martin |
| A Home With A Difference | 2 Kings 4:8-17 | Home | Denis Lyle |
| The Need for a Remedy (Outline) | 2 Kings 5:1-15 | Cure, God's; Faith | Vince Hefner |
| An Unlikely Convert | 2 Kings 5:1-19 | Grace of God; Salvation; Naaman; Humility; Faith | William R. Shively |
| Elisha's Question About Falsehood | 2 Kings 5:20-27 | Lying; Falsehood; Honesty | David E. Owen |
| Elisha's Question about Faithfulness | 2 Kings 5:8 | Faithfulness | David E. Owen |
| Elisha's Question About Failure | 2 Kings 6:1-7 | Failure; Weakness | David E. Owen |
| Help - We're Surrounded | 2 Kings 6:8-23 | Protection, God's; Angels; Miracles; Help in time of Trouble | Denis Lyle |
Calvary Chapel
Notes below similar to C2000 Series
Morning and Evening and Faith's Checkbook
2 Kings 1
2 Kings 2
2 Kings 3
2 Kings 4
2 Kings 5
2 Kings 6
2 Kings 8
2 Kings 9
2 Kings 10
2 Kings 11
2 Kings 12
2 Kings 13
2 Kings 14
2 Kings 15
2 Kings 16
2 Kings 17
2 Kings 18
2 Kings 19
2 Kings 20
2 Kings 21
2 Kings 22
2 Kings 23
2 Kings 24
2 Kings 25
Book