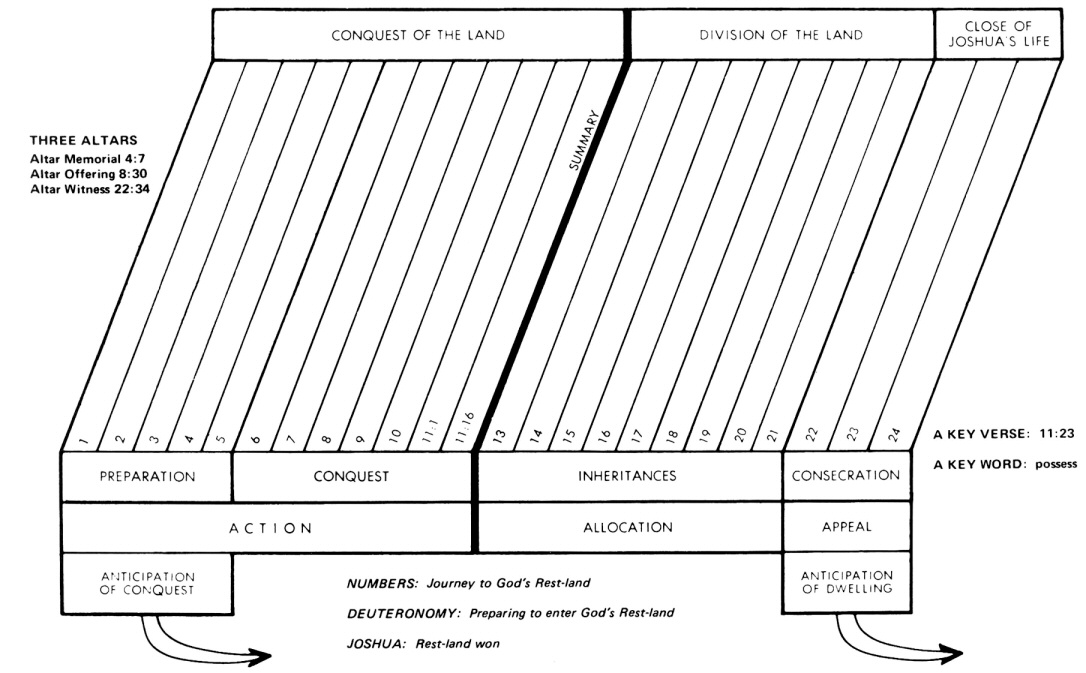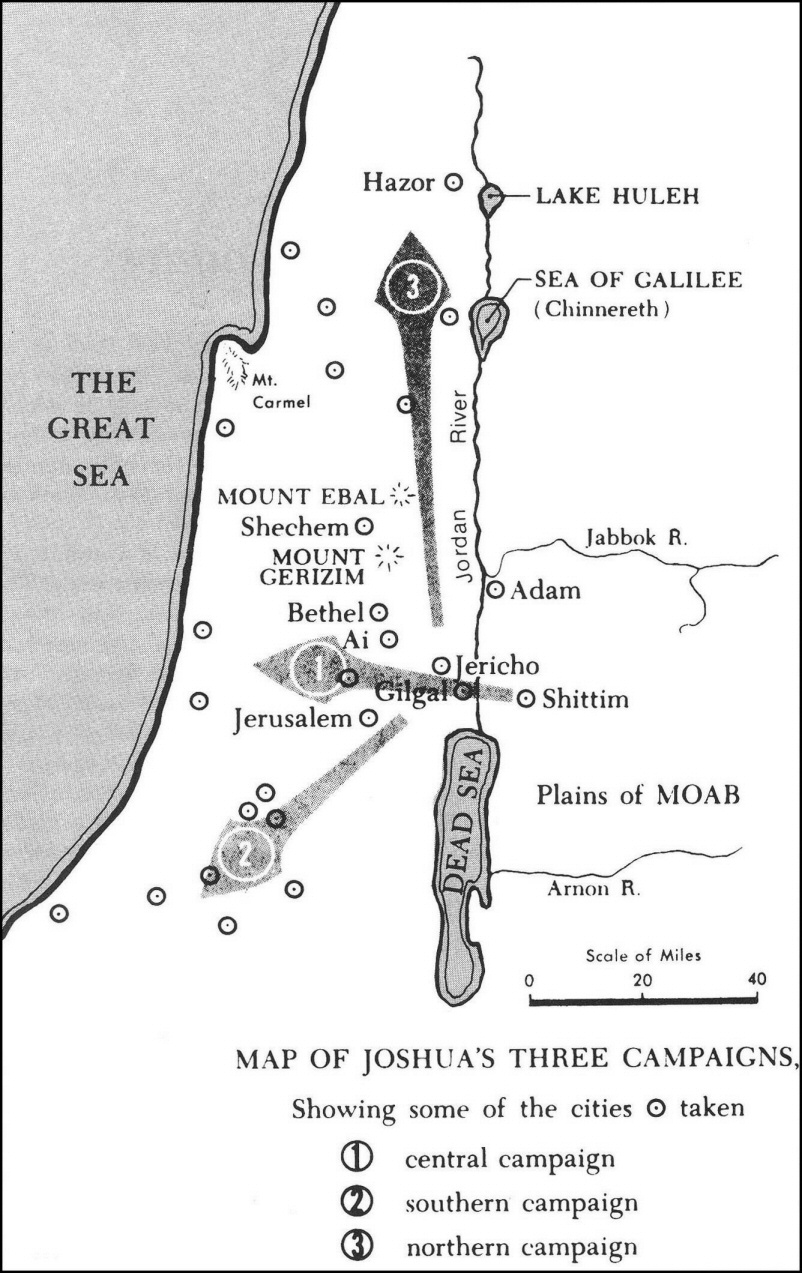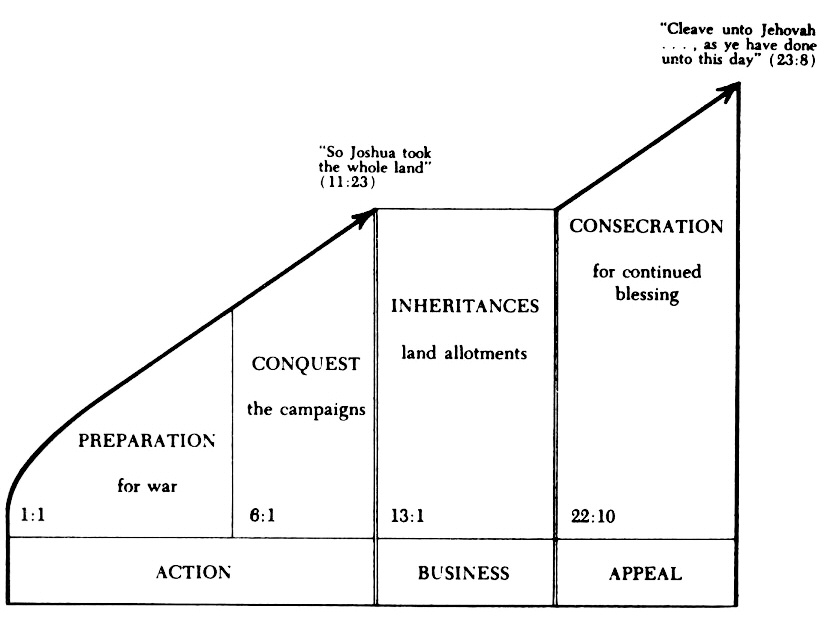 Click charts to enlarge Charts from Jensen's Survey of the NT - used by permission
JOSHUA
A BOOK ON SPIRITUAL WARFARE and REST
HOW TO POSSESS YOUR POSSESSIONS

CONQUEST
OF THE PROMISED LAND

DIVISION
OF THE PROMISED LAND

CLOSE OF JOSHUA'S LIFE

ACTION
ALLOCATION
APPEAL
Josh 1:1-5:15
Josh 6:1-12:24
Joshua 13:1-21:45
Josh 22:1-24:33

WARLORDS IN
CANAAN

LANDLORDS IN
CANAAN

ENTERING
CANAAN

CONQUERING
CANAAN

DIVIDING
CANAAN

SECURING THE
LAND

SETTLING THE
LAND

Preparation

Conquest

Possession

Consecration

ca. 1 Month
ca 7 Years
ca. 18 Years

Key Verses:

Joshua 1:8-note, Joshua 11:23

Land (84x),

Possess/possession (27x in 21v - Josh 1:6, 11, 15; 8:7; 12:1, 6f; 13:1; 17:12; 18:3; 19:47; 21:12, 41, 43; 22:4, 7, 9, 19; 23:5; 24:4, 8) Law (Josh 1:7f; 8:31f, 34; 22:5; 23:6; 24:26)

Christ in Joshua (see also notes below) - Christ is the believer's victorious leader, even as Joshua whose name means "Yahweh is salvation" was for Israel. Christ is also shown in Rahab's scarlet cord (click here), which pictures the believer's eternal safety from destruction through the blood of Christ
C H Spurgeon - "He who has once got fairly into the Scriptures can never leave them The book holds you as a magnet holds a needle, or as a flower holds a bee. If you want great thoughts, read your Bible. If you want something simple, read your Bible. If you want the deepest and highest truth that ever was, read your Bible. The book talks to us in our own mother tongue. Why should I have to ask another what my Father says? … The Bible to many is a dull book, as dry as an old will. But when you hear your own name read out in a will, you prick up your ears. What if there should be something in the Testament of our Lord Jesus for you. When I found my own name there my heart danced for joy. It was in these lines: 'God so loved the world that He gave His only begotten Son, that whosoever believeth in Him should not perish, but have everlasting life' Get your legacy at once!"
Listen to this Overview of Joshua by Dale Ralph Davis - his commentaries on several OT books (click here) are easy to read, accurate and filled with much practical application.
Bruce Wilkinson - The theme of Joshua is Israel's possession of the Promised Land and enjoyment of God's blessings through obedient faith. (Talk Thru the Bible)
J Sidlow Baxter - The five books of Moses lead Israel up to Canaan; and Joshua complements these by leading Israel into Canaan. The further twelve books cover Israel's history inside Canaan; and Joshua introduces these by describing the Israelite settlement in Canaan. It is thus the link book between the two historical groups in the Old Testament. It covers a period of about twenty-five years, and describes one of the most memorable conquests in history. "The occupation of this small strip of territory scarcely larger than Wales, though it led to no further results in the way of conquest, has nevertheless to a great extent molded the moral and religious history of the world." (Explore the Book- J. Sidlow Baxter - recommended)
Henrietta Mears - "Take possession of the land the Lord your God is giving you for your own" (Joshua 1:11). It is God's to give! It is ours to possess!… No book has more encouragement and wisdom for the soldier of the Cross than this book of Joshua. It is full of spiritual truth… Joshua completes what Moses began! God never leaves His work unfinished. Remember the great Craftsman always has another tool sharpened and ready for use. Service awaits everyone. You can always honor God best by taking up your task with a strong and resolute heart that trusts God… Joshua led them into a life of faith. Joshua led them into possession (Ed: How? By faith!)… Remember as we study this book of Joshua that God gives—people take. This book focuses on overcoming the enemy and occupying the land. God says, "Take it all… Moses must die before the children of Israel could go into Canaan. Moses could not even enter Canaan himself, to say nothing of bringing anyone else in. Israel had to wait until Moses was out of the way. To the Christian, Moses represents the law. Joshua represents Christ. Christ alone can lead us into the inheritance that is ours. Paul says, "not by works, so that no one can boast" (Eph. 2:9). Oh, that all Christians would simply lean on their faithful Joshua and follow Him only! Christ wants to lead us into what He has purchased on the cross for us… God called Joshua to lead the children of Israel into the Promised Land. We have the words that must have come to him in answer to a prayer for help in his great undertaking. "As I was with Moses, so I will be with you; I will never leave you nor forsake you" (Joshua 1:5)… Set your foot down. "I will give you every place where you set your foot, as I promised Moses" (Joshua 1:3). Take it all. These words are just as true for us (Ed: cf Believers have not a promised land but a promised life - Eph 1:3, 2Pe 1:3-4)… God has a way. He gave the directions for the people to follow. Martin Luther said, "I know not the way He (Christ) leads me, but well do I know my Guide."… With men (the task may seem) impossible, but with God all things are possible. God is always doing the impossible. God's biddings are His enablings… The greatness of your power is the measure of your surrender. It is not a question of who you are or of what you are, but whether God controls you… What was the Ark? The symbol of the divine Presence. And Christ is the reality of the divine Presence. He says, "Surely I am with you always" (Matthew 28:20). He goes before us and says, "Follow me," and He sends His Holy Spirit to whisper in our ear and say, "This is the way, walk ye in it." The living Ark of the Covenant is still our guide. He will guide us in the little as well as the great things of life. Yes, "If the Lord delights in a man's way, he makes his steps firm" (Psalm 37:23)." (What the Bible is All About)
Irving Jensen - The average Christian knows the New Testament better than he does the Old, and this is understandable. But the Bible is one book, and the Christian who neglects a major part of it is forfeiting rich blessings intended for his own soul. There are two good reasons why every Christian should be acquainted with the book of Joshua. First, he should know it for its historical—past and contemporary—value. The Jewish nation has never disclaimed title to the land-deed of Palestine which God gave its forefathers and which they appropriated under Joshua. From biblical prophecy and the stirrings of current events it is obvious that the most dramatic history of the land is yet to be written. Second, the book of Joshua is filled with spiritual lessons on how the Christian may live the victorious life (rest-land living) spoken of in Hebrews 3 and 4. (Joshua: Rest-Land Won - Everyman's Bible Commentary)
William Newell on Joshua - No book is more full of encouragement, wisdom and invigoration for the spiritual soldier… Israel as one has said, must be shown to be not only ungodly, as in Ex 32:1ff, but without strength (Ro 5:6); not only guilty, but helpless, unable to obey God's holy law in their own power. Till man learns both these lessons, God cannot come to him in grace. (See his Lesson on "Joshua: The Book of Possession - 20 page study)
Charles R. Swindoll - What's the big idea? - The book of Joshua was written to the descendants of those who conquered the land, as a historical account of how they had come to settle there. It celebrates God as general, defender, and king. It shows the geographical boundaries given to each tribe of Israel. Even more significantly, the book of Joshua serves as the connecting narrative between the days of Moses and the days of the judges, during which the book was first circulated. That which Moses began and endured in the wilderness, Joshua was able to claim victoriously in the land. God's promises through the ages were being fulfilled before the people's eyes. "Not one of the good promises which the Lord had made to the house of Israel failed; all came to pass" (Joshua 21:45). How do I apply this? - The last few verses of Joshua narrate three burials: Joshua (Joshua 24:29–30), the bones of Joseph (Josh 24:32), and Eleazar the high priest (Joshua 24:33). Strange as it may seem, these burials proclaim God's character. All three men were associated with Israel's days in captivity (Joseph long ago when Jacob's family first settled in Egypt, and Joshua and Eleazar as young men on the long journey through the wilderness). And now all three lay at rest in the land of promise, witnesses to God's faithfulness. God is the ultimate promise-keeper. As faithful and present as He was with Israel, so He is with us. "Be strong and courageous! Do not tremble or be dismayed, for the Lord your God is with you wherever you go" (Joshua 1:9). (Book of Joshua Overview - Insight for Living Ministries)
Paul R Van Gorder - The word ''Joshua'' means ''Jehovah is Savior,'' or ''Jesus.'' Therefore, we expect to find the book filled with typical teaching about Christ and His work in redemption. The Red Sea, for example, typifies what we are separated from, and is fulfilled in Romans 6 and Romans 7; the Jordan River typifies what we are separated unto, and is fulfilled in Ephesians 1 and Ephesians 2… God's purpose for Israel was not only to deliver them out of Egypt but to bring them into the land of promise. Canaan does not represent heaven. Remember, Canaan had in it walled cities, giants, and chariots of iron. It was a land of conflict, but it was also a land of conquest. God has far more in store for us than simply saving us from the penalty of sin. He desires to give us victory in our present situation, and enables us to claim what is ours in Christ Jesus. ''Blessed be the God and Father of our Lord Jesus Christ, who hath blessed us with all spiritual blessings in heavenly places in Christ'' (Eph 1:3). ''Jordan,'' according to Jerome, means ''stream of judgment''; according to Augustine, ''to come down.'' In either case it implies death to self, the experience through which every believer must pass to enter into the rest God intends for us. [cp. Heb 4:8-10-note, where 'Jesus' refers to 'Joshua'. Under Joshua, believing Israel entered temporarily into rest in the promised land. The Lord Jesus brings His people into a better rest.]… The book begins with the words, ''Now after the death of Moses… '' (Josh 1:1). Moses represented the Law. The people could not enter the land of Canaan until Moses was dead. ''For what the law could not do, in that it was weak through the flesh, God sending His own Son, in the likeness of sinful flesh and for sin, condemned sin in the flesh, that the righteousness of the law might be fulfilled in us, who walk not after the flesh, but after the Spirit'' (Rom 8:3,4-note). Moses died; he could not lead the people in. Likewise, the flesh is weak. What Moses could not do, Joshua did. He led them through the Jordan, which speaks of death and resurrection. He led the children of Israel to victory after crossing the Jordan. He was their advocate in time of defeat. It was Joshua who allotted them their portions within the land. All of this beautifully pictures the work of our Lord in death and resurrection, in His present advocacy at the Father's right hand, and in His provision for believers. Not only is Christ typified in the life and ministry of Joshua, Israel's great warrior and deliverer, but we actually see Christ Himself in this marvelous book. Suppose someone should ask, ''I thought Christ did not exist until Bethlehem. Where do you find Him in the book of Joshua?'' Let's consider several factors. Joshua and the Israelites stand before Jericho, a walled city. God has told them to capture it. Joshua goes on a survey trip around the city outside the walls. Suddenly, he is confronted by a man with a drawn sword. Without question, this is a supernatural being. Joshua asks the question I think most of us would have asked: ''Are you for us, or for our enemies?'' A strange answer came from this supernatural being. ''Nay, but as captain of the host of the Lord am I now come'' (Josh 5:14). [The word 'host' means 'army'.] In other words, this person was saying to Joshua, ''I've not come to take your part; I've come to take your place.'' Joshua 6 indicates that this supernatural person was none other than the Lord Himself. What a lesson! Joshua was to learn of One who was adequate for the task and equal to the circumstance. Christian friend, let us not forget this in our work. None of us is sufficient for the assignment. But we have One ''who is able to do exceedingly abundantly above all that we ask or think'' (Eph 3:20-note). Yes, this was one of the pre-incarnate appearances of the Lord Jesus Christ… The great lesson for us is that spiritual victories are not won by human means. Hebrews 11 says, ''By faith the walls of Jericho fell down'' (Heb 11:30-note). Faith in what? Faith in the unseen Captain of the Lord's hosts! This great victory in the experience of Israel is a warning. The Lord is dishonored when His church is engaged in activity that stems from fleshly energy, rather than from faith and the empowering of the Holy Spirit… Our heavenly Joshua, the Lord Jesus Christ, walked His earthly pilgrimage in perfect obedience to the Father. Not once did He falter. He could say, lifting His face toward heaven, ''I have finished the work Thou gavest Me to do'' (John 17:4). Unlike the earthly Joshua who died and remains buried, the Lord Jesus Christ arose from the dead and now lives at the right hand of God the Father. What a wonderful Savior is Jesus, our Lord! (OT Reflections of Christ - Joshua - Paul R. Van Gorder - Recommended)
Christ in All the Scriptures - Joshua - A M Hodgkin
We now come to a new Leader and a new command to arise and go in to possess a new land. Moses was not able to bring the Children of Israel into the Land of Promise. Moses was the embodiment of the Law. The Law cannot bring us into the fulness of the blessing of the Gospel of Christ. That Jesus Christ alone can do, and through this book Joshua is a type of Him. The very name has the same meaning. Joshua means "Jehovah is Salvation." "And thou shalt call His name Jesus—Saviour; for He shall save His people from their sins."
God gave His people a threefold encouragement to go forward and possess the land:—
First—The Gift of the land. "Every place that the sole of your foot shall tread upon, that have I given unto you."
Second—The Command. "Arise and go. Have not I commanded thee?"
Third—The Promise of His presence. "As I was with Moses so will I be with thee."
And the Lord commanded them to observe to do according to all the law which Moses commanded, and to meditate therein day and night.
The Land. The entrance of the Children of Israel into the Land of Canaan is full of teaching for the Christian. It is true that in one sense it is a picture of the Better Country to which we look forward as our eternal Home. But in many respects it is far more truly a picture of our present inheritance in Christ Jesus, a good land we are called upon to enter here in this life.
It is a land of Rest from the wanderings of the wilderness life. A land with "great and goodly cities, which thou buildedst not, and houses full of all good things, which thou filledst not" (Deut 6:10–11).
It is a land of Plenty. "A land of wheat, and barley, and vines, and fig-trees, and pomegranates; a land of oil-olive and honey; a land wherein thou shalt eat bread without scarceness, thou shalt not lack anything in it; a land whose stones are iron, and out of whose hills thou mayest dig brass " (Deut 8:8–9).
It is a land of Living Water. "A land of brooks of water, of fountains, and depths that spring out of valleys and hills" (Deuteronomy 8:7).
It is a land of Promised Victory. "There shall no man be able to stand before you" (Deuty 11:25).
Surely this is a picture of our present inheritance in Christ Jesus; it is He who can give such rest to our souls that we are able to say, "We which have believed do enter into rest." He who did not spare His own Son has promised with Him to "freely give us all things." Christ has promised to give the Living Water, the Holy Spirit, to those who come to Him and drink. And He has promised continual victory to those who commit themselves to His leadership. A victorious life, full of the Holy Ghost and of power, is God's purpose for every Christian, and is experienced through continual abiding in Christ. He promises us—not absence of tribulation, but in Him peace; not freedom from temptation and conflict, but through Him victory; not immunity from toil, but in Him rest. "Let us therefore fear, lest, a promise being left us of entering into His rest, any of you should seem to come short of it" (Hebrews 4:1).
In the purpose of God, those who have been redeemed by the precious blood of Christ are already not only "accepted in the Beloved," (Eph 1:6KJV) but also "complete in Him" (Col 2:9); but it is necessary for us by faith to enter into possession of what is already ours in Christ.
Warfare. The Epistle to the Ephesians is the New Testament counterpart of the Book of Joshua. It tells of the Christian's inheritance in Christ, the good land, the "heavenly places," to which He has already raised up by His grace those who trust in Him. It is the epistle most full of deep spiritual experience, yet nowhere have we a fuller description of the armour the Christian needs. It is the highest kind of warfare, "against principalities, against powers,… against spiritual wickedness in heavenly places" (Ephesians 6:12, margin).
Israel's enemies are a type of ours. Egypt was a type of the world. In the Amalekites in the wilderness—those descendants of Esau who sold his birthright for a mess of pottage, a people near of kin to Israel—we have a picture of the flesh, or self. But in the Canaanites we have a picture of a still more deadly foe. From contemporary records as well as from Scripture, these nations seem to have been the very personification of evil. Highly civilized, versed in arts and full of intellectual culture, they were nevertheless hopelessly corrupt. In God's command to Israel to destroy them utterly (Deuteronomy 20:16–18) we recognize at once His plan of dealing in judgment with nations after having given them full time to repent (see Genesis 15:16), and we have also His care for the moral well-being of His people. "God has a right to choose, without being questioned, the best method of chastening a guilty people, whether by flood, fire, brimstone, earthquake, famine, pestilence, or war. Study carefully these 'Acts of God' in the Bible and in our own time" (H. S. Richardson).
The Wiles of the Devil. Israel's warfare with the Canaanites is a picture of our conflict with Satan. "Put on the whole armour of God, that ye may be able to stand against the wiles of the Devil. For we wrestle not against flesh and blood." The word "wrestle" implies a hand-to-hand conflict, and it is just this that the Church is experiencing in our own time. From all lands today we hear the same testimony—those who know most of the power of the Holy Spirit are experiencing most of personal conflict with the Devil. It would seem that he knows that "his time is short," and that he is therefore putting forth all his power, and they alone can overcome who have learnt the threefold secret of Revelation 12:11: "They overcame him (the Devil) (1) by the blood of the Lamb, (2) by the word of their testimony, (3) by not loving their lives unto the death," i.e. taking their place on the Cross as crucified with Christ.
The verse before us speaks of "the wiles of the Devil." He comes not only as a roaring lion, but as a serpent, as an angel of light, and the climax of his wiliness is the invention of the lie of his non-existence. He is willing to deny his own personality even, if by so doing he can blind men and women to his power.
The Red Sea and Jordan. In "The Faith Chapter" —Hebrews 11—there is a gap of forty years between the crossing of the Red Sea and the taking of Jericho. The interval is filled with unbelief and disobedience, and even the act of faith—the Crossing of Jordan—which brought the Children of Israel into the land is omitted; for had there been no wandering there had been no Jordan: they would have marched straight up from Kadesh-Barnea without having to cross the river.
The two crossings are coupled together in Psalm 114:5 "What ailed thee, O thou sea, that thou fleddest? thou Jordan, that thou wast driven back?" There is a close connection between them. Going down into the bed of the sea and into the bed of the river alike signified death. Both show our participation in the death of Christ. The Red Sea crossing includes it all in God's purpose, though not always so in our experience. There are some Christians who, like Paul, enter into the deep meaning of Christ's death and receive the baptism of the Spirit almost immediately after their conversion. It was Israel's wandering that made the second crossing necessary.
And so it often is with Christians now. Through want of clear teaching, it may be, about God's purpose of blessing, or through personal unfaithfulness, how many wander in a wilderness experience for years after their conversion, and need some definite act like the crossing of Jordan to bring them into "the Lord's delightsome land" of peace and rest and victory? They have seen Christ crucified for them as the ground of their salvation, but they need to see themselves crucified with Christ. The history of the Israelites crossing Jordan makes this so beautifully simple that it cannot fail to be a help to any soul seeking to know the fuller meaning of Christ's death.
The channel of the river has several sets of banks, cut out by the stream in its varying fulness, and at this time it was overflowing all its banks. For a great multitude—including women and children and cattle—to have crossed it at such a time was an absolute impossibility. But as soon as the feet of the Priests, bearing the Ark of the Covenant, touched the brimming flood, the waters divided, and the priests stood firm on dry ground in the midst of Jordan until all the people were clean passed over. And Joshua set up twelve stones in the midst of Jordan, where the feet of the priests stood, and he commanded a man from each tribe to take a stone out of the midst of Jordan, twelve stones, and he set them up in Gilgal on the other side of Jordan as a memorial, "that all the people of the earth might know the hand of the Lord, that it is mighty; that ye might fear the Lord our God for ever" (Joshua 4:24).
Buried and Risen with Christ. The Ark was a type of Christ: He has gone down into death for us. "Therefore we are buried with Him by baptism into death: that like as Christ was raised up from the dead by the glory of the Father, even so we also should walk in newness of life." The twelve stones buried for ever under the waters of death show us our place as crucified with Christ. The twelve stones set up on the other side show us our place as risen with Him. "Likewise reckon ye also yourselves to be dead indeed unto sin, but alive unto God through Jesus Christ our Lord" (Romans 6:11). God's word to us is: "Ye are dead, and your life is hid with Christ in God." To believe this is as great an impossibility as for Israel to cross Jordan; but as we take Him at His word, and reckon the self-life to be dead with Christ, He makes it true in our experience, and enables us to live the risen life in Christ Jesus.
This is only the beginning of a new life of victory, the acceptance of our position, as risen with Christ, which makes victory possible. It is what Paul meant when he said: "I am crucified with Christ: nevertheless I live; yet not I, but Christ liveth in me: and the life which I now live in the flesh I live by the faith of the Son of God, who loved me, and gave Himself for me" (Galatians 2:20).
The next step for the Children of Israel was the renewing at Gilgal of the Covenant with God by the neglected rite of circumcision, separating themselves unto the Lord. God's separated people were then immediately called to keep the neglected Feast of the Passover. And they ate of the old corn of the land, the manna ceasing from that time. In the slain Lamb and the Bread of Life we have another picture of Christ.
The Captain of the Lord's Host. Not only in type do we see Christ in the Book of Joshua. There came a day when the Lord Himself shone through in all His glory. "And it came to pass, when Joshua was by Jericho, that he lifted up his eyes and looked, and, behold, there stood a man over against him, with his sword drawn in his hand: and Joshua said, Art Thou for us, or for our adversaries?" He queried whether his mysterious Guest had come as an ally or as an enemy; but the Lord said: "Nay, but as Captain of the Host of the Lord am I now come. And Joshua fell on his face to the earth, and did worship, and said unto Him, What saith my Lord unto His servant? And the Captain of the Lord's Host said unto Joshua, Loose thy shoe from off thy foot; for the place whereon thou standest is holy. And Joshua did so…. And the Lord said unto Joshua, See, I have given into thy hand Jericho."
The Burning Bush was a picture of the Incarnation, but how much more vivid was this foreshadowing in the form of a man. God says, "I have given Him for a Leader and Commander to the people." Ofttimes today some servant of the Lord is hard pressed with responsibility at the thought of some great undertaking, when if he would but lift up his eyes and look he would see One mighty to save, who has come to take entire control.
Victory. "By faith the walls of Jericho fell down." That is the simple record in the New Testament of the taking of the city. "The weapons of our warfare are not carnal, but mighty through God to the pulling down of strongholds." Those who are living in the Spirit have ceased to fight with carnal weapons; they have learned to wield the sword of the Spirit which is the Word of God, and quench the fiery darts of the wicked by the shield of faith. The saint wins his victories beforehand on his knees, and then stands still and sees the salvation of the Lord. "Shout; for the Lord hath given you the city." This book may also be compared to the book of Acts, where, through the Spirit, Christ leads His Church to victory, and heathen strongholds yield to the preaching of the Gospel and to prayer.
"By faith Rahab perished not with them that believed not, when she had received the spies in peace." The token for her salvation was the scarlet cord with which she had let down the spies, tied in her window. It was like the token of the blood on the door-posts in the Passover In former days in the Royal Navy every rope and cord was marked with a scarlet thread running right through its entire length, so that wherever you cut the rope you found the scarlet cord. The scarlet line of redemption through the precious blood of Christ runs through the Bible from Genesis to Revelation.
Independent Evidence. Each step in the record of the conquest of Canaan is the vivid story of an eye-witness, if only there were space to dwell upon all the details. The points of vantage, the configuration of the land, the fertility dependent on laborious cultivation, the picture given of a densely populated country, with walled and garrisoned cities and chariots of iron, of its occupation by various independent nations,—all is exactly the Canaan of Joshua's day as given in the contemporaneous records of the Egyptian hieroglyphics and the Tel-el-Amarna tablets, and therefore proves that the Book of Joshua is—as it claims to be (Deuteronomy 6:25)—a contemporary document and not of late date. "No mark of late date is discoverable in the names of the cities" (Col. Conder). Jerusalem is mentioned in this book, and it has been objected that this city was not called Jerusalem until the reign of David. "But letters were found at Tel-el-Amarna in Egypt, from the king of Jerusalem, which were written about the very time when Joshua was invading Canaan. In these letters the name Jerusalem appears as it does in the Scripture" (Urquhart). These tablets also constantly refer to the Habiri, who have been identified with the Hebrews. There are frequent appeals from all parts of Canaan to Egypt for help against this powerful foe. One letter says, "The hostility of the Hebrews waxes mighty against the land, and against the gods"; proving their monotheism.
The victory at Jericho was followed by the defeat before Ai. The way to Ai led up a steep rocky defile, so it was natural that the spies who were sent to view the country said, "Let about two or three thousand men go up and smite Ai; make not all the people to labour thither, for they are but few." The result of this attack was defeat and ignominious retreat. The thought of God's honor was uppermost in Joshua's mind. "What wilt Thou do unto Thy great Name? And the Lord said, Get thee up; wherefore liest thou thus upon thy face? Israel hath sinned … therefore they could not stand before their enemies." All the spoil of Jericho was to be devoted to the Lord (Joshua 6:19; Deuteronomy 7:25–26), but some one had taken of the "devoted thing" (R.V.). Early in the morning all Israel had to appear before the Lord, tribe by tribe, and family by family, and man by man, till the guilt was brought home to Achan, and he confessed his sin. "I have sinned … I saw … I coveted … I took … I hid." And the stolen treasure was found, and judgment was executed on Achan and all his house.
The defeat before Ai was caused by hidden sin. There is a very solemn lesson here—that sin always means defeat. All may look right outwardly, but God is not deceived. Absolute obedience is the condition of victory in the land. "If ye then be risen with Christ, seek those things which are above, where Christ sitteth on the right hand of God." After the sin of Achan had been judged the Lord said, "Fear not; take all the people of war with thee, and arise, go up to Ai." After sin has been confessed and put away God gives victory. We may have had some great victory, like Jericho, and then fail in some little Ai of daily life. He will give victory in the very place where we have been shamefully defeated. But we need all the power of God for every battle, and our position is one of absolute dependence on Him.
Ebal and Gerizim. Next, we have the carrying out of God's command, through Moses, that the tribes should stand on Ebal and Gerizim, six on one mount and six on the other, and pronounce the blessings and the curses of the Law. It has been objected that people could not hear each other at such a distance; but the acoustic properties of the valley are remarkable, and Canon Tristram tested it on the spot, two of his party stationing themselves on opposite sides of the valley and reciting the Ten Commandments in turn with perfect ease. Ebal is to the north of the valley, Gerizim to the south. The priests standing with the Ark would no doubt be facing the east. The Ark did so wherever the Tabernacle was pitched. Thus Mount Ebal would be on the left hand northwards, Gerizim on the right hand southwards—the same position as regards blessing and cursing as in the parable of the Sheep and the Goats. In the Tabernacle the sacrifices were slain "on the north side of the altar before the Lord." The altar of sacrifice was likewise on Mount Ebal to the north, the atonement was made in the place over which the cloud of Divine wrath was resting. We cannot but see Divine plan in the perfect harmony of all these details.
Then follows the stratagem of the Gibeonites, who with their mouldy loaves and ragged garments led the Children of Israel to believe they had come from a far country, and therefore entered into a covenant with them. It was because Israel asked not counsel of the Lord, but took of their victuals, that they fell into the snare. Here again we are taught the need of absolute dependence upon the Lord in the life of faith. He is willing to guide us in every detail of our lives, but we must seek to know His will, and not judge by the sight of our eyes or lean upon our own understanding.
Having entered into league with the Gibeonites, Israel was bound to respond to their appeal for help when five other nations rose up against them. God overruled this circumstance to deliver the five kings into the hands of His people. As these nations worshipped the sun and moon, there was a special reason for the miracle which God wrought on that day in showing them His power in controlling the hosts of heaven. We do not know how that miracle was wrought, it is enough for us to believe that He who made the universe could control its action. The ancient annals of Greece, Egypt, and China each confirm the record of a certain "long day" such as God's Book tells us of.
Possession. The first half of Joshua is mainly occupied with the Key-note of Victory, the second half with the Key-note of Possession. Though "all things are ours" in Christ, it remains for us to take possession of them experimentally by faith. The promise was that every place that the sole of their foot should tread should be theirs. And in the Joshua 13 the Lord said unto Joshua, "There remaineth yet very much land to be possessed." There was a slackness on the part of Israel to possess the land which the Lord had given them (Joshua 18:3).
Then follows an account of the division of the land. The inheritance of the two-and-a-half tribes beyond Jordan, and the inheritance of Caleb. That old warrior claimed the mountain of the Anakims, with its cities great and fenced, which God had promised him forty years before. He said: "As my strength was then, even so is my strength now, for war … if so be that the Lord will be with me, then I shall be able to drive them out, as the Lord said." Caleb promised his daughter Achsah to whomsoever would take the city of Kirjath-sepher. Othniel his nephew took it and won the prize. Achsah said to her father, "Give me a blessing: for thou hast given me a South land; give me also springs of water. And he gave her the upper springs and the nether springs." Our Heavenly Father waits to bless us in like manner, and "to give the Holy Spirit to them that ask Him."
Failure. Next we read of the inheritance of Judah, and then of Ephraim and Manasseh. We read that the children of Manasseh could not drive out the Canaanites, but put them under tribute and let them dwell in the land (Joshua 17:12–13; see also Josh 13:13 and Josh 15:63). When we come to study the Book of Judges we shall see what trouble came through Israel not obeying God in driving out the Canaanites. The process of degeneration had begun even in the time of Joshua. Though the children of Joseph failed they were also ambitious, and came to Joshua with the plea that they were a great people and their lot was not enough for them. Then Joshua bade them go up into the wood country and take the land of the giants. But the children of Joseph feared to go because the inhabitants had chariots of iron. Joshua's answer was a wise One: he bade them prove their greatness by driving out the Canaanites which they were well able to do "though they have iron chariots and though they be strong."
Then we read of the Tabernacle being set up at Shiloh, and the congregation of Israel were assembled there, as the central Place of sacrifice. Then the seven remaining tribes received their portion, and Joshua his own special portion, and the six Cities of Refuge were fixed. The Levites held their cities upon a different tenure from the other tribes, for the Lord Himself was the portion of their inheritance.
Conclusion. The book closes with Joshua's exhortation to the people. He reminds them that it is God who has fought for them. He exhorts them to keep all that is written in the Law of Moses, and to serve the Lord with all their heart. He invites them to choose this day whom they will serve, but adds his own resolution, "As for me and my house, we will serve the Lord." Joshua's last act was to write these words in the book of the Law of God, and to set up a great stone as a witness to the renewal of the Covenant. He died at the age of a hundred and ten years, leaving a character without blemish. After the account of his death we have the ominous words: "And Israel served the Lord all the days of Joshua, and all the days of the elders that outlived Joshua, and which had known all the works of the Lord, that He had done for Israel."
Our Joshua never dies. It is He who brings us into the good land, and it is only as we abide under His leadership that we shall possess it and overcome all our enemies.
---
ESV Resources -

Do you wonder if you are following the Lord's leading to the place where He wants you to be? The Israelites cried out to God, and He heard them, raising up Moses to deliver them out of slavery in the land of Egypt and lead them towards the Promised Land. Because of their sin, however, they suffered the consequences and wandered in the wilderness for nearly forty years. What can you learn from the children of Israel so that you won't make the same mistakes? 7 lessons
Expositor's Bible - If you can locate the six-volume edition of the Expositor's Bible, buy it immediately! It takes up less space than the original fifty-volume set, and not everything in the original set is worth owning. Samuel H. Kellogg on Leviticus is a classic; so is Alexander Maclaren on the Psalms and on Colossians. —Warren W. Wiersbe, A Basic Library for Bible Students
This set, originally published in 1903, contains expositions by both conservative and liberal theologians. The most important works are by Dod (Genesis), Chadwick (Exodus and Mark), Kellogg (Leviticus), Blaikie (Joshua, I and II Samuel), Adeney (Ezra, Nehemiah and Esther), Maclaren (Psalms), Moule (Romans), Findlay (Galatians and Ephesians), Plummer (Pastoral Epistles and the Epistles of James and Jude), and Milligan (Revelation.) —Cyril J. Barber, The Minister's Library
Additional Note: One of the commentaries recommended by Irving Jensen
Clarke (1760-1832) was Methodist, Wesleyan, Arminian, (e.g., Clarke "suggested that although God can know all future events, He chooses not to know some events beforehand" Baker Encyclopedia of the Bible, page 808). He did not always interpret Scripture literally and so was amillennial (to quote Clarke on 1000 years - "I am satisfied that this period should not be taken literally" [see comment on Rev 20:4] - he interpreted Revelation as a Historicist) which led him to interpret the church as fulfilling many OT promises to Israel. Influential in development of doctrine of Entire Sanctification (or "Christian perfection"). Affirmed the authority and sufficiency of Scripture, but held a belief of "plenary dynamic inspiration" (idea of every thought inspired), thus falling short of "plenary verbal inspiration" (every single word inspired) (Bib. Sacra: Vol 125, p 163, 1968). In summary, a useful, respected commentary but as with all extra-Biblical resources you are advised to "Be a Berean!" Acts 17:11
Commentary
On the Book of Joshua
This was John Calvin's last written work in 1563 completed shortly before his death. David Howard notes that "It consistently engages the text and is filled with many good insights, even for today." (Evaluating Commentaries on Joshua)
Notes from Conservative, Evangelical, Millennial Perspective
RESOURCE BELOW SAME AS ABOVE
Popups for Scripture References
Spurgeon on Keil & Delitzsch: We cannot read Keil with pleasure, for we want spiritual meat, but yet it is most desirable for us to know what the text really means. Without indicating either the spiritual lesson or the moral of the history, Keil simply explains the facts, and in so doing aids the reader to realize them. We confess we should like something more. A work for the learned. It has received the highest commendations from competent scholars. But it is somewhat dull and formal.
John Lloyd examines the book of Joshua as a literal, prophetic, and spiritual history of the Jewish people. In The Book of Joshua: A Critical and Expository Commentary of the Hebrew Text, he explores the idea of Joshua as an archetype for the coming Messiah—and the journey to the promised land as a mirror for entry to heaven. Lloyd's commentary is divided into two parts: the conquest of the land and the division of the land. The verse-by-verse commentary comprises grammatical, exegetical, historical, and ethical notes that mine the depths of this early prophetic work. It also includes an index of geographical names. John Lloyd was the rector of Llanvapley, a village in Wales.
Note: Verse by verse analysis
Second Part: The Division of the Land of Canaan
The Book of Joshua - includes all of the studies below on one page
The Book of Joshua - Part 1 (Joshua 1:1 thru Joshua 4:24)
The Book of Joshua - Part 2 (Joshua 5:1 thru Joshua 9:27 )
The Book of Joshua - Part 3 (Joshua 10:1 thru Joshua 19:51)
The Book of Joshua - Part 4 (Joshua 20:1 thru Joshua 24:33)
Eugene D. Stockton, "Fortress temple of Shechem and Joshua's covenant," Australian Journal of Biblical Archaeology 1.1 (1968): 24-28.
Bryant G. Wood, "The Search for Joshua's Ai," Richard S. Hess, Gerald A. Klingbeil & Paul J. Ray Jr., Critical Issues in Early Israelite History. Winona Lake, IN: Eisenbrauns, 2008. Hbk. ISBN: 978-1575068046. pp.205-240
David Merling, "The book of Joshua. part I: its evaluation by nonevidence," Andrews University Seminary Studies 39.1 (Spring 2001): 61-72.
David Merling, "The book of Joshua. Pt II, Expectations of archaeology,"Andrews University Seminary Studies 39.2 (Autumn 2001): 209-221
John A, Beck, "Why Do Joshua's Readers Keep Crossing the River? The Narrative-Geographical Shaping of Joshua 3-4," Journal of the Evangelical Theological Society 48.4 (Dec. 2005): 689-699
David M. Howard Jr., "'Three days' in Joshua 1-3: Resolving a Chronological Conundrum," Journal of the Evangelical Theological Society 41.4 (Dec. 1998): 539-550
Adrian Jeffers, "Ideal versus real history in the book of Joshua," Journal of the Evangelical Theological Society 12.3 (Summer 1969): 183-187
Jeffrey J. Niehaus, "Joshua and ancient Near Eastern warfare," Journal of the Evangelical Theological Society 31.1 (March 1988): 37-50
Lewis Bayles Paton, "Israel's conquest of Canaan," Journal of Biblical Literature 32.1 (1913): 1-53.
Douglas Petrovich, "The Dating of Hazor's Destruction in Joshua 11 by Way of Biblical, Archaeological, and Epigraphical Evidence," Journal of the Evangelical Theological Society 51.3 (Sept. 2008): 489-512.
Pekka Pitkänen, "Ethnicity, Assimilation and the Israelite Settlement,"Tyndale Bulletin 55.2 (2004): 161-182
Dean R. Ulrich, "Does The Bible Sufficiently Describe The Conquest?,"Trinity Journal 20:1 (Spring 1999): 53-68.
NET translation on the left and notes on on the right
Distribution of the Land = Page 18
Physical features of Canaan, Canaan before the conquest = Page 36
Northern and Southern Campaigns = Page 37
I. Entering the Promised Land (Joshua 1:1–5:15)
II. Conquering the Promised Land (Joshua 6:1–12:24)
A. The Central Campaign (Joshua 6:1–8:35)

B. The Southern Campaign (Joshua 9:1–10:43)

C. The Northern Campaign (Joshua 11:1–15)

D. The Summary of Conquests (Joshua 11:16–12:24)
III. Distributing Portions in the Promised Land (Joshua 13:1–22:34)
A. Summary of Instructions (Joshua 13:1–33)

B. West of the Jordan (Joshua 14:1–19:51)

C. Cities of Refuge (Joshua 20:1–9)

D. Cities of the Levites (Joshua 21:1–45)

E. East of the Jordan (Joshua 22:1–34)
IV. Retaining the Promised Land (Joshua 23:1–24:28)
A. The First Speech by Joshua (Joshua 23:1–16)

B. The Second Speech by Joshua (Joshua 24:1–28)
V. Postscript (Joshua 24:29–33)
Ancient Near East from 1200-100 BCE — The Conquest of Canaan — The Sea Peoples — The Levant from 1200-1000 BCE — The Conquest by Joshua — Joshua's Central and Southern Campaigns — Joshua's Northern Campaign — The Limits of Israelite Settlement — Israel in Canaan from Joshua to Samuel to Saul — The Tribal Allotments of Israel — The Division of the Land Among the Tribes — Levitical Cities and Cities of Refuge (1) — The Levitical Cities (2) — The Judges of Israel — The Period of the Judges — Ehud and the Oppression of the Moabites — Deborah's Victory over the Canaanites — Gideon's Battles with the Amalekites — Jephthah and the Ammonites — Samson the the Philistines — The Battle at Ebenezer and the Loss of the Ark — The Ministry of Samuel and Anointment of Saul — The Kingdom of Saul and His Wars — Saul, 1000 BCE — David's Flight from Saul

Maps above are from the Holman Bible Atlas (digital book; Hardcover/Paperback version) copyrighted © 1998 B&H Publishing Group, used by permission, all rights reserved. This is one of the best resources for Bible maps as the maps also include helpful short descriptions of the events portrayed on the maps. Please do not download to be used on another website. Thank you.
MOBILIZING GOD'S PEOPLE FOR VICTORY
A.) GETTING READY FOR BATTLE (Joshua 1-5) Preparing for Conquest

B.) STIRRING UP THE ENEMY (Joshua 6-12) Conquering the Land
C.) FINISHING THE TASK (Joshua 13-24) Dividing the Land
Joshua 1:1-5 The Mission: God's Purpose

Mobilizing God's People (Jos 1:10-18)

Victory over Strongholds (Joshua 6:1-27)

Effectively Dealing with Defeat & Despair (Joshua 7:1-15)

Reaching Beyond Mediocrity (Joshua 10:1-43) –

Finishing the Task (Joshua 13:1-33)

Obtaining a Greater Portion (Jos 21)

Other Related topic on Overcoming Failure

Other Articles on Biblical Leadership

Other Articles on Biblical Leadership
The Book of Joshua - includes all of the studies below on one page
The Book of Joshua - Part 1 (Joshua 1:1 thru Joshua 4:24)
The Book of Joshua - Part 2 (Joshua 5:1 thru Joshua 9:27 )
The Book of Joshua - Part 3 (Joshua 10:1 thru Joshua 19:51)
The Book of Joshua - Part 4 (Joshua 20:1 thru Joshua 24:33)
I also highly recommend Chuck Smith's insightful overviews of the book of Joshua in which he discusses our great need for walking by the Spirit, using this book as an illustration.
Defender's Study Bible Notes - Conservative notes from a well-known creationist. See right margin for links to available notes.
Note: Be a Berean (Acts 17:11-note) as Meyer appeals to typology a number of times - see Typology - Study of Biblical types)
Updated Feb, 2020
Rosscup: This work, later called Preaching Through the Bible (Baker Book House), is rich in its applications and exhortations, though often not particularly helpful for the reader who is looking for exposition that stays right with the text. Treatment of the texts is sermonic. (Commentaries for Biblical Expositors: An annotated bibliography of selected works)
Another source - Joshua Commentaries - has all the titles below. In the url link at top of page a quick way to get to a chapter later in the book is to simply substitute that chapter number for the #

1

(http://biblehub.com/commentaries/parker/joshua/

1

.htm). So if you want to go to chapter 24, replace the #1 with 24.
Note that there are multiple homilies associated with each of the following expositions - simply scroll down the page to review the homilies.
Sermons are Pdf transcripts each about 6 pages
John Piper says that Horae Homileticae "is the best place to go for researching Simeon's theology. You can find his views on almost every key text in the Bible. He did not want to be labeled a Calvinist or an Arminian. He wanted to be Biblical through and through and give every text its due proportion, whether it sounded Arminian as it stands or Calvinistic. But he was known as an evangelical Calvinist, and rightly so. As I have read portions of his sermons on texts concerning election and effectual calling and perseverance he is uninhibited in his affirmation of what we would call the doctrines of grace… What Simeon experienced in the word was remarkable. And it is so utterly different from the counsel that we receive today that it is worth looking at." (Brothers, We Must Not Mind a Little Suffering) (Bolding added)
Through the Bible (C2000 Series) - this series was recorded in the 1980's and while over 30 years old is literally packed with practical insights into how to live the Victorious Christian life based on the eternal truths and principles that are found in the Book of Joshua - highly recommended. This would make a great supplement to your personal through the Bible in a year reading program. Read and study (and meditate) on Joshua yourself first (using the principles of inductive Bible study). Then listen to Pastor Chuck's wonderful Spirit-filled, Christ exalting, Word centered, God glorifying discussion of the chapters you have studied and pondered. I can guarantee you will be edified, equipped and transformed by the Spirit (2Cor 3:18-note)!
Joshua 1
Joshua 2
Joshua 3
Joshua 4
Joshua 5
Joshua 6
Joshua 7
Joshua 8
Joshua 9
Joshua 10
Joshua 11
Joshua 12
Joshua 13
Joshua 14
Joshua 15
Joshua 16
Joshua 17
Joshua 18
Joshua 19
Joshua 20
Joshua 21
Joshua 22
Joshua 23
Joshua 24
Click listing which includes audio files. The files below are transcripts which together are more than 200 pages of well done material preached expositionally.
C H Spurgeon comments on John Trapp: Would it be possible to eulogise too much the incomparably sententious and suggestive folios of JOHN TRAPP? Since Mr. Dickinson has rendered them accessible,[7] I trust most of you have bought them. Trapp will be most valuable to men of discernment, to thoughtful men, to men who only want a start in a line of thought, and are then able to run alone. Trapp excels in witty stories on the one hand, and learned allusions on the other. You will not thoroughly enjoy him unless you can turn to the original, and yet a mere dunce at classics will prize him. His writings remind me of himself: he was a pastor, hence his holy practical remarks; he was the head of a public school, and everywhere we see his profound scholarship; he was for some time amid the guns and drums of a parliamentary garrison, and he gossips and tells queer anecdotes like a man used to a soldier's life; yet withal, he comments as if he had been nothing else but a commentator all his days. Some of his remarks are far fetched, and like the far fetched rarities of Solomon's Tarshish, there is much gold and silver, but there are also apes and peacocks. His criticisms would some of them be the cause of amusement in these days of greater scholarship; but for all that, he who shall excel Trapp had need rise very early in the morning. Trapp is my especial companion and treasure; I can read him when I am too weary for anything else. Trapp is salt, pepper, mustard, vinegar, and all the other condiments. Put him on the table when you study, and when you have your dish ready, use him by way of spicing the whole thing. Yes, gentlemen, read Trapp certainly, and if you catch the infection of his consecrated humour, so much the better for your hearers.
John MacArthur: "The one book, apart from the Bible itself, that I value most in my studies."
Note: The best commentary on Scripture is Scripture (Compare Scripture with Scripture) and these cross references compiled by Torrey are the most comprehensive work of this type with over 500,000 entries. However, always check the context (Keep Context King) to make sure that the cross reference is referring to the same subject as the original Scripture. The Puritan writer Thomas Watson said it this way - "The Scripture is to be its own interpreter or rather the Spirit speaking in it; nothing can cut the diamond but the diamond; nothing can interpret Scripture but Scripture." See an example of the value of comparing Scripture with Scripture. See also Use of Cross-References - Martin Luther expressed this principle with the words, Scriptura sui ipsius interpres which is Latin for "Scripture is its own expositor" The Westminster Confession adds that "The infallible rule of interpretation of Scripture is the Scripture itself: and therefore, when there is a question about the true and full sense of any Scripture...it must be searched and known by other places that speak more clearly."
(Our Daily Bread, Copyright RBC Ministries, Grand Rapids, MI. — Reprinted by permission. All rights reserved)
Joshua 1:1-9
His Part - Our Part
Our Daily Bread
"Arise, go over this Jordan… I will not leave you nor forsake you." - Joshua 1:2,5
Whenever the Lord assigns us a difficult task, He gives us what we need to carry it out. John Wesley
wrote,
"Among the many difficulties of our early ministry, my brother Charles often said, 'If the Lord would give me wings, I'd fly.' I used to answer, 'If God bids me fly, I will trust Him for wings.'"
Today's Scripture tells us that Joshua was thrust into a position of great responsibility. No doubt
the enormity of the challenge before him made him tremble with fear. How could he ever follow such a
great leader as Moses? In his own strength it would be impossible to lead the people into the Promised Land. But along with the marching orders, the Lord gave him an assuring promise: "I will not leave you nor forsake you" (Josh. 1:5). Then He said, "Have I not commanded you? Be strong and of good courage; do not be afraid, nor dismayed, for the Lord your God is with you wherever you go" (v. 9). Such reassurances were the backing Joshua needed.
If God has given you some special work to do that frightens you, it's your responsibility to jump at it.
It's up to the Lord to see you through. As you faithfully do your part, He will do His part. - R W De Haan
I'll go where You want me to go, dear Lord,
O'er mountain, or plain, or sea;
I'll say what You want me to say, dear Lord,
I'll be what You want me to be.- Brown
Where God guides, God provides!
Joshua 1:2
Look Both Ways
Our Daily Bread
READ: Joshua 1:1-9
Moses My servant is dead. Now therefore, arise. —Joshua 1:2
During our church's annual New Year's Eve Communion service, we say this prayer together: "Father, we surrender this past year and give it up to You. We give You our failures, our regrets, and our disappointments, for we have no more use for them. Make us now a new people, forgetting what lies behind and pressing on toward that which lies ahead of us.
"We give You all our hopes and dreams for the future. Purify them by Your Spirit so that our wills shall truly reflect Your will for us.
"As we stand on the threshold of another year, encourage us by our successes of the past, challenge us by the power of Your Word, and guide us by the presence of Your Holy Spirit."
In every transition, it's good to look both ways. When Joshua assumed leadership of Israel, God told him to consider the past and the future: "Moses My servant is dead. Now therefore, arise, go over this Jordan, you and all this people, to the land which I am giving to them" (Joshua 1:2). Then He promised, "As I was with Moses, so I will be with you… Do not be afraid, nor be dismayed, for the Lord your God is with you wherever you go" (vv.5,9).
With confidence in God, we can look back and look ahead, then walk boldly into a new year.—David C. McCasland
Forgive us, Lord, for failures past,
Then help us start anew
With strength and courage to obey
And closely follow You. —Sper


The victories of the past give courage for the future.
Joshua 1:9
Equipped for the Task
Our Daily Bread
"Be strong and of good courage; for the Lord your God is with you wherever you go." Joshua 1:9
I was in England during World War II working as a surgical technician in an army hospital when I heard the shocking radio announcement: "Franklin Delano Roosevelt is dead!" I was saddened and troubled. Was Vice President Harry Truman qualified to be President?
I was relieved when I heard him say that he felt as if an enormous weight had fallen on his shoulders and that he desired people everywhere to pray for him. This reassured me that he humbly recognized his inadequacies and his need for God's help.
Few of us will ever be thrust into a position of leadership with duties of that magnitude, but most of us know the feeling of inadequacy in the face of great responsibility we are about to assume. It might be that of taking on a new job, getting a promotion at work, choosing a spouse, becoming a parent, or accepting a new ministry in Sunday school or church.
When we face a new challenge, we can take courage from the Lord's words to Joshua (1:9). We can accept our opportunity as from Him and believe that He will give us all we need to do it well. If we meditate on His Word, obey it, prayerfully rely on Him, and work diligently, He will do the rest. He will equip us for the task.—H. V. Lugt
The Lord will give you help and strength
For work He bids you do:
To serve Him from a heart of love
Is all He asks of you.

God's call to a task includes His strength to complete it.
Joshua 3:4
Our Daily Bread
"You have not passed this way before" (Joshua 3:4).
When I was a boy, the flame of adventure burned brightly in my soul, filling my life with anticipation. I loved to read stories about pioneers who ventured into the unknown, and I still remember these words of Rudyard Kipling:
"There is no sense in going further—it's the edge of civilization,

So they said, and I believed it—

Till a voice, as bad as conscience, rang interminable changes

On one everlasting whisper day and night repeated—

Something hidden. Go and find it.

Go and look behind the Ranges—

Something lost behind the Ranges.

Lost and waiting for you. Go!"
Although I still like to try new things, I have lost some of my adventurous spirit as I've grown older, and I find myself feeling a bit uneasy as I draw closer to retirement, old age, and death. It's natural, I believe, to feel a mixture of fear and anticipation as we face the un­known. But as I trust God and keep walking with Him, I find that fear diminishes and my longing for heaven grows stronger.
The Israelites undoubtedly felt both uneasiness and eagerness as they prepared to enter the Promised Land. Knowing this, Joshua told them to follow the ark, the symbol of God's presence. The people leading the column were to stay far enough behind the ark so that those in the rear could see it. By trusting God and obeying Him, their fear dissolved and their sense of anticipation grew stronger. And it still works that way today. —H. V. Lugt
Faith keeps the sails of life filled with the breath of heaven.
Joshua 3:1-13
Strange Territory
Our Daily Bread
"You have not passed this way before." - Joshua 3:4
When our son Stephen was eight, he was invited to stay overnight at a cousin's house. It was his first time away from home and it all sounded like an exciting adventure. But when we got ready to leave, he started getting that homesick feeling! With tears glistening in his eyes and his voice quavering, he cried, "Mommy, I don't feel so good. I'd better go home with you."
My wife responded, "It's up to you, but I know you'd have a good time."
"But Mommy," Stephen whimpered, "they said they were going to climb a big hill tomorrow, and I've never been there before."
We too can become fearful sometimes as we look ahead because we've "never been there before." But just as the Lord took care of Joshua and Israel (Josh. 3), He will take care of us.
Perhaps right now you are anxious about some new and untried pathway on which the Lord is leading you. Then listen to God's Word and take courage: "I will instruct you and teach you in the way you should go; I will guide you with My eye" (Ps. 32:8).
Place your hand by faith in your heavenly Father's hand, and let Him lead the way.-- R. W. De Haan
I have promised you My presence
With you everywhere you go;
I will never, never leave you
As you travel here below.- Rose

God does not ask us to go where He does not lead.
Joshua 6
Believing God
Our Daily Bread
By faith the walls of Jericho fell down… Hebrews 11:30
In the story about Joshua and the city of Jericho, we have a most vivid illustration of faith. God commanded Joshua to gather all the men of war and have them march around Jericho once a day for six days. Then, on the seventh day, they were to com­pass the city seven times, after which the priests were to blow with the trumpets and all the people were to shout with a great shout. The Lord promised Joshua that if they did this, the walls of the city would fall down flat.
Have you ever tried to put yourself in Joshua's place, and imagine how you would have reacted to such a command? When the Lord gave him these instructions, do you suppose Joshua re­sponded: "Lord, that's a reasonable thing to do. In fact, I'm rather ashamed of myself that I didn't devise such a brilliant plan in the first place. It really makes a lot of sense." Of course, he said nothing of the kind, simply because God's command was not a "reasonable" one to Joshua's mind. That is, he couldn't take out his "slide rule" and calculate scientifically that the predicted results would necessarily follow such actions. And yet, even though some would have ruled it an insane plan thus to attempt the conquest of Jericho, Joshua obeyed God anyway, simply because he had faith! Yes, he was willing to rely on the word of the Lord, despite the fact that it seemed contrary to his own understanding of things. That's what God expects of us today. He wants us to believe His Word — to accept the Bible record in its entirety — whether we can comprehend it or not. There is much in the Book we cannot explain: for example, the Trinity, the vir­gin birth, Christ's substitutionary death, His resurrection, and His coming again; yet we believe these things with all our heart just because God says so! Remember, without such faith it is impos­sible to please God (Heb. 11:6).
Israel has sinned, and they have also transgressed My covenant. — Joshua 7:11
Today's Scripture: Joshua 7:1-13
During my days as a high school basketball coach, I made a huge mistake. I sent some of my players to scout an opponent. They returned with this report: We can take those guys easily. Overconfident, we lost to that team. Does that sound familiar? To me, it sounds like the situation at Ai when Joshua sent out his scouts, who misjudged their opponent's strength.
But there was more to the defeat at Ai than bad scouting. Israel lost the battle and 36 soldiers for several reasons that I think we can learn from.
Shortly before the loss at Ai, Joshua led his army successfully against Jericho because he knew God's plan of attack. But there is no mention of Joshua consulting God before Ai. Prior to the battle of Jericho, the men had consecrated themselves to God (Josh. 5:2-8). Before Ai—nothing is said about Joshua's men preparing themselves spiritually. The reason the Bible gives for the Israelites' loss is sin in the camp. Achan had stolen from the spoils of Jericho (7:1). They could not defeat Ai until the sin was confessed and the people had consecrated themselves (7:16-26). Then God gave them a plan for victory (8:1-7).
A winning strategy for our daily battles: confessing our sin and living in the power that God provides. By: Dave Branon
Dear Lord, before I go off into the battle today,
forgive me of my sin and lead me in the path You
want me to go. I want to serve You. Empower me
to live for You and Your will. Amen.
Purity in the heart produces power in the life.
Joshua 11:23
Entering Promised Land
Our Daily Bread
So Joshua took the whole land, according to all that the Loin had said to Moses; and Joshua gave it as an inheritance to Israel (Joshua 11:23).
Writing to a new generation after World War 1, Winston Churchill challenged,
"You have not an hour to lose… Don't be content with things as they are. `The earth is yours and the fullness thereof.' Enter your inheritance; accept your responsibility."
God gave Israel the land of Palestine as their inheritance. He first promised it to Abraham, and He reconfirmed His pledge to others throughout Old Testament times.
In addition to whatever land he owned, the Jewish man would pass on his possessions to his children. Only the priests and Levites owned neither land nor possessions; their inheritance was the Lord.
In the Old Testament, a person had rights to an inheritance only through the death of a parent or relative. Under Roman law of New Testament times, a person became an heir at birth, though he might not receive a full inheritance until a family member died.
In Jesus Christ, the truths about inheritance from both testaments reached their pinnacle: He died that we might enter our inheritance; and He gave us a second birth that we might accept our responsibility
Joshua 24:15
A Loud Fizzle
Our Daily Bread
"Choose for yourselves this day whom you will serve … But as for me and my house, we will serve the Lord." Joshua 24:15
Abe Lincoln told the story of a blacksmith who heated a piece of iron in the forge, not knowing what he was going to make. At first he thought of shaping it into a horseshoe but changed his mind. After hammering on the iron for a while, he decided to try to make it into something else. By this time the metal was no longer malleable. Holding it up with his tongs and looking at it with disgust, the blacksmith tossed it into a vat of water. "Well," he shrugged, "at least I can make a fizzle out of it!"
Joshua would have seen an important lesson in that story. He knew that a meaningful life must have clear purpose. "Choose!" he urged his followers. If you're not going to live for God, then decide against Him. If you are going to live for God, then let your life reflect that decision. But whatever you do, decide! Joshua made it clear that he and his family had made their choice to serve the Lord (24:15).For him, life was not an amusement park but an arena where important decisions had to be made.
What about you? If you don't choose to trust Christ and serve Him, all you will have to show for the living of your days will be a loud fizzle.-- Haddon W. Robinson
Joyfully enlisting
By Thy grace divine,
We are on the Lord's side,
Savior, we are Thine.- Havergal
If you decide not to choose,
you've already made the wrong choice.
Joshua 24:22-33
Still Climbing
Our Daily Bread
"Let us run with endurance the race that is set before us." - Hebrews 12:1
Few experiences match the challenge and exhilaration of mountain climbing. Those who participate in this exercise of endurance and skill like to compare peaks and share experiences. When European climbers get together to swap stories, they often tell of passing a certain grave along the trail to one famous peak. On the inscription: HE DIED CLIMBING.
To me, mountain climbing is a picture of the life of faith. Throughout our lives we are to continue moving upward -- learning more about God, growing in our relationship with Christ, becoming stronger in our battle with temptation, pushing ahead in telling the lost about Christ.
The author of Hebrews put it this way: "Let us run with endurance." The words "with endurance" may be translated "with perseverance," or more commonly, "to the end."
Joshua was just such a man of God. His "climb" began in Egypt and ended in the Promised Land. He won great battles. We are told that "Israel served the Lord all the days of Joshua" (Josh. 24:31). At the
close of his life, Joshua was still urging Israel to serve God faithfully (V. 23).
Lord Jesus, help us to serve You faithfully. May we still be climbing to the very end. -- D C Egner
I want to scale the utmost height
And catch a glimpse of glory bright;
But still I'll pray till heaven I've found,
"Lord, lead me on to higher ground."-- Oatman
Faith grows stronger as we climb higher.
Joshua 1:5
He Never Fails
Faith's Checkbook
"I will be with thee: I will not fail thee, nor forsake thee."—Joshua 1:5
THIS word to Joshua is often quoted; it is the basis of that New Testament word, "He hath said, I will never leave thee, nor forsake thee."
Beloved, a life of warfare is before us, but the Lord of Hosts is with us. Are we called to lead a great but fickle people? This promise guarantees us all the wisdom and prudence that we shall need. Have we to contend with cunning and powerful enemies? Here is strength and valor, prowess and victory. Have we a vast heritage to win? By this sign we shall achieve our purpose: the Lord Himself is with us.
It would be woe to us indeed if Jehovah could fail us but, as this can never be, the winds of disquietude are laid to sleep in the caverns of divine faithfulness. On no one occasion will the Lord desert us. Happen what may, He will be at our side. Friends drop from us; their help is but an April shower. But God is faithful, Jesus is the same forever, and the Holy Spirit abideth in us.
Come, my heart, be calm and hopeful today. Clouds may gather, but the Lord can blow them away. Since God will not fail me, my faith shall not fail, and, as He will not forsake me neither will I forsake Him. Oh, for a restful faith!
---
Joshua 1:7
"Only be thou strong and very courageous." — Joshua 1:7
Morning and Evening

Our God's tender love for his servants makes him concerned for the state of their inward feelings. He desires them to be of good courage. Some esteem it a small thing for a believer to be vexed with doubts and fears, but God thinks not so. From this text it is plain that our Master would not have us entangled with fears. He would have us without carefulness, without doubt, without cowardice. Our Master does not think so lightly of our unbelief as we do. When we are desponding we are subject to a grievous malady, not to be trifled with, but to be carried at once to the beloved Physician. Our Lord loveth not to see our countenance sad. It was a law of Ahasuerus that no one should come into the king's court dressed in mourning: this is not the law of the King of kings, for we may come mourning as we are; but still he would have us put off the spirit of heaviness, and put on the garment of praise, for there is much reason to rejoice. The Christian man ought to be of a courageous spirit, in order that he may glorify the Lord by enduring trials in an heroic manner. If he be fearful and fainthearted, it will dishonour his God. Besides, what a bad example it is. This disease of doubtfulness and discouragement is an epidemic which soon spreads amongst the Lord's flock. One downcast believer makes twenty souls sad. Moreover, unless your courage is kept up Satan will be too much for you. Let your spirit be joyful in God your Saviour, the joy of the Lord shall be your strength, and no fiend of hell shall make headway against you: but cowardice throws down the banner. Moreover, labour is light to a man of cheerful spirit; and success waits upon cheerfulness. The man who toils, rejoicing in his God, believing with all his heart, has success guaranteed. He who sows in hope shall reap in joy; therefore, dear reader, "be thou strong, and very courageous."
---
Joshua 1:7
Rules for Prosperity (from Faith's Checkbook)
"Only be thou strong and very courageous, that thou mayest observe to do according to all the law which Moses my servant commanded thee: turn not from the right hand or to the left, that thou mayest prosper whithersoever thou goest."—Joshua 1:7
YES, the Lord will be with us in our holy war, but He demands of us that we strictly follow His rules. Our victories will very much depend upon our obeying Him with all our heart, throwing strength and courage into the actions of our faith. If we are half-hearted, we cannot expect more than half a blessing.
We must obey the Lord with care and thoughtfulness. "Observe to do" is the phrase used, and it is full of meaning. This is referred to every part of the divine will; we must obey with universal readiness. Our rule of conduct is "according to all the law." We may not pick and choose, but we must take the Lord's commands as they come, one and all. In all this we must go on with exactness and constancy. Ours is to be a straightforward course, which bends neither to the right nor to the left. We are not to err by being more rigid than the law, nor turn out of levity to a more free and easy way. With such obedience there will come spiritual prosperity. O Lord, help us to see if it be not even so! We shall not test thy promise in vain.
---
Joshua 2:21
"She bound the scarlet line in the window." — Joshua 2:21
Morning and Evening

Rahab depended for her preservation upon the promise of the spies, whom she looked upon as the representatives of the God of Israel. Her faith was simple and firm, but it was very obedient. To tie the scarlet line in the window was a very trivial act in itself, but she dared not run the risk of omitting it. Come, my soul, is there not here a lesson for thee? Hast thou been attentive to all thy Lord's will, even though some of his commands should seem non-essential? Hast thou observed in his own way the two ordinances of believers' baptism and the Lord's Supper? These neglected, argue much unloving disobedience in thy heart. Be henceforth in all things blameless, even to the tying of a thread, if that be matter of command.

This act of Rahab sets forth a yet more solemn lesson. Have I implicitly trusted in the precious blood of Jesus? Have I tied the scarlet cord, as with a Gordian knot in my window, so that my trust can never be removed? Or can I look out towards the Dead Sea of my sins, or the Jerusalem of my hopes, without seeing the blood, and seeing all things in connection with its blessed power? The passer-by can see a cord of so conspicuous a colour, if it hangs from the window: it will be well for me if my life makes the efficacy of the atonement conspicuous to all onlookers. What is there to be ashamed of? Let men or devils gaze if they will, the blood is my boast and my song. My soul, there is One who will see that scarlet line, even when from weakness of faith thou canst not see it thyself; Jehovah, the Avenger, will see it and pass over thee. Jericho's walls fell flat: Rahab's house was on the wall, and yet it stood unmoved; my nature is built into the wall of humanity, and yet when destruction smites the race, I shall be secure. My soul, tie the scarlet thread in the window afresh, and rest in peace.
---
Joshua 5:12
"They did eat of the fruit of the land of Canaan that year." — Joshua 5:12
Morning and Evening
Israel's weary wanderings were all over, and the promised rest was attained. No more moving tents, fiery serpents, fierce Amalekites, and howling wildernesses: they came to the land which flowed with milk and honey, and they ate the old corn of the land. Perhaps this year, beloved Christian reader, this may be thy case or mine. Joyful is the prospect, and if faith be in active exercise, it will yield unalloyed delight. To be with Jesus in the rest which remaineth for the people of God, is a cheering hope indeed, and to expect this glory so soon is a double bliss. Unbelief shudders at the Jordan which still rolls between us and the goodly land, but let us rest assured that we have already experienced more ills than death at its worst can cause us. Let us banish every fearful thought, and rejoice with exceeding great joy, in the prospect that this year we shall begin to be "for ever with the Lord."
A part of the host will this year tarry on earth, to do service for their Lord. If this should fall to our lot, there is no reason why the New Year's text should not still be true. "We who have believed do enter into rest." The Holy Spirit is the earnest of our inheritance; he gives us "glory begun below." In heaven they are secure, and so are we preserve in Christ Jesus; there they triumph over their enemies, and we have victories too. Celestial spirits enjoy communion with their Lord, and this is not denied to us; they rest in his love, and we have perfect peace in him: they hymn his praise, and it is our privilege to bless him too. We will this year gather celestial fruits on earthly ground, where faith and hope have made the desert like the garden of the Lord. Man did eat angels' food of old, and why not now? O for grace to feed on Jesus, and so to eat of the fruit of the land of Canaan this year!
---
Joshua 6:26
"Cursed be the man before the Lord, that riseth up and buildeth this city Jericho." — Joshua 6:26
Morning and Evening

Since he was cursed who rebuilt Jericho, much more the man who labours to restore Popery among us. In our fathers' days the gigantic walls of Popery fell by the power of their faith, the perseverance of their efforts, and the blast of their gospel trumpets; and now there are some who would rebuild that accursed system upon its old foundation. O Lord, be pleased to thwart their unrighteous endeavours, and pull down every stone which they build. It should be a serious business with us to be thoroughly purged of every error which may have a tendency to foster the spirit of Popery, and when we have made a clean sweep at home we should seek in every way to oppose its all too rapid spread abroad in the church and in the world. This last can be done in secret by fervent prayer, and in public by decided testimony. We must warn with judicious boldness those who are inclined towards the errors of Rome; we must instruct the young in gospel truth, and tell them of the black doings of Popery in the olden times. We must aid in spreading the light more thoroughly through the land, for priests, like owls, hate daylight. Are we doing all we can for Jesus and the gospel? If not, our negligence plays into the hands of the priestcraft. What are we doing to spread the Bible, which is the Pope's bane and poison? Are we casting abroad good, sound gospel writings? Luther once said, "The devil hates goose quills" and, doubtless, he has good reason, for ready writers, by the Holy Spirit's blessing, have done his kingdom much damage. If the thousands who will read this short word this night will do all they can to hinder the rebuilding of this accursed Jericho, the Lord's glory shall speed among the sons of men. Reader, what can you do? What will you do?
---
Joshua 17:18
Divine Expulsion
Faith's Checkbook
"Thou shalt drive out the Canaanites, though they have iron chariots, and though they be strong."—Joshua 17:18
IT is a great encouragement to valor to be assured of victory, for then a man goes forth to war in confidence and ventures where else he had been afraid to go. Our warfare is with evil within us and around us, and we ought to be persuaded that we are able to get the victory, and that we shall do so in the name of the Lord Jesus. We are not riding for a fall, but to win; and win we shall. The grace of God in its omnipotence is put forth for the overflow of evil in every form, hence the certainty of triumph.
Certain of our sins find chariots of iron in our constitution—our former habits, our associations, and our occupations. Nevertheless we must overcome them. They are very strong, and in reference to them, we are very weak; yet in the name of God we must master them, and we will. If one sin has dominion of us, we are not the Lord's free men. A man who is held by only one chain is still a captive. There is no going to heaven with one sin ruling within us, for of the saints it is said, "Sin shall not have dominion over you." Up, then, and slay every Canaanite, and break to shivers every chariot of iron! The Lord of hosts is with us, and who shall resist His sin-destroying power?
---
Joshua 20:3
"Your refuge from the avenger of blood." — Joshua 20:3
Morning and Evening

It is said that in the land of Canaan, cities of refuge were so arranged, that any man might reach one of them within half a day at the utmost. Even so the word of our salvation is near to us; Jesus is a present Saviour, and the way to him is short; it is but a simple renunciation of our own merit, and a laying hold of Jesus, to be our all in all. With regard to the roads to the city of refuge, we are told that they were strictly preserved, every river was bridged, and every obstruction removed, so that the man who fled might find an easy passage to the city. Once a year the elders went along the roads and saw to their order, so that nothing might impede the flight of any one, and cause him, through delay, to be overtaken and slain. How graciously do the promises of the gospel remove stumbling blocks from the way! Wherever there were by-roads and turnings, there were fixed up hand-posts, with the inscription upon them—"To the city of refuge!" This is a picture of the road to Christ Jesus. It is no roundabout road of the law; it is no obeying this, that, and the other; it is a straight road: "Believe, and live." It is a road so hard, that no self-righteous man can ever tread it, but so easy, that every sinner, who knows himself to be a sinner may by it find his way to heaven. No sooner did the man-slayer reach the outworks of the city than he was safe; it was not necessary for him to pass far within the walls, but the suburbs themselves were sufficient protection. Learn hence, that if you do but touch the hem of Christ's garment, you shall be made whole; if you do but lay hold upon him with "faith as a grain of mustard seed," you are safe.
"A little genuine grace ensures
The death of all our sins."
Only waste no time, loiter not by the way, for the avenger of blood is swift of foot; and it may be he is at your heels at this still hour of eventide.
---
Joshua 23:10
One a Majority!
Faith's Checkbook
"One man of you shall chase a thousand: for the Lord your God, he it is that fighteth for you, as he hath promised you."—Joshua 23:10
WHY count heads? One man with God is a majority though there be a thousand on the other side. Sometimes our helpers may be too many for God to work with them, as was the case with Gideon, who could do nothing till he had increased his forces by thinning out their numbers. But the Lord's hosts are never too few. When God would found a nation, He called Abram alone and blessed him. When He would vanquish proud Pharaoh, He used no armies but only Moses and Aaron. The "one man ministry," as certain wise men call it, has been far more used of the Lord than trained bands with their officers. Did all the Israelites together slay so many as Samson alone? Saul and his hosts slew their thousands, but David his ten thousands.
he Lord can give the enemy long odds and yet vanquish him. If we have faith, we have God with us; and what are multitudes of men? One shepherd's dog can drive before him a great flock of sheep. If the Lord sent thee, O my brother, His strength will accomplish His divine purpose. Wherefore, rely on the promise, and be very courageous.
Book