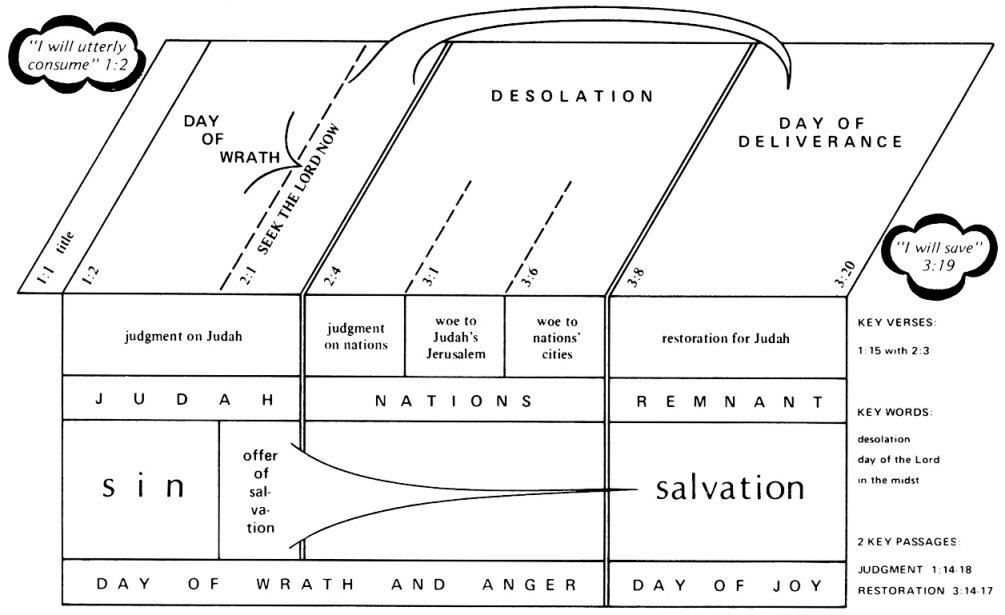 Click chart to enlarge
Chart from recommended resource Jensen's Survey of the OT - used by permission
Zephaniah Chart from Charles Swindoll
Another Haggai Chart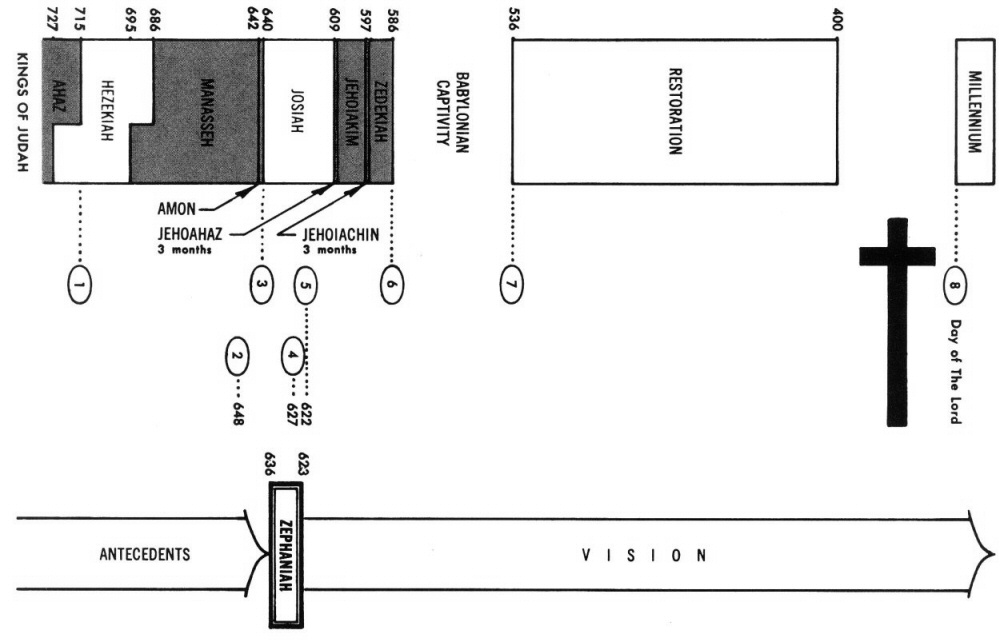 SETTING OF ZEPHANIAH
Click chart to enlarge
MIGHTY TO SAVE
play song
Zeph 3:17ESV

PROPHECIES OF
JUDGMENT
Zeph 1:1-3:8
PROPHECIES OF
BLESSING
Zeph 3:9-20
JUDGMENT IN THE
DAY OF THE LORD
SALVATION IN THE
DAY OF THE LORD
DAY OF WRATH
& ANGER
DAY
OF JOY
JUDGMENT ON
JUDAH
RESTORATION FOR
JUDAH
Judgment &
Doom
Joy &
Deliverance
Divine Judgment
on Judah
Zeph 1:1-18
Invitation to
Judah
Zeph 2:1-3
Sure Doom of
Nations
Zeph 2:4-15
Sure Doom of Jerusalem
Zeph 3:1-8
Kingdom Promises
to Remnant
Zeph 3:9-20
JUDAH
NATIONS
REMNANT
God's Wrath
on Judah
God's Woes
on Nations
God's Will
for Remnant
Sin
Hope
Desolation
Restoration

KEY WORD:
"The Day of the LORD"
Zeph 1:7, 14
See key words &
marking key words

KEY WORD:
"Seek the LORD"
Zeph 2:3
KEY WORD:
"Woe"
Zeph 2:5, 3:1
KEY WORD:
"The LORD is with you"
Zeph 3:15NIV, Zeph 3:17NIV
Sin
Offer of Salvation
>>>
Salvation
"I will utterly consume"
Zeph 1:2KJV
"I will save"
Zeph 3:19KJV
Key Verses: Zeph 1:4, Zeph 2:3
Judgment: Zeph 1:14-18
Restoration: Zeph 3:14-17
Theme: Judgment and doom are certain unless there is repentance.
Only repentance will bring hope and restoration.
Time: 630BC (640-612)
To: Judah & the Nations

The Minor Prophets and their Message

Hosea - The Lord loves Israel despite her sin. 755-15 B.C.
Joel - Judgment precedes Israel's future spiritual revival. 835–796* B.C.
Amos - God is just and must judge sin. 765-50 B.C.
Obadiah - Sure retribution must overtake merciless pride. 848* B.C.
Jonah - Divine grace is universal in its sweep. 780-50 B.C.
Micah - Bethlehem-born Messiah will be mankind's Deliverer. 740-690 B.C.
Nahum - Doom is to descend on wicked Nineveh. 630-12 B.C.
Habakkuk - Justification by faith is God's way of salvation. 625 B.C. or earlier
Zephaniah - The Day of the Lord must precede kingdom blessing. 625-10 B.C.
Haggai - The Lord's Temple and interests deserve top priority. 520 B.C.
Zechariah - The Lord will remember His people Israel. 520-15 B.C.; Zech 9–14 after 500 B.C.
Malachi - Let the wicked be warned by the certainty of judgment. 433-400 B.C.

All dates are approximate. *The text does not specifically date these prophets. As a result differences of opinion exist concerning the time of their ministries. (from The New Unger's Bible Handbook)

Christ in Zephaniah—Jesus alluded to Zephaniah on two occasions (cf. Zeph 1:3; Mt. 13:41 and cf. Zeph 1:15; Mt. 24:29). Both of these passages about the day of the Lord are associated with Christ's second advent. Although the Messiah is not specifically mentioned in Zephaniah, it is clear that He is the One who will fulfill the great promises (Zeph 3:9–20). He will gather His people and reign in victory: "The Lord has taken away your judgments, He has cast out your enemy. The King of Israel, the Lord, is in your midst; you shall see disaster no more" (Zeph 3:15). (Wilkinson, B., & Boa, K. Talk thru the Bible)

Key Words/Phrases in Zephaniah (See key words & marking key words)

remnant (Zeph 1:4, 2:7, 9, 3:13),
nations (plural - Zeph 2:11, 3:6, 8),
destruction/destroy (Zeph 1:15, 2:5, 13), b (Zeph 1:13,15, 2:4, 9, 13, 14, 15, 3:6),
midst (Zeph 2:14, 3:11, 15, 17),
Woe (Zeph 2:5, 3:1),
Seek (Zeph 2:3),
Anger (Zeph 2:2, 3, 3:8),
Wrath (Zeph 1:15, 18),
Indignation (Zeph 3:8);
Gather (Zeph 2:1, 3:8, 18, 19, 20);
Earth (Zeph 1:2, 3, 18, 2:3, 11, 3:8, 19, 20)

Christ in Zephaniah - Jesus Christ hides us from God's wrath and is the One Who will someday rule the earth as King of Israel (Zeph 3:15-17)

Christ in All the Scriptures (A M Hodgkin): This short book has been called "The Compendium of all prophecy." It is a survey of the universal government of Jehovah, His judgment of the whole earth.

Zephaniah ("the watchman of Jehovah") gives his own genealogy to the fourth generation, showing his descent from Hizkiah, who is probably identical with King Hezekiah. He prophesied during the early part of the reign of Josiah, before idolatry had been put away by the reforms of that king.

Zephaniah's prophecy is marked by the emphasis he lays upon the Day of the Lord. The final application is to the Day of Christ. The impressive language can only find its fulfillment in the great Day of His wrath, described in Revelation 6. "A day of wrath, a day of trouble and distress, a day of wasting and desolation, a day of darkness and gloominess, a day of clouds and thick darkness, a day of trumpet and alarm" (Zephaniah 1:14–16).

But meanwhile, a day of judgment was near for Judah on account of her sins. He urges her to seek the Lord while there is still time. He then proclaims God's judgment upon various nations which have oppressed God's people—upon Philistia, Moab, Ammon, Ethiopia, Assyria, prophesying the fall and utter desolation of Nineveh.

The third chapter shows God's coming judgment upon Judah and Jerusalem, and the future restoration and joy of God's people in the day of the Messiah.

The Lord in the Midst. The third chapter contains a beautiful lesson, taken spiritually. It describes the sinful condition of a soul apart from Christ— Zephaniah 3:1, sins of commission; Zephaniah 3:2, sins of omission. Those who should have been leaders in righteousness are leaders in iniquity—princes, judges, prophets, priests. Then the Lord Himself takes the place of these leaders, and we see Him "in the midst," fulfilling each office in turn.

First He comes to our hearts as judge, and convicts us of all that is sinful there, bringing His judgment to light (Zephaniah 3:5–7).

Second, He comes as Prophet, teaching us with pure lips to call upon His name—still "in the midst," dealing with the pride of heart, and bringing us low into the place of blessing, in the presence of His holiness (Zephaniah 3:8–13).

Third, He comes "into our midst" as King, to reign in undisputed sway in the heart that is surrendered to Him. When the Lord reigns thus the song begins (Zephaniah 3:14–16).

Fourth, He is "in the midst" as our Great High Priest, bringing us into the place of communion with Himself. Here we know Him as the Beloved of our souls. "He will rejoice over thee with joy, He will rest in His love, He will joy over thee with singing."

The chapter closes with six beautiful "I wills" (Zeph 3:18, 19, 20) of what the Lord will do for us (Ed: See following note - yes for "us" but first for restored nation of Israel!).

Editorial Note: Although the above paragraphs make spiritual application of this passage to believers of the present age, remember that the primary application is to the believing remnant of Israel, which the Lord has promised to restore, according to His unfailing love and the unconditional aspects of His covenant with that nation, when in the Messianic Kingdom, He is in the midst of them. These promises will be fulfilled ''at that time'' (read Zeph 3:19,20; cp. Isa 11:12; 27:12; Eze 28:25; 34:13; 37:21-28; Amos 9:14; Zech 2:10,11; 8:3).

OT Reflections of Christ - Zephaniah - Paul Van Gorder - Zephaniah prophesied during the time of Josiah, a time of temporary revival. He saw the dark clouds of apostasy and judgment creeping over the horizon. The book of 2Kings 22:1-20, gives the historical background of this period. Zephaniah has been called the ''compendium of prophecy.'' He saw the judgment that was soon to fall upon Israel for her apostasy. Then, he looked down the ages to the judgment of the whole earth. And beyond that, he envisioned the time of universal blessing to follow. We read one phrase repeatedly in Zephaniah's prophecy: ''The day of the Lord.''

Habakkuk stood high and looked far;

Zephaniah stooped low with the candle of searching and looked closely.

OUTLINE OF THE BOOK OF ZEPHANIAH

Zeph 1:1- 2:3 The Day of the Lord

The prophet describes the day of God's wrath, which will be fulfilled in the coming invasion and captivity of Israel. It foreshadows the final day of the Lord.

Zeph 2:4-15 Judgment upon the Nations

The prophet predicts an outpouring of God's wrath upon certain peoples and nations. Read the history books and you will find that these have been fulfilled in minute detail.

Zeph 3:1-7 - Israel's Sinfulness

The terrible moral state of Israel is described. This is what called for and justified the judgment that was about to fall.

Zeph 3:8-20 - The Kingdom Described

This passage presents an interesting glimpse of the millennial period and the blessings Israel will experience during that time.
Note: First, the good news - Calvin's prayers are excellent, and are very convicting - Suggestion: Read them aloud, very slowly and as a sincere prayer to the Almighty God. On the other hand the careful Berean (Acts 17:11-note) should be cautious when reading Calvin's comments, for he sometimes interprets passages that in context clearly relate to the literal nation of Israel as if they were addressed directly to the NT Church. Furthermore, he makes no mention of a future literal earthly Millennial Reign of Messiah as described in passages like Zephaniah 3:14, 15 about which Calvin comments "thus then our Prophet now says, that God will be in the midst of His Church". Commenting on Zeph 3:14, 15 John MacArthur writes "The messianic era of millennial blessing and restoration is described." (The MacArthur Study Bible) John Hannah agrees adding that "Israel will be joyful in that millennial day because she will have been redeemed by God. Though the immediate prospect for the nation was one of sorrow and torment (Zeph 3:1, 5, 6, 7), a day will come when the remnant's fears will give way to shouts of praise." (Bible Knowledge Commentary). Contrast commentaries such as the one by Dr McGee (listen to his commentary on Zeph 3:13 Commentary and Zeph 3:14-20). (See disclaimer)
ANOTHER SOURCE
HINT: Click here to Scroll Bible text synchronized with Constable's notes. Very useful feature
James Rosscup writes "This 1858 work supplies much help on matters of the text, word meaning, resolving some problems, etc. Some have found it one of the most contributive sources in getting at what a text means." (Commentaries for Biblical Expositors: An Annotated Bibliography of Selected Works)
Be cautious (Acts 17:11-note): Does not always interpret the Scripture literally and sometimes replaces Israel with the Church (note)
(Click example of his interpretative approach which is often allegorical) (Or another example) Introduction
Best "devotional flavor" commentary on the Minor Prophets
Recommended
Interesting Resource Be a Berean - Not Always Literal
Note: JFB is one of the more literal, conservative older commentaries (prior to 1900). Sample excerpt of eschatological (prophetic, apocalyptic) passage Zechariah 14:2 - "gather all nations, etc. — The prophecy seems literal (compare Joel 3:2). If Antichrist be the leader of the nations, it seems inconsistent with the statement that he will at this time be sitting in the temple as God at Jerusalem (2Thessalonians 2:4); thus Antichrist outside would be made to besiege Antichrist within the city. But difficulties do not set aside revelations: the event will clear up seeming difficulties (Ed: Interesting statement!). Compare the complicated movements, Daniel 11:1-45-note." Comment on Zech 14:11 - "no more utter destruction — (Jer 31:40). Literally, "no more curse" (Rev 22:3-note; compare Malachi 4:6-note), for there will be no more sin. Temporal blessings and spiritual prosperity shall go together in the millennium: long life (Isaiah 65:20-22), peace (Isaiah 2:4-note), honor (Isaiah 60:14-16), righteous government (Isaiah 54:14; Isaiah 60:18). (Zechariah 14 - Commentary Critical and Explanatory on the Whole Bible)
See caveat regarding this commentary
Rosscup - This is the best older, overall treatment of a critical nature on the Old Testament Hebrew text verse by verse and is a good standard work to buy. The student can buy parts or the whole of this series. Sometimes it is evangelical, at other times liberal ideas enter… In prophecy it is amillennial. (Commentaries for Biblical Expositors: An Annotated Bibliography of Selected Works).
Literal, futuristic interpretation Recommended
- Rosscup on Kaiser: A careful evangelical gives contemporary outlines usable to pastors. He has occasional illustrations and serious explanation of the text. He is premillennial, as on Zechariah 14, and packs in much expositional help, relating it strategically to life. (Commentaries for Biblical Expositors: An Annotated Bibliography of Selected Works)
Rosscup comments: The large, two-column pages contain much good material on the relevance of the words for then and for now, dealing with such topics as love, repentance, and sincerity (Hosea 6). A prolonged contemplation of these pages and an application of their principles will produce substantial Christian growth. The author could improve the work by being more definite sometimes in specifying in what framework God will bless Israel in the future (e.g., Hosea 14). Vagueness such as in Joel 2:1-11, where he says the invader is neither locusts nor a human army, is a drawback. Wordiness and wandering in his discussions is another shortcoming, as in using Joel 2:28 to take off into a long discussion of clericalism. He finds fulfillment of Joel 2:28 at Pentecost, yet it would help to point out some aspects that were (Rosscup)
- Rosscup on John Phillips - A respected popular expositor on a number of biblical books here has two introductory chapters, then a chapter of about 20–30 pp. on each prophet (50 on Zech.). Several charts aid readers, and a detailed outline runs before each exposition. The exposition is in general surveys of sections, at times taking a view on a main problem. In Hosea 1:2, he feels that God had Hosea marry an immoral woman but Phillips offers no help on the moral issue. Phillips is premillennial, seeing Israel's future kingdom blessings as in the Millennium after Christ's Second Coming (Hosea 3:5; Joel 3:14ff; Amos 9:15; Zeph. 3:9ff; Zech 2:10–13; 14:1–21). In Mal. 2:15 he has "one" refer to God making husband and wife into one, and in Mal 4:5 he thinks the Elijah will be fulfilled in one of the two witnesses in Rev 11:3-13-note. The work helps on broad coverage, and is quite readable for preachers, church teachers, students and lay people wanting a general devotional sweep. (Ibid)
- Rosscup says "This is an outstanding conservative, detailed work backed by scholarly awareness and expertise. Comments reflect fine-tuned ability in the Hebrew text, philology, exegesis, history, and literature. Patterson has premillennial convictions in the final verses of Zephaniah. He shows the shaky reasoning of critical arguments against the unity of Nahum, and defends unity of Nahum and Habakkuk. In a long Excursus he defends New Testament uses of Habakkuk 2:4-note (pp. 21–23), But some will doubt that he captures the significance of the picture of a hind in Habakkuk 3:19-note when he sees only swiftness ascending and gracefully gliding (262–63). But in most details he is excellent, and the work is well worth the cost and time. (Commentaries for Biblical Expositors: An Annotated Bibliography of Selected Works)
W J BEECHER
Sample Excerpt: I cannot refrain from calling attention very particularly to the promises for the future as contained in Zeph 3:8-20, and which show that although these Minor Prophets, so-called, refer but briefly to that period, (and yet perhaps in proportion after all, to the length of their discourses), still their deliverances thereupon are all in harmony with the teachings of the whole school of the prophets. For example, in Zeph 3:8, observe the agreement with Joel concerning the gathering of the Gentile nations to judgment at the end of the present age ("in those days… at that time" - Joel 3:1, 2). In Zeph 3:9, we seem to see these nations (Ed: Gentiles), or the spared and sifted remnant of them, at length converted to GOD and serving Him with a ready will. In Zeph 3:10 they are bringing the sons of Israel back to their own land, the second gathering of them, so to speak, as was explained in Isaiah (Isa 11:11-note). In Zeph 3:11-18, the cleansed, humble, trustful, rejoicing, nation of Israel appears, dwelling in their own land. In Zeph 3:19, 20 we find the restored and beloved people a praise and a blessing in the whole earth as foretold in the original promise to Abraham, and again and again pictured before us in the millennial Psalms. Zeph 3:17 of this chapter will well repay careful meditation. The old marriage covenant (cf "My covenant which they broke, although I was a husband to them" = Jer 31:31-32) between the Lord and Israel is there depicted as gloriously restored anew (Isaiah 62:5; Hosea 2:19); the husband is rejoicing in His wife (Ed: Israel in belief - cf Ro 11:25-29-note), resting in His love and joying over her with singing. The word for "rest" (charash = 02790) is translated in the margin "be silent," and this silence of the Lord towards His people (Israel) is no longer the silence arising from forbearance in order to punish at last (Psalm 50:21-note), but because He has nothing more to reprehend.
Example Excerpt: We have mentioned this several times in our study of the prophets, but I will point it out in case someone has not heard the explanation. Several of the things Zephaniah says will happen, could have been fulfilled by the Babylonians when they destroyed Judah and took them into captivity. But many of the prophecies concerning the destruction of the nations and the earth have obviously not been fulfilled. This is where it helps to understand what the prophet saw in his visions.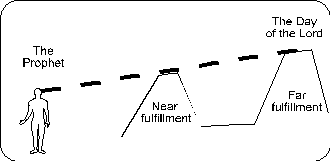 RESTORATION OF THE GENTILES (Zeph 3:9-10) -The word "Peoples" refers to the Gentiles. The "purified lips" may be a reference to a reversal of the curse at the tower of Babel. Or an allusion to Isaiah's unclean lips in Isaiah 6:5-note. In "that day" God will bless the Gentiles who turn to Him. "All the people" will call on the name of the Lord in that day. Have we reached that day yet? Obviously not. Over and over again we have seen that Gentiles would be saved and included in the kingdom of God. It shows how far off the religious leader's of Jesus' day were in their practice of Judaism. RESTORATION OF THE JEWS (Zeph 3:11-20) God will also bless the Jews and bring the remnant back to Jerusalem (My holy mountain). And there will be justice and peace in the land (Zeph 3:11-13). There will be no shame either. This was the same thing promised in Joel 2:26,27. Again, it is obvious that this has not happened. There will be rejoicing in the future kingdom, for God will be reigning in their midst and the nations will praise and honor Israel as God's people (Zeph 3:14-18,19, 20).
LOGOS.COM
Example Excerpt: Prediction of future restoration and blessing for Israel, Zeph 3:3, 7-20. The future according to Zephaniah. - This brief prophecy is full, as are all the other prophets. After the frightful picture of wrath which he so vividly draws, he changes to a sweet and triumphant theme, a song of gladness and of victory in which the glory of Zion, favor to the Lord's people, God's delight in His redeemed, the holiness and devotedness of the restored Israel are set forth in rapturous strains. He closes with a vision of hope and joy and peace. And so Zephaniah is apocalyptic and telesmatic. "The Lord thy God in the midst of thee is mighty; He will save, He will rejoice over thee with joy; He will rest in His love; He will joy over thee with singing," Zeph 3:17.
Redeemer and Redeemed.
I. The Redeemer.
1. He is mighty to save.

2. He exults over His redeemed.

3. He is silent in His love—finds no fault with them.
II. The Redeemed.
1. They are finally and forever delivered.

2. They are exalted.

3. They are forgiven.

4. They are made perfect.

5. They are happy for ever.
Be a Berean - Not always a literal interpretation. Caveat Emptor!
Rosscup says "This is an outstanding conservative, detailed work backed by scholarly awareness and expertise. Comments reflect fine-tuned ability in the Hebrew text, philology, exegesis, history, and literature. Patterson has premillennial convictions in the final verses of Zephaniah. He shows the shaky reasoning of critical arguments against the unity of Nahum, and defends unity of Nahum and Habakkuk. In a long Excursus he defends New Testament uses of Habakkuk 2:4 (pp. 21–23), But some will doubt that he captures the significance of the picture of a hind in Habakkuk 3:19 when he sees only swiftness ascending and gracefully gliding (262–63). But in most details he is excellent, and the work is well worth the cost and time. (Commentaries for Biblical Expositors: An Annotated Bibliography of Selected Works)
WARREN WIERSBE
Conservative notes from Dr Morris who approaches the text seeking it's literal meaning in the context. Millennial. Click the words or phrases after the Scripture for the Study Notes and note that they are from the KJV translation.
---
Zephaniah 1 Commentary
Zephaniah 2 Commentary
Zephaniah 3 Commentary
Recommended: NETBible notes are in the right panel. You can also select the tab for "Constable's Notes." See sample excerpts from these notes which are technical translation notes and brief commentary-like notes.
Be cautious (Acts 17:11-note): Does not always interpret the Scripture literally and sometimes replaces Israel with the Church (note)
James Rosscup writes "This work originally appeared in 1860. The present publication is set up in two columns to the page with the text of the Authorized Version reproduced at the top. Scripture references, Hebrew words, and other citations are relegated to the bottom of the page. The work is detailed and analytical in nature. Introduction, background and explanation of the Hebrew are quite helpful. Pusey holds to the grammatical-historical type of interpretation until he gets into sections dealing with the future of Israel, and here Israel becomes the church in the amillennial vein." (Commentaries for Biblical Expositors: An Annotated Bibliography of Selected Works)
NOTE: If you are not familiar with the great saint Charles Simeon see Dr John Piper's discussion of Simeon's life - you will want to read Simeon's sermons after meeting him! - click Brothers We Must Not Mind a Little Suffering (Mp3 even better)
James Rosscup writes "Though old this is well-written and often cited, with many good statements on spiritual truths. Users will find much that is worthwhile, and sometimes may disagree, as when he sees the Jonah account as allegorical (Ed: See Tony Garland's article on the Rise of Allegorical Interpretation)." (Commentaries for Biblical Expositors: An Annotated Bibliography of Selected Works or Logos Format)
Seek ye the Lord, all ye meek of the earth, which have wrought his judgment; seek righteousness, seek meekness: it may be ye shall be hid in the day of the Lord's anger. — Zephaniah 2:3
THERE is a "may be" about all temporal things; and in pleading for them we ask with much diffidence.
Yet we may plead confidently when our appeal is made to God in the day of his anger. Then our need is pressing: it is for our life that we are pleading, and the Lord is very gracious in our extremities.
In spiritual things we may draw encouragement from the faintest sign of hope when it proceeds from God: "it may be ye shall be hid."
The seeking for refuge, here commanded, is directed only to the meek and righteous; but it is our joy to proclaim a hiding place for the guilty, and to bid them seek the Lord even on the least encouragement.
The three seekings commanded are—
"Seek the Lord"; or, repent and trust in Jehovah.

"Seek righteousness." Directed as it is in the text to those who are already righteous, it bids them persevere in righteousness.

"Seek meekness." Spoken to the meek, it bids them bow even more humbly before the chastening hand of God.
But our point is this: that we may seek the Lord upon the faintest encouragement. There are strong inducements and large promises; but if we cannot grasp these we may come even with a "may be."
I. IN MANY A RECORDED INSTANCE "MAY BE" HAS PROMPTED AND JUSTIFIED A RIGHT ACTION.
From the cases which we will mention lessons may be learned.
1. A "may be" led Jonathan to attack the garrison of the Philistines (1 Sam. 14:6)."It may be that the Lord will work for us: for there is no restraint to the Lord to save by many or by few." This should nerve saints for holy enterprises.
2. A "may be" Cheered David when Absalom rebelled, and Shimei cursed (2 Sam. 16:12). "It maybe that the Lord will look on mine affliction." Let us hope in God in our darkest hours.
3. A "may be" induced the lepers to visit the Syrian camp (2 Kings 7:4). Their desperate venture should be laid to heart by those who are in like condition. They can but perish in any case; let them seek the Lord, and try whether he does not save.
4. A "may be," diluted with an "if so be," moved the afflicted to humble himself. See Jeremiah's Lamentations 3:29. Let no tried soul refuse the like hope.
5. A "may be," in the form of "Who can tell?" brought all Nineveh to repentance (Jon. 3:9).
If others have acted so vigorously upon such slender encouragement, may not we, when dreading the ruin of our souls, act with like decision and hopefulness? If we fly to Jesus by childlike faith, there is more than a "may be" that the result will be happy.
II. IN THE INSTANCE OF A SINCERE SEEKER THE "MAY BE" HAS UNUSUAL STRENGTH.
There is every probability of the penitent obtaining salvation if we—
1. Consider the gracious nature of our God (Mic. 7:18).
2. Consider the glorious work of Christ for sinners (1 Tim. 1:15).
3. Consider the mercy they have already received. "It is of the Lord's mercies that we are not consumed (Lam. 3:22). 4. Consider the number and character of those who have been saved. (Rev. 5:9; 7:9; 1 Cor. 6:11).
5. Consider the omnipotence of the Holy Spirit (John 3:8).
6. Consider the glory which is to be the Lord's at the last: surely it will come by saving souls, and saving many of them.
III. BUT IN THE SEEKERS CASE HE HAS FAR MORE TO GO UPON THAN A MERE "MAY BE."
There are innumerable sure promises in the Word of God, and these are made to:
Repentance (Prov. 28:13; Isa. 55:7).

Faith (Mark 16:16; John 3:18; Acts 16:31).

Prayer (Matt. 7:7; Acts 2:21).
Let these promises be studied, and their encouragement accepted by immediate compliance with their requirements.
Consider that God foresaw all events when he made these promises, and accordingly he has not made them in error.

Consider that he cannot withdraw his promise.

Consider that he is the same as when he made the promise, and so in effect makes it again every day.

Consider that it will be a crime to doubt the Lord our God, and an act of reverence to believe him. Venture now upon the bare promise of God, who cannot lie (Titus 1:2).

O sinner, seek the Lord!
He comes to you in Christ Jesus. Look to him at once, and live.
Cheering Words
Possibly ye may be hid from punishment, probably ye shall escape sorrow: but pardon of sin ye shall be sure of; mitigation also o£ sorrow, if not prevention of it. Saved ye shall be, or more gently handled, or so inwardly calmed, that ye shall be able to call your souls to rest when others are at their wits' ends. You shall be safe under the cover of God's wings, and in the hollow of his hand; when others, that are without God in the world, shall be as a naked man in a storm, as an unarmed man in the field of battle, or as a ship at sea without an anchor, subject to dash and split against rocks and quicksands. — Trapp
Dr. John Duncan was once heard thus addressing a beggar-woman in Edinburgh — "Now, you'll promise me that you'll seek: but mind, seeking will not save you, yet it is your duty; and it: you seek you'll find, and finding will save you."
Our hope is not hung upon such untwisted thread as "I imagine so", or, "it is likely"; but the cable, the strong rope of our fastened anchor is the oath and promise of him who is eternal verity; our salvation is fastened with God's own hand, and Christ's own strength, to the strong stake of God's unchanging nature. — Rutherford
How long a beggar will wait, and how eagerly he will plead, although he has no promise of an alms, but only the bare chance of winning a penny from a passer-by! How laboriously will fishers cast their nets again and again, though nothing has been taken as yet, and their only encouragement is the possibility that fish may come that way! How desperately will men dive into the sea with the expectation of finding pearls in oyster-shells, encountering fierce monsters of the deep with the uncertain hope of being enriched! And will not men draw near to God when their outlook is so much more bright, their expectation so much more justifiable.? As for me, I will lay down my sick soul at Christ's feet, in sure and certain belief that he will heal me, and then I will follow him whithersoever he goeth, in calm assurance that he will lead me to his eternal kingdom and glory. — C H. S.
She obeyed not the voice; she received not correction; she trusted not in the Lord; she drew not near to her God.— Zephaniah 3:2
WHEN the Lord is judging men he does not spare those who are called his people: Moab and Ammon and Nineveh are visited, and Jerusalem is not spared.
There are sins which outsiders cannot commit, such as those of the text. When peculiar privileges only create peculiar sins, they will be followed by peculiar punishments.
The offenses mentioned in this verse are to be found in nations, churches, and individuals unto this day: and in a measure among God's own people.
I. IN THE TEXT WE PERCEIVE FOUR MANIFEST SINS.
1. We will make upon them, as a whole, four observations.
Sins of omission are sure to exist where there are sins of commission. Jerusalem is said to be "filthy and polluted," and then these omissions are recited.

Sins of omission rank with the blackest of offenses. Consider the context, and see with what fearful crimes omissions are catalogued, as if to mark their vileness.

Sins of omission go in clusters. "She obeyed not." "She received not instruction." "She trusted not." "She drew not near to her God." How many foul birds may dwell in one nest! One sin never goes alone.

Sins of omission are none the less when they are mainly spiritual. Such are those mentioned in the text, and they are cited among crimes of deepest dye.
2. We will note each one of the four separately.
They heard God speak, but they took no heed. This included rebellion, hardness of heart, presumption, and defiance of the Lord; and all this after solemn warnings, great instruction, and tender invitation.

They felt correction, but were not instructed. This involved greater persistence in rebellion, and still more obduracy of heart.

They were unbelieving and distrustful, and relied upon idols, and not upon the Lord. Unbelief is a master-sin.

They had no communion with their God. "Her God" implies existence of covenant-relationship, in name at least; but there was no worship, love, or service.
These four sins abound around us, and among us.
Inattention, Obstinacy, Unbelief, and Aversion to God are all common.
They involve men in misery in this life, and in eternal ruin in the world to come. Are they not destroying some of you?
II. IN THE TEXT WE SPY OUT FOUR HIDDEN ENCOURAGEMENTS TO SEEK BETTER THINGS.
Let those who confess their sin look at the text with hope, for it is clear that—
1. God does speak to men. He may speak to us again.
2. God corrects for our good. It is meant for instruction, not for destruction (see the margin).
3. God would have us trust him. He would not blame us for not trusting if we were not permitted to trust him.
4. God would have us draw near to him. Else it were not mentioned as our sin that we do not draw near to him.
All this applies to us at this day.
Still the Lord is in the midst of us, reading our inmost souls.
Let us lay our sins to heart, and seek his face through Christ Jesus.
A Few Small Fishes
Remember, O my soul, the fig tree was charged, not with bearing noxious fruit, but no fruit. — Thomas Fuller

The last words that Archbishop Usher was heard to say were these: "Lord, forgive my sins, especially my sins of omission."

Sins of commission are usual punishments for sins of omission. He that leaves a duty may soon be left to commit a crime. — Gurnall

No sin is ever alone. Dr. Macdonald says, "There is no fault that does not bring its brothers and sisters and cousins to live with it."

Oh, how rare it is to find a soul still enough to hear God speak! — Fenelon Grace turns the serpent into a rod; but sin turns the rod into a serpent. The former turns poison into a remedy; but the latter turns the remedy into poison. — Benjamin Beddome

Sorrow is sent for our instruction, just as we darken the cages of birds when we would teach them to sing. — Jean Paul Richter
NO. 2720
INTENDED FOR READING ON LORD'S-DAY, MARCH 31ST, 1901.
DELIVERED BY C. H. SPURGEON.
AT NEW PARK STREET CHAPEL, SOUTHWARK,
ON A THURSDAY EVENING, EARLY IN THE YEAR 1859.
"He will rest in his love." — Zephaniah 3:17.
ONE Of our sweetest hymns commences with this verse, —
"How firm a foundation, ye saints of the Lord,
Is laid for your faith in his excellent Word!
What more can he say than to you he hath said,
You who unto Jesus for refuge have fled?"
Well might the poet have put that question, if he had risen up from reading this third chapter of the prophecy of Zephaniah. O people of God, open your ears and your hearts while Jehovah thus speaks to you by the mouth of his ancient prophet, "Sing, O daughter of Zion; shout, O Israel; be glad and rejoice with all the heart, O daughter of Jerusalem. The Lord hath taken away thy judgments, he hath cast out thine enemy: the King of Israel, even the Lord, is in the midst of thee: thou shalt not see evil anymore. In that day it shall be said to Jerusalem, Fear thou not: and to Zion, Let not thine hands be slack. The Lord thy God in the midst of thee is mighty; he will save, he will rejoice over thee with joy; he will rest in his love, he will joy over thee with singing." The words are very simple, but the promises they convey are so weighty that the verses roll along like the triumphant periods of a jubilant poem. The truth of God, even when told in the simplest words, is very much akin to the loftiest poetry; and I might, without the slightest hesitation, declare that there never was any poem, composed by human intellect, which could match for a moment, in the sweetness of its notes, the succession of precious promises which God here proclaims in the ears of his chosen ones.
We cannot, on the present occasion, enter into the wondrous depths of the promises here revealed. We should need, indeed, a long period of time before we should be able to explain them; and, possibly, the whole of life will scarcely be sufficient for us fully to realize these great truths in our own experience. We will, therefore, at once turn to the few words I have chosen as my text, "He will rest in his love," and we shall consider these words as referring to the Lord Jesus Christ, and as relating to his divine and matchless love, which he hath manifested toward his people in the wondrous works of grace which he has accomplished for them and in them.
"He will rest in his love." This short sentence is capable of several interpretations, and each view we take of it has in it something extremely delightful.
I. Here is, first of all, The Doctrine, That Christ Will Keep Ever Faithful To Those Upon Whom He Has Set His Heart's Affection.
The love of human beings is a fitful and flickering flame; it may be set, for a season, with apparent constancy upon a certain object; but you can never tell how long it will remain steadfast. However firm, however true, and however fervent it may seem to be, and even really may be, yet trust it not so implicitly as to come under that ancient sentence, "Cursed be the man that trusteth in man, and maketh flesh his arm, and whose heart departeth from the Lord." Trust not too much to any friend whom you may have; put not all your confidence in any man, for the best of men are but men at the best, and the firmest of men are subject to the infirmities and the frailties of their race. But God's love is no flickering flame; it does not flare up for a little while, like the crackling of thorns under a pot, and then die out in darkness; it is not to be set forth by the image of a fool's mirth, which lasteth but for a little season. It beginneth, it waxeth vehement, it diminisheth not, but it groweth from strength to strength, till what seemed at first to be but a single spark, becomes a mighty flame, and what was a flame becomes like the beacon-lights of war, and what was but as a beacon becomes as the sun itself, in the fierceness of its heat and in the majesty of its goings.
There are some who teach that Christ's love may be set upon a man, and yet that it may afterwards be removed from him. Where, then, remains the comfort of God's people if their teaching is true? But, thank God, it is not true; for the promise of the text is that Jesus "will rest in his love." If their doctrine is according to the Scriptures, where is the value of Christ's affection at all? In what respects can he be said to stick closer than a brother? How can it be true that many waters cannot quench his love, neither can the floods drown it? If these men are right, must not the apostle Paul have been wrong when he declared that he was persuaded that neither death, nor life, nor angels, nor principalities, nor powers, nor things present, nor things to come, nor height, nor depth, nor anything else in the whole of creation should ever be able to separate the saints from the love of God which is in Christ Jesus their Lord? Shall we imagine that the apostle was mistaken, and suppose that this erroneous teaching is the truth of God? Shall we turn away from the positive testimony of Holy Scripture, and believe the falsehoods of men in its place, especially when that Scripture is itself so full of consolation to God's people that, if it can ever be proved to be untrue, they may put their hands upon their loins in agony of woe, and go to their graves full of misery and despair?
But, beloved, ye know right well that Jesus Christ's love, when once it has engraved your name upon his hand and his heart, will never suffer that name to be erased. Ye believe, and ye believe aright, that he who has a portion in the heart of God has an eternal portion. He who can claim for himself a share of the Father's love, of the Son's redemption, and of the Spirit's care, need never be afraid that all the thievish hosts of hell shall rob him of his divine inheritance. For look ye here, brethren, what is there, to separate you and me from Jesus Christ's love, which has not been tried already?
Can sin ever make Jesus cease to love me? If so, he would have ceased to love me long ago. If there be any iniquity that I can commit that would divide me from Christ's love, methinks that I should have been separated from him long ere this; for, in looking back upon my own life, I am compelled, with shame and confusion of face, to fall upon my knees, and confess that he has had a thousand reasons for thrusting me out of doors if he had chosen to do so, and he might have framed millions of excuses if he had resolved to blot my name out of the book of life. He might have said, "Thou art unworthy of me, and therefore I will be unmindful of thee."
Further, if Christ had intended to cast us away because of our sins, why did he ever take us on? Did he not know, beforehand, that we should be rebellious, and did not his omniscient eye see all our sins, and detect all our follies? Are we ungrateful? He knew that we should be. Are our sins extremely heinous? He knew how heinous they would be. He could foresee all; every spot that was to be upon us, was upon us, before his omniscient eye, when he chose us; every fault that we should commit was already committed in his estimation. He foreknew and foresaw all; yet he chose us just as we were. If he had intended to abandon us, and cast us away, would he ever have accepted us at all? If Jesus meant to divorce his bride, foreknowing all her faults, would he ever have espoused her? If he determined to cast away his adopted child, since he knew that child's unfaithfulness, would he ever have adopted him? Oh, think not, beloved, that Christ would have done all that he has done for nothing, that he would have come from heaven to earth, and have even gone from the cross to the grave, and allowed his spirit to descend into the shades of Hades, on a bootless errand! Would he not have started back, and said, "I know my bride will prove to be unworthy, therefore I will not espouse her"? But since he has espoused her, and has put the red ring of his own atonement on her finger, and has hitherto been faithful to her, what shall ever constrain him to divorce her? What can ever induce him to cast from his bosom her whom he died to save? It must be true that "he will rest in his love," for he has hitherto rested in it, though he has had much to mourn over in his chosen ones.
Our sin, then, has not divided, and, we believe, never shall divide us from the Savior's love. What remains? Will sorrow ever separate us from our Savior? Can tribulation, or distress, or persecution, or famine, or nakedness, or peril, or sword, separate us from the love of Christ? Nay, for all these things do but make the Savior manifest his love to us the more. If Christ loves his people well in prosperity, he never loves them any the less in their adversities. Do you believe that Christ loves his children when they are arrayed in purple, and that he will forsake them when they wander about in sheepskins and goatskins, destitute, afflicted, tormented? If so, ye know not the heart of Jesus. He loves his people well enough everyday; but if he sees them stretched upon the rack, and about to die for his sake, if it be possible, the infinity of his love must then surpass itself. Well said the apostle, when he had mentioned all these sufferings and pains, "Nay, in all these things we are more than conquerors through him that loved us."
Sin and sorrow, therefore, are perfectly incapable of rending us from the heart of Christ, for he must, "he will rest in his love." And this truth will seem all the more plain and clear if we just pause a moment, and think of our relationship to God the Father and to God the Son. Is not every Christian God's child? And did you ever know a true father who hated his own child? You may have known such a father, but it was unfatherly for him to hate his own son. Have you known a father who has cursed his son, and driven him forth from his home, and declared that he was not his child? You may have known some men of that kind, or you may have heard of such unnatural creatures; but, mark you, the father's curse could not unchild his child; — he was still his father's son, even when he was cursed by him. Not even the foulest words that ever came from the most embittered heart could ever take away that child's right to call that man his father; a child is a child forever if he is once a child, and a father is a father for aye if he is once a father.
Now, beloved, in the usual course of nature, we find that men will do anything for their children that they possibly can do. Here is a poor creature, born into the world, nearly an idiot; — it has not its senses right, it is nearly blind and deaf, and its parents know that, even if they can bring it up, it will always be a trouble to them; yet you see with what studious care the father and mother endeavor to save the poor child's life. While others say, "If it were to die, it would be a happy release," both father and mother feel that they would be losers by its death. "Ah!" said one good old divine, "if a father could have a child that had lost eyes and ears, and feet and hands, though he could not breathe in a natural fashion, though he could not feed without some extraordinary means for the digestion of his food, event then his father would do his best to keep him alive; and so surely shall it be with that great Father, who, when he speaks of himself, and of us, always puts his Fatherhood far higher than ours, as Christ did when he said, 'If ye, then, being evil, know how to give good gifts unto your children, how much more shall your Father which is in heaven give good things to them that ask him?' And truly I may say, if an earthly father does not wish to lose his child, if he would endeavor to save his child's life though it was loaded with ten thousand diseases, how much rather shall our Father who is in heaven see to it that none of his little ones shall perish, but that every one of them shall be preserved!" Do you not see that, because we are God's sons, we are, therefore, Jesus Christ's brothers, and "he will rest in his love"?
But there is yet another thought, for we have a relationship also to Christ, and therefore "he will rest in his love." We have never yet heard of a man who hated his own flesh. Strangely wicked as it is, we have heard of men who have hated their flesh in the mystic sense of the marriage tie, and who have driven their wives from them with all manner of brutality and cruelty. She whom the husband promised to cherish and to nourish, he has driven away, yet he has never thus treated his own flesh; the man may have become cruel and unnatural towards her who is his own flesh by marriage, but not towards his own literal flesh. Now, Jesus Christ has taken his people into such a connection with himself that they are nearer to him even than the wife is to the husband; they are as near to him as our own flesh and blood are to our own head. What will not a man do to save his hand, or the least member of his body? Would he ever cease to care for even the feeblest portion of his frame? No; men are generally careful enough of their own flesh and blood; much more, therefore, will our Lord Jesus Christ protect the members of his mystical body, for we are his fullness, the fullness of him that filleth all in all. And will Christ lose his own fullness? Shah his body be dismembered? Shall the head become a bleeding head, and the trunk become a corpse? Shall any one member be left to die, to burn, to be destroyed? Oh, no! As surely as we are brought into this relationship with Christ, so surely are we saved beyond any hazard. This is one meaning of the text, and most consolatory to the tried, tempest-tossed child of God.
II. I think, however, that there is another very sweet meaning to it; that is, Christ Has Labored In His Love, And He Now Rests In It.
Let me draw a picture for you. Here is a man, who loves his hearth, and his home, and his country, and his Queen. The sound of battle is heard in the land, so he girds his sword upon his thigh, and marches forth to defend all that is dear to him. He fights, he struggles, his garments are stained with blood, and he himself is wounded. It is love — love of his own safety, and of his family, and of his country, that has made him fight so bravely. And now that the deed is done, he comes back to his home. The foe has been swept from the white cliffs of Albion, and the land of liberty is still free; Britons are not slaves. The man retires to his house, and you see how quietly he sleeps, how joyously he sits down under his own vine and fig tree, none daring to make him afraid. With what joy does he now look upon the faces of those whom he has defended, and upon the home for which he has fought! What satisfaction does it give him to know that the honor of his country is still unstained, and his land is still the home of the free! Now he rests in his love; that which made him fight, now gives him joy; that which impelled him in the day of battle to do great deeds of heroism, is its own sweet reward. Now he rests because the battle is fought, the victory is won, and he, therefore, rejoices in the very love which once caused him to labor.
Now see the Lord Jesus Christ. laboring in his love. Love fetched him from his throne in heaven; love disrobed him of his glories; love laid him in Bethlehem's manger; love led him through this weary world for three-and-thirty years; love took him to Gethsemane; love oppressed him till his sweat great drops of blood; love made him the great Standard-bearer in the fight; love made him stand erect, the focus of the war, when the storm gathered round his brow, and every arrow of the foeman found a target in his heart; love made him — "Calm 'mid the bewildering cry, Confident of victory;" — love made him bow his head, and give up the ghost, that he might redeem his people from their sins. Now, he is more than conqueror, he rises to heaven, and he rests in his love. Oh, what a wondrous rest that is! If rest be sweet to the laboring man, how much sweeter to the bleeding Man, the dying Man, the crucified Man, the risen Man? If rest be sweet after toil, how sweet must be the rest of Jesus after all the toils of life and death, the cross and the grave! If victory makes the soldier's return joyous, how joyous must have been the return of that conquering Hero who has led captivity captive, and received gifts for men! Truly doth our Lord Jesus "rest in his love."
Do you not see that the very thing that drove him to labor, now makes a pillow for his head? That which made him strong in the day of battle makes him joyous in the hour of victory, and that is the love which he bears to his people. For, lo! as he sits down in heaven, he thinks within himself: "I have done it, I have finished the work of my people's redemption; not one of them shall ever perish; no drop of the hail of God's vengeance can fall on them, for it has all fallen on me. I have been smitten, I have borne the curse; and, now, they cannot be cursed, they are delivered." And then his holy mind roves on in meditation: "I have taken away the curse, and I have given them the blessing; I have brought many of them to know and love me; and, in due season, I will bring all the rest; they shall come that are ready to perish, for I must have every one of my blood-bought sheep with me forever. They shall be blessed on earth, and by-and-by I shall have them where I am, and they shall feed in these rich pastures; they shall lie down where the wolf cannot come, and where desolation cannot enter. The time shall come when I shall have their very bones resuscitated, when their flesh, that has lain in the dust, shall live again to be with me; so shall they all, every one of them, body, soul, and spirit, regain all the inheritance that they had lost, and, with all that double portion which I have gained for them, share the spoil, and wave the palm, and be more than conquerors, through what I have done for them." This thought gives sweet rest to the Savior, who once labored here below, and who now, in heaven, "rests in his love."
III. I find that Dr. Gill gives this as one of the meanings of the text, for he is always noted for giving a great variety of meanings to a text; and, sometimes, nobody knows which is the true one.
When he is going to explain a passage of Scripture, he says, "It does not mean this, it does not mean that, and it does not mean the other." Probably, nobody ever thought it did mean anything of the kind. After he has mentioned several things which it does not mean, he mentions some that it may mean, and then, last of all, he tells us what it actually does mean. He says our text :means, "He Shall Solace Himself In His Love."
There is something very sweet in love; whether it is sweeter to be loved or to love, I know not; but, certainly, when the two experiences meet together, they are like two noble rivers which have flowed through a rich and fertile country, and then combined to make some great lake, or inland sea; then are they broad waters indeed. Now, Christ sees our love; the love which he has put into us meets the love which he has poured out towards us; and in both of these he finds a sweet solace. He solaces himself in love; this it is that cheers and comforts him. Some men, when they would be cheered on earth, drink the wine which stirs their blood; some men find comfort in company, and the noisy, thoughtless talker makes them glad; others, when they would be solaced, turn to books; these are their joys. Others, when they would be satisfied, chink their gold, look over their mortgages, their estates, their bonds, and things of that kind; and some men there are, who in this world have nothing sweeter for solace than the love of those who are near and dear to them. The man who loves his home and his family, and finds his little earthly heaven around his own hearth, is one of the happiest men I know. Treasure that thought for a moment, and think of Christ as taking delight in his family.
I never yet heard that Christ rests in his power. He has great power; see what he has done. He has built the heavens; he has stretched out the earth, and he upholds the clouds with his might: but he never rests there. I know, too, that he has great wisdom: he knows all things in the ages past, in the time present, and in the centuries yet to come. He can unravel mysteries, and foretell all things, yet I never heard that he rested in his wisdom. There is a great crowd of angelic spirits, ever waiting in his courts above, and he, as King, sits in the very center of them all, and before him principalities and powers cast their crowns; but I never heard that he rested even in their homage. No; our Lord Jesus Christ is like the man who loves his family; he rests in the midst of his own beloved ones, — his spouse's bosom, the place where he hears his children cry, where he listens to their prayers, the door at which he receives their thanksgiving, and bestows his blessing, the house where they wait on him and he waits on them, where they commune with him, and he communes with them; — that is the place where he rests. He rests in his love, in the midst of the objects of his love; there it is that he finds his own eternal satisfaction, the solace of his heart.
Is not that a sweet thought? It has ravished my soul, while turning it over, to think that Jesus Christ should ever find his rest among the poor sons of men. Long ago, it was said of him, "His delights were with the sons of men," and now that is his rest, too. Oh, how pleasant it is for us to know that our Lord will not sleep anywhere but in the house of his beloved, and 'neath no other tree will he recline but beneath the trees of his own right-hand planting! It is very easy for me to say of Christ, "As the apple tree among the trees of the wood, so is my Beloved among the sons;" but it is surprising that he should ever say the same of me. I can say of him, "I sat down under his shadow with great delight, and his fruit was sweet to my taste;" but it is wonderful for him to say the same of me, or to turn to some poor saint, and say to him, "O soul! thou art weary, but thou art my rest, and I am thy rest; thou art sick, but thou art my health, and I am thy health; thou art sad, but thou art my joy, and I am thy joy; thou art poor, but thou art my treasure, and I am thy treasure; thou art nothing, and yet thou art my fullness, and I am thy fullness!" Oh, what a host of precious thoughts we can meditate upon here! We have started a whole covey of sweet things, and we might profitably stand still, and admire them. It is not merely one sweet thought, but many that are included in this one precious truth, "He will rest in his love." He never rested till he found that all his love was given to us, and he never will rest completely till all our love is given to him.
IV. The Hebrew conveys to us yet another idea. In the margin, we read, "He Will Be Silent In His Love."
Why is this? What can silence have to do with love? One old divine thinks that Christ means, by this expression, to say that his love is so vast that it can be better heard by his saying nothing than by his attempting to express it. What a great deal Christ has said, in the Scriptures, about his love; and yet hearken, O spouse of Christ, the love that he hath not spoken is ten times more than anything he has yet said! Oh, yes; there is much love which he has brought out of the treasure-house, and given to you; but he has much more like it in that divine heart of his. Some drops of his love you have already received, but those bright clouds on high, those storehouses of his grace, contain treasures of which you have never yet even dreamed. When you read one of the promises, you say, "Ah, this is indeed precious!" Yet, recollect that what our Lord has revealed in his Word is not a tenth of what he has not said. He has said many rich things, but there are richer things still. He has not said them, he cannot say them, because they are unsayable, they are unutterable, they cannot be declared; at least, not at present. When you get to heaven, you will hear them; you cannot hear them here.
You know that the apostle Paul said, when he was caught up to the third heaven, he heard words which it was not lawful for men to utter. Perhaps he then heard more of the Savior's love, as though Christ said to him, "I tell you this, but you must not tell it to anyone else; it is not lawful to utter it down below. I have made you a great vessel, and you can hold this revelation; but as for the rest, they are only little vessels; do not tell them anymore, it would burst them; do not expose them to too great a heat of love, it would consume them; — they would die if they knew more, — they cannot understand more. I have told them so much of my love that, if they only understood all I have told them, they would not be able to live on earth, their hearts would burst for joy, and they would be obliged to flee to me above. Therefore I tell them no more, for they cannot bear it." So that, you see, there is great preciousness in this rendering, "He will be silent in his love;" as if he could not say it, therefore he would not try to say it, he would just leave it alone. One poet, after praising God with all his might, finds that he can go no further, and winds up thus, — "Come, then, expressive silence, tell his praise." That is just the meaning of the text, as if Christ would say, "I have said a great deal, but my people cannot understand; I will say no more; I shall only now say, 'Come, then, expressive silence, tell my love.' "
There is, however, a meaning that is, perhaps, even more correct. "He will be silent in his love," may mean that he will be silent about his people's faults; from the connection of the text, it looks like this. "The Lord hath taken away thy judgments, he hath cast out thine enemy: the King of Israel, even the Lord, is in the midst of thee: thou shalt not see evil any more." It looks as if he meant to say he would be silent about their sins. There stands Christ in heaven today, pleading for his people. Listen! He says nothing to accuse them. Satan may accuse, but Christ never will. The good that his people do is magnified, and multiplied, and perfected, and then presented before the throne; but as for the sins of his people, he has cast them behind his back, and all he says concerning those sins is this, "I behold no sin in Jacob neither iniquity in Israel; my anger is turned away from them; I have blotted out like a cloud their iniquities, and like a thick cloud their sins." Sometimes, love makes a man silent. If you hear anything said against one whom you love, and you are asked, "Is it not so?" you say, "Well, I am not compelled to bear witness against one whom I love, and I will not do so." You know that our law does not demand of a wife that she shall give evidence against her husband; and, certainly, the Lord Jesus Christ will never give any evidence against his spouse: "He will be silent in his love." If he were called upon to say, "Has thy spouse sinned?" his declaration would be, "I am the Sin-offering on her behalf. I am her Substitute; I have been punished in her stead. I can say, 'Thou art all fair, my love, there is no spot in thee.' " There will not be a word of accusation from him. She says of herself, "I am all black." He will not deny it, but he will not affirm it. He says, "There is no spot in thee;" and he goes on to say that she is all fair in his sight. O glorious silence! "He will be silent in his love." So am I inclined to believe it will be at the last great day, when the books shall be opened. Christ will read out the sins of the wicked recorded against them; but, as for the sins of his people, "he will be silent in his love." I sometimes think that it will be so, though I cannot speak with authority. "No," he will say, "upon you be the curse, — you who lived and died without washing in my blood in the fountain opened for sin and for uncleanness; but as for these my people, they have had their sins blotted out; and I will not read what is obliterated; I will be silent in my love."
'Sing, O daughter of Zion; shout, O Israel; be glad and rejoice with all the heart, O daughter of Jerusalem… 17. He will rejoice over thee with joy; He will rest in His love, He will joy over thee with singing.'— ZEPHANIAH 3:14, 17
What a wonderful rush of exuberant gladness there is in these words! The swift, short clauses, the triple invocation in the former verse, the triple promise in the latter, the heaped together synonyms, all help the impression. The very words seem to dance with joy. But more remarkable than this is the parallelism between the two verses. Zion is called to rejoice in God because God rejoices in her. She is to shout for joy and sing because God's joy too has a voice, and breaks out into singing. For every throb of joy in man's heart, there is a wave of gladness in God's. The notes of our praise are at once the echoes and the occasions of His. We are to be glad because He is glad: He is glad because we are so. We sing for joy, and He joys over us with singing because we do.
I. God's joy over Zion.
It is to be noticed that the former verse of our text is followed by the assurance: 'The Lord is in the midst of thee'; and that the latter verse is preceded by the same assurance. So, then, intimate fellowship and communion between God and Israel lies at the root both of God's joy in man and man's joy in God.
We are solemnly warned by 'profound thinkers' of letting the shadow of our emotions fall upon God. No doubt there is a real danger there; but there is a worse danger, that of conceiving of a God who has no life and heart; and it is better to hold fast by this—that in Him is that which corresponds to what in us is gladness. We are often told, too, that the Jehovah of the Old Testament is a stern and repellent God, and the religion of the Old Testament is gloomy and servile. But such a misconception is hard to maintain in the face of such words as these. Zephaniah, of whom we know little, and whose words are mainly forecasts of judgments and woes pronounced against Zion that was rebellious and polluted, ends his prophecy with these companion pictures, like a gleam of sunshine which often streams out at the close of a dark winter's day. To him the judgments which he prophesied were no contradiction of the love and gladness of God. The thought of a glad God might be a very awful thought; such an insight as this prophet had gives a blessed meaning to it. We may think of the joy that belongs to the divine nature as coming from the completeness of His being, which is raised far above all that makes of sorrow. But it is not in Himself alone that He is glad; but it is because He loves. The exercise of love is ever blessedness. His joy is in self-impartation; His delights are in the sons of men: 'As the bridegroom rejoiceth over the bride, so shall thy God rejoice over thee.' His gladness is in His children when they let Him love them, and do not throw back His love on itself. As in man's physical frame it is pain to have secretions dammed up, so when God's love is forced back upon itself and prevented from flowing out in blessing, some shadow of suffering cannot but pass across that calm sky. He is glad when His face is mirrored in ours, and the rays from Him are reflected from us.
But there is another wonderfully bold and beautiful thought in this representation of the gladness of God. Note the double form which it assumes: 'He will rest'—literally, be silent—'in His love; He will joy over thee with singing.' As to the former, loving hearts on earth know that the deepest love knows no utterance, and can find none. A heart full of love rests as having attained its desire and accomplished its purpose. It keeps a perpetual Sabbath, and is content to be silent.
But side by side with this picture of the repose of God's joy is set with great poetic insight the precisely opposite image of a love which delights in expression, and rejoices over its object with singing. The combination of the two helps to express the depth and intensity of the one love, which like a song-bird rises with quivering delight and pours out as it rises an ever louder and more joyous note, and then drops, composed and still, to its nest upon the dewy ground.
II. Zion's joy in God.
To the Prophet, the fact that 'the Lord is in the midst of thee' was the guarantee for the confident assurance 'Thou shalt not fear any more'; and this assurance was to be the occasion of exuberant gladness, which ripples over in the very words of our first text. That great thought of 'God dwelling in the midst' is rightly a pain and a terror to rebellious wills and alienated hearts. It needs some preparation of mind and spirit to be glad because God is near; and they who find their satisfaction in earthly sources, and those who seek for it in these, see no word of good news, but rather a 'fearful looking for of judgment' in the thought that God is in their midst. The word rendered 'rejoices' in the first verse of our text is not the same as that so translated in the second. The latter means literally, to move in a circle; while the former literally means, to leap for joy. Thus the gladness of God is thought of as expressing itself in dignified, calm movements, whilst Zion's joy is likened in its expression to the more violent movements of the dance. True human joy is like God's, in that He delights in us and we in Him, and in that both He and we delight in the exercise of love. But we are never to forget that the differences are real as the resemblances, and that it is reserved for the higher form of our experiences in a future life to 'enter into the joy of the Lord.'
It becomes us to see to it that our religion is a religion of joy. Our text is an authoritative command as well as a joyful exhortation, and we do not fairly represent the facts of Christian faith if we do not 'rejoice in the Lord always.' In all the sadness and troubles which necessarily accompany us, as they do all men, we ought by the effort of faith to set the Lord always before us that we be not moved. The secret of stable and perpetual joy still lies where Zephaniah found it—in the assurance that the Lord is with us, and in the vision of His love resting upon us, and rejoicing over us with singing. If thus our love clasps His, and His joy finds its way into our hearts, it will remain with us that our 'joy may be full'; and being guarded by Him whilst still there is fear of stumbling, He will set us at last 'before the presence of His glory without blemish in exceeding joy.
In regard to the OT Prophetic books such as Isaiah, Jeremiah, Daniel, and the 12 "Minor" Prophets, remember that the most accurate interpretation is derived by applying the following principles:
(1) Read the Scripture literally (unless the text is clearly figurative, e.g., Jesus said "I am the door… " Jn 10:9). If one interprets a text symbolically (allegorically, figuratively, spiritualizing) when that text makes good sense literally, one potentially opens themselves to the danger of inaccurate interpretation, for then the question arises as to who's "symbolic" interpretation is correct and how imaginative one should be in evaluating a "supposed symbol"? Many of the commentaries and sermons on the OT prophetic books unfortunately are replete with non-literal interpretations (except when it comes to Messianic Passages, which are usually interpreted literally). Therefore the watchword when reading any commentary on Old Testament prophecy is caveat emptor ("buyer beware"). Read all commentaries like the Bereans (Acts 17:11-note).
(2) Study the context which is always "king" in interpretation (don't take verses out of context.)
(3) Passages addressed to Israel should be interpreted as directed to the literal nation of Israel and should not be interpreted as addressed to the NT Church, an entity not mentioned in the Old Testament. The promises of Jehovah to the nation of Israel (e.g., see Millennial Promises) remain valid (Jer 31:35, 36, 37, Nu 23:19, Lk 21:33) and have not been passed on to the NT Church because Israel has "defaulted" (See study Israel of God). Remember that while Scripture has only one correct interpretation, there can be many legitimate applications (See Application), and therefore the OT prophetic books are extremely applicable in the lives of NT believers.
(4) Scripture is always the best commentary on Scripture. While an attempt has been made to list resources that adhere to these basic interpretative guidelines, not all the works listed in these collections have been read in detail. Therefore should you discover a resource you feel is NOT conservative and/or orthodox, please email your concerns.
Related Resources:
Book