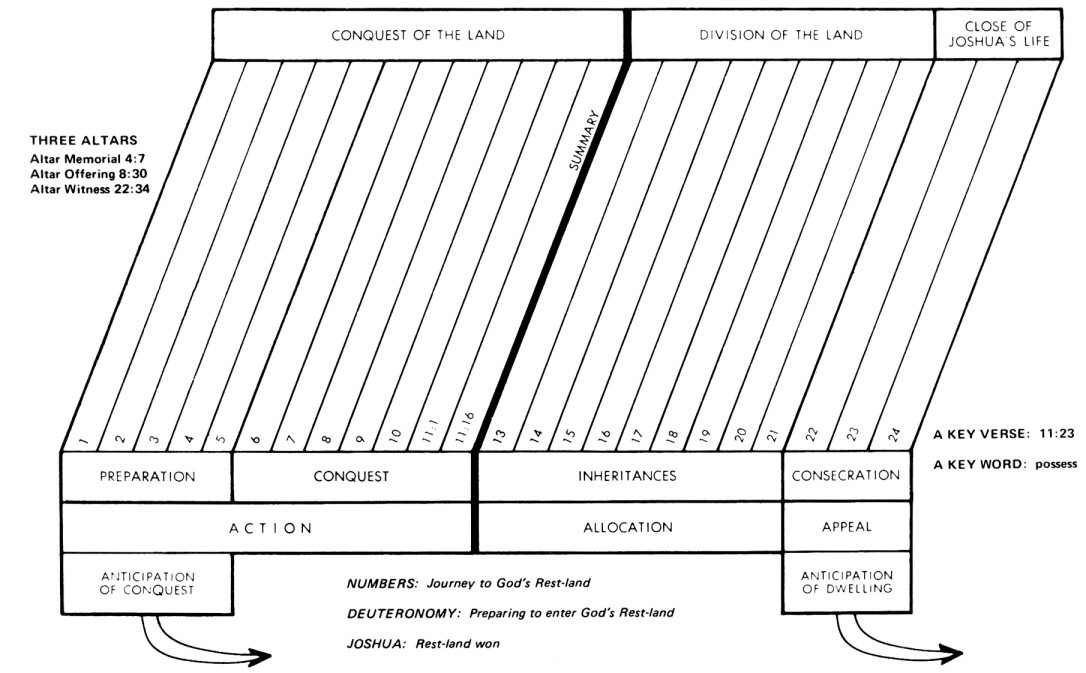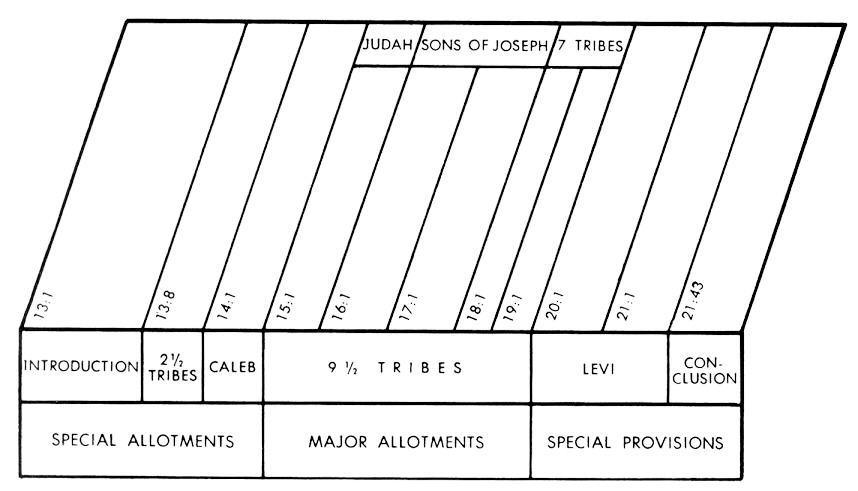 LAND ALLOTMENTS
(Joshua 13-21)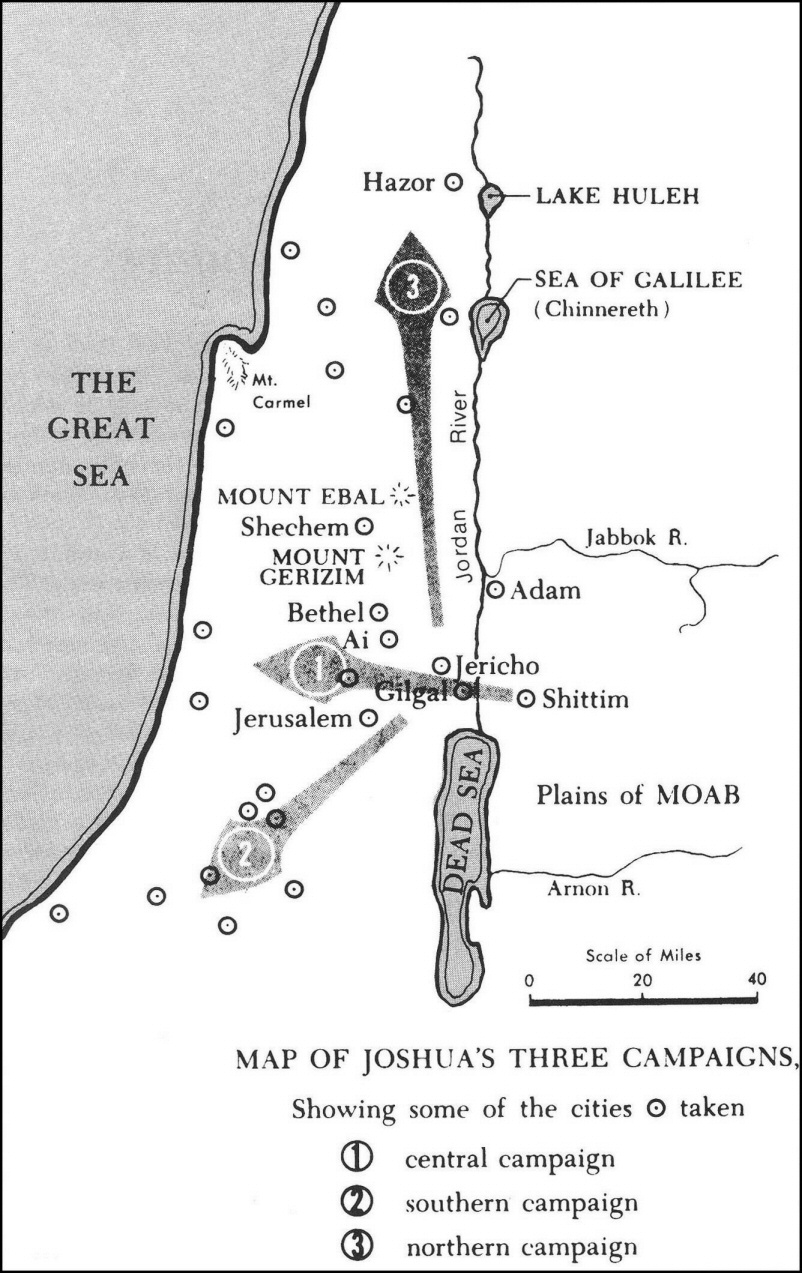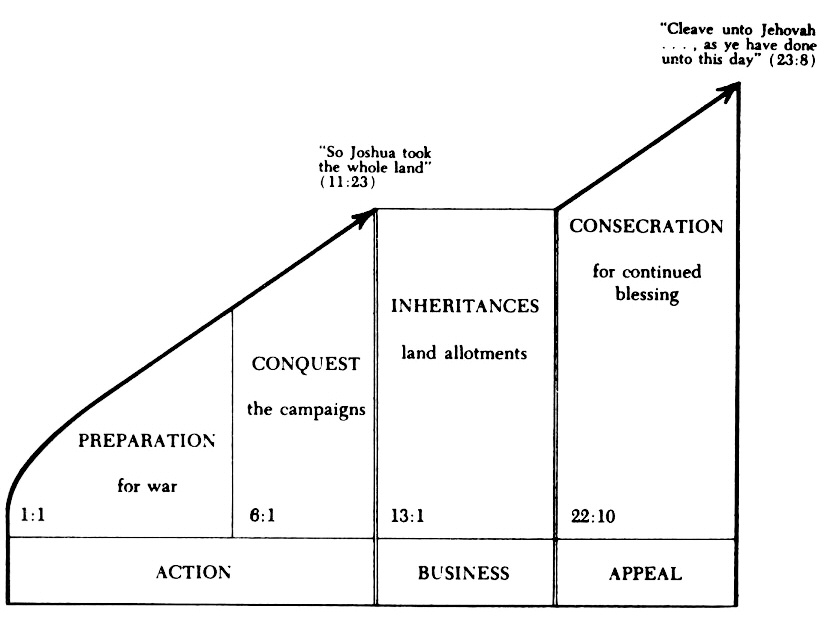 Click charts to enlarge Charts from Jensen's Survey of the NT - used by permission
JOSHUA
A BOOK ON SPIRITUAL WARFARE and REST
HOW TO POSSESS YOUR POSSESSIONS

CONQUEST
OF THE PROMISED LAND

DIVISION
OF THE PROMISED LAND

CLOSE OF JOSHUA'S LIFE

ACTION
ALLOCATION
APPEAL
Josh 1:1-5:15
Josh 6:1-12:24
Joshua 13:1-21:45
Josh 22:1-24:33

WARLORDS IN
CANAAN

LANDLORDS IN
CANAAN

ENTERING
CANAAN

CONQUERING
CANAAN

DIVIDING
CANAAN

SECURING THE
LAND

SETTLING THE
LAND

Preparation

Conquest

Possession

Consecration

ca. 1 Month
ca 7 Years
ca. 18 Years
DON ANDERSON  - Notes
BACK TO THE BIBLE
BIBLE GATEWAY DEVOTIONALS
Joshua 1:1-18 This Land Is Our Land - Excerpt - In our age, there are many misunderstandings surrounding the Christian life. A trip to the local Bible bookstore bears this out. The shelves are lined with books that claim to be able to teach us how to make the Christian life easier for the believer and the church more acceptable to the world. The truth of the matter is that there is nothing easy or acceptable about the Christian life. It is not always easy to live for Jesus. The Gospel of Jesus Christ will never be acceptable to the world. We are not out for a day in the park! We are not on a playground; we are on a battleground! We are engaged in warfare with a spiritual enemy who is far more powerful than we are, Eph. 6:12, "For we wrestle not against flesh and blood, but against principalities, against powers, against the rulers of the darkness of this world, against spiritual wickedness in high places." In our own strength, we cannot defeat our enemies! The good new is this: our enemies are nowhere near as powerful as our God. 1 John 4:4b, "… because greater is he that is in you, than he that is in the world." Thus, even in the midst of our battles, there is always hope for victory. Rom. 8:31, "What shall we then say to these things? If God be for us, who can be against us?" Rom. 8:37, "Nay, in all these things we are more than conquerors through him that loved us." In fact, the Bible tells us that we are the recipients of victory through the Lord Jesus Christ. 1 Cor. 15:57, "But thanks be to God, which giveth us the victory through our Lord Jesus Christ." While we are engaged in the battle with evil, there is the expectation that we can and will walk in victory in our lives. For me, this is what the book of Joshua represents. As this book opens Moses, the great leader of Israel has died and a new leader named Joshua has been appointed to lead the nation of Israel into Canaan. After 40 years of wandering in the wilderness, Israel is about to take possession of the land God promised Abraham many centuries earlier. Gen. 12:7, "And the LORD appeared unto Abram, and said, Unto thy seed will I give this land: and there builded he an altar unto the LORD, who appeared unto him." This book is about the battles Israel faced in order to claim that promise from God. Joshua is a book about warfare, painful defeats, suffering and great victories. It is a book that has much to teach the modern Christian much about obtaining spiritual victory in our lives....Today, I am beginning a series of sermons that will move us through the book of Joshua. As we journey through this powerful, special book I want to take the time to visit a few mountaintop vistas that we find along the way. I am entitling this series, The Dawning Of A New Day. My goal in preaching it is help you to stop wandering around in the wilderness and to enter into your Canaan Land of spiritual victory. It is my desire to help our church move past the pain and problems of the past into the peace and power of the Lord's rest. It is my prayer that, through the preaching of the Word of God, we will witness The Dawning Of A New Day in our lives as individuals and in our church.
ELLICOTT'S COMMENTARY FOR ENGLISH READERS 
ALFRED EDERSHEIM The Bible History—Old Testament Book of Joshua
Joshua 1:1-9 Workmen Die, but God Lives
Joshua 1:10-18 Questionable Separation
ARNOLD FRUCHTENBAUM Israelology
GENE GETZ - Short videos discussing principles taught in Joshua
Joshua; Principle #1; Josh. 1:1-5; p. 268 God's Personal Presence: No matter our circumstances in life, we are to rely on God's promise that He will never leave us or forsake us.Video
Joshua; Principle #2; Josh. 1:6-9; p. 268 Modeling and Teaching: In order to be successful, pastors and parents must both practice and teach the Word of God. Video
Joshua; Principle #3; Josh. 1:10-18; p. 269 Mutual Encouragement: We are to encourage spiritual leaders to lead with strength and courage. Video
TRENT HUNTER - 12 week study with notes - includes NT parallels, theological insights, application
BRUCE HURT
G F MACLEAR Cambridge Bible for Schools and Colleges
MAPS - Related to Joshua
PLEASE NOTE - The following are from the Holman Bible Atlas (digital book; Hardcover/Paperback version) copyrighted © 1998 B&H Publishing Group, used by permission, all rights reserved. This is one of the best resources for Bible maps as the maps also include helpful short descriptions of the events portrayed on the maps. Please do not download to be used on another website. Thank you.
P G MATTHEW SERMONS 
Joshua - Click for 58 mp3's on Joshua
F B MEYER - Our Daily Homily
F B MEYER - Commentary
F B MEYER Joshua and the Land of Promise Devotional commentary
Note: Be a Berean (Acts 17:11-note) as Meyer appeals to typology a number of times - see Typology - Study of Biblical types)
G CAMPBELL MORGAN - brief expositional comments
ROBERT NEIGHBOUR
WILLIAM NEWELL - 20 page study -  lessons used at Union Bible Classes - Interesting - Check it out.
NIV APPLICATION COMMENTARY
OUR DAILY BREAD Devotionals on Joshua Radio Bible Class
NOTE: All of these devotionals are located here on this page and arranged in the same order as the list below. 
Joshua 1:1-9  His Part - Our Part
Joshua 1:1- 9 Unlighted Paths
Joshua 1:1-9 Leadership Lessons
Joshua 1:1-9 Trust The Compass
Joshua 1:2 Inconvenient Or Important?
Joshua 1:2 Look Both Ways
Joshua 1:5 He's Always With Us
Joshua 1:5 The Apprentice
Joshua 1:5 Much Trouble
Joshua 1:5 Mindless Prayer
Joshua 1:5 On Shoulders Of Giants
Joshua 1:5 He's Always On The Bridge
Joshua 1:5 Strong and Courageous
Joshua 1:7 The Challenge of Transition
Joshua 1:8 The Way To Success
Joshua 1:8 Delight in the Book
Joshua 1:8 Recipe For Success
Joshua 1:9 Anchors In The Storm
Joshua 1:9  Equipped for the Task
Joshua 1:9 WALKING AWAY
Joshua 1:9 A Fresh Start
PASTOR LIFE Sermons on Joshua
ALAN REDPATH - Victorious Christian Living: Studies in the Book of Joshua 
Comment - This book is a collection of sermons by Alan Redpath, with particular emphasis on applying the great truths in the book of Joshua to our daily Christian life. The links below are to the copy of the book that is available to borrow (for one hour or 14 days) at no charge from Archive.org. It is encrypted so you will not be able to copy and paste but all chapters are available to read. In addition you can even listen to the book  (I find the English male voice very pleasing and more natural sounding - select voice just below the open page you are reading. If you are wondering if this book is worth your time, take a moment and look at some of the reviews to see what others have said about this book. THIS  STUDY HAS WONDERFUL POINTS TO AID YOUR PREACHING AND TEACHING OF THIS GREAT BOOK! 
Note - You must "borrow" the book to read the follow chapters - it is free to borrow and collects no personal information. 
PART I - FACING THE OBJECTIVE
REFORMATION STUDY BIBLE - notes
KIM RIDDLEBARGER SERMONS 
Sermons are Pdf transcripts each about 6 pages
ADRIAN ROGERS - sermon series on Joshua (audio only but you will not be disappointed!)
SERMON AUDIO Joshua
NOTE: There are literally 1000's of sermons but the quality varies so please exercise a Berean mindset (Acts 17:11+). Check out the Pdf's which can be a useful source of preaching and teaching ideas but use discernment. Some of the Pdf's are just church bulletins, some are fill in the blanks as you follow the sermon, some are short outlines, some are more longer transcripts of the entire sermon. You have to search through these. I have given you a sample of the type of Pdf you might be able to find (see Joshua 1 below) 
Incredible Biography of Charles Simeon - Brothers, We Must Not Mind a Little Suffering
Joshua: Guidebook to Victory (or listen to mp3) - Transcribed excerpt from the audio -  some of what Dr Stedman says in his introduction is for some reason NOT recorded in the associated transcript which is too bad.
"And I wonder how many have been able to read through the book of Joshua today...here are 2 hands! Anyone else? Well, when you meet Joshua up in heaven, you can explain to him why you did not have time. Joshua is the guidebook to victory. What a tremendous book. I think there is no book in the Bible that is so packed with helpful,practical lessons as the book of Joshua. No book has been more helpful to me in grasping the principles of spiritual life than the book of Joshua and this includes all the books of the New Testament as well! There's no book that's so challenging in its concepts and so thorough in its analysis of life than this book...if you know how to read it. There's a key of course to the book of Joshua as there is to every book of the Bible. That key is the pattern given to us in the New Testament, where Paul says "Now these things happened to them as an example (FOR US). What Israel went through in their actual historical experiences become figures, become patterns, metaphors that we can apply to the spiritual battles, the spiritual journey, the pilgrimage on which we are launched and they have an exact and accurate application to us." And if you read the books of the OT with this key in hand, it becomes a very vivid and a very fascinating book. I almost hesitate to begin this survey of the book of Joshua because I am so captured by the lessons involved in so many places through this book that I tend to bog down in details. It's hard to keep going in an overall survey. And I hope you'll bear with me....so that we can get through the book in the time allotted to us, for my tendency is to stop and look more closely at some of these tremendous illustrations of the spiritual life. There are two books of the Old Testament that I would strongly recommend that every Christian master its message. These are two books that I particularly feel every young Christian ought to know. One is the book of Joshua and the other is the book of Daniel for these messages are primarily designed for young Christians as they are engaged in the first full impact in their battle against the world, the flesh and the devil. If you feel the force of the opposing powers; if the tremendous, subtle deceptiveness of the principalities and powers against which we are engaged have come upon you so that you sense that you are in the conflict (Ephesians. 6:12), I urge upon you the book of Joshua and the book of Daniel." (mp3.)
JOE STOWELL
STREAMS IN DESERT
THEOLOGY OF WORK 
THIRDMILL.ORG - Course on the Book of Joshua - video, audio, transcripts
The Book of Joshua: An Introduction to Joshua

Introduces the book of Joshua, including what it meant for its original audience and what it means for us today.
The Book of Joshua: Victorious Conquest (1:1 - 12:24)

Addresses the original audience's challenges associated with warfare by drawing attention to Israel's extensive victory over the land of Canaan.
TODAY IN THE WORD Devotionals on Joshua Moody Bible
SERMONS BY VERSE - Older resources
| | | |
| --- | --- | --- |
| The New Leaders Commission | Alexander Maclaren | Joshua 1:1 |
| Consolation for Bereaved Workers | E. De Pressense | Joshua 1:1, 2 |
| A Dauntless Spirit | Handbook of Illustration | Joshua 1:1-9 |
| A Good Working Bible | Home Messenger. | Joshua 1:1-9 |
| A Great Promise | G. Clayton, M. A. | Joshua 1:1-9 |
| A Great Promise | Homilist | Joshua 1:1-9 |
| A Great -Promise and a Stirring Exhortation | A. B. Mackay. | Joshua 1:1-9 |
| An Inspiring Presence | J. Robertson. | Joshua 1:1-9 |
| Christian Fortitude | D. Featley, D. D. | Joshua 1:1-9 |
| Courage Necessary |   | Joshua 1:1-9 |
| Death and its Lessons | Dean Vaughan. | Joshua 1:1-9 |
| Death Enters into God's Plans | W. G. Blaikie, D. D. | Joshua 1:1-9 |
| Death Makes Room for Others | J. Parker, D. D. | Joshua 1:1-9 |
| Dignity of God's Service |   | Joshua 1:1-9 |
| Foothold | H. Macmillan, D. D. | Joshua 1:1-9 |
| God with the Good | D. Featley, D. D. | Joshua 1:1-9 |
| God with Us Through Life | A London Clergyman. | Joshua 1:1-9 |
| God's Revealed Wilt the Only Safe Rule for All Individual Guidance | R. Shittler. | Joshua 1:1-9 |
| God's Strength Made Perfect in Human Weakness | F. B. Meyer, B. A. | Joshua 1:1-9 |
| Joshua on the March | T. De Witt Talmage. | Joshua 1:1-9 |
| Joshua the Successor of Moses | J. Waite | Joshua 1:1-9 |
| Joshua. Successor, to Moses | Sermons by the Monday Club | Joshua 1:1-9 |
| Joshua's Obedience |   | Joshua 1:1-9 |
| Meditation |   | Joshua 1:1-9 |
| Meditation and Obedience | J. C. Miller, D. D. | Joshua 1:1-9 |
| Moses and Joshua | C. H. Parkhurst, D. D. | Joshua 1:1-9 |
| Obedience the Condition of Victory | Spurgeon, Charles Haddon | Joshua 1:1-9 |
| Onward, Through, and Over | J. J. Wray. | Joshua 1:1-9 |
| Ownership and Possession | W. H. P. Faunce. | Joshua 1:1-9 |
| Promotion | Christian World Pulpit | Joshua 1:1-9 |
| Something to be Done to Gain Possession | H . Macmillan, D. D. | Joshua 1:1-9 |
| Strength and Courage | W. G. Blaikie, D. D. | Joshua 1:1-9 |
| Strengthening Medicine for God's Servants | Spurgeon, Charles Haddon | Joshua 1:1-9 |
| Taking Possession of Our Inheritance | Spurgeon, Charles Haddon | Joshua 1:1-9 |
| The Campaign Commenced | G. W. Butler, M. A. | Joshua 1:1-9 |
| The Charge to the Soldier of the Lord | A. Maclaren, D. D. | Joshua 1:1-9 |
| The Christian's Law | J. C. Miller, D. D. | Joshua 1:1-9 |
| The Commission for the Conquest | A. B. Mackay. | Joshua 1:1-9 |
| The Commission of Joshua | David O. Mears. | Joshua 1:1-9 |
| The Death of the Old Lawgiver | A. B. Mackay. | Joshua 1:1-9 |
| The Land of the Hittites | W. G. Blaikie, D. D. | Joshua 1:1-9 |
| The New Leader | A. B. Mackay. | Joshua 1:1-9 |
| The Presence of the Master |   | Joshua 1:1-9 |
| The Prosperous Way | J. C. Miller, D. D. | Joshua 1:1-9 |
| The Right People for the Land | W. G. Blaikie, D. D. | Joshua 1:1-9 |
| The Sources of Joshua's Strength | F. B. Meyer, . B. A. | Joshua 1:1-9 |
| The Strength and Courage Needed .For Common Life | A. Raleigh,D. D. | Joshua 1:1-9 |
| Victory Assured | F. B. Meyer, B. A. | Joshua 1:1-9 |
| Whom Do I Succeed? | J. Parker, D. D. | Joshua 1:1-9 |
| God's Gift to the Church | S.R. Aldridge | Joshua 1:2, 3 |
| The Leader's Promise | R. Glover | Joshua 1:5, 6 |
| A Renewed Covenant | E. De Pressense | Joshua 1:6-9 |
| The Study of the Bible | S.R. Aldridge | Joshua 1:8 |
| Crossing the Jordan | Spurgeon, Charles Haddon | Joshua 1:10-11 |
| Jordan At Hand | E. Garbett, M. A. | Joshua 1:10-11 |
| Prepare You Victuals | A. B. Mackay. | Joshua 1:10-11 |
| Self-Help Necessary | T. W. M. Lund, M. A. | Joshua 1:10-11 |
| Three Days' Pause | F. B. Meyer, B. A. | Joshua 1:10-11 |
| Ye Shall Pass Over | Spurgeon, Charles Haddon | Joshua 1:10-11 |
| Joshua and the Reubenites | E. De Pressense | Joshua 1:10-18 |
| Duties of Brotherhood | R. Glover | Joshua 1:12-15 |
| Brave Responses | A. B . Mackay. | Joshua 1:12-18 |
| Fidelity to Engagements | W. G. Blaikie, D. D. | Joshua 1:12-18 |
| Joshua's Demand for the Services of the Trans-Jordanic Tribes | A. B. Mackay. | Joshua 1:12-18 |
| Prayers for Men in Public Offices | John Erskine, D. D. | Joshua 1:12-18 |
| The Moral Advantages of Good Organisation | J. -Parker, D. D. | Joshua 1:12-18 |
| An Agreement Remembered | S.R. Aldridge | Joshua 1:13 |
| Loyalty | S.R. Aldridge | Joshua 1:16-18 |
Book