LAND ALLOTMENTS
(Joshua 13-21)
Jensen's Survey of the NT - used by permission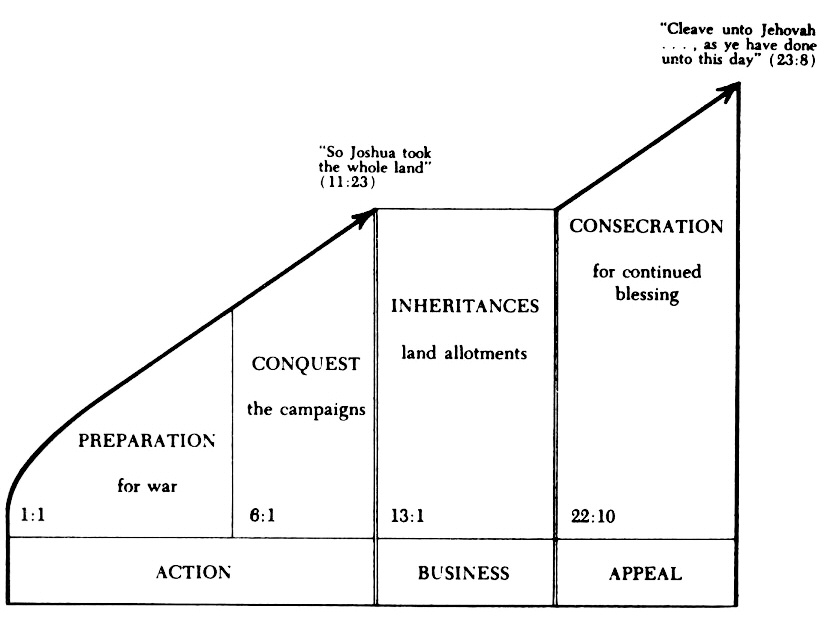 Click charts to enlarge Charts from Jensen's Survey of the NT - used by permission
JOSHUA
A BOOK ON SPIRITUAL WARFARE and REST
HOW TO POSSESS YOUR POSSESSIONS

CONQUEST
OF THE PROMISED LAND

DIVISION
OF THE PROMISED LAND

CLOSE OF JOSHUA'S LIFE

ACTION
ALLOCATION
APPEAL
Josh 1:1-5:15
Josh 6:1-12:24
Joshua 13:1-21:45
Josh 22:1-24:33

WARLORDS IN
CANAAN

LANDLORDS IN
CANAAN

ENTERING
CANAAN

CONQUERING
CANAAN

DIVIDING
CANAAN

SECURING THE
LAND

SETTLING THE
LAND

Preparation

Conquest

Possession

Consecration

ca. 1 Month
ca 7 Years
ca. 18 Years
DON ANDERSON  - Notes
BACK TO THE BIBLE
GEORGE BUSH 
ELLICOTT'S COMMENTARY FOR ENGLISH READERS 
THEODORE EPP Devotionals on Joshua ADDTHIS
Joshua 23:1-8 Courageous in Godly Living
Joshua 23:9-13 The Way to Victory
Joshua 23:14-16 Not One Thing Has Failed
ARNOLD FRUCHTENBAUM Israelology
JAMIESON, FAUSSET, BROWN
WOODROW KROLL- scroll down
G F MACLEAR Cambridge Bible for Schools and Colleges
PLEASE NOTE - The following are from the Holman Bible Atlas (digital book; Hardcover/Paperback version) copyrighted © 1998 B&H Publishing Group, used by permission, all rights reserved. This is one of the best resources for Bible maps as the maps also include helpful short descriptions of the events portrayed on the maps. Please do not download to be used on another website. Thank you.
P G MATTHEW SERMONS 
F B MEYER Joshua and the Land of Promise Devotional commentary
Note: Be a Berean (Acts 17:11-note) as Meyer appeals to typology a number of times - see Typology - Study of Biblical types)
WILLIAM NEWELL - 20 page study -  lessons used at Union Bible Classes - Interesting - Check it out.
NISBET'S CHURCH PULPIT Commentary on Joshua
OUR DAILY BREAD Devotionals on Joshua Radio Bible Class
NOTE: All of these devotionals are located here on this page and arranged in the same order as the list below. 
Joshua 23:10 To Chase Or Be Chased
Rosscup: This work, later called Preaching Through the Bible (Baker Book House), is rich in its applications and exhortations, though often not particularly helpful for the reader who is looking for exposition that stays right with the text. Treatment of the texts is sermonic. (Commentaries for Biblical Expositors: An annotated bibliography of selected works)
PETER PETT
ALAN REDPATH - Victorious Christian Living: Studies in the Book of Joshua 
Comment - This book is a collection of sermons by Alan Redpath, with particular emphasis on applying the great truths in the book of Joshua to our daily Christian life. The links below are to the copy of the book that is available to borrow (for one hour or 14 days) at no charge from Archive.org. It is encrypted so you will not be able to copy and paste but all chapters are available to read. In addition you can even listen to the book  (I find the English male voice very pleasing and more natural sounding - select voice just below the open page you are reading. If you are wondering if this book is worth your time, take a moment and look at some of the reviews to see what others have said about this book. THIS  STUDY HAS WONDERFUL POINTS TO AID YOUR PREACHING AND TEACHING OF THIS GREAT BOOK! 
Note - You must "borrow" the book to read the follow chapters - it is free to borrow and collects no personal information. 
PART I - FACING THE OBJECTIVE
REFORMATION STUDY BIBLE - notes
KIM RIDDLEBARGER SERMONS 
Sermons are Pdf transcripts each about 6 pages
JOHN SCHULTZ
SERMON AUDIO Joshua
NOTE: There are literally 1000's of sermons but the quality varies so please exercise a Berean mindset (Acts 17:11+). Check out the Pdf's which can be a useful source of preaching and teaching ideas but use discernment. Some of the Pdf's are just church bulletins, some are fill in the blanks as you follow the sermon, some are short outlines, some are more longer transcripts of the entire sermon. You have to search through these. 
SERMON BIBLE COMMENTARY Joshua
Biography - Brothers, We Must Not Mind a Little Suffering
Through the Bible (C2000 Series) - this series was recorded in the 1980's and while over 30 years old is literally packed with practical insights into how to live the Victorious Christian life based on the eternal truths and principles that are found in the Book of Joshua - highly recommended. This would make a great supplement to your personal through the Bible in a year reading program. Read and study (and meditate) on Joshua yourself first (using the principles of inductive Bible study). Then listen to Pastor Chuck's wonderful Spirit-filled, Christ exalting, Word centered, God glorifying discussion of the chapters you have studied and pondered. I can guarantee you will be edified, equipped and transformed by the Spirit (2Cor 3:18-note)!
RAY STEDMAN - overviews of Joshua
THEOLOGY OF WORK 
THIRDMILL.ORG - Course on the Book of Joshua - video, audio, transcripts
The Book of Joshua: Tribal Inheritances (13:1 - 22:34)

The Book of Joshua: Covenant Loyalty (23:1 - 24:33)

Reveals the significance of Israel's call to be faithful to the terms of their covenant with God.
TODAY IN THE WORD Devotionals on Joshua Moody Bible
SERMONS BY VERSE - Older resources
Book