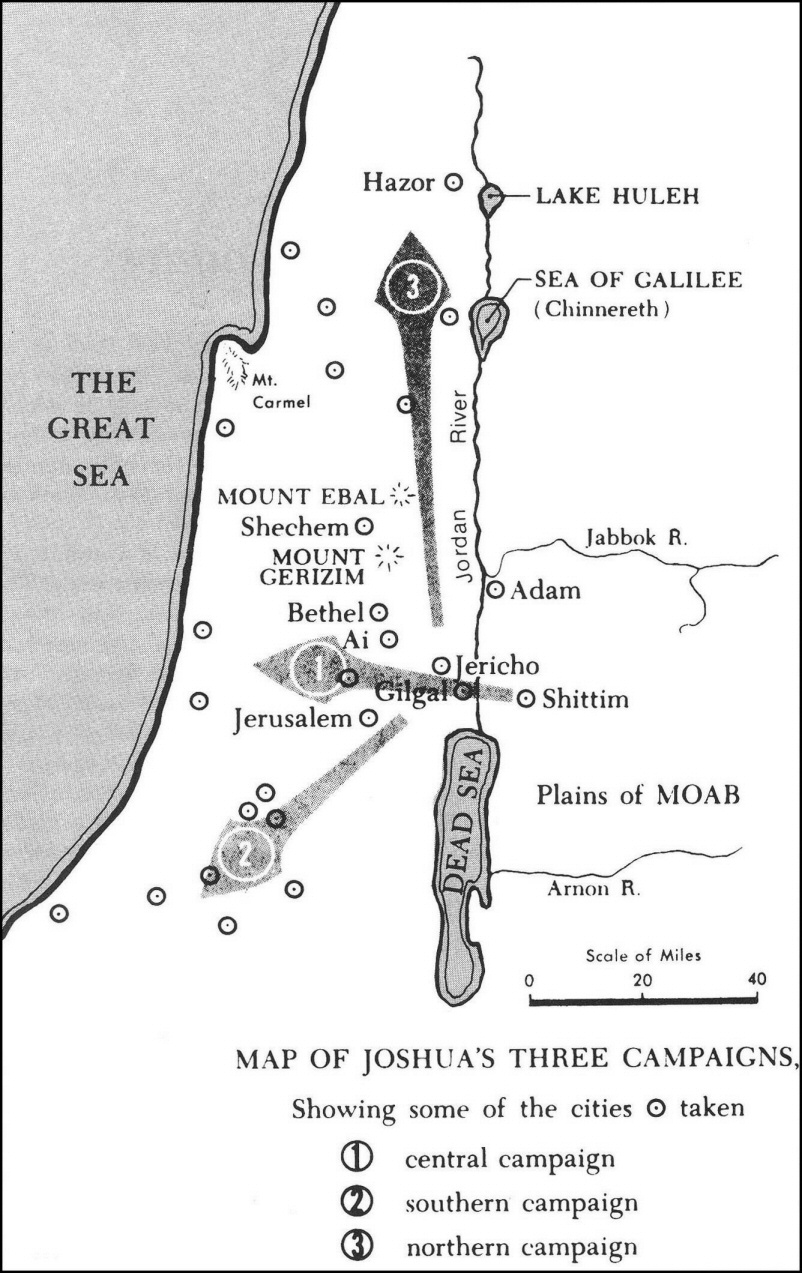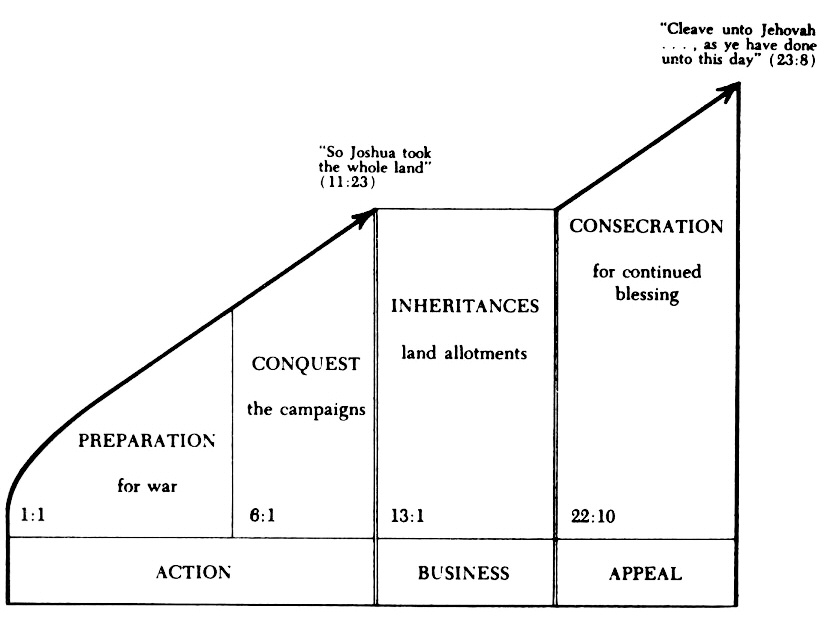 Click charts to enlarge Charts from Jensen's Survey of the NT - used by permission
JOSHUA
A BOOK ON SPIRITUAL WARFARE and REST
HOW TO POSSESS YOUR POSSESSIONS

CONQUEST
OF THE PROMISED LAND

DIVISION
OF THE PROMISED LAND

CLOSE OF JOSHUA'S LIFE

ACTION
ALLOCATION
APPEAL
Josh 1:1-5:15
Josh 6:1-12:24
Joshua 13:1-21:45
Josh 22:1-24:33

WARLORDS IN
CANAAN

LANDLORDS IN
CANAAN

ENTERING
CANAAN

CONQUERING
CANAAN

DIVIDING
CANAAN

SECURING THE
LAND

SETTLING THE
LAND

Preparation

Conquest

Possession

Consecration

ca. 1 Month
ca 7 Years
ca. 18 Years
GREGG ALLEN
BACK TO THE BIBLE
BIBLE GATEWAY DEVOTIONALS
ELLICOTT'S COMMENTARY FOR ENGLISH READERS 
THEODORE EPP Devotionals on Joshua
Joshua 1:1-9 Workmen Die, but God Lives
Joshua 1:10-18 Questionable Separation
Joshua 2:1-14 A Pagan Testifies
Joshua 2:15-24 Faith in Action
EXPLORE THE BIBLE
ARNOLD FRUCHTENBAUM Israelology
GENE GETZ - Short videos discussing principles taught in Joshua
Joshua; Principle #4; Josh. 2:1-7; p. 270 Salvation for All: We are to present the gospel to all people, regardless of the depth of their sin. Video
Joshua; Principle #5; Josh. 2:8-24; p. 271 Faith that Works: We are to test the validity of our salvation experience by our desire to do God's will. Video
TRENT HUNTER - 12 week study with notes - includes NT parallels, theological insights, application
JOHN KITTO Daily Bible Illustrations Joshua
GENE GETZ - Short videos discussing principles taught in Joshua
Joshua; Principle #4; Josh. 2:1-7; p. 270 Salvation for All: We are to present the gospel to all people, regardless of the depth of their sin. Video
Joshua; Principle #5; Josh. 2:8-24; p. 271 Faith that Works: We are to test the validity of our salvation experience by our desire to do God's will. Video
TRENT HUNTER - 12 week study with notes - includes NT parallels, theological insights, application
JOHN KITTO Daily Bible Illustrations Joshua
JAMIESON, FAUSSET, BROWN
DAVID LEGGE
JOHN MACARTHUR
G F MACLEAR Cambridge Bible for Schools and Colleges
MAPS - Related to Joshua
PLEASE NOTE - The following are from the Holman Bible Atlas (digital book; Hardcover/Paperback version) copyrighted © 1998 B&H Publishing Group, used by permission, all rights reserved. This is one of the best resources for Bible maps as the maps also include helpful short descriptions of the events portrayed on the maps. Please do not download to be used on another website. Thank you.
P G MATTHEW SERMONS 
J VERNON MCGEE - Mp3's from his Thru the Bible program
KEN MANSFIELD
DAVID MERLING
F B MEYER - Our Daily Homily
F B MEYER - Commentary
F B MEYER Joshua and the Land of Promise Devotional commentary
Note: Be a Berean (Acts 17:11-note) as Meyer appeals to typology a number of times - see Typology - Study of Biblical types)
G CAMPBELL MORGAN - brief expositional comments
WILLIAM NEWELL - 20 page study -  lessons used at Union Bible Classes - Interesting - Check it out.
OUR DAILY BREAD Devotionals on Joshua Radio Bible Class
NOTE: All of these devotionals are located here on this page and arranged in the same order as the list below. 
Joshua 2:1-14 Unexpected Help
Joshua 2:1-14 Three Tenses Of Trust
Joshua 2:1-14 Even Her?
Joshua 2:11 One Option We Don't Have
Joshua 2:11 Storytime
Joshua 2:11-14 Ready To Believe
PASTOR LIFE Sermons on Joshua
REFORMATION STUDY BIBLE - notes
KIM RIDDLEBARGER SERMONS 
Sermons are Pdf transcripts each about 6 pages
ADRIAN ROGERS - sermon series on Joshua (audio only but you will not be disappointed!)
Joshua 2 Transforming Power of the Gospel [#0445]
Joshua 2 The Scarlet Thread Through The Bible [#0446]
SERMON AUDIO Joshua
NOTE: There are literally 1000's of sermons but the quality varies so please exercise a Berean mindset (Acts 17:11+). Check out the Pdf's which can be a useful source of preaching and teaching ideas but use discernment. Some of the Pdf's are just church bulletins, some are fill in the blanks as you follow the sermon, some are short outlines, some are more longer transcripts of the entire sermon. You have to search through these. I have given you a sample of the type of Pdf you might be able to find (see Joshua 1 below) 
Biography - Brothers, We Must Not Mind a Little Suffering
JOE STOWELL
THEOLOGY OF WORK 
THIRDMILL.ORG - Course on the Book of Joshua - video, audio, transcripts
The Book of Joshua: An Introduction to Joshua

Introduces the book of Joshua, including what it meant for its original audience and what it means for us today.

The Book of Joshua: Victorious Conquest (1:1 - 12:24)

Addresses the original audience's challenges associated with warfare by drawing attention to Israel's extensive victory over the land of Canaan.
TODAY IN THE WORD Devotionals on Joshua Moody Bible
DONALD WISEMAN
SERMONS BY VERSE - Older resources
Book