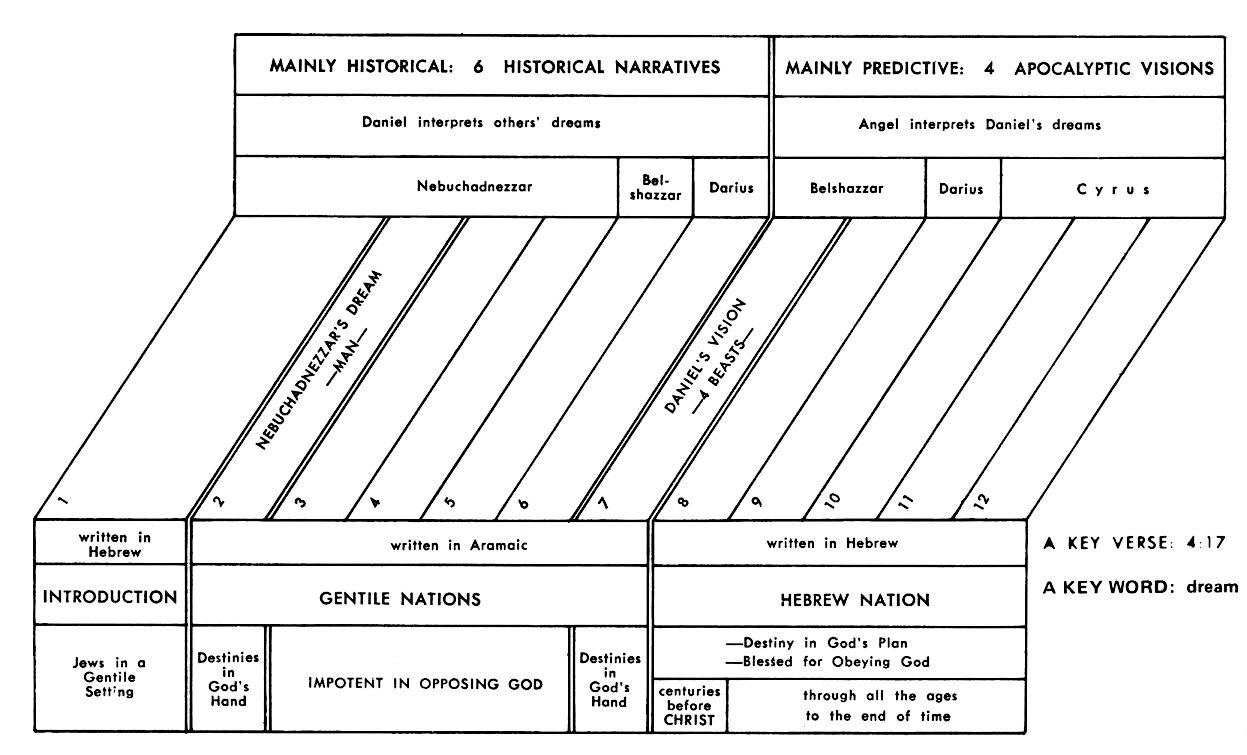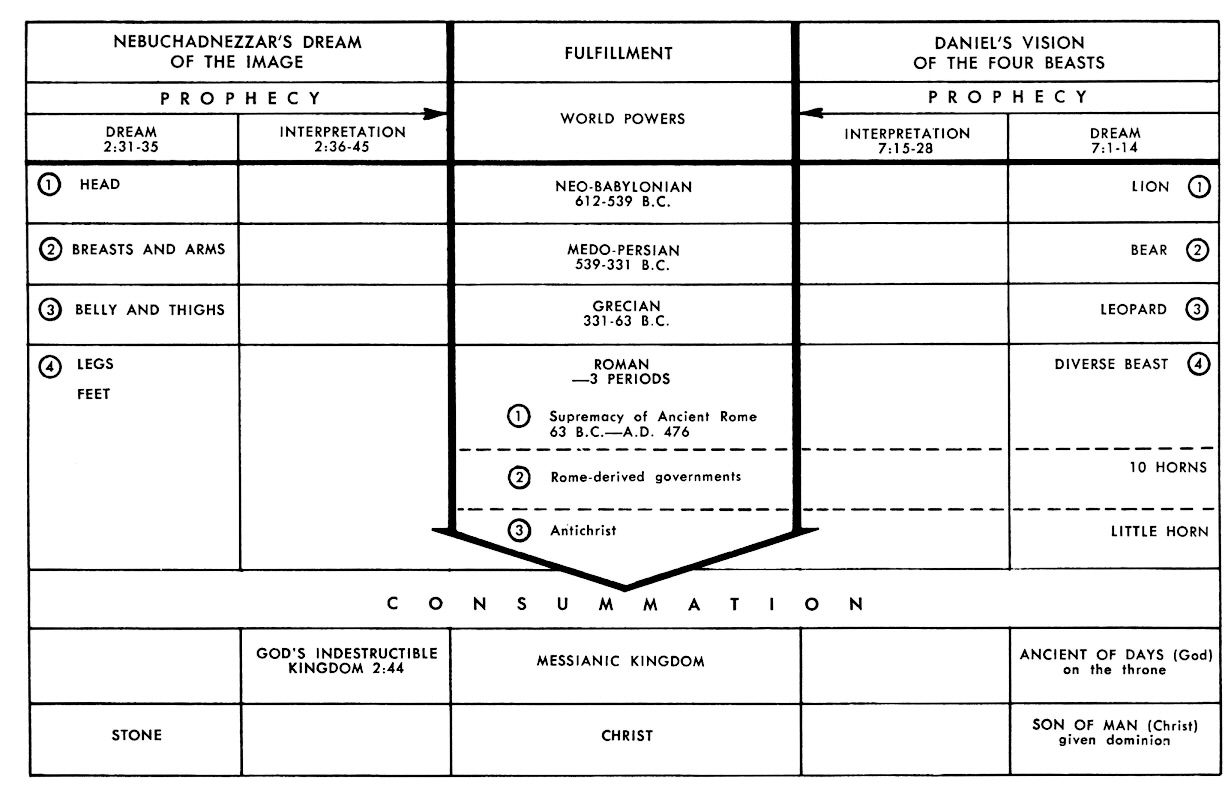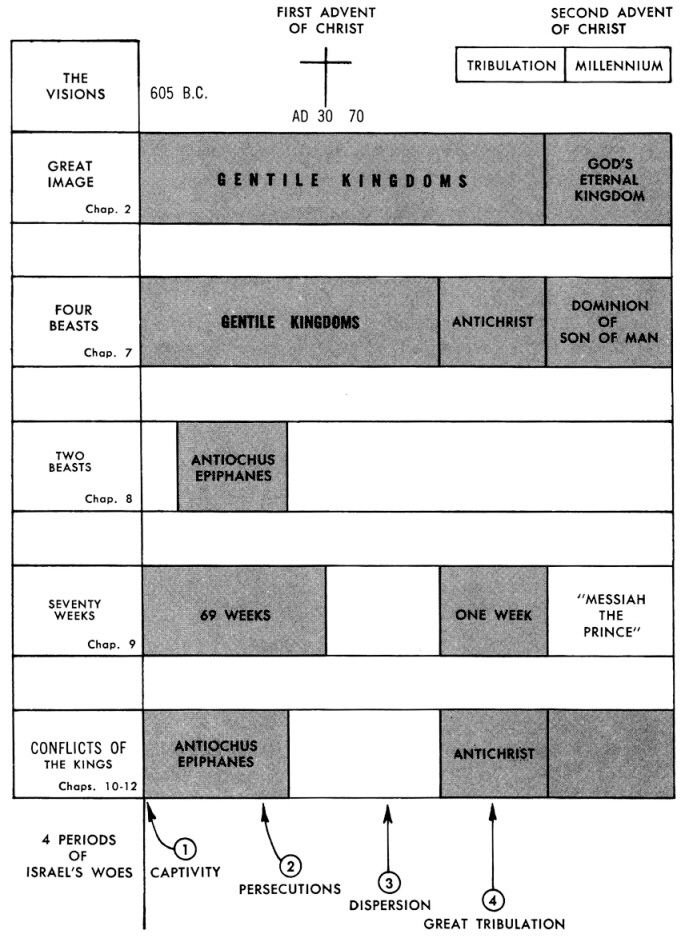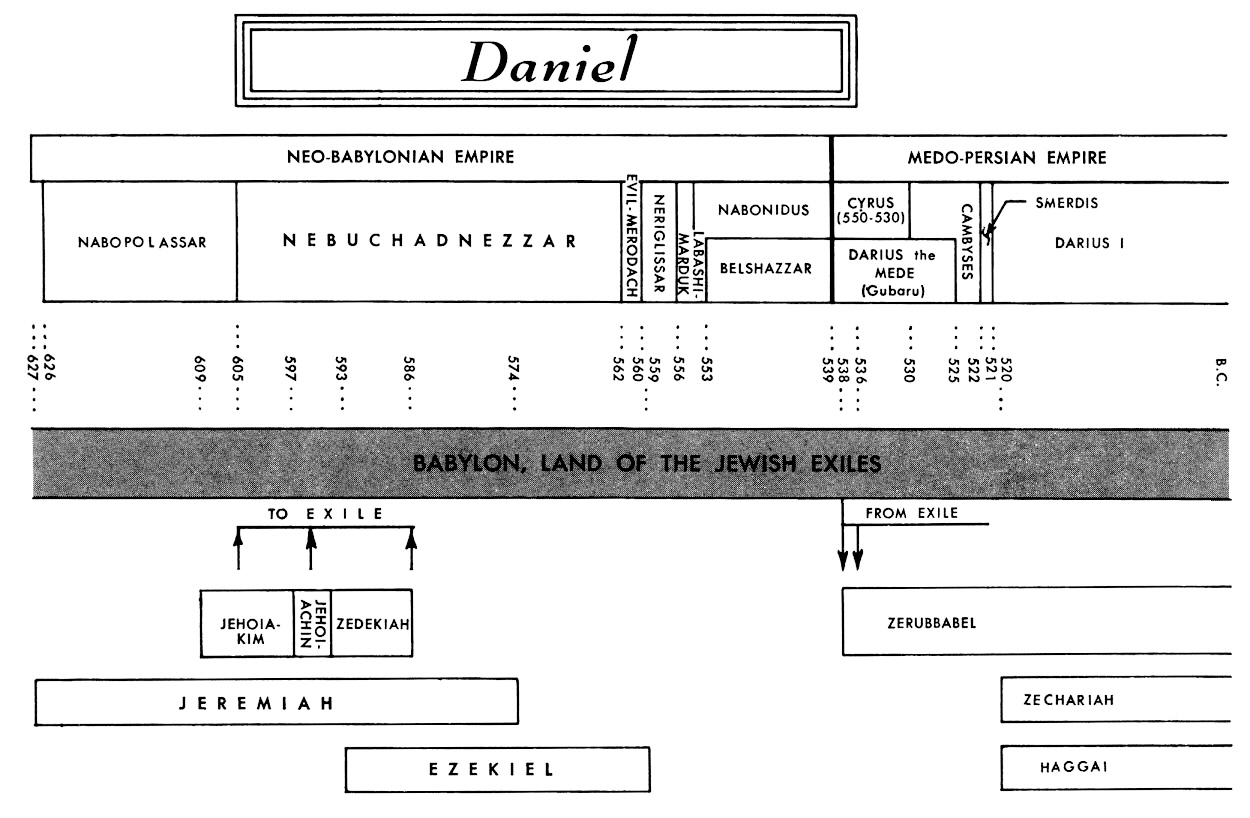 Click chart to enlarge
Charts from recommended resource Jensen's Survey of the OT - used by permission
Daniel Chart from Charles Swindoll
Another Daniel Chart
><>><>><>
Note: Please consider doing your own inductive study before you go to the commentaries, so that you will be able to intelligently assess the comments in these resources. This recommendation holds for every book of the Bible, but is especially critical in the prophetic sections of Scripture (Daniel, Revelation, Matthew 24-25, 1 Thessalonians 4:13-18, 2 Thessalonians 2, etc).
Lesson One (1-6) Overview
Lesson Two (7-12) Overview II
Lesson Three Daniel Goes to Babylon
Lesson Four The King's Dream: Statue & Stone
Lesson 5: Will You Bow or Burn?
Lesson Six: God Humbles Nebuchadnezzar
Lesson Seven Handwriting on the Wall
Lesson Eight Daniel in Lion's Den
---
Daniel 7-12 - Pt 2 - Gaining Understanding of the Time of the End — Download Lesson 1
Lesson One Overview of Daniel The Statue, Four Beasts
Lesson Two Time, Little Horn, & God
Lesson Three Coming Kingdom of God
Lesson Four History is His-Story
Lesson Five Prayer & 70 Weeks
Lesson Six "Highly Esteemed" of God
Lesson Seven Angels - Warfare - Prayer
Lesson Eight Prophecy Fulfilled!
Lesson Nine Abomination of Desolation (Only 1 Resource Available)
Lesson Ten The End of This Age Resurrection & Rewards
Sir Robert Anderson was the chief inspector for Scotland Yard. He was greatly respected for his skill as an investigator. When Anderson wasn't writing on subjects related to crime, he wrote books on Christian prophecy. He helped establish the fact that 69 of Daniel's 70 weeks have now transpired, and that the tribulation will be the 70th week.
See also Anderson's related work - Daniel in the Critics Den
Rosscup's review - The premillennial author presents a detailed work on the 70 weeks of Daniel 9. In this popular treatment he reckons the chronology of the first sixty-nine weeks from the decree of Artaxerxes (Nehemiah 2) to rebuild Jerusalem to the triumphal entry of Christ (Luke 19). He figures the exact number of days involved in 483 prophetic years which he believes would contain 360 days each, not 365 as Julian years. In his reckoning, the sixty-nine weeks end in A. D. 32 which poses a problem in light of more accepted views today that Christ died in A. D. 30 or 33. (Commentaries for Biblical Expositors - excellent resource)
Here is the Pdf of the book (contents below)
(Note: These are the older lectures not the new revised Daniel series).
Frequent illustrations
Study Series 1
Study Series 2
James Rosscup: Dividing the book of Daniel according to the languages in the original text, the writer gives a brief yet sometimes helpful survey of a dispensational interpretation. (Commentaries For Biblical Expositors - excellent resource)
For transcript click "Read"
2015 Series on Daniel
2007 Series on Daniel
Highly Recommended
These notes tend to be somewhat more technical but often yield very helpful insights. Below are some samples. For all the notes on each verse click the associated link.
Updated March 10, 2015
(Note: This is Dr Walvoord's entire original book of Daniel)
Rosscup - In the opinion of the reviewer, this, Stephen Miller's effort, and Wood's 1972 work are the finest overall commentaries of a popular nature on Daniel by premillennial dispensational scholars to date. Walvoord weaves into the work an up-to-date understanding of archaeological and historical confirmations of Daniel that offset the critics and also gives a solid reasoning for a premillennial perspective of Messianic prophecy. He very capably answers the late-daters of Daniel, argues that the four kingdoms of Daniel 2 and 7 are Babylon, Media-Persia, Greece, and Rome, and deals with most problem areas in adequate detail. Still he manages to keep the great theme of the work before the reader. (Ibid)
There is considerable disagreement on how the book of the Daniel should be interpreted. Therefore it is strongly recommended that you consider performing your own inductive study prior to consulting any commentaries. The single best inductive study in my opinion is the Precept Ministries International study on Daniel (click here), the understanding of which is crucial to an accurate interpretation of the prophecies in the book of the Revelation. To state it another way, a full understanding of the book of the Revelation is impossible without an accurate understanding of the book of Daniel.
The following is adapted from the introduction to the Revelation Resources because Daniel is replete with prophecies, some of which have been fulfilled (assuming a literal approach) and some of which are yet to be fulfilled. The approach one takes to the interpretation of the future prophecies in the book of the Revelation will greatly influence how one interprets the future prophecies in the book of Daniel. The following chart summarizes the four main "schools" of interpretation regarding the prophecies in the Revelation.
Even more important is to build a firm foundation from your own inductive study of Daniel before you consult even the most respected commentary, otherwise you may be confused by the diversity of interpretations!
The four views of interpretation of Revelation are summarized in the following chart. If you would like to see which "school" of interpretation your favorite commentator espouses, click here for a list of authors who are categorized by their main interpretative approach. Although there are probably some exceptions, the authors in this list undoubtedly take a similar interpretative approach to the unfulfilled prophecies in Daniel (Click here to see Daniel Commentaries categorized by the approach to the important prophecy in Daniel 9:24-27)
John MacArthur (any of his sermons or publications are highly recommended) nicely summarizes the "interpretative challenges" in Daniel noting that
The main challenges center on interpreting passages about future tribulation and kingdom promises. Though the use of Imperial Aramaic and archeology have confirmed the early date of writing, some skeptical interpreters, unwilling to acknowledge supernatural prophecies that came to pass (there are over 100 in Daniel 11 alone that were fulfilled), place these details in the intertestamental times. They see these prophecies, not as miraculously foretelling the future, but as simply the observations of a later writer, who is recording events of his own day. Thus, they date Daniel in the days of Antiochus IV Epiphanes (175–164 b.c., Daniel 8; 11:21–45). According to this scheme, the expectation of the Stone and Son of Man (Da 2, Da 7) turned out to be a mistaken notion that did not actually come to pass, or the writer was being intentionally deceptive."
MacArthur takes a literal approach to the interpretation of Daniel (an approach also taken by this website) noting that there will be a literal
"future 7 year judgment period (cf. Da 7:21,22; 11:36-45; 12:1) and a literal 1,000 year kingdom (cf. Rev. 20) after Christ's second coming when He will reign over Israelites and Gentiles (Da 7:27)...an era before and distinct from the final, absolutely perfect, ultimate state, i.e., the new heaven and the new earth with its capital, the New Jerusalem (Rev 21,22). The literal interpretation of prophecy, including Daniel, leads to the premillennial perspective.
Finally MacArthur adds that there are specific interpretative challenges such as
interpreting numbers (Da 1:12,20; 3:19; 9:24-27); identifying the one like a Son of Man (Da 7:13,14); determining whether to see Antiochus of the past or Antichrist of the far future in Da 8:19-23; explaining the "seventy sevens" in Da 9:24-27; and deciding whether Antiochus of Da 11:21-35 is still meant in Da 11:36-45, or whether it is the future Antichrist. (MacArthur, J. J. The MacArthur Study Bible. Nashville: Word Pub)
Preterist

Preterist (from Latin praeter meaning "past") holds that through use of symbols and allegory, the Revelation deals with events that were fulfilled in John's time and that it was written primarily to provide hope and comfort to the first century church persecuted by Rome. For example, this view interprets the beasts of (Rev 13) as imperial Rome and the imperial priesthood. The preterist view is held by many modern scholars, especially liberals and those who deny that the Revelation predicts specific future events.

Historicist

Views the Revelation as a symbolic or allegorical prophetic survey of church history from the first century up to the Second Coming of Christ and was the view espoused by most of the "reformers". This view however has been largely discounted as it does not adequately address the prophesy in the Revelation. The discerning reader needs to be aware that the historicist view is reflected in most of the "older" commentaries (many of which are public domain works easily accessible on the internet) including the works of John Knox, Martin Luther, John Calvin, John Wesley, Jonathan Edwards, George Whitefield, C. H. Spurgeon, Matthew Henry, Adam Clarke and Albert Barnes. Unless you understand their historicist approach to prophesy, you may become very confused when reading these older "classic" commentaries. Note that with the exception of Spurgeon, these works are not included in the list of resources. It is also important to realize that many of these "classic" commentaries tend to treat many of the promises to Israel as now having their primary application to the church, and this view is firmly disavowed by this website. An example of a historicist interpretation is the belief that the strong angel of Rev 10 symbolizes the Reformation and that the harlot in Rev 17 represents the Roman Catholic church.

Idealist

Maintains that Revelation is not predictive prophecy, but a symbolic portrait of the cosmic conflict between the forces of good and evil. In this view the Revelation becomes merely a collection of stories designed to teach spiritual truth. Some refer to this method of interpretation as "Spiritual".

Futurist

Interprets Revelation 4-22 as predictive of future end time historical events preceding, during and after the return of Jesus Christ, the establishment of His 1000 year, millennial kingdom on earth, followed by the creation of a new heaven and new earth. Variations of this view were held by the earliest expositors, such as Justin Martyr (d. 164), Irenaeus (d. c. 195), et al. This futurist approach has enjoyed a revival since the 19th century and is widely held among evangelicals today.

Note that as best I can discern, most of the resources listed below interpret the book of Daniel using a literal ("futuristic") approach.
The interpretative approach taken by this website regarding Revelation 4-22 and the prophetic sections of the book of Daniel is that these passages describe literal people, places and events that will be fulfilled in the future. As someone has well said "If the plain sense makes good sense seek no other sense lest it result in nonsense." Many of the resources on this page espouse a similar literal interpretative view, but this does not necessarily mean that we agree with every comment in all of the resources.
Bob Deffinbaugh notes that
"What makes the Book of Daniel most profitable for some makes it most problematic for others. Daniel is one of the great Old Testament prophets, and these prophecies have a great deal to say about things yet to come. For the Bible-believing Christian this puts Daniel on the "must read" list. For the unbelieving skeptic, it puts the message and meaning of this great book on the "hit list." Much that is written about Daniel, then, is written from a critical perspective. Daniel is profitable for the Christian because it describes life in Babylon during the dark days of the captivity of the Jews, in fulfillment of the prophecies God had given this wayward people. Finally, Daniel is a most profitable book because it describes the life of a very godly man, living in an ungodly world."
The wide divergence of interpretative views in the realm of Scripture prophecy makes it imperative that the discerning reader be a "true blue" Berean (Acts 17:11) and perform his or her own inductive study prior to consulting any commentary, tape set, web site or sermon, lest he or she become mired down in confusing rhetoric and specious speculation. The Prophecies in Daniel and the Revelation of Jesus Christ were written to edify, equip, encourage and bless the saints, not to hopelessly confuse or divide them. Maranatha!
Addendum: Clearly any list of "Best Commentaries" on the Book of Daniel is going to be significantly influenced by one's interpretative view of Scripture (literal,  figurative/allegorical, etc). That said, there are 3 sites that usually come up on a Google search of "best commentaries" so let's briefly "review" the "review sites:"
(1) Best Commentaries - A helpful feature in this list is that it provides a notation regarding the view of the commentary on the millennium - Amillennial (often a non-literal approach to prophecy) versus Pre-millennial (usually reflects a literal interpretation of the text). You will note for example that the top two commentaries are both amilennial and as Rosscup's critique says both are somewhat "fuzzy" (my words) in regard to their interpretation of eschatological or prophetic passages, which would seem to me to be a serious deficiency in a commentary on a book in which 8 of the 12 chapters have some of the most incredible prophetic texts in all of Scripture!  Read Rosscup's comments on three of the top five ranked Daniel commentaries- (#1) John Goldingjay (#2) Joyce Baldwin and (#5) Temper Longman. The take away is that the reader needs to be very discerning in any list of "best commentaries" lest he or she be misled as to the true interpretation. The best defense against this trap as mentioned above is to first do your own inductive Bible study of the text under the tutelage of the Holy Spirit and then you will in fact be able to comment on the commentaries! (See consulting conservative commentaries) Remember, while the commentary is usually written by someone with several degrees after they name, if you are a born again believer in Jesus Christ, you have "the Spirit of truth" (Jn 14:17) indwelling you, and He is every ready and able to lead you into all truth independent of whether or not you have an academic degree! Please do not misunderstand - I highly value the academic expertise of the commentaries written by those who are authorities in their field, but ultimately we must be like the ancient Berean followers of Christ "examining (literally "sifted up and down"!) the Scriptures daily, to see whether these things (the sermons preached, doctrine taught, and commentaries written)" are truly reflective of an accurate handling of "the Word of Truth." (Acts 17:11-note, 2 Ti 2:15-note) 
(2) Ligonier Ministries Top Commentaries on the Book of Daniel - Suffice it to say that not even one of the top 5 commentaries on their list interprets Daniel 9:24-27 as a prophecy which has a yet future final fulfillment. 
(3) Best Commentaries on Daniel - This is Tim Challies' list which is similar to Ligonier's, so it is not surprising that there is not one of these works (the one by Davis may be an exception but his comments on Da 9:24-27 are still somewhat vague) that sees Daniel 9:24-27 as having a component that his yet to be fulfilled in the future. 
In summary, if you believe that the safest approach to interpretation of the Bible is literal, then suffice it to say you will likely be disappointed by the majority of the offerings of "best commentaries on Daniel." Therefore the watchword is "Caveat Emptor" when you go to either study or to purchase a commentary on the prophetic book of Daniel. Hopefully, the list below will give some guidance. And as you have surely already surmised, the majority of the works listed on this page of Daniel Commentaries and Sermons are from sources that seek to interpret the text literally, and also interpret figurative language (e.g., the statute in Daniel 2, the 4 beasts in Daniel 7, etc) with a literal interpretation. Remember that although the language of a text may be figurative or metaphorical, in the final analysis God always intends it to have a literal meaning.
For more discussion on the origin and spiritual danger of the allegorical method of interpretation especially as applied to prophetic books like Daniel click here for Anthony Garland's analysis. He also has an interesting discussion on Understanding Symbols and Figures, Abuse of Numbers in Biblical Interpretation and Literal Interpretation of Numbers.
The first group of resources below accepts Daniel 9:25-26 as a prophecy of the Messiah and allows for a "Gap" Between Daniel's 69 and 70th Week. The works in this first group seek the normal, literal interpretation and would in general be classified as "futurists" and millennialists.
Disclaimer: Note that categorizing an entire work and/or writer's interpretative approach is undoubtedly somewhat subjective so if you see a commentary that you know is inappropriately classified, please email your concern and it will be researched and corrected as needed.
Book