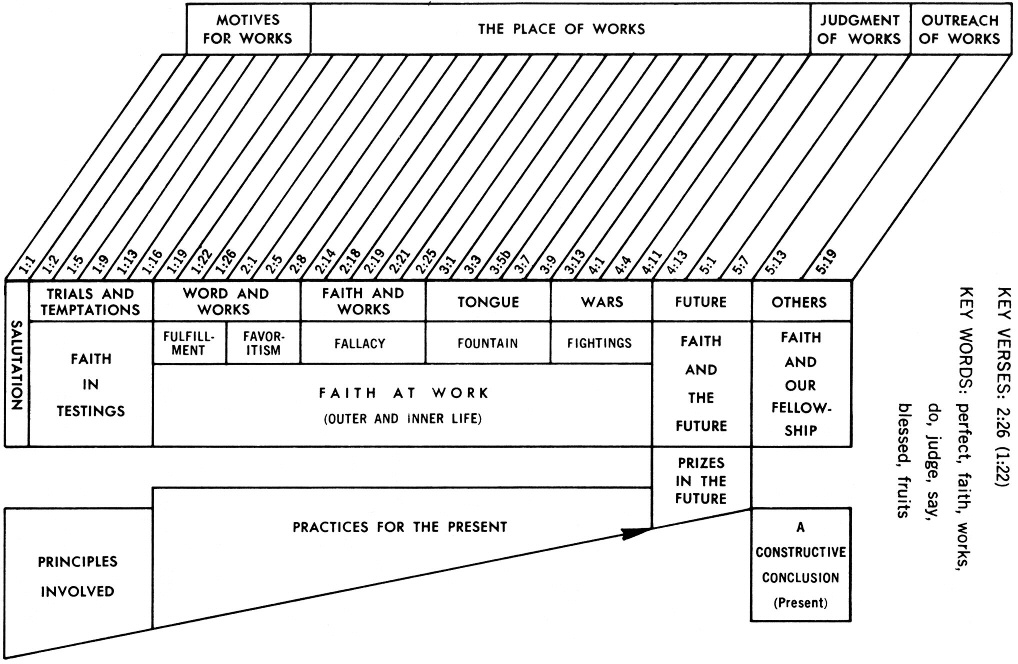 Click chart to enlarge
Chart from recommended resource Jensen's Survey of the NT - used by permission
See also Overview Chart by Charles Swindoll
JAMES
Faith for Living

Motives
for
Works
The Place of Works:
Outward Demonstration of Inner Faith
Outreach
of
Works
Jas 1:1-18
Jas 1:19-2:13
Jas 2:14-25
Jas 3:1-12
Jas 3:13-4:12
Jas 4:13-5:12
Jas 5:13-19
Trials &
Temptations
Word &
Works
Faith &
Works
Tongue
Wars
Future
Others

Faith
In
Testings

Fulfill

Favor

Fallacy

Fountain

Factions

Faith
and the
Future

Faith
and our
Fellowship

FAITH AT WORK

Key words: Perfect, sin, riches, faith, works, do, judge, law, say, blessed, fruits.
See discussion of marking key words.
Observation Worksheet on James (Go to p13) with double spaced text for marking Key Words, Making lists, taking notes that you can later transfer to your Bible

See Introduction to James by Dr John MacArthur: Title, Author, Date, Background, Setting, Historical, Theological Themes, Interpretive Challenges, Outline by Chapter/Verse. Excellent overview.

Adapted from Jensen's Survey of the New Testament or Logos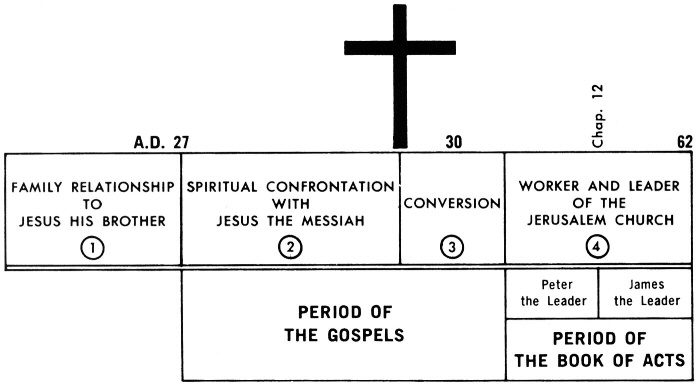 Click chart to enlarge
Chart from recommended resource Jensen's Survey of the NT - used by permission
Short Pithy Comments
C H Spurgeon wrote that Bengel's NT commentary "is the Scholar's delight! Bengel condensed more matter into a line than can be extracted from pages of other writers."
John Wesley said of Bengel "I know of no commentator on the Bible equal to Bengel" and referred to him as "The great light of the Christian world."
---
James: Responsible Faith
Also in Study Guides above - The Purpose of Trials
Also in Study Guides above - James 1:13-17 Whose Fault is our Temptation?
Also in Study Guides above -James 1:18  Born to Holiness
JOHN MACARTHUR'S QUESTIONS AND 
ANSWERS ON JAMES
In Depth Verse by Verse Comments (>150 pages on James 1!)
(An Estimate of Manton by J. C. Ryle)
Spurgeon's comment on Manton's work - In Manton's best style. An exhaustive work, as far as the information of the period admitted. Few such books are written now.
James Rosscup: First issued in 1892, this commentary of more than 600 pages gives the reader almost 300 pages in introductory explorations about the identity of the writer James, the date (he says near the end of the A. D. 40's), the relations to other New Testament books, grammar and style, etc. It is a work of towering scholarship and exhaustive detail. From the standpoint of the Greek text it is the best older and one of the best at any time on James. (Commentaries for Biblical Expositors: An annotated bibliography)
GABE FULLER - SERMONS
If the Epistle is 'of straw' then there is within that straw a very hearty firm, nourishing, but as yet uninterpreted and unthreshed grain.—Johann Gottfried Herder
NOTE: If you are not familiar with the great saint Charles Simeon see Dr John Piper's discussion of Simeon's life - you will want to read Simeon's sermons after meeting him! - click Brothers We Must Not Mind a Little Suffering (Mp3 even better)
Click Sermon Notes (following the tiles) for specific Titles
Be a Berean with the comments on James 2:14-26 - see my commentary beginning at James 2:14 Commentary
Book