NOTE: This Verse by Verse Commentary page is part of an ongoing project to add notes to each verse of the Bible. Therefore many verses do not yet have notes, but if the Lord tarries and gives me breath, additions will follow in the future. The goal is to edify and equip you for the work of service (Eph 4:12-13-note) that the Lord God might be glorified in your life and in His Church. Amen (Isa 61:3b, Mt 5:16-note)
---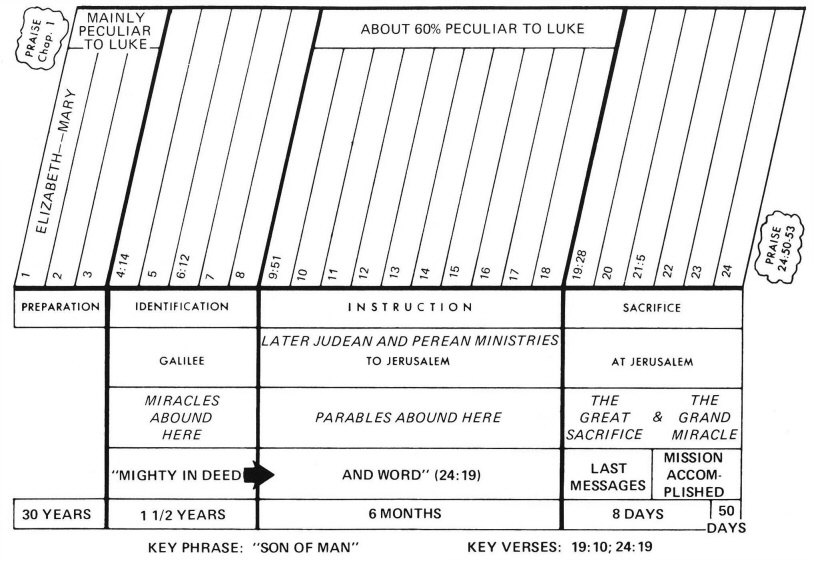 From Jensen's Survey of the NT by permission
Luke 4:1  Jesus, full of the Holy Spirit, returned from the Jordan and was led around by the Spirit in the wilderness
Jesus (KJV): Mt 4:1-11 
full (KJV): Lu 4:14,18 3:22 Isa 11:2-4 61:1 Mt 3:16 Joh 1:32 3:34 Ac 1:2 10:38 
and was (KJV): Lu 2:27 1Ki 18:12 Eze 3:14 Mk 1:12,13 Ac 8:39 
wilderness (KJV): 1Ki 19:4 Mk 1:13 
KJV  And Jesus being full of the Holy Ghost returned from Jordan, and was led by the Spirit into the wilderness,

ESV And Jesus, full of the Holy Spirit, returned from the Jordan and was led by the Spirit in the wilderness

NET Then Jesus, full of the Holy Spirit, returned from the Jordan River and was led by the Spirit in the wilderness,

NIV  Jesus, full of the Holy Spirit, returned from the Jordan and was led by the Spirit in the desert,

NJB Filled with the Holy Spirit, Jesus left the Jordan and was led by the Spirit into the desert,

NLT  Then Jesus, full of the Holy Spirit, returned from the Jordan River. He was led by the Spirit in the wilderness,

Wuest  And Jesus, in the control of the Holy Spirit, returned from the Jordan and was continually being led by the Spirit in the uninhabited region, for forty days being constantly put to the test by the devil as he solicited Him to sin. And He ate not even one thing during those days, and they having been brought to an end, He became hungry. Then the devil said to Him, In view of the fact that you are Son of God by virtue of your possession of the divine essence, speak to this stone to the effect that it will become a loaf of bread. And Jesus answered him, It has been written and is now on record, The individual person shall not live on bread alone. And taking Him up, he exposed to His eyes all the kingdoms of the Roman empire in a moment of time. And the devil said to Him, To you I will give this authority, all of it, and its glory, because to me it has been given and is now in my possession, and to whomever I desire, I give it. As for you therefore, if you will fall upon your knees before me and touch the ground with your forehead as an expression of profound and reverential worship, all shall be yours. And Jesus answering said to him, It has been written and is at present on record, You shall worship the Lord your God, and to Him only you shall render sacred service.

YLT And Jesus, full of the Holy Spirit, turned back from the Jordan, and was brought in the Spirit to the wilderness,
THE WILDERNESS TEMPTATION:
JESUS FILLED WITH THE HOLY SPIRIT
Jesus full of the Holy Spirit - I like Wuest's paraphrase "Jesus, in the control of the Holy Spirit." As discussed below, the Wuest translation emphasizes a vitally important truth for us as followers (imitators) of Christ to fully comprehend -- the idea that one who is filled with the Spirit is controlled by (and empowered by) the Spirit (cp " in the power of the Spirit" in Lk 4:14-note).
Jesus (2424)(Iesous) is transliteration of the Greek Iesous, which in turn is the transliteration of the Hebrew name Jehoshua (Yehoshua) or Jeshua (Yeshua) which mean Jehovah is help orJehovah is salvation. Stated another way the Greek Iesous corresponds to the OT Jehoshua(Yehoshua) which is contracted as Jeshua (Yeshua).NET Note adds that "The Greek form of the name Iēsous, which was translated into Latin as Jesus, is the same as the Hebrew Yeshua (Joshua), which means "Yahweh saves" (Yahweh is typically rendered as "LORD" in the OT)."
Most of the NT uses of Iesous refer to our Lord Jesus. In the Gospels the single Name Jesus (Iesous) is used as His personal Name and is found 538 times. In the Epistles Jesus is usually (but not always - e.g., Ro 3:26; 4:24; 1Cor 12:3; 2Cor 11:4; Phil 2:10;1Th 4:14; Heb 7:22; 10:19, etc) used in combination with Christ or Lord (see next paragraph). Jesus is known by Christ alone some 44 times in the Gospels.
Looking at the entire NT we find Jesus in several combinations…
Jesus Christ (137x in 134v)
Christ Jesus (91x in 86v) All except one use (Acts 24:24) are by Paul.
Lord Jesus Christ (63x in 63v).
Lord Jesus (without Christ) (38x in 38v)
Jesus the Christ occurs in Acts 3:20.
Jesus is the Christ (Acts 9:22, cp Acts 17:3).
Jesus was the Christ (Acts 18:5, 28).
Jesus Christ the Nazarene (Acts 4:10).
Jesus Christ our Lord (Ro 1:4)
One of my favorite (older) choruses is Jesus, Name Above All Names - YouTube
Jesus, Name above all names,
Beautiful Savior, glorious Lord.
Emanuel, God is with us,
Blessed Redeemer, Living Word.
Jesus full of the Holy Spirit - Beloved, this is a very important verse because it marks the beginning of Jesus' 3+ year ministry leading up to the Cross. The first Adam sinned and failed to fulfill his purpose. The Last Adam, Jesus, did not sin and fulfilled His purpose as a Man. Clearly Jesus was always fully God, but for a time, He chose to "empty" Himself of His divine prerogatives (something we cannot fully grasp or explain), and thus lived His life as an example of the perfect life Adam should have lived and the "ideal life" to which all believers today should aspire and seek to imitate (1Cor 11:1). But you say "He was Jesus. He was God. It was no problem for Him to live a holy life." Yes, He was God, but what Luke alludes to is that Jesus relied on the same Source of power, the Holy Spirit, that you and I have access to today, for the Spirit of Christ indwells every believer (Read Ro 8:9). Every believer has all of the Spirit that he or she will ever have (and I personally believe He will inhabit us forever in eternity) for we are complete (pleroo in the perfect tense - speaks of the permanence of this state) in Christ (Col 2:10-note). The issue is not how much of the Spirit we have, but how much of "us" (our heart, our will, our submission, etc) He has! Luke says Jesus was "full of the Holy Spirit" indicating Jesus had surrendered to the Spirit's full control. While this truth is indeed mysterious, it is Biblical and it is the way that we too can live the so-called "victorious Christian life." - full of the Holy Spirit. Compare Luke 4:14 = "And Jesus returned to Galilee in the power (dunamis) of the Spirit, and news about Him spread through all the surrounding district."
A T Robertson on Full of the Holy Spirit - An evident allusion to the descent of the Holy Spirit on Jesus at his baptism (Luke 3:21f.). The distinctness of the Persons in the Trinity is shown there, but with evident unity. One recalls also Luke's account of the overshadowing of Mary by the Holy Spirit (Lk 1:35-note). 
Full (abounding) (4134)(pleres from pleos = full, pletho = to fill) means filled up as opposed to empty (as of a hollow vessel - Mt 14:20, 15:37, Mk 6:43). Of a surface, covering every part (leprosy in Lk 5:12). Figuratively, of one full of, filled with, abounding in, thoroughly endowed with (Lk 4:1 full of the Holy Spirit, Acts 9:36 abounding in deeds, Stephen full of grace and power Acts 6:8) Pleres is used to describe Jesus as "full of grace and truth." (Jn 1:14-note) The first church chose deacons who were "men of good reputation, full (pleres) of the Spirit and of wisdom, whom we may put in charge of this task" (Acts 6:3) and they choose "Stephen, a man full (pleres) of faith and of the Holy Spirit." (Acts 6:5), who was also "full (pleres) of grace and power" and "was performing great wonders and signs among the people." (Acts 6:8), and "full (pleres) of the Holy Spirit." (Acts 7:55). 
Pleres is used to describe Barnabas - "Then when he had come and witnessed the grace of God, he rejoiced and began to encourage them all with resolute heart to remain true to the Lord; for (explaining His previous actions) he was a good man, and full (pleres) of the Holy Spirit and of faith. (What is the result of Barnabas' being filled with the Spirit?) And considerable numbers were brought to the Lord." (Acts 11:23-24)
In Acts 13 Luke records "negative filling" writing...
"But Elymas the magician (for thus his name is translated) was opposing them, seeking to turn the proconsul away from the faith. But Saul, who was also known as Paul, filled (pleroo) with the Holy Spirit, fixed his gaze upon him,  and said, "You who are full (pleres) of all deceit and fraud, you son of the devil, you enemy of all righteousness, will you not cease to make crooked the straight ways of the Lord?" (Acts 13:8-10)
And so we see that pleres is repeatedly associated with the Holy Spirit - Lk 4:1, Acts 6:3, 5, 7:55, 11:24. Clearly the state of being filled with the Spirit was of great import in the life of Jesus and the lives of the disciples in the Book of Acts. When pleres is used in this figurative sense, it conveys something more than simply "filling up to the brim" so to speak. It also conveys the truth that what fills a person, controls the person. For example, as we noted above Elymas the magician (Acts 13:8) in Acts 13:10 was filled with "all deceit and fraud." And what was the "effect?" He made "crooked the straight ways of the Lord." (Acts 13:10). As an aside notice how Paul was "enabled" to confront this man who seems in essence to be enabled or to be even demonically controlled and empowered ("you son of the devil" Acts 13:10) --  "Paul, filled with (controlled by, enabled by, supernaturally empowered by) the Holy Spirit, fixed his gaze upon him." (Acts 13:9).
The upshot is that to be filled with the Spirit is to be controlled by the Spirit and thus supernaturally empowered or enabled to accomplish what cannot be accomplished naturally (by relying on my human "power"). This is a vital truth for modern believers to grasp because it was the example Jesus left us to follow (Read 1Cor 11:1-note, 1Jn 2:6-note, 1Pe 2:21-note) This is why Eph 5:18-note (Memorize and Meditate on this verse!- memorization, meditation) is so critical to the Christian life, for there is simply no other way to live this "Christ life," this supernatural life, then the way Jesus as a Man lived it--filled with the Holy Spirit! 
As further support of the truth that what fills you, controls you, note that the pagans in Ephesus were "filled with rage, they began crying out, saying, "Great is Artemis of the Ephesians!" (Acts 19:28) Rage filled them and rage controlled them. Mark it down - Every believer is either being controlled by the Spirit or the fallen flesh. There is NO MIDDLE GROUND! These two forces are continually in opposition, and like oil and water the DO NOT MIX! (study Gal 5:17-note). And because of this principle, believers are commanded to continually walk (present imperative) by the Spirit, for then (and only then) we will absolutely not (as emphasized by a strong double negative in Gal 5:16-note!) fulfill the desires of our flesh (Notice that Paul does not say we won't have these sinful desires! He says they won't control us!) (Memorize and Meditate on this strategically important passage verse! Gal 5:16-note).
Recommended Side Study - The links below go into detail on the importance of Eph 5:18 and Gal 5:16 in the walk of a disciple, emphasizing that we cannot follow Jesus in our "natural power" because Jesus walked in dependence on (reliance upon) the supernatural power of the Spirit, leaving us the perfect example to follow! These studies also discuss the FIVE MOST CRITICAL PASSAGES in the life of every follower of Jesus Christ. So take some time to go through the following notes slowly, memorizing and chewing the five great passages and walking in the Spirit energized transforming power of the Word of Truth!
Darrell Bock adds full of the Holy Spirit (pleres pneumatos hagiou) "is used in the NT 16 times, yet 10 of those uses are in Luke-Acts. Often it is in association with the Spirit, indicating a person who operates in and is directed by God's Spirit (Acts 6:3, 5; 7:55; 11:24). A contrastive use is the description that someone is "full of rage" (Acts 19:28). Thus, the temptations occur after Jesus has been guided by the Spirit, a point emphasized in repeating the idea later in the verse. It was no accident he was in the wilderness fasting." (The Bible Knowledge Key Word Study - The Gospels) (Bolding added)
In his interesting book God's Empowering Presence: The Holy Spirit in the Letters of Paul,  Gordon Fee emphasizes the believer's need to be continually filled with the Spirit in his summary of the "Pauline Perspective" (page 896) writing that...
Despite His key role in the realization of salvation in Christ, the Spirit's major role in Paul's view of things lies with His being the absolutely essential constituent of the whole of Christian life, from beginning to end (Ed: You may want to read that sentence again as this vital truth has been "jettisoned" by much of the mainstream evangelical church in America!) The Spirit thus empowers ethical life in ALL OF ITS DIMENSIONS—personal, corporate, and in the world. Believers in Christ, who for Paul are "Spirit people" first and foremost, are variously described as living by the Spirit, walking in the Spirit, being led by the Spirit, bearing the fruit of the Spirit, and sowing to the Spirit. Ethics for Paul is likewise Trinitarian at its roots: the Spirit of God conforms the believer into the likeness of Christ to the glory of God (cp 2 Cor 3:18-note). The Spirit is therefore the empowering presence of God for living the life of God in the present. For Paul, therefore, there is no Christian life that is not at the same time a holy life, made so by the Holy Spirit whom God gives to his people (1 Th 4:8-note). At the same time, life in the Spirit also includes every other imaginable dimension of the believer's present eschatological existence, including being empowered by the Spirit to abound in hope, to live in joy, to pray without ceasing, to exercise self-control, to experience a robust conscience, to have insight into God's will and purposes, and for endurance in every kind of present hardship and suffering. To be a believer means nothing less than being "filled with" and thus to "live in/by the Spirit." Finally, the Spirit is the key to all truly Christian Spirituality. At the individual level the life of the Spirit includes "praying in the Spirit" as well as with the mind." (Bolding and color and Italics added)
See Discussions below that relate to the vital need for Holy Spirit in the Life of every believer:
Led (71) (ago) is in the imperfect tense ("continuously led" - A T Robertson) and the passive voice which could be paraphrased "was continually being led." To be led implies that there is Someone in front leading, clearly referring to the Spirit. Indeed, this truth is mysterious, for Jesus never ceased to be fully God, but recall that He voluntarily laid aside His divine prerogatives. (Php 2:6-note) And so in the case of our perfect pattern, the Lord Jesus, the Spirit was "in front" (so to speak) leading the way. The passive voice indicates that the effect of leading was performed by an external Entity, the Holy Spirit. Believers all do well to follow this example (1 Pe 2:21-note)! Is the Holy Spirit "in front" of me each morning as I go out into the spiritual warfare of the world?
The Holy Spirit...Spirit - "The double mention of the Spirit in this verse makes it clear that the temptation was neither the fault of Jesus nor an accident." (NET Note) It also emphasizes that Jesus had surrendered His will to the will of the Holy Spirit, giving us the perfect example of what we should do, for "the one who says he abides in Him ought himself to walk in the same manner as He walked." (1 John 2:6-note) 
By the Spirit -  More literally "in the spirit." Vincent says the literal rendering indicates "the sphere rather than the impulse of his action." Robertson adds that "Luke affirms that Jesus was now continuously under the guidance of the Holy Spirit. Hence in this same sentence he mentions the Spirit twice."
Wuest explains that the similar phrase in the Holy Spirit in Jude 1:20-note "is locative of sphere. That is, all true prayer is exercised in the sphere of the Holy Spirit, motivated and empowered by Him." Robertson however has a note that "en" (English - "by") may be the instrumental" case. 
Mark's two verse summary of Jesus' Wilderness Temptation is dramatic... 
Mark 1:12-13 - Immediately the Spirit impelled Him to go out into the wilderness. And He was in the wilderness forty days being tempted by Satan; and He was with the wild beasts, and the angels were ministering to Him.

Comment: In place of being led Mark uses the action word impelled which is the Greek verb "ekbállō" (ek = out + ballo = to cast, drive, throw) which means thrust out, forced out, as from urgent necessity. Ekballo is the same verb used to describe our Lord's expulsion of demons in Mk 1:34, 39! As Vincent writes Jesus "was not only impelled into the wilderness, but guided in the wilderness by the Spirit."

Matthew 4:1 uses the verb anago which means Jesus had been led up (or brought up) from a lower to a higher point. BDAG note says Jesus "was led up into the desert, from the Jordan (below sea level) into the highland." Recall that in the immediate context, Jesus had just been baptized by John in the Jordan River (Mt 3:13-17) Luke will use anago in Luke 4:5 where the devil "led Him up."

See map - Jesus Baptized by John 
Holy (40)(hagios) means set apart, sanctified, or consecrated. The Spirit is Holy and He Alone can make believers "holy" unless we quench or grieve His sanctifying influence in our lives. In Jesus' case, He was sinless and so in that sense He was holy in a way believers can never be until we are glorified and like Him (1 John 3:2-note).
Returned (5290)(hupostrepho from hupo = under + strepho = to turn, to change) means to turn back from or to return (go back to a location - this could suggest He was previously in the wilderness.)
Wilderness (2048) (eremos) means lonesome, solitary, wilderness = uninhabited, lonely, uncultivated region translated "wilderness" 32x in the KJV.
Vincent on The Wilderness. - The place is unknown. Tradition fixes it near Jericho, in the neighborhood of the Quarantania, the precipitous face of which is pierced with ancient cells and chapels, and a ruined church is on its topmost peak. Dr. Tristram says that every spring a few devout Abyssinian Christians are in the habit of coming and remaining here for forty days, to keep their Lent on the spot where they suppose that our Lord fasted and was tempted." Vincent adds that Mark's version has the phrase "With the wild beasts. Peculiar to Mark. The region just alluded to abounds in boars, jackals, wolves, foxes, leopards, hyenas, etc."
Luke 4:2  for forty days, being tempted by the devil. And He ate nothing during those days, and when they had ended, He became hungry.
forty (KJV): Ex 24:18 34:28 De 9:9,18,25 1Ki 19:8 Mt 4:2 
tempted (KJV): Ge 3:15 1Sa 17:16 Heb 2:18 
he did (KJV): Es 4:16 Jon 3:7 
he afterward (KJV): Mt 21:18 Joh 4:6 Heb 4:15 
For forty days - This same time period is mentioned in several different contexts 22x in the NAS - Gen. 7:4, 12, 17; 8:6; 50:3; Ex. 24:18; 34:28; Nu 13:25; 14:34; Deut. 9:9, 11, 18, 25; 10:10; 1 Sam. 17:16; 1 Ki. 19:8; Ezek. 4:6; Jon. 3:4; Matt. 4:2; Mk. 1:13; Lk. 4:2; Acts 1:3. On thinks particularly of Moses who "was on the mountain forty days and forty nights" (Ex 24:18, Ex 34:28). 
Faith Life Study Bible - God led His people through the desert for 40 years due to their unfaithfulness. The Spirit leads Jesus into the wilderness for 40 days so that His fidelity might be set in contrast to the nation's infidelity.
Notice how Jesus gives us a clear pattern of how to fight temptation - filled with the Spirit and filled with the Word! Are you filled? Are you memorizing the Word?
Being tempted (3985)(peirazo from the noun peira = test from peíro = perforate, pierce through to test durability of things) is a morally neutral word simply meaning "to test". Whether the test is for a good (as it proved to be in Heb 11:17) or evil (Mt 4:1"Then Jesus was led up by the Spirit into the wilderness to be tempted by the devil") depends on the intent of the one giving the test and also on the response of the one tested. (See study of similar word dokimazo)
Peirazo is in the present tense participle ("continually tested") which indicates the test was ongoing. In other words Satan's temptations proceeded across the entire 40 day period. The NET Bible translates it as "endured temptations by the devil." The NET Note adds that "Here the present participle suggests a period of forty days of testing. Three samples of the end of the testing are given in the following verses." So as Bock says "What Luke summarizes for us is the end of this trial." (Ibid)
Seven of the 38 NT uses of this term for trial or temptation are in Luke-Acts. It can mean test or tempt (tested—Luke 11:16; tempted—Acts 5:9). It usually has a negative implication. 
Peirazo is used 38 times (in 34v) and 7 times by Luke --Matt. 4:1, 3; 16:1; 19:3; 22:18, 35; Mk. 1:13; 8:11; 10:2; 12:15; Lk. 4:2; 11:16; Jn. 6:6; 8:6; Acts 5:9; 9:26; 15:10; 16:7; 24:6; 1 Co. 7:5; 10:9, 13; 2 Co. 13:5; Gal. 6:1; 1 Thess. 3:5; Heb. 2:18; 3:9; 4:15; 11:17; Jas. 1:13f; Rev. 2:2, 10; 3:10
Devil (1228)(diabolos  from diá = through, between + ballo = to cast, throw) means a false accuser, slanderer (one who utters false charges or misrepresentations which defame and damage another's reputation), backbiting(malicious comment about one not present), one given to malicious gossip or a calumniator (one who utters maliciously false statements, charges, or imputations about, this term imputes malice to the speaker and falsity to the assertions). 
Diabolos - 37x times four times by Luke in this pericope  - Matt. 4:1, 5, 8, 11; 13:39; 25:41; Lk. 4:2, 3, 6, 13; 8:12; Jn. 6:70; 8:44; 13:2; Acts 10:38; 13:10; Eph. 4:27; 6:11; 1Ti 3:6, 7, 11; 2Ti 2:26; 3:3; Titus 2:3;Heb. 2:14; James. 4:7; 1Pe 5:8; 1Jn 3:8, 10; Jude 1:9; Rev. 2:10; 12:9, 12; 20:2, 10) Luke's other use is in Lk 8:12 where Jesus gives us a sense of the devil's power declaring "Those (souls) beside the road are those who have heard (the Word of God, eg, the Gospel); then the devil comes and takes away the word from their heart, so that (purpose) they will not believe and be saved."
Diabolos is the noun form of the verb diaballō which describes not only those who bring a false charge against one, but also those who disseminate the truth concerning a man, and do so maliciously, insidiously and with hostility.
Notice how the root words (diá = through + bállō = throw) depict the devil's evil method! He constantly throws between seeking to divide whether it be between a husband and wife, a child and parent, a church, etc. Wuest comments that the literal meaning of diabolos is "to throw through" meaning "to riddle one with accusations." Beloved, following Jesus' example, we too are to resist the devils divisive, derogatory accusations, standing firm in our faith, enabled (like Jesus) by the Holy Spirit and the Holy Word. 
A T Robertson says diabolos "means calumniator, slanderer. It is sometimes applied to men, as to Judas (John 6:70); in 1 Tim. 3:11 (slanderers); and in 2 Tim. 3:3, and Titus 2:3 (false accusers). In such cases never with the article. The Devil, Satan, the god of this world (ho diabolos), is always with the article and never plural. This should be distinguished from another word, also wrongly rendered devil in the A. V.—, daimon and its more common neuter form daimonion, both of which should be translated demon, meaning the unclean spirits which possessed men, and were cast out by Christ and his apostles."
The writer of Hebrews uses peirazo twice in referring to Jesus' temptation - Hebrews 2:18 and Hebrews 4:15.
Jesus was fully God and fully Man, but as discussed in Lk 4:1 when He was tempted He did not rely on His divine prerogatives to fight off temptation. As noted above He relived on the power of the Spirit and the sword of the Spirit, the Word of God. The writer of Hebrews says 
For since He Himself was tempted in that which He has suffered, He is able to come to the aid of those who are tempted.

Comment: Regarding the word "tempted" (peirazo) it is important to remember that the test can either be a proof of righteousness or an inducement to evil, depending on our response. In other words if we are filled with the Spirit and the Word and resist in His power, the test/temptation proves our faithfulness. If we try to resist in our natural power or even worse do not choose to resist, the test/temptation becomes a solicitation to sin. The Bible uses the term in both ways. Notice also that "He has suffered" is in the perfect tense which emphasizes that though the temptation Christ suffered in the flesh was completed in the past, its effect is PERMANENT, including the effect of His compassion and understanding as He aids us in the hour of our temptation. Note also the verb "He is able" (dunamai) is in the present tense indicating that Jesus is always ready and willing and able to run to our aid in the time of need. In fact we have His "Chief Operating Officer" (so to speak) indwelling us and the Spirit of Christ carries out this function. The phrase "come to the aid" is one word, the uncommon verb boetheo which is derived from boe (a cry) and theo (to run) and therefore conveys the vivid picture of Jesus' ability to "run to our aid" when we cry out. This begs the question -- What do I do when temptation comes? And it will come because the verb "are tempted" is in the present tense which could more accurately be translated "are continually being tempted!" You may not be experiencing temptation as you read these notes, but Be of sober spirit, be on the alert (1 Peter 5:8) because it is coming!!

We have the Spirit within us (empowering), the Saviour above us (interceding), and the Word before (in) us!
What tremendous resources we have that we might experience victory over every temptation! 
In Hebrews 4:15-note we read of Jesus' earthly temptation...
For we do not have a high priest who cannot sympathize (have a shared feeling) with our weaknesses (and infirmities and liability to the assaults of temptation), but One Who has been tempted (peirazo again in the  perfect tense emphasizing the abiding effects of His temptation - in context He is ever able to sympathize with us in our temptations!) in all things as we are (tempted), yet without sin.
He ate nothing - "The reference to Jesus eating nothing could well be an idiom meaning that he ate only what the desert provided; see Ex 34:28. A desert fast simply meant eating only what one could obtain in the desert. The parallel in Mat 4:2 speaks only of Jesus fasting." (NET Note)
Had ended (fulfilled) (4931)(sunteleo from sun = together or an intensifier + teleo = to finish, related word - sunteleia) means to bring together to culmination or completion. The bringing together of an intended purpose. Sunteleo speaks of an activity which is brought to an end, completed or finished. All of the NT uses of sunteleo to one degree or another convey an eschatological sense. The cognate verb teleioo is a key NT term for the completion of God's plan (Lk 12:50, 22:37, Jn 19:30). To finish entirely or completely (eg, Jesus ends the Sermon on the Mount - Mt 7:28, Satan's temptations, the Lord's testings of Jesus came to an end - Lk 4:13). The idea is to bring to a successful finish and thus to consummate, complete entirely, accomplish or fulfill an activity (or a prophecy Mk 13:4). Used in contexts which speak of time (Lk 4:2, Acts 21:27, Lxx of Ge 2:2, Dt 34:8, 1Ki 6:9, Job 36:11). To accomplish or fulfill (Mk 13:4 - clearly an eschatological context; Ro 9:28, Lxx = Isa 10:22 = Lxx = logon gar suntelon kai suntemnon en dikaiosune ~ [roughly translated] for the word is bringing this to completion and cutting it short in righteousness). The use in Hebrews 8:8 means to put into effect.
NET Note - This verb and its cognate noun, sunteleia, usually implies not just the end of an event, but its completion or fulfillment. The noun is always used in the NT in eschatological contexts; the verb is often so used (cf. Matt 13:39, 40; 24:3; 28:20; Mark 13:4; Rom 9:28; Heb 8:8; 9:26). The idea here may be that the forty-day period of temptation was designed for a particular purpose in the life of Christ (the same verb is used in Lk 4:13). The cognate verb teleioō is a key NT term for the completion of God's plan: See Luke 12:50; 22:37; John 19:30; and (where it has the additional component of meaning "to perfect") Heb 2:10; 5:8–9; 7:28.
He became hungry (3983)(peinao from peín = hunger) means to feel the pangs of lack of food. The majority of the NT uses speak of literal hunger. Jesus elevated feeding the hungry to high level in His teaching in Mt 25:35, 37, 42, 44.
Luke 4:3  And the devil said to Him, "If You are the Son of God, tell this stone to become bread." 
Devil (1228) diabolos - described above. In Job 2:1 ("Again there was a day when the sons of God came to present themselves before the LORD, and Satan also came among them to present himself before the LORD.") the Hebrew word for Satan is "satan"! It is translated in the Greek (Lxx) as "ho diabolos" ("the devil"). Remember that the nature of the devil is that he is a liar. Speaking to the Jews (who had made a superficial profession of faith in Him - Jn 8:30) Jesus said "You are of your father the devil, and you want to do the desires of your father. He was a murderer from the beginning (Ge 3:1-15), and does not stand in the truth because there is no truth in him. (Ed: This is why believers should daily be renewing their mind with TRUTH found in the Word of God!) Whenever he speaks a lie, he speaks from his own nature, for he is a liar and the father of lies." And so we see him twist the truth (Jesus is the Son of God and has the power of God -- this is truth) attempting to ensnare Jesus, just like he (or his minions) attempt to do with believers today. We need to remember that he is " more crafty than any beast of the field which the LORD God had made" (Ge 3:1) and in our natural strength are no match for him. But filled with the Spirit like Jesus we can detect and deflect the fiery missiles of the evil one. As you read these comments are you filled with the Spirit like Jesus was? Jesus filled with the Spirit of truth was able to discern the one who was the spirit of a lie. 
If You are the Son of God -  The Greek construction (first class conditional) indicates that the devil did not doubt that Jesus was the Son of God. This could be paraphrased "If (and let's assume that you are) the Son of God…"
Tell this stone to become bread - The devil is giving a command to the Lord of the Universe!
4:3 Devil (diabolos). Five of Luke's six uses in the Gospel occur in this scene (Luke 8:12; Acts 10:38; 13:10 complete the Lucan uses in his two volumes). The term means "slanderer" and is a LXX translation of the Hebrew word hasatan, from which we get our word Satan (Job 2:1; BAGD, 182; BDAG, 226, 2). The one who twists truth will fail to ensnare the one filled with the Spirit. [diabolos]
Luke 4:4  And Jesus answered him, "It is written, 'MAN SHALL NOT LIVE ON BREAD ALONE.'"
It (KJV): Lu 4:8,10 Isa 8:20 Joh 10:34,35 Eph 6:17 
That (KJV): Lu 22:35 Ex 23:25 De 8:3 Jer 49:11 Mt 4:4 6:25,26,31 
Dt 8:2-3 You shall remember all the way which the LORD your God has led you in the wilderness these forty years, that He might humble you, testing you, to know what was in your heart, whether you would keep His commandments or not. 3"He humbled you and let you be hungry, and fed you with manna which you did not know, nor did your fathers know, that He might make you understand that man does not live by bread alone, but man lives by everything that proceeds out of the mouth of the LORD.
Written (1125)(grapho) from root graph- = primarily means to scratch on or engrave as on an ornament, reports, letters, etc; English = graph, graphic, etc) means to engrave or inscribe with a pen or stylus characters or letters on a surface which can be wood, wax, metal, leather, stone, parchment, dirt (John ), paper, etc. (Click to review all 191 uses of grapho in the NAS)
It is written occurs 76 times in the NAS. When we were children and our parents told us to do something and we questioned "Why?", the answer was usually "Because I said so!". Why are we commanded to be holy? Because God said so! A popular saying is "God said it, I believe it, that settles it." This sounds good but isn't accurate because God's Word is true, regardless of whether we believe it or not. A more accurate "saying" would be "God said it, that settles it!" It is written should put a stop to every complaint or excuse. Paul is saying don't judge but remember you will appear before Me to give an account (as the next verse clarifies). This sobering thought should motivate us to obey this injunction.
The original sense of grapho was to carve or to engrave as deduced from uses in the Septuagint (where grapho occurs some 300 times usually for the Hebrew kathab 03789) such as the following…
Write (LXX = grapho) on them (LXX = lithos = stones) all the words of this law (Deut 27:3)
Live (verb, living, alive) (2198)(zao refers literally to natural physical life (opposite of death, Acts 22:22,25:24, 28:4, Ro 7:1-3, 1Cor 7:39, of Adam = 1Cor 15:45; 2Cor 4:11 = refers to natural lives of believers; Php 1:22 - "to live on in the [physical] flesh"; 1Th 4:15,17 = believers physically alive at time of Rapture; Heb 2:15; Heb 9:17; James 4:15 = "we shall live" physically if God so wills it!), to come to life after death (Mt 9:18), to recover life after sickness (Jn 4:50). Zao refers to supernatural, spiritual life (cf Jn 11:25, 26), Paul explaining that Christ "lives because of the power of God." (2Cor 13:4) In Rev 16:3"living thing" refers to the biological life of all the sea animals. In Rev 19:20 the Antichrist and his False Prophet will be "thrown alive into the lake of fire," indicating they will have conscious awareness of their torment (forever and ever).
Word (4487)(rhema from verb rheo = to speak - to say, speak or utter definite words) refers to the spoken word, especially a word as uttered by a living voice. Laleo is another word translated speak but it refers only to uttering a sound whereas rheo refers to uttering a definite intelligible word. Rhema refers to any sound produced by the voice which has a definite meaning. It focuses upon the content of the communication. For example in Luke we read…
And they understood none of these things, and this saying (rhema) was hidden from them, and they did not comprehend the things that were said. (Luke 18:34)
4:4 It is written -  This is one of three uses of this phrase in this scene, two by Jesus, one by the devil. The perfect tense has the force of "it stands written." Scripture is often cited with this formula (14 times in Luke-Acts). Jesus' scriptural replies all come from Deuteronomy and all affirm a loyalty to God or, as here with the citation of Deuteronomy 8:3, a reminder that there is more to existence than material well-being. That text alludes to the divinely provided manna in the desert (Exod. 16), a symbol that although the nation was living without much in material surroundings, God was providing and caring for them. [grapha]
Luke 4:5  And he led Him up and showed Him all the kingdoms of the world in a moment of time. 
taking (KJV): Mk 4:8,9 1Co 7:31 Eph 2:2 6:12 1Jn 2:15,16 
in (KJV): Job 20:5 Ps 73:19 1Co 15:52 2Co 4:17 
NET Note - The order of Luke's temptations differs from Matthew's at this point as numbers two and three are reversed. It is slightly more likely that Luke has made the change to put the Jerusalem temptation last, as Jerusalem is so important to Luke's later account. The temporal markers in Matthew's account are also slightly more specific.
 Led (321)(anago from ana = up, again, away + ago = to bring, lead) literally speaks of movement from a lower to a higher point (Lk 4:5 = Satan "led Him up and showed Him all the kingdoms of the world in a moment of time.", Mt 17:1 = "led them up on a high mountain", Lk 2:22 = "they brought Him up to Jerusalem to present Him to the Lord," , Mt 4:1 "Jesus was led up by the Spirit"). Anago means to bring, lead, carry, or take up (Lk 2:22; 4:5; 22:26; Acts 7:41;9:39; 12:4; 16:34; Ro 10:7; Heb. 13:20; Lxx = Ge 50:24; Ex. 8:5; Lev 14:20; 1 Ki 3:15;Job 1:5; Ps. 30:4; 71:20; Isa 57:6).  
High (5308)(hupselos from hupsos/hypsos = height, elevation) literally means high, raised, elevated, lofty and thus is used in the NT to describe a high place (Mt 4:8), a high wall (Rev 21:12) or a high mountain (Mt 17:1, Mk 9:2, Rev 21:10; Lxx = Ge 7:19; Isa 2:14;Ezek. 20:28). In Heb 1:3 (cf Isa 33:5) hupselos refers to the (high or lofty) world above, i.e., heaven. In Heb 7:26 hupselos is used as a term of comparison to describe Jesus higher than or above (the heavens). Hupselos can refer to that which is thought to be of great value (Lk 16:15). In Acts 13:17 an uplifted (literally "high arm") speaks of power.
Hupselos can refer to high things, i.e., (figuratively to) high (proud) thoughts. And so in Romans 12:16 Paul is saying "Do not continually think high, lofty or elevated" thoughts about yourself (arrogant, exalted, proud, haughty). In context of the idea of "one another," Paul admonished his readers not to be proud since pride destroys the harmony of the body. BDAG adds that hupselos in some contexts pertains "to being of high quality, noble, sublime."
Show (1166)(deiknuo means to show and has the sense of (1) to draw attention to, to point out, to show, to make known, to exhibit something (by visual, auditory, gestural, or linguistic means) so that it can be apprehended by the senses, to cause to see (Mt 4:8, Lk 4:5, Mt 8:4) or (2) to show so as to prove something is true or to make clear by evidence or reasoning. Show in the sense of demonstrate or prove as in Jas 3:13). To exhibit or present to the view of others. To explain the meaning or significance of something by demonstration.
Kingdoms (932)(basileia from basileus = a sovereign, king, monarch) denotes sovereignty, royal power, dominion. Basileia can also refer to the territory or people over whom a king rules (See "Three Basic Meanings" below).
4:5 Moment (stignie). This represents the only NT use of this word which refers to something insignificant as it means "first point" (BAGD, 768; BDAG, 945). Thus when it is applied to time, it describes an instant ("moment," NASB; RSV; "flash," NET; "instant," NIV). The detail tells us that this temptation took place after a "vision-like" moment when the kingdoms were flashed before Jesus. [stigme]
Luke 4:6  And the devil said to Him, "I will give You all this domain and its glory; for it has been handed over to me, and I give it to whomever I wish. 
All (KJV): Joh 8:44 2Co 11:14 Rev 12:9 20:2,3 
and the (KJV): Es 5:11 Isa 5:14 23:9 1Pe 1:24 
and to (KJV): Joh 12:31 14:30 Eph 2:2 Rev 13:2,7 
NET And he said to him, "To you I will grant this whole realm– and the glory that goes along with it, for it has been relinquished to me, and I can give it to anyone I wish.
4:6 Authority (exousian). This is an important term in the Gospels. Many conflicts in Jesus' life and ministry turn on debates about authority or the idea that Jesus taught with an unparalleled authority (Matt. 7:29; 8:9; 9:6, 8; 21:23-27; 28:18; Mark 1:22, 27; 2:10; 3:15; 11:28-33; Luke 4:32, 36; 5:24; 7:8; 20:2-8). Here the devil claims to have authority over the earth, a claim that ultimately is false ("domain," NASB; "authority" NW; "whole realm," NET). He is trying to deceive Jesus by claiming he can give him something he does not have the right to give. [exousia]
Luke 4:7  "Therefore if You worship before me, it shall all be Yours." 
 worship me (KJV): or, fall down before me, Lu 8:28 17:16 Ps 72:11 Isa 45:14 46:6 Mt 2:11 Rev 4:10 5:8 22:8 
4:7 Worship (prosicyneses). This word refers to the homage paid to one in religious devotion or in honor (Gen. 18:2—Abraham to three visitors; 24:26—to God; 37:9—to Joseph; EDNT, 3:173-75). It was a term often associated with prostrating oneself before the one being worshiped, though it does not always carry this force, as one can merely honor someone with such a bow. In Luke's Gospel, the term appears three times, twice in this scene. Here it is the devil's offer of an inappropriate worship, followed by Jesus' reminder that only God is to receive such honor in v. 8. Significantly, Jesus receives such honor himself after his resurrection (Luke 24:52) and appears to accept it, unlike the reaction of Peter to Cornelius in Acts 10:25. Another example of inappropriate worship appears in Acts 7:43, where idols are worshiped and Israel ends up guilty and penalized with exile. [proskyneo]
Luke 4:8  Jesus answered him, "It is written, 'YOU SHALL WORSHIP THE LORD YOUR GOD AND SERVE HIM ONLY.'"
Get (KJV): Mt 4:10 16:23 Jas 4:7 1Pe 5:9 
for (KJV): Lu 4:4 De 6:13 10:20 Mt 4:10 Rev 19:10 22:9 
only (KJV): 1Sa 7:3 2Ki 19:15 Ps 83:18 Isa 2:11 
4:8 Serve (latreuseis). This is a second term denoting religious service in the NT. It is so used in the OT (Exod. 3:12; Deut. 6:13, the text Jesus uses here; the noun form—Josh. 22:27; 1 Macc. 2:19). The NT uses the term 21 times, with eight of those in Luke-Acts. It describes true worship and reverence. Note also its use in Luke 1:74 and 2:37, where its more cultic force is evident (EDNT, 2:344-45). [latretto]
Luke 4:9  And he led Him to Jerusalem and had Him stand on the pinnacle of the temple, and said to Him, "If You are the Son of God, throw Yourself down from here;   
brought (KJV): Job 2:6 Mt 4:5 
on (KJV): 2Ch 3:4 
If (KJV): Lu 4:3 Mt 4:6 8:29 Ro 1:4 
Luke 4:10  for it is written, 'HE WILL COMMAND HIS ANGELS CONCERNING YOU TO GUARD YOU,
it (KJV): Lu 4:3,8 2Co 11:14 
He (KJV): Ps 91:11,12 Heb 1:14 
4:10 Guard (diaphylaxai). This term was often used in magical literature to appeal to a supernatural kind of protection associated with amulets, while in the LXX it was used of God's protection as in Ps. 91:11, which is cited here ("to guard," NW; NASB; RSV; "to protect you," NET; BAGD, 191; BDAG, 240; MM, 158). This is the only NT use of the term as the Matthean parallel lacks this clause. The devil wants Jesus to rely on special divine protection. [diaphylasso]
Luke 4:11  and, 'ON their HANDS THEY WILL BEAR YOU UP, SO THAT YOU WILL NOT STRIKE YOUR FOOT AGAINST A STONE.'" 
Luke 4:12  And Jesus answered and said to him, "It is said, 'YOU SHALL NOT PUT THE LORD YOUR GOD TO THE TEST.'"
 Thou (KJV): De 6:16 Ps 95:9 106:14 Mal 3:15 Mt 4:7 1Co 10:9 Heb 3:8,9 
4:12 Tempt (ekpeiraseis). Jesus refuses to test God and put him on the spot forcing him to act ("test," NW, NASB; NET; "tempt," RSV). The citation is from Deut. 6:16. Such testing in Deuteronomy was seen as disobedience. [ekpeiraza]
Luke 4:13  When the devil had finished every temptation, he left Him until an opportune time.
 Mt 4:11  Joh 14:30 Heb 4:15 Jas 4:7 
Luke 4:14  And Jesus returned to Galilee in the power of the Spirit, and news about Him spread through all the surrounding district. 
returned (KJV): Mt 4:12 Mk 1:14 Joh 4:43 Ac 10:37 
in (KJV): Lu 4:1 
and there (KJV): Mt 4:23-25 Mk 1:28 
4:14 Report (pheme). This term occurs only twice in the NT (Matt. 9:26). Though no reason is given for the report ("news," NASB, NW), events like the ones reported on in Luke 4 seem to be the cause of the attention. [pheme]
Luke 4:15  And He began teaching in their synagogues and was praised by all.    
he (KJV): Lu 4:16 13:10 Mt 4:23 9:35 13:54 Mk 1:39 
being (KJV): Isa 55:5 Mt 9:8 Mk 1:27,45 
4:15 Glorifying (doxazomenos). This term means to honor someone or give praise to them ("praised," NW, NASB; NET; "glorified," RSV). Usually it refers to giving honor to God, as was noted with the noun in Luke 2:14. However, sometimes people are meant (Matt. 6:2; 1 Cor. 12:26). Since it is the populace at large giving the honor, it is this later sense that is intended here. The verb is used nine times in Luke and four times in Acts of 60 NT uses. [doxazo]
Luke 4:16  And He came to Nazareth, where He had been brought up; and as was His custom, He entered the synagogue on the Sabbath, and stood up to read. 
to (KJV): Lu 1:26,27 2:39,51 Mt 2:23 13:54 Mk 6:1 
as (KJV): Lu 4:15 2:42  Joh 18:20 Ac 17:2 
and stood (KJV): Ac 13:14-16 
4:16 Sabbath (sabbaton). This is the first of six key Sabbath day events in Luke (4:31; 6:1-2, 7-9; 13:10-16; 14:1-5). Luke-Acts has 29 of the 68 NT uses. This seventh day of the week was the weekly day of rest and worship for Jews. It with circumcision comprised two of the major distinctive markers of Judaism (clean and unclean food was a third key marker with worship at a single temple as the fourth; EDNT 1:220). The setting apart of the day goes back to the OT (Exod. 23:12; Deut. 5:13-14). The day was held in such high regard in later Judaism, that it was said the day would be observed in hell (b Sanh 65b) and that Messiah would come if Israel kept two Sabbaths perfectly (b Shab 188b). [sabbaton]
Luke 4:17  And the book of the prophet Isaiah was handed to Him. And He opened the book and found the place where it was written,
the book (KJV): Lu 20:42 Ac 7:42 13:15,27 
he had (KJV): [Anaptusso <Strong's G380>,] "unrolled the book;" the Sacred Writings being anciently (as they are still in the synagogues) written on skins of parchment, and rolled on two rollers, beginning on each end, so that in reading from right to left, they rolled off with the left hand while they rolled on with the right.
the place (KJV): Isa 61:1-3 
Luke 4:18  "THE SPIRIT OF THE LORD IS UPON ME, BECAUSE HE ANOINTED ME TO PREACH THE GOSPEL TO THE POOR. HE HAS SENT ME TO PROCLAIM RELEASE TO THE CAPTIVES, AND RECOVERY OF SIGHT TO THE BLIND, TO SET FREE THOSE WHO ARE OPPRESSED,
Spirit (KJV): Ps 45:7 Isa 11:2-5 42:1-4 50:4 59:21 
anointed (KJV): Ps 2:2,6 *marg: Da 9:24 Joh 1:41 Ac 4:27 10:38 
to preach (KJV): Lu 6:20 7:22 Isa 29:19 Zep 3:12 Zec 11:11 Mt 5:3 11:5 Jas 2:5 
to heal (KJV): 2Ch 34:27 Ps 34:18 51:17 147:3 Isa 57:15 66:2 Eze 9:4 
to preach deliverance (KJV): Ps 102:20 107:10-16 146:7 Isa 42:7 45:13 49:9,24,25 52:2,3 Zec 9:11,12 Col 1:13 
and (KJV): Ps 146:8 Isa 29:18,19 32:3 35:5 42:16-18 60:1,2 Mal 4:2 Mt 4:16 9:27-30 11:5 Joh 9:39-41 12:46 Ac 26:18 Eph 5:8-14 1Th 5:5,6 1Pe 2:9 1Jn 2:8-10 
bruised (KJV): Ge 3:15 Isa 42:3 Mt 12:20 
4:18 Anointed (echrisen). This term comes from a citation Jesus makes of Isaiah 61:1. The reference to Spirit anointing looks back in the Gospel to what took place at the baptism. Acts will also note this act (4:27; 10:38). Jesus is declaring that he fulfills the role Isaiah describes. [chritl
Poor (ptochois). Here is the emphasized audience for Jesus' preaching, the poor. This term has rich OT roots, referring to the persecuted and pious poor as Luke 6:23 also shows (Exod. 22:25-27 [22:24-26 MT]; Ps 14:6 [13:6 LXX]; 22:24 [21:25 LXX]; 69:29 [68:30 DOC]; Isa. 3:14-15). The term has both religious and sociological meaning as piety and faith are placed together with social standing. It is those who have been marginalized by the world for their faith that are most open to the Gospel. In the context of Judaism, this is a call to free the spiritually exiled and persecuted. Their suffering opens them up to the hope. Luke has 10 of 34 NT uses. [ptochos]
To proclaim (keryxai). This verb is used twice in this citation, alongside another verb (euangelisasthai) that speaks of preaching the good news. Luke uses this term nine times in his Gospel. Much of Jesus' role involves his proclaiming release and offering sight to the blind. These descriptions are pictures of what salvation brings. The later line from Isaiah 58:6 at the end of this verse declares that Jesus will actually effect the release he proclaims ("release," NIV; "set free," NASB, NET; "to set at liberty," RSV). Both the proclamation of Jesus and his work refer to release, using the same term aphesis. [korysso]
Luke 4:19  TO PROCLAIM THE FAVORABLE YEAR OF THE LORD."  
 Lu 19:42 Lev 25:8-13,50-54 Nu 36:4 Isa 61:2 63:4 2Co 6:1 
4:19 Acceptable year of the Lord (eniauton kyriou dekton). This expression is an idiom for the year of Jubilee ("year of the Lord's favor," NET; NW; "acceptable year of the Lord," RSV; "Favorable year of the Lord," NASB). This year was described in the Law as a time every 50 years when all debt was forgiven (Lev. 25:10). This became a figure of spiritual, divine forgiveness in Isaiah 49:8 and 58:5-8. Jesus uses it in this last sense to picture his work as a labor designed to bring divine forgiveness. [dektos + eniautos]
Luke 4:20  And He closed the book, gave it back to the attendant and sat down; and the eyes of all in the synagogue were fixed on Him.
and he (KJV): Lu 4:17 Mt 20:26-28 
and sat (KJV): Lu 5:3 Mt 5:1,2 13:1,2  Joh 8:2 Ac 13:14-16 16:13 
And the (KJV): Lu 19:48 Ac 3:12 
4:20 Were fixed (atenizontes). This verb means to look at someone or something intently ("were fastened," NW). It is a term which in this context suggests Jesus' citation generated attention and some emotion. Twelve of the NT's 14 uses of this term are in Luke—Acts. The other use in the Gospel is where a maid stares at Peter during his denials in an effort to figure out if she recognizes him. [atenizo]
Luke 4:21  And He began to say to them, "Today this Scripture has been fulfilled in your hearing."
 This day (KJV): Lu 10:23,24 Mt 13:14 Joh 4:25,26 5:39 Ac 2:16-18,29-33 3:18 
4:21 Today (semeron). This term was treated fully in Luke 2:11. In this scene Jesus declares himself to be the figure described in Isaiah 61:1. In other words, the promised new era of deliverance has come. [semeron]
Luke 4:22  And all were speaking well of Him, and wondering at the gracious words which were falling from His lips; and they were saying, "Is this not Joseph's son?"
the gracious (KJV): Lu 2:47 21:15 Ps 45:2,4 Pr 10:32 16:21 25:11 Ec 12:10,11 Song 5:16 Isa 50:4 Mt 13:54 Mk 6:2  Joh 7:46 Ac 6:10 Tit 2:8 
Is not (KJV): Mt 13:55,56 Mk 6:3  Joh 6:42
4:22 Is this not ...? (ouchi). This interrogative particle expects a positive answer. Thus, the crowd, despite being so impressed and perplexed by Jesus' remarks that they marvel, resolve the situation with the realization that this is a carpenter's son. In other words, someone with this common a background cannot be who he daims to be. [ouchi]
Luke 4:23  And He said to them, "No doubt you will quote this proverb to Me, 'Physician, heal yourself! Whatever we heard was done at Capernaum, do here in your hometown as well.'"
Physician (KJV): Lu 6:42 Ro 2:21,22 
whatsoever (KJV): Mt 4:13,23 11:23,24 Joh 4:48 
do (KJV): Joh 2:3,4 4:28 7:3,4 Ro 11:34,35 2Co 5:16 
thy country (KJV): Mt 13:54 Mk 6:1 
4:23 Capernaum (Kapharnaoum). This Galilean town located on the northwest corner of the Sea of Galilee became Jesus' headquarters (BDAG, 537). Its mention here suggests that this synagogue scene was moved up chronologically by Luke (In Matthew, it appears in Matthew 13:53-58). For Jesus has not yet been in Capernaum in Luke's Gospel. In fact, it is the ministry Luke describes next in Luke 4:31-44. The importance of the literary move is that Luke is indicating that this synagogue scene typifies Jesus' ministry in this period and the reaction to him. It may also reflect how Jesus preached in the synagogue in general. Luke refers to this location in 4:31; 7:1; and 10:15. The NT mentions it 16 times. [Kapharnaoum]
Luke 4:24  And He said, "Truly I say to you, no prophet is welcome in his hometown.
 No (KJV): Mt 13:57 Mk 6:4,5 Joh 4:41,44 Ac 22:3,18-22 
4:24 Acceptable (dektos). The scene has an ironic word play in it that ties back to v. 19. Jesus declares the acceptable year of the Lord there, but he is not acceptable as the Lord's prophet to them, indicating a major opportunity missed for the people ("acceptable," NET; RSV; "accepted," NIV; "welcome," NASB). Jesus explains the historical basis for the remark in v. 24 in the verses that follow. [dektos]
Luke 4:25  "But I say to you in truth, there were many widows in Israel in the days of Elijah, when the sky was shut up for three years and six months, when a great famine came over all the land;
 many (KJV): Lu 10:21 Isa 55:8 Mt 20:15 Mk 7:26-29 Ro 9:15,20 Eph 1:9,11 
when the (KJV): 1Ki 17:1 18:1,2, Elijah, Jas 5:17 
4:25 Elijah (Elias). The incident alluded to here is in 1 Kings 17-18, but in selecting Elijah, Jesus compares himself to the prophet and compares the people to the nation of old. This is a period in Israel's history when the nation was most obstinate in rejecting God's way. Luke mentions this prophet seven times in his Gospel out of 29 NT uses (1:17; 4:26; 9:8, 19, 30, 33). [Elias]
Luke 4:26  and yet Elijah was sent to none of them, but only to Zarephath, in the land of Sidon, to a woman who was a widow.
save (KJV): 1Ki 17:9-24, Zarephath, Ob 1:20 
Sarepta (KJV): Sarepta, a city of Phoenicia, on the coast of the Mediterranean, is called Zarphand by the Arabian geographer Sherif Ibn Idris, who places it twenty miles N. of Tyre, and ten S. of Sidon; but its real distance from Tyre is about fifteen miles, the whole distance from that city to Sidon being only twenty-five miles.  Maundrell states that the place shown him for this city, called Sarphan, consisted of only a few houses, on the tops of the mountains, within about half a mile of the sea; between which there were ruins of considerable extent.
4:26 Zarephath (Sarepta). This widow of Sidon is a Gentile and had her son revived from the dead in 1 Kings 17:8-24. Jesus' point is that the land was so obstinate that only Gentiles received the benefit of ministry. This is the only mention of this figure in the NT. [Sarepta]
Luke 4:27  "And there were many lepers in Israel in the time of Elisha the prophet; and none of them was cleansed, but only Naaman the Syrian."
Eliseus (KJV): 1Ki 19:19-21, Elisha
saving (KJV): Mt 12:4 Joh 17:12 
Naaman (KJV): 2Ki 5:1-27 Job 21:22 33:13 36:23 Da 4:35 
4:27 Naaman the Syrian (Naiman ho Syros). The reference to this incident from 2 Kings 5:8-19 provides a second example of outreach to Gentiles. This is the only mention of Elisha in the NT. [Naiman]
Luke 4:28  And all the people in the synagogue were filled with rage as they heard these things;
 were (KJV): Lu 6:11 11:53,54 2Ch 16:10 24:20,21 Jer 37:15,16 38:6 Ac 5:33 Ac 7:54 22:21-23 1Th 2:15,16 
4:28 Wrath (thymou). In this scene it was not Jesus' claims about himself that made them angry. Rather it was the suggestion that their reaction made them like one of the worst periods of Israel's history along with the implication that Gentiles might be more helped by God than the nation would be. This is the only place in Luke's Gospel where he uses this term for anger. The term's roots refer to something that boils up or wells up (TDNT 3:167). Similar Jewish reactions to the mention of Gentiles appear in Acts (Acts 22:21-22; 26:23-24). [thymos]
Luke 4:29  and they got up and drove Him out of the city, and led Him to the brow of the hill on which their city had been built, in order to throw Him down the cliff. 
and thrust (KJV): Joh 8:37,40,59 15:24,25 Ac 7:57,58 16:23,24 21:28-32 
brow (KJV): or, edge
that (KJV): 2Ch 25:12 Ps 37:14,32,33 
Luke 4:30  But passing through their midst, He went His way.
 Joh 8:59 10:39 18:6,7 Ac 12:18 
Luke 4:31  And He came down to Capernaum, a city of Galilee, and He was teaching them on the Sabbath;
came (KJV): Mt 4:13 Mk 1:21 
taught (KJV): Mt 10:23 Ac 13:50-52 14:1,2,6,7,19-21 17:1-3,10,11,16,17 18:4 Ac 20:1,2,23,24 
Luke 4:32  and they were amazed at His teaching, for His message was with authority.
 Lu 4:36 Jer 23:28,29 Mt 7:28,29 Mk 1:22  Joh 6:63 1Co 2:4,5 14:24,25 2Co 4:2 10:4,5 1Th 1:5 Tit 2:15 Heb 4:12,13 
4:32 Authority (exousia). Here is one of the distinguishing characteristics of Jesus' teaching, its authority. The other Gospels note this characteristic as well (Mark 1:22, 27; Matt. 7:29). Luke 4:36 will couple the authority of teaching with the power of exorcism. Luke uses this term 16 times. Among the major uses are Jesus' authority to do things like forgive sin (5:24) and a major confrontation in Jesus' last week over who gave Jesus such authority (20:2-8). [exousia]
Luke 4:33  In the synagogue there was a man possessed by the spirit of an unclean demon, and he cried out with a loud voice,
4:33 Spirit of an unclean demon (pneuma daimoniou akathartou). Though Luke refers to demons 23 times in his Gospel, this is the only verse he does so with this combination of terms. Jesus' first work is seen in his confrontation with the spiritual forces of darkness, making a point about where the fundamental battle is as he seeks to deliver humanity. The spirit that controlled this person was an "unclean" demon. This probably refers to a man whose possession caused him to act in evil ways, since no personal habits are described unlike Mark 5:1-10 (BAGD, 29, 2; BDAG, 34, 2). [pneuma + daimonion + akathartos]
Luke 4:34  "Let us alone! What business do we have with each other, Jesus of Nazareth? Have You come to destroy us? I know who You are--the Holy One of God!"
Let us alone (KJV): or, Away, Lu 8:37 Ac 16:39 
what (KJV): Lu 4:41 8:28 Mt 8:29 Mk 1:24,34 5:7 Jas 2:19 
art (KJV): Ge 3:15 Heb 2:14 1Jn 3:8 Rev 20:2 
the Holy One (KJV): Lu 1:35 Ps 16:10 Da 9:24 Ac 2:27 3:14 4:27 Rev 3:7 
4:34 What have you to do with us? (ti hemin kai soi). This question is a Semitic idiom. It can mean, "why are you unjustly bothering me" (Judg. 11:12; 2 Chron. 35:21; 1 Kings 17:18) or "Leave us alone" (NET; NASB; "what do you want with us?" NW; "what have you to do with us?" RSV)? This sense indicates that hostility is present in the expression. It can also mean, "This is not your business" (2 Kings 3:13; Hosea 14:8; John 2:4). The first sense is intended here. The demons are trying to put Jesus off. [tis]
I know (oida). The demon's naming of Jesus as Holy One is an attempt to gain control of the situation. In ancient texts of exorcism, it was common to name the demon as a way of showing authority in the encounter. The move is a defensive one born from nervousness about Jesus' position and power. [oida]
Holy One of God (ho hagios tou theou). This title is a recognition by the demon of Jesus' special status as one set apart by God. A connection between this title and Jesus as the Christ appears in 4:41. In Luke, it looks back to 1:31-35 and Jesus' unique relationship to God. It suggests Jesus as a bearer of the divine Spirit (TDNT 1:101-02). [hagios]
Luke 4:35  But Jesus rebuked him, saying, "Be quiet and come out of him!" And when the demon had thrown him down in the midst of the people, he came out of him without doing him any harm.
Jesus (KJV): Lu 4:39,41 Ps 50:16 Zec 3:2 Mt 8:26 17:18 Mk 3:11,12 Ac 16:17,18 
thrown (KJV): Lu 9:39,42 11:22 Mk 1:26 9:26 Rev 12:12 
4:35 Be silent (phimotheti). This verb means to muzzle, and, thus, to silence ("Be quiet!" NASB; NIV; "Be silent!" NET; RSV; BAGD, 861). Jesus sometimes commands demons not to confess who he is (e.g., Mark 1:24-25). It appears that this kind of an endorsement could produce confusion about who Jesus was, as later the Jews suggest it is through the devil's power that Jesus works (Luke 11:14-20). Jesus also silences a raging creation with his word (Mark 4:39). [phimoo]
Luke 4:36  And amazement came upon them all, and they began talking with one another saying, "What is this message? For with authority and power He commands the unclean spirits and they come out."
They were (KJV): Mt 9:33 12:22,23 Mk 1:27 7:37 
What (KJV): Lu 4:32 10:17-20 Mk 16:17-20 Ac 19:12-16 
they come (KJV): 1Pe 3:22 
4:36 Amazed (thambos). This term is rare, appearing three times in the NT, all in Luke—Acts (Luke 5:9; Acts 3:10). The astonishment shows that these kinds of miracles were not seen as so common, unlike the way some portray the ancient world. What amazes is the power and authority in Jesus' word. [thambos]
Luke 4:37  And the report about Him was spreading into every locality in the surrounding district.
the fame (KJV): [Echos <Strong's G2279>,] the sound; a very elegant metaphor, says Dr. Adam Clarke.  The people are represented as struck with astonishment, and the sound goes out through all the coasts; in allusion to the propagation of sound by a smart stroke upon any substance. Lu 4:14 Isa 52:13 Mt 4:23-25 9:26 Mk 1:28,45 6:14 
Luke 4:38  Then He got up and left the synagogue, and entered Simon's home. Now Simon's mother-in-law was suffering from a high fever, and they asked Him to help her.  
he (KJV): Mt 8:14,15 Mk 1:29-31 1Co 9:5 
they (KJV): Lu 7:3,4 Mt 15:23  Joh 11:3,22 Jas 5:14,15 
Luke 4:39  And standing over her, He rebuked the fever, and it left her; and she immediately got up and waited on them. 
and rebuked (KJV): Lu 4:35 8:24 
and ministered (KJV): Lu 8:2,3 Ps 116:12 2Co 5:14,15 
4:39 Rebuked (epetimesen). This verb is normally reserved for encounters between people (Luke 4:41; 9:42, 55), so that disease here is almost treated like a power that needs to be stopped and over which Jesus has authority. Creation will be treated in a similar way in Luke 8:24. [epitimao]
Luke 4:40  While the sun was setting, all those who had any who were sick with various diseases brought them to Him; and laying His hands on each one of them, He was healing them.
when (KJV): Mt 8:16,17 Mk 1:32-34 
and he (KJV): Lu 7:21-23 Mt 4:23,24 11:5 14:13 Mk 3:10 6:5,55,56 Ac 5:15 19:12 
4:40 Laid hands on them (tas cheiras epititheis). This expression occurs 21 times in the NT, ten of which are in Luke—Acts (Luke 13:13; Acts 6:6, 8:17, 19; 9:12, 17; 13:3; 19:6; 28:8). It is associated with healing (Matt. 9:18), commissioning (Acts 13:3), or with the passing on of the Spirit through the apostles (Acts 8:17, 19). In this scene, Jesus' personal contact in healing is stressed. [epitithemi + cheir]
Luke 4:41  Demons also were coming out of many, shouting, "You are the Son of God!" But rebuking them, He would not allow them to speak, because they knew Him to be the Christ.
crying (KJV): Lu 4:34,35 Mk 1:25,34 3:11 
Thou (KJV): Mt 8:29 26:63  Joh 20:31 Ac 16:17,18 Jas 2:19 
speak (KJV): etc. or, say that they knew him to be Christ
4:41 The Son of God (ho huios tou theou). The demons make this confession as Jesus performs exorcisms. As in 4:34-35, Jesus silences the effort. Luke will use this title only twice more in 8:22, when the storm is calmed, and in 22:70, when Jesus is asked at his trial by the High Priest if he is this figure in a context where being Messiah and Son of Man are the points of dispute. [huios]
The Christ (ton Christon). The presence of this explanation that Jesus is the anointed one and its equation with Son of God in this scene is only noted by Luke. Just as in Luke 1:31-35, the stress is on Jesus as the unique messianic Son. [Christos]
Luke 4:42  When day came, Jesus left and went to a secluded place; and the crowds were searching for Him, and came to Him and tried to keep Him from going away from them.
when (KJV): Lu 6:12 Mk 1:35 Joh 4:34 
and the (KJV): Mt 14:13,14 Mk 1:37,45 6:33,34 Joh 6:24 
and stayed (KJV): Lu 8:37,38 24:29 Joh 4:40 
Luke 4:43  But He said to them, "I must preach the kingdom of God to the other cities also, for I was sent for this purpose."
 I must (KJV): Mk 1:14,15,38,39 Joh 9:4 Ac 10:38 2Ti 4:2 
therefore (KJV): Isa 42:1-4 48:16 61:1-3  Joh 6:38-40 20:21 
4:43 The kingdom of God (ten basileian tou theou). This important phrase is used 64 times in the NT, with 31 uses in Luke and another seven in Acts. It refers to the promised rule of God. Jesus preaches and brings this kingdom. It is both present with Jesus, having been prepared for by John the Baptist (Luke 7:28; 11:20; 16:16; 17:21) and yet to come in fullness in the future (Luke 19:11). In fullness, it is the promised rule of God on the earth with the righteous vindicated and the wicked judged. In the present, it is the arrival of forgiveness and the presence of the Spirit, an arrival that is based on Jesus' authority to defeat the spiritual forces of evil (see the parable in 11:21-23 following the key kingdom remark in 11:20). As this verse makes clear, the kingdom is the topic of Jesus' preaching the good news. He must (dei) preach the kingdom, as he was commissioned to do so (see Luke 2:49 for dei). [basileia]
Luke 4:44  So He kept on preaching in the synagogues of Judea.
he (KJV): Lu 4:15 Mt 4:23 Mk 1:39 
Galilee (KJV): Many of the Jewish traditions, in accordance with Isa 9:1, 2, assert that Galilee was the place where the Messiah should first appear.  Thus also Isa 2:19, "When he shall arise to smite terribly the earth," is expounded in the book Zohar, as referring to the Messiah:  "When he shall arise; [Vayitgaleh be-ar'ah de-galil,] and shall be revealed in the land of Galilee."
4:44 Judea (Ioudaias). Some critics have charged Luke with a geographical error in speaking of Judea while Jesus is in the North. However, Luke is using the term in its broadest sense, referring to all of Israel, so there is no error. This use was not unique to Luke (as it appears in the Iudea capta on coins of the Roman ruler, Vespasian; EDNT 2:191-92). Luke uses it this way sometimes (1:5; 6:17; 7:17; 23:5; Acts 10:37; 12:19) and more narrowly of just the South in other places (Luke 1:39, 65; 2:4; 3:1; 5:17; 21:21). [Ioudaia]
Book