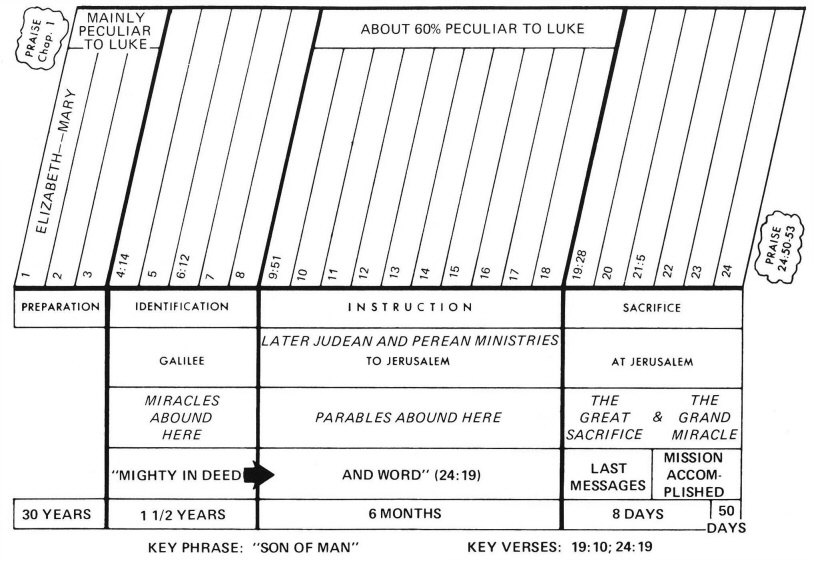 Click chart to enlarge
Chart from recommended resource Jensen's Survey of the NT - used by permission
See another Luke Overview Chart by Charles Swindoll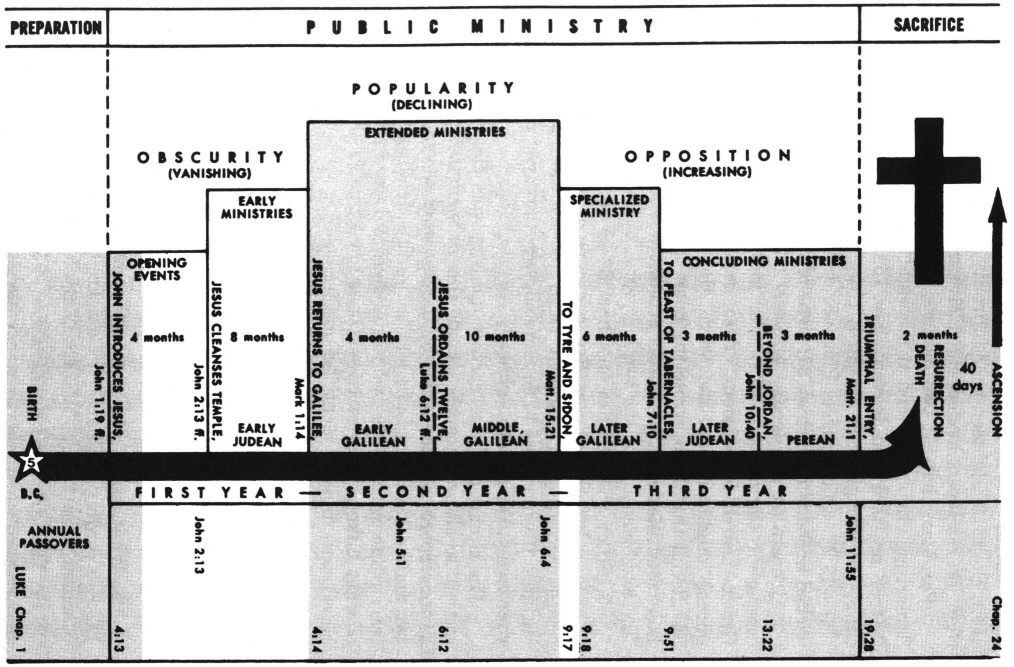 Click chart to enlarge
Chart from recommended resource  Jensen's Survey of the NT - used by permission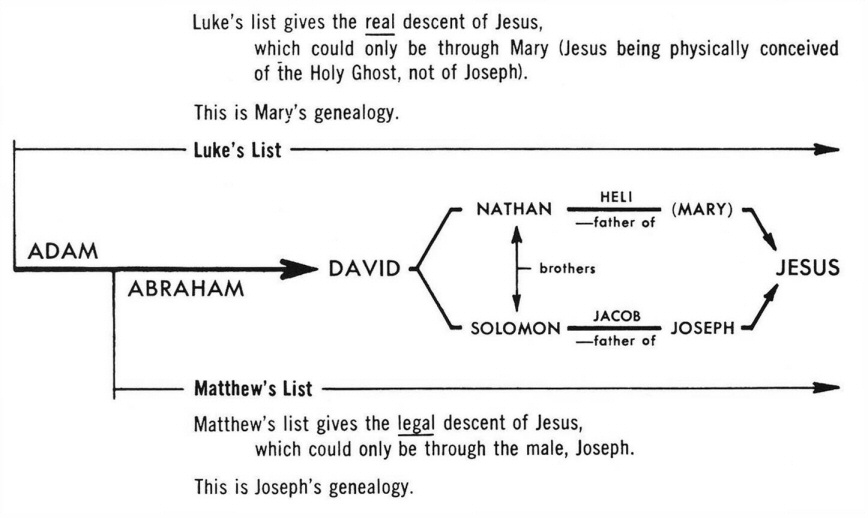 Click chart to enlarge
Chart from recommended resource Jensen's Survey of the NT - used by permission
James Rosscup writes that Alford's series on the New Testament "contains much that is valuable in the Greek New Testament… though all of the Greek New Testament words have been changed to English throughout." (Commentaries for Biblical Expositors: An Annotated Bibliography of Selected Works or Logos)
Charles Haddon Spurgeon (see his comments in following entry on Alford).
Editorial Note: If you are not proficient in Greek, you will find this work considerably more useful than the following work by Alford, because in this volume he translates the Greek and Latin into English. While the "The Greek New Testament" is longer (e.g., English version of 1John = 66 pages compared to Greek version = 94 pages in part because the latter includes comments of more technical nature), the substance of the commentary is otherwise similar to that found in the "NT for English Readers".
James Rosscup writes that "This was the great work in the life of the versatile Dean of Canterbury. An outcome of this production was the New Testament for English Readers (4 vols.). Alford was a Calvinist, conservative and premillennial, though not dispensational. He takes a literal interpretation of the thousand years in Rev. 20 and has a famous quote there, is strong on sovereign election as in Ro 8:29, 30 and 1Pe 1:2, but, unfortunately, holds to baptismal regeneration in such texts as Titus 3:5 and John 3:5. He shows a great knowledge of the Greek text and faces problems of both a doctrinal and textual nature." (Commentaries for Biblical Expositors: An Annotated Bibliography of Selected Works or Logos)
John Piper writes ""When I'm stumped with a… grammatical or syntactical or logical [question] in Paul, I go to Henry Alford. Henry Alford… comes closer more consistently than any other human commentator to asking my kinds of questions."
Charles Haddon Spurgeon writes that this text "is an invaluable aid to the critical study of the text of the New Testament. You will find in it the ripened results of a matured scholarship, the harvesting of a judgment, generally highly impartial, always worthy of respect, which has gleaned from the most important fields of Biblical research, both modern and ancient, at home and abroad. You will not look here for any spirituality of thought or tenderness of feeling; you will find the learned Dean does not forget to do full justice to his own views, and is quite able to express himself vigorously against his opponents; but for what it professes to be, it is an exceedingly able and successful work. The later issues are by far the most desirable, as the author has considerably revised the work in the fourth edition. What I have said of his Greek Testament applies equally to Alford's New Testament for English Readers,* which is also a standard work." (Spurgeon, C. H. Lectures to my Students, Vol. 4: Commenting and Commentaries; Lectures Addressed to the students of the Pastors' College, Metropolitan Tabernacle)
D Edmond Hiebert - Prints the author's own translation. A series of popular studies whose strong point is word study. Contains good illustrative material. Part of the author's interpretation follows a liberal position. Barclay holds that Christ's descent into Hades gave those who there heard Him a second chance.
Comment: I appreciate Barclay's unique insights on Greek words, but clearly his teaching about a "second chance" is NOT sound doctrine! Be an Acts 17:11 Berean with Barclay. See discussion of his orthodoxy especially the article "The Enigmatic William Barclay".
Frequent use of illustrations.
Pastor Bill's sermons are recommended because they focus on the Scripture and have frequent quotes and illustrations as well as practical application.
D Edmond Hiebert - A practical, warm-hearted exposition by a conservative scholar. Although written during the nineteenth century, it is rich in its interpretative contents, as, for example, on chapter 15.
Click for brief critique of Clarke
Over 1000 pages of Sermons - Excellent Exposition. Functions like a verse by verse commentary!
Rosscup comments: Concise treatments are given to each of the NT books. The main value of the set lies in its clear synthesis which helps the student grasp the flow of thought as he moves through a book. Erdman possessed a lucid writing style. He was amillennial. (Rosscup, J. Commentaries for Biblical Expositors)
D Edmond Hiebert - A devotional and practical exposition, in paragraph form, by a conservative Presbyterian scholar.
Spurgeon has these comment on Godet: Dr. Meyer says: "To an immense erudition, to a living piety, Godet unites a profound feeling of reality; there is here a vivifying breath, an ardent love for the Saviour, which helps the disciple to comprehend the work, the acts, the words of his Divine Master." (Spurgeon - Commenting on Commentaries)
Rosscup comments: Though old, this work is almost exhaustive in dealing with interpretive problems and shows a wide acquaintance with commentators of all ages up to his day. He is regarded by Greek authorities as weak on textual criticism but strong on exegesis. (Rosscup, J. Commentaries for Biblical Expositors)
Rosscup comments: Evangelical comments run quickly to their points, yet the generality causes skipping some key details (cf. on Anna, Lk 2:36-38) or seem to argue around a more likely view with unconvincing reasoning (Lk 3:16). In other cases, Bock seems to select the most probable view, an instance being in seeing the sermon (Luke 6) as a condensed version of the same sermon in Mt 5–7. One can also find the second and third soils of Luke 8 taken to represent people not actually saved (148–49). One can wonder in Lk 14:34–35 how inability to be worthy disciples is in harmony with salvation as a gift, for the work passes by this. Bock in most verses touches clearly on key issues and… lacks space to deal with every important matter… For a work with much application, cf. Darrell Bock, Luke (NIV Application Commentary. Grand Rapids: Zondervan, 1996). (Rosscup, J. Commentaries for Biblical Expositors)
Luke - Cambridge Greek Testament for Schools and Colleges - 
D Edmond Hiebert - Greek text. The work of a famous British scholar of the past century. In spite of its age, the phrase-by-phrase treatment is worth consulting.
DON FORTNER'S SERMON OUTLINES
DON FORTNER'S SERMONS
D Edmond Hiebert - An exhaustive, technical commentary by a conservative French theologian of the past century. Godet's theological and critical conservatism is clearly revealed in this work on Luke. Of abiding value in spite of its age.
Excellent resource, includes NETBible notes and Thomas Constable's notes both of which synchronize with the Scripture translation of your choosing. Very nice study tool!
Spurgeon writes "Oosterzee in Lange is excellent."
Rosscup comments: This used to be often considered the best older commentary on the Greek. (Rosscup, J. Commentaries for Biblical Expositors)
Charles H Spurgeon writes that Horae Homileticae are "Not Commentaries, but we could not exclude them. They have been called "a valley of dry bones": be a prophet and they will live." (Commenting on Commentaries)
John Piper says that Horae Homileticae "is the best place to go for researching Simeon's theology. You can find his views on almost every key text in the Bible. He did not want to be labeled a Calvinist or an Arminian. He wanted to be Biblical through and through and give every text its due proportion, whether it sounded Arminian as it stands or Calvinistic. But he was known as an evangelical Calvinist, and rightly so. As I have read portions of his sermons on texts concerning election and effectual calling and perseverance he is uninhibited in his affirmation of what we would call the doctrines of grace… What Simeon experienced in the word was remarkable. And it is so utterly different from the counsel that we receive today that it is worth looking at." (Brothers, We Must Not Mind a Little Suffering) (Bolding added)
Who's Who in Christian History says that "If Wilberforce is the most famous evangelical layman in the Church of England, then Simeon is the most famous evangelical clergyman." (Bolding added)
Paul Mizzi notes that "Hours and hours of toil and labour have produced this veritable treasure, full of scholarship and intellectual endeavour." (Truth for Today) (Bolding added)
B. B. Siegel notes that "One can easily find suggestive and practical helps in the preparation of sermons, devotional talks, young people's messages, prayer meeting talks, Sunday School lessons and personal Bible study. The study of these outlines will contribute greatly to expository preaching. It is a wonderful book for your library." (Bibliotheca Sacra Volume 112: page 458, October, 1955) (Bolding added)
ANOTHER SOURCE: Has Scripture popups and allows copy and paste…
Multiple devotionals under each chapter
Book