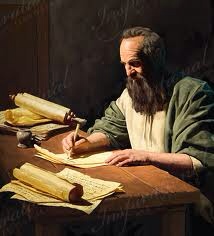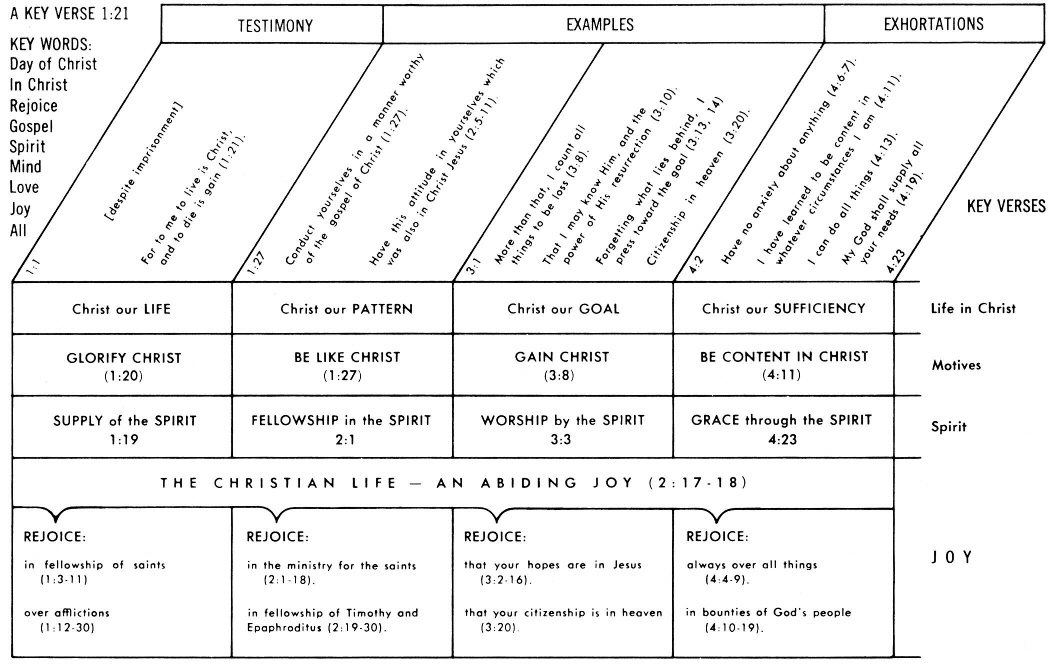 LIFE IN CHRIST
Click chart to enlarge
Charts from Jensen's Survey of the NT - used by permission
Another Overview Chart - Philippians - Charles Swindoll
Another Overview Chart
"Do nothing from selfishness or empty conceit, but with humility of mind let each of you regard one another as more important than himself do not merely look out for your own personal interests, but also for the interests of others. Have this attitude (present imperative) in yourselves which was also in Christ Jesus… So then, my beloved, just as you have always obeyed, not as in my presence only, but now much more in my absence, work out (present imperative) your salvation with fear and trembling for it is God who is at work in you, both to will and to work for His good pleasure. Do (present imperative) all things without grumbling or disputing that you may prove yourselves to be blameless and innocent, children of God above reproach in the midst of a crooked and perverse generation, among whom you appear as lights in the world." (Php 2:3-5, 12-15-See notes Php 2:3-4; 5, 12; 13; 14-15)
---
SEE ALSO: Philippians Inductive Study (recommended) - from Grace Bible Church
Expositional and Devotional. Literal, conservative, millennial, evangelical. Frequent quotes, illustrations, cross references and word studies. In depth - e.g., there are the equivalent of 40 pages of notes on Philippians 1:1
PHILIPPIANS 1
PHILIPPIANS 2
PHILIPPIANS 3
PHILIPPIANS 4
Complete Parsing of the Greek Words
April, 2001 (Revised Jan, 2003). 117 Page Devotional Commentary
Philippians Devotional Commentary
For each section:
Thesis statement … to focus on the big idea
Analytical outline … to guide the understanding
Devotional questions … to encourage life application
Representative quotations … to stimulate deeper insight 
Frequent use of quotations. Here are samples:
""When I go to heaven..." were Jack Arnold's last words before dying instantly in the pulpit from a heart attack. The extraordinary event made international headlines (note).
NOTE: THE FOLLOWING DEVOTIONALS ARE AVAILABLE AT
Philippians Devotionals
Scroll down or Search the Page for the Devotional you desire…
Comment: Barclay frequently has very insightful comments on Greek words and the ancient culture, but he is not always conservative/orthodox. Be a Berean (Acts 17:11-note) Caveat lector! See The Enigmatic William Barclay
Frequent use of illustrations. Here are examples: 
Philippians 1 - Kaufmann Kohler states in the Jewish Encyclopedia that no language has as many words for joy and rejoicing as does Hebrew. In the OT 13 Hebrew roots, found in 27 different words, are used primarily for some aspect of joy or joyful participation in religious worship.
 
Philippians 1 - Joy always under construction! 1. Most of us have experienced what happens to motorists when one of those huge graders goes to work on a highway repair job. When the machine is operating on a busy road, traffic is halted and the cars lined up in opposite directions are allowed to proceed alternately. A veteran operator of one of those big machines decided one day to try to relieve the tension that inevitably results from such a traffic backup. Consequently on both the front and rear of his grader a sign now appears, declaring, "The Road to Happiness is Almost Always Under Construction."
 
Philippians 1:19-30 - "Flower Mix-up". A bank in Binghamton, NY had some flowers sent to a competitor who had recently moved into a new building. There was a mixup at the flower shop, and the card sent with the arrangement read, "With our deepest sympathy." The florist, who was greatly embarrassed, apologized. But he was even more embarrassed when he realized that the card intended for the bank was attached to a floral arrangement sent to a funeral home in honor of a deceased person. That card read, "Congratulations on your new location!" 
 
Philippians 1:29 - Two wonderful privileges: To believe/trust in Christ and to suffer for Christ. God is honored by both. God runs a costly school, for many of his lessons are learned through tears! Soon school will close for us, the end of our school term is closer everyday. Don't run from difficult lessons; Don't flinch from the rod of discipline. Cheerfully endure to the end, then we will graduate in glory. Paul's life was a model of suffering. Suffering: confirms the believers faith; brings him/her in closer contact w/the Lord; and provides a vehicle for making commitment real and tangible. The worlds finest china is fired in ovens at least 3 times & some many more. The famous Dresden china is always fired 3 times. Why so many times with such intense heat? This makes the colors brighter, more beautiful, and permanently attached. Metal bends best when softened with fire. Marble take shape only under the splintering blows of a chisel. Wood, with the abrasive scrape of sandpaper. (Swindoll) We are fashioned after the same principle! The human trials of life are burned into us numerous times, and through God's grace, beautiful colors are formed in us and made to shine forever!
 
Philippians 2:3-5 - Dr. Harry Ironside was once convicted about his lack of humility. A friend recommended as a remedy, that he march through the streets of Chicago wearing a sandwich board, shouting the scripture verses on the board for all to hear. Dr. Ironside agreed to this venture and when he returned to his study and removed the board, he said "I'll bet there's not another man in town who would do that." 
 
Philippians 2:14 - A man decided to join a monastery and one of the rules of the group was that you were only allowed to speak two words every 10 years. At the end of 10 years he said, "Bad food!" - 10 more years went by and he said, "Hard bed!" - Finally, on his 30th anniversary with the brothers, he thundered, "I quit!" - And the priest in charge responded, "You might as well. All you do is complain anyway!"
 
Philippians 4:1-3 - Shooting the Saints - Are you wasting your ammunition on the other saints? It is said that when the British and French were fighting in Canada in the 1750's, Admiral Phipps, commander of the British fleet, was told to anchor outside Quebec. He was given orders to wait for the British land forces to arrive, then support them when they attacked the city. Phipps' navy arrived early. As the admiral waited, he became annoyed by the statues of the saints that adorned the towers of a nearby cathedral, so he commanded his men to shoot at them with the ships' cannons. No one knows how many rounds were fired or how many statues were knocked out, but when the land forces arrived and the signal was given to attack, the admiral was of no help. He had used up all his ammunition shooting at the "saints."
 
Philippians 4:8 - Holocaust survivor Viktor Frankl wrote, "Everything can be taken from a man but one thing: the last of the human freedoms - to choose one's attitude in any given set of circumstances, to choose one's own way." Memorize Phil. 4:8 Think of the mind like a bank that regularly receives deposits. By depositing the kinds of thoughts mentioned in Phil.4:8, we build up and draw on a rich account that will constantly yield a high dividend called joy!
 
Philippians 4:8 - Quick Thinking: A man working in the produce department was asked by a lady if she could buy 1/2 a head of lettuce. He replied, "1/2 a head? Are you serious? God grows these in whole heads and that's how we sell them!" "You mean," she persisted, "that after all the years I've shopped here, you won't sell me half-a-head of lettuce?" "Look," he said, "If you like I'll ask the manager." She indicated that would be appreciated, so the young man marched to the front of the store. "You won't believe this, but there's a lame braided idiot of a lady back there who wants to know if she can buy 1/2-a-head of lettuce." He noticed the manager gesturing, and turned around to see the lady standing behind him, obviously having followed him to the front of the store. "And this nice lady was wondering if she could buy the other 1/2," he concluded. Later in the day the manager cornered the young man and said, "That was the finest example of thinking on your feet I've ever seen! Where did you learn that?" "I grew up in Grand Rapids, and if you know anything about Grand Rapids, you know that it's known for its great hockey teams & its ugly women." The manager's face flushed, & he interrupted, "My wife is from Grand Rapids!" "And which hockey team did she play for?"
 
Philippians 4:13 - He who made the little slave-baby the strong champion of the Exodus; & the shepherdlad the slayer of Goliath; & the captive Daniel prime minister of mighty Babylon; He who transformed Simon to Cephas, Saul into Paul, & has made 1000's of his humble followers spiritual giants, can enable you & me to "do all things" if we live in the secret of that little phrase, "through Christ"! (Ed: And in the Church Age, Christ's power is dispensed by the indwelling Holy Spirit. Are you daily surrendering to the Spirit, being filled with the Spirit [Eph 5:18], walking by the Spirit [Gal 3:3; 5:16, 17, 18, 24, 25]? cp Galatians 2:20, John 6:63, 2 Cor 3:5,6, Ro 7:6).
C H Spurgeon wrote that Bengel's NT commentary "is the scholar's delight. He selected the title as modest and appropriate, intending it in the sense of a pointer or indicator, like the sun-dial (see gnomon); his aim being to point out or indicate the full force and meaning of the words and sentences of the New Testament. He endeavors to let the text itself cast its shadow on his page, believing with Luther that "the science of theology is nothing else but grammar exercised on the words of the Holy Spirit..... Bengel condensed more matter into a line than can be extracted from pages of other writers."
John Wesley said of Bengel "I know of no commentator on the Bible equal to Bengel" and referred to him as "The great light of the Christian world."
James Rosscup writes "This work (Gnomon), originally issued in 1742, has considerable comment on the Greek, flavoring the effort with judicious details about the spiritual life. It has much that helps, but has been surpassed by many other commentaries since its day." (Commentaries for Biblical Expositors: An Annotated Bibliography of Selected Works or Logos)
Similar to above but less Greek
Charles Haddon Spurgeon -- "'A Critical New Testament, so compiled as to enable a reader, unacquainted with Greek, to ascertain the exact English force and meaning of the language of the New Testament, and to appreciate the latest results of modern criticism.' Such is the professed aim of this commentary, and the compilers have very fairly carried out their intentions. The whole of Bengel's Gnomon is bodily transferred into the work, and as one hundred and twenty years have elapsed since the first issue of that book, it may be supposed that much has since been added to the wealth of Scripture exposition; the substance of this has been incorporated in brackets, so as to bring it down to the present advanced state of knowledge. We strongly advise the purchase of this book, as it is multum in parvo, and will well repay an attentive perusal. Tischendorf and Alford have contributed largely, with other German and English critics, to make this one of the most lucid and concise commentaries on the text and teachings of the New Testament" (Spurgeon, C. H. Lectures to my Students, Vol. 4: Commenting and Commentaries; Lectures Addressed to the students of the Pastors' College, Metropolitan Tabernacle)
Joseph Agar Beet was an English Wesleyan, born at Sheffield on Sept. 27, 1840. He attended Wesley College, Sheffield (1851-56), and took up mining engineering, but afterward studied theology at the Wesleyan College, Richmond (1862-64). He was pastor 1864-85 and professor of systematic theology in Wesleyan College, Richmond, 1885-1905. He was also a member of the faculty of theology in the University of London 1901-05. He delivered the Fernley Lecture on The Credentials of the Gospels in 1889, and lectured in America in 1896.
Hint: Do a "control + find" when you open a "hit" and search only Philippians, as well as full name.
This may take some practice but is guaranteed to yield some "gems"!
Recommended Resource
Over 350 pages of material!
Pastor Bill's sermons usually have frequent illustrations and practical applications. - Recommended
Well Done
Calvary Chapel, Fullerton, Ca - Frequent Use of Illustrations
"Designed for Pastors and Sunday Schools"
Highly Recommended - Sermons function much like verse by verse commentary
These sermons function like commentaries
One of the better in depth commentaries. Helps to know some Greek
Spurgeon: "A standard work. Essential to the scholarly student."
John Cereghin, Pastor - A thorough commentary on the Greek text. He gives excellent definitions of Greek words (19), stressing even the conjunctions (169). He denies that Christ emptied Himself of His deity (102), has a thorough discussion of the whole passage (2:5-11; pages 95-129). He urges men to serve Christ "without compromise" (238). He sometimes uses Latin or German without translation.
Recommended - Has an Attractive Devotional Quality
"Blueprint for Joy"
Frequent Illustrations
Sermons which function like commentaries. Highly Recommended
PHILIPPIANS 1
PHILIPPIANS 2
PHILIPPIANS 3
PHILIPPIANS 4
Warm, eloquent, practical expositions. There are memorable expressions: "Life is to be as Christ, for Christ, by, in, and from Christ" - John Cereghin, Pastor
A warmly devotional exposition. He divides the epistle into 27 short sections, some of which are masterpieces of exposition. On Phil 2:5-8 he maintains the absolute deity as well as humanity of Christ (82-85): He empties Himself only of His glory. - John Cereghin, Pastor
Christians As Athletes - discusses althletic metaphor as used by Paul in Corinthians and Philippians epistles and  - Here is an excerpt  relarted to Philippians - 
IN PHILIPPIANS - Paul also discusses the historical fact of Christ's resurrection and its crucial importance to living a full and enjoyable Christian life in his Epistle to the Philippians. Thus in Philippians 3:9-11 Paul assumes the historical validity of Christ's literal, bodily resurrection from the grave. This is a truth he affirms distinctly elsewhere. Indeed, Paul gave formal testimony to having personally met the risen Lord Jesus (Acts 22:6-11; 24:15, 21; 26:15-23). He made Christ's Resurrection the central theme of many of his sermons (e.g., Acts 13:29-33; 17:29-31). He explained to the early Christians that Christ's resurrection was not only a historical fact but integral to the believer's salvation (Ro 5:8-10; 1 Cor. 15:1-19).
Elsewhere Paul taught that Christ's resurrection is the full proof and assurance of the believer's own resurrection (Rom. 8:11; 1 Cor. 15:20-51). And not only that, but Paul declared that the risen Christ has taken up His abode in the believer in vital, spiritual, organic union with him (Gal. 2:20; Col. 1:18-20, 27-28). Accordingly, the believer has a ready source for living an abundant life in Christ with great power and personal godliness (Ro 6:5-14). Like Paul, Christians should also have a deep concern that all may come to know the crucified and risen Christ as Savior and Lord (2 Cor. 5:14-21).

All of these truths, taught so clearly elsewhere by Paul, are in view in Philippians 3. With an impassioned eloquence Paul moves from the mention of Christ's resurrection after His suffering at the cross (Phil. 3:10) to the reality of the believer's new life here and now as he awaits his own resurrection with the saints to a glorified life hereafter Phil 3:11): (Click for full lengthy discussion)
Excerpt - How do I apply this? Though we all have much to be thankful for, the pace and the pressure of life often squeeze the joy from us. Our shoulders slumped and our heads bowed, we find some days—or months—very difficult to get through. Desperate, we often search for joy in all kinds of ways—acquiring possessions, visiting places, or seeing people. But none of these can provide lasting joy. Where do you find joy in the midst of a trying circumstance? Paul knew, as did the Philippians, that true joy comes only through humble faith in the saving work of Jesus Christ, joining ourselves in harmony with His followers, and serving others in the name of Christ. This was the life experienced by the Philippian believers, and it is a life available to us today. Allow the joy you find in Christ to keep you from useless quarrels and divisions and to instead guide you into harmonious relationships with God's people.
John Cereghin, Pastor - Heart-warming sermons by the "golden-mouthed" preacher of the early church. He admits "bishop" and "elder" used to refer to the same person (184), has an eloquent exposition of l:21 (195, 196), argues for the doctrines of the Trinity, the pre-existence of Christ, His deity, absolute equality with the Father (206-209), His full humanity (p. 213), and attacks those heresies that deny these doctrines.
Spurgeon - Adam Clarke is the great annotator of our Wesleyan friends; and they have no reason to be ashamed of him, for he takes rank among the chief of expositors. His mind was evidently fascinated by the singularities of learning, and hence his commentary is rather too much of an old curiosity shop, but it is filled with valuable rarities, such as none but a great man could have collected.  (Lectures to My Students: Volume 4: Commenting on Commentaries)
Spurgeon: A very distinguished place is due to Dr. Gill. Beyond all controversy, Gill was one of the most able Hebraists of his day, and in other matters no mean proficient.
John Cereghin - A Bible study of Philippians, based on a chart. There are outlines and comments on the whole book. He has an interesting digression on the names of Christ in Scripture, defends the deity of Christ.
John Cereghin - Devotional expositions. There are apt illustrations, thought-provoking comments, a strong defense of the deity of Christ (42), and a warm encouragement of joyfulness. He urges the Premillennial interpretation of the Bible (84).
Or Try the Unabridged Version:
Spurgeon: Of this I have a very high opinion. It is the joint work of Mr. Jamieson, A. R. Fausset, and Dr. David Brown. It is to some extent a compilation and condensation of other men's thoughts, but it is sufficiently original to claim a place in every minister's library; indeed it contains so great a variety of information that if a man had no other exposition he would find himself at no great loss if he possessed this and used it diligently.

My comment - J, F, B although an older work tends to be one of the most literal older commentaries (literal millennium, does not replace Israel with the church, etc)
Spurgeon: A noble volume. A real boon to the man who purchases it.

John Cereghin, Pastor - A very thorough, practical, and homiletical exposition by a strong Presbyterian. He warns against thinking that church membership, baptism, or adherence to the Westminster Confession is ground for salvation (254,255). On Phil 2:5-11 he maintains that pre-existence and deity of Christ (146-148). The book also includes a considerable number of notes on the Greek text.
Meditations with excellent thoughts for the expositor.
Spurgeon: "Much that is excellent placed in "darkness visible.""
Spurgeon: These volumes are not all of equal value, but as a whole, they are a grand addition to our stores. The American translators have added considerably to the German work, and in some cases these additions are more valuable than the original matter. For homiletical purposes these volumes are so many hills of gold, but, alas, there is dross also, for Baptismal Regeneration and other grave errors occur.

John Cereghin, Pastor - Braune, Karl, Philippians in Lange's Commentary on the Holy Scriptures, n.d. (first American edition 1870), 76 pages. A conservative Lutheran exposition. He has thorough comments based on the Greek text, argues for the unity of the book and its Pauline authorship (5), describes the subjective mediation of Christ (17). On 2:5-11 he teaches the pre-existence of Christ (32) and His deity (33); he denies that He emptied Himself of His deity (35).
John Cereghin - The most thorough and helpful commentary on the Greek text. He discusses every grammatical and interpretative problem in the book and has extended notes on special subjects (see on "bishop" and "presbyter" 95-99). He defends the pre-existence and deity of Christ, holding that He emptied Himself "not of His divine nature, for this was impossible, but of the glories, the prerogatives, of Deity. This He did by taking upon Him the form of a servant" (112). There are also extended dissertations of "The Christian Ministry" and "St. Paul and Seneca."
Note: Links below are to shorter, individual Mp3's…
No doubt wonderfully learned, but we cannot get on with it. Quotations from heretics we have happily never heard of before are of no great use to simple believers like ourselves. - John Cereghin, Pastor
A warmly devotional, yet scholarship exposition. He has a paraphrase of all the epistle and most helpful explanations. He also has helpful comments on the names of Christ used in Philippians (255-260). - John Cereghin, Pastor
Rosscup - Though he discusses Philippians in his Word Pictures, Robertson here devotes an entire detailed book on the epistle. He is rich in word studies and in the explanation of the text.

John Cereghin, Pastor - Expository messages based on the Greek text of Philippians. They are warm-hearted and genuinely helpful. He gives the exact vocabulary meaning of words, as well as the interpretation of passages. On Phil 2:1-11 he affirms the full humanity and deity of Christ (130). His exaltation is "the taking up of the humanity of Jesus into His deity with new glory" (140).
Spurgeon: Speaker's in general "contains much which tends to illustrate the text; but if you had it you would not turn to it for spiritual food, or for fruitful suggestion, or if you did so, you would be disappointed. The object of the work is to help the general reader to know what the Scriptures really say and mean, and to remove some of the difficulties. It keeps to its design and in a measure accomplishes it."
Spurgeon - Trapp will be most valuable to men of discernment, to thoughtful men, to men who only want a start in a line of thought, and are then able to run alone. Trapp excels in witty stories on the one hand, and learned allusions on the other. You will not thoroughly enjoy him unless you can turn to the original, and yet a mere dunce at classics will prize him. His writings remind me of himself: he was a pastor, hence his holy practical remarks; he was the head of a public school, and everywhere we see his profound scholarship; he was for some time amid the guns and drums of a parliamentary garrison, and he gossips and tells queer anecdotes like a man used to soldier-life; yet withal, he comments as if he had been nothing else but a commentator all his days. Some of his remarks are far-fetched, and like the far fetched rarities of Solomon's Tarshish, there is much gold and silver, but there are also apes and peacocks. His criticisms would some of them be the cause of amusement in these days of greater scholarship; but for all that, he who shall excel Trapp had need rise very early in the morning. Trapp is my especial companion and treasure; I can read him when I am too weary for anything else. Trapp is salt, pepper, mustard, vinegar, and all the other condiments. Put him on the table when you study, and when you have your dish ready, use him by way of spicing the whole thing. Yes, gentlemen, read Trapp certainly, and if you catch the infection of his consecrated humor, so much the better for your hearers.  (Lectures to My Students: Volume 4: Commenting on Commentaries)
Spurgeon: Deservedly esteemed. Dr. Vaughan gives a literal translation of his text from the original Greek, and then expounds it, believing it, as he says, "to be the duty of every Christian teacher to assist his congregation in drinking not of the stream only, but at the spring of revealed truth."
John Cereghin, Pastor - Devotional meditations on Philippians by a missionary. He gives the theme verse of the book (Phil 1:21, pp. 9ff.); stresses the recognizing, not appointment, of elders (24ff.); gives many illustrations from Chinese missions; distinguishes between Greek words; shows 7 steps down in Christ's humiliation and 7 up in exaltation (137, 43); provides insight from the papyri (150f.); holds that "work out" means "cultivate" (154f.); teaches the Pre-tribulation Rapture (246f.; 296); warns about the ease with which misunderstandings arise between believers (283f.)
ROBERT MORGAN
WILLIAM GRAHAM SCROGGIE
SERMON CENTRAL - Be discerning - these are of variable quality.
JAMES SMITH
DAVID L KENNARD
RUSSELL SMITH
JAMES SMITH
MIKE ANDRUS
C.R. BIGGS
MARK ADAMS
A warmly devotional, yet scholarship exposition. He has a paraphrase of all the epistle and most helpful explanations. He also has helpful comments on the names of Christ used in Philippians (255-260). - John Cereghin, Pastor
Additional Our Daily Bread devotionals at
NOTE: If you are not familiar with the great saint Charles Simeon see Dr John Piper's discussion of Simeon's life - you will want to read Simeon's sermons after meeting him! - click Brothers We Must Not Mind a Little Suffering (Mp3 even better)
PHILIPPIANS 1
PHILIPPIANS 2
PHILIPPIANS 3
PHILIPPIANS 4
PHILIPPIANS 1
PHILIPPIANS 2
PHILIPPIANS 3
PHILIPPIANS 4
Note: Amillennial
Excellent Word Studies (53 pages)
Book