<
THE BRIDGE ILLUSTRATION:
You Are Three Steps from Eternity!
(1) The Dreadful Dilemma
(2) The Deadly Deception
(3) The Dependable Deliverer
My Personal "Walk" Down the Romans Road - it took me 39 years!
THE DREADFUL DILEMMA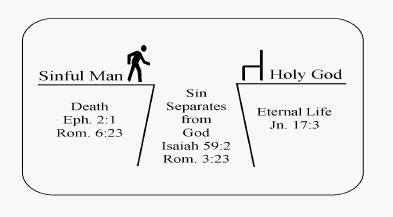 Click Picture for Scriptures
GOD'S WORD DESCRIBING
OUR NEED FOR AND
THE WAY OF SALVATION

BEFORE CHRIST

Eph 2:1,2+
Ro 3:10-+
Ps 14:1,2,3+
Isa 53:6
Ro 6:23+
Gal 3:22NLT

Ro 5:12NLT+
Isa 59:2
Ro 3:23+
Ezekiel 18:4NLT
John 3:3, 3:36
Acts 4:12
Acts 16:31+
AFTER CHRIST
Jn 17:3
Jn 20:31
Ro 1:16+
Jn 1:12NLT+
Jn 1:13NLT+
1Jn 5:10,11, 12, 13+
Indeed, there is "not a righteous man on earth who continually does good and who never sins." (Ecclesiastes 7:20)
SELF-RIGHTEOUSNESS arises partly from pride but mainly from ignorance of God's Law. It is because men know little or nothing concerning the terrible character of the divine Law, that they foolishly imagine themselves to be righteous. They are not aware of the deep spirituality, and the stern severity of the Law, or they would have other and wiser notions. Once let them know how strictly the Law deals with the thoughts, how it brings itself to bear upon every emotion of the inner man, and there is not one creature beneath God's heaven who would dare to think himself righteous in God's sight in virtue of his own deeds and thoughts. Only let the Law be revealed to a man; let him know how strict the Law is, and how infinitely just, and his self-righteousness will shrivel into nothing—it will become a filthy rag in his sight, whereas before he thought it to be a goodly garment. (From Secret Sins by C H Spurgeon)
Ge 2:17
Jas 2:10
Col 2:13+
Ro 3:11-18+
Gal 3:22NLT
Not by Good Works
Titus 3:3 4 5 6+
2Ti 1:9NLT+
Ro 3:20+ Ro 3:28+
Ro 4:5+
For Good Works
Eph 2:8, 9+
Eph 2:10+
Mt 5:16+
Every one of them has turned aside.
Together they have become corrupt.
There is no one who does good, not even one .
(Psalm 53:3+, cp Gal 6:7+, Gal 6:8+)
THE DEPENDABLE DELIVERER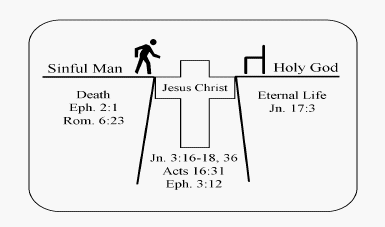 Click Picture for Scriptures
BEFORE CHRIST
Eph 2:5+
Eph 4:18NLT+
Job 25:4NLT
Ps 53:1, 2, 3+
Gal 3:22NLT
Jn 14:6
Jn 8:24
Jn 3:16, 17, 18
Acts 16:31+
Eph 3:12NLT+
AFTER CHRIST
2 Cor 5:17+
2 Pe 1:4+
All of us like sheep have gone astray. Each of us has turned to his own way but the LORD has caused the iniquity of us all to fall on Him. (Isaiah 53:6, cp John 1:29+, Isa 53:5, 1Pe 2:24, 25+)
Then he (Abram) believed in the LORD and He reckoned it to him as righteousness. (Genesis 15:6, cp Gal 3:8, 16, Acts 16:31+)
HERE IS THE GOSPEL (GOOD NEWS) GOD GIVES SINFUL MEN TO BELIEVE IN THAT THEY MIGHT LIVE FOREVER WITH HIM...
For I delivered to you as of first importance what I also received, that Christ died for our sins (2 Co 5:21+) according to the Scriptures (even in the OT, cp Gal 3:8), and that He was buried and that He was raised on the third day (Ro 6:4+) according to the Scriptures, and that He appeared to Cephas (Peter), then to the twelve (Acts 1:3). (1 Cor 15:3-5+)
Jesus declared...
"I said therefore to you,
that you shall die in your sins;
for unless you believe that I am He,
you shall die in your sins."
(John 8:24)
Jesus declared...
"The time is fulfilled, and the kingdom of God is at hand;
repent and believe in the Gospel."
(Mark 1:15)
Jesus declared...
"I tell you, no, but unless you repent,
you will all likewise perish."
(Luke 13:3)
Jesus warned...
"And why do you call Me, 'Lord, Lord,'
and do not do what I say?
(Luke 6:46)
Jesus declared...
"For whoever wishes to save his life
shall lose it;
but whoever loses his life for My sake and the gospel's
shall save it.
(Mark 8:35)
Jesus declared...
"Strive to enter by the narrow door; for many,
I tell you, will seek to enter and will not be able."
(Luke 13:24-note)
Jesus declared...
"Enter by the narrow gate;
for the gate is wide, and the way is broad
that leads to destruction (apoleia),
and many are those who enter by it.
For the gate is small, and the way is narrow
that leads to life,
and few are those who find it."
(Matthew 7:13, 14-note)
Jesus declared...
"I am the way, and the truth, and the life;
no one comes to the Father, but through Me."
(John 14:6)

Believe
(Command = Do it now! Don't delay! It it urgent!)
in the Lord Jesus,
and you shall be saved...
(Acts 16:31)
To summarize: Jesus Christ died for us, in our place, as our Substitutionary Sacrificial "Lamb" (the One to Whom all the Old Testament sacrifices had been pointing, cp Jn 1:29+, 1Co 5:7 and Ex 12:5, 6, 13, 7, 21, 1Pe 1:18, 19+). He truly died and was buried (Jn 19:30). He was truly resurrected from the dead (Jn 11:25, 26, Ps 16:10+, Acts 2:31NLT, Acts 17:32, 24:15, 26:23, Ro 1:4NLT+, 1 Co 15:21NLT, 1 Pe 1:3+, Rev 20:6+). He truly appeared alive after His rising from the dead (Acts 1:3, Mk 16:14NLT. He truly ascended (Acts 1:9). He will surely return again (Acts 1:11, Jn 14:3, Rev 1:7, 8-+, Rev 19:11+, Rev 19:16+, Mt 24:30, 25:31, 1Th 1:10+). He must be received by grace through faith and not by our works of "righteousness" lest anyone boast (Ep 2:8, 9+). Dear reader, would you today ponder the reality of a Christ-less eternity and "believe in the Lord Jesus Christ and you shall be saved" (Acts 16:31) and you will become a new creature in Christ (2Cor 5:17-note) with a new hope of eternal life with Christ (Jn 14:3, 1 Thes 4:17+, Rev 22:3, 4, 5+). Even in the Old Testament the call of the Messiah, Christ Jesus, has always been...
Turn (Command to "look" Isa 45:22KJV) to Me, and be saved, all the ends of the earth, for I am God, and there is no other. (Isa 45:22)

This is the passage the Holy Spirit used to lead the "prince of preachers", Charles Haddon Spurgeon, to salvation in Christ Jesus - read Spurgeon's Personal Testimony)
Then he (Abram = Abraham) believed in the LORD and He reckoned it to him as righteousness. (cp Ge 15:6NLT, cp Gal 3:8, 16, Ro 4:2 3-note Ro 4:4 5-note)

Note: Salvation in the Old Testament is the same way as in the New Testament - by grace through faith - and not based on works of self righteousness or keeping the Law or performing the sacrifices! (cp Ro 3:25+, Heb 9:15+)
Please take a moment and watch and listen to the vocal version of Rescue The Perishing based in part on Fanny Crosby's famous hymn (Hint: Select Full Screen view for maximum impact). Beloved I will be amazed if you can watch and listen to this youtube video of Fanny Crosby's classic hymn without weeping.
May our hearts break for what breaks our Father's heart and may His Spirit so fill us that His Good News "becomes like a burning fire" (Jer 20:9 23:29) in our bosom and we cannot hold it in for the sake of Jesus Who is Mighty To Save. (Hillsong version) Amen
Rescue the Perishing
-- Fanny Crosby
Powerful VocaL by Billy & Cindy Foote 

Rescue the perishing, care for the dying,
Snatch them in pity from sin and the grave;
Weep o'er the erring one, lift up the fallen,
Tell them of Jesus, the mighty to save.

Refrain
Rescue the perishing, care for the dying,
Jesus is merciful, Jesus will save.

Though they are slighting Him, still He is waiting,
Waiting the penitent child to receive;
Plead with them earnestly, plead with them gently;
He will forgive if they only believe.
Refrain

Down in the human heart, crushed by the tempter,
Feelings lie buried that grace can restore;
Touched by a loving heart, wakened by kindness,
Chords that were broken will vibrate once more.
Refrain

Rescue the perishing, duty demands it;
Strength for thy labor the Lord will provide;
Back to the narrow way patiently win them;
Tell the poor wand'rer a Savior has died.
Refrain
RELATED RESOURCES:
THE ROMANS ROAD
to RIGHTEOUSNESS
(from the book of Romans)
Romans 1:18-3:20
Romans 3:21-5:21
Romans 6:1-8:39
Romans 9:1-11:36
Romans 12:1-16:27
SIN
SALVATION
SANCTIFICATION
SOVEREIGNTY
SERVICE
NEED
FOR
SALVATION
WAY
OF
SALVATION
LIFE
OF
SALVATION
SCOPE
OF
SALVATION
SERVICE
OF
SALVATION
God's Holiness
In
Condemning
Sin
God's Grace
In
Justifying
Sinners
God's Power
In
Sanctifying
Believers
God's Sovereignty
In
Saving
Jew and Gentile
Gods Glory
The
Object of
Service
Deadliness
of Sin
Design
of Grace
Demonstration of Salvation
Power Given
Promises Fulfilled
Paths Pursued
Righteousness
Needed
Righteousness
Credited
Righteousness
Demonstrated
Righteousness
Restored to Israel
Righteousness
Applied
God's Righteousness
IN LAW
God's Righteousness
IMPUTED
God's Righteousness
OBEYED
God's Righteousness
IN ELECTION
God's Righteousness
DISPLAYED
Slaves to Sin
Slaves to God
Slaves Serving God
Doctrine
Duty
Life by Faith
Service by Faith

Modified from Irving L. Jensen's excellent work "Jensen's Survey of the NT"
Book