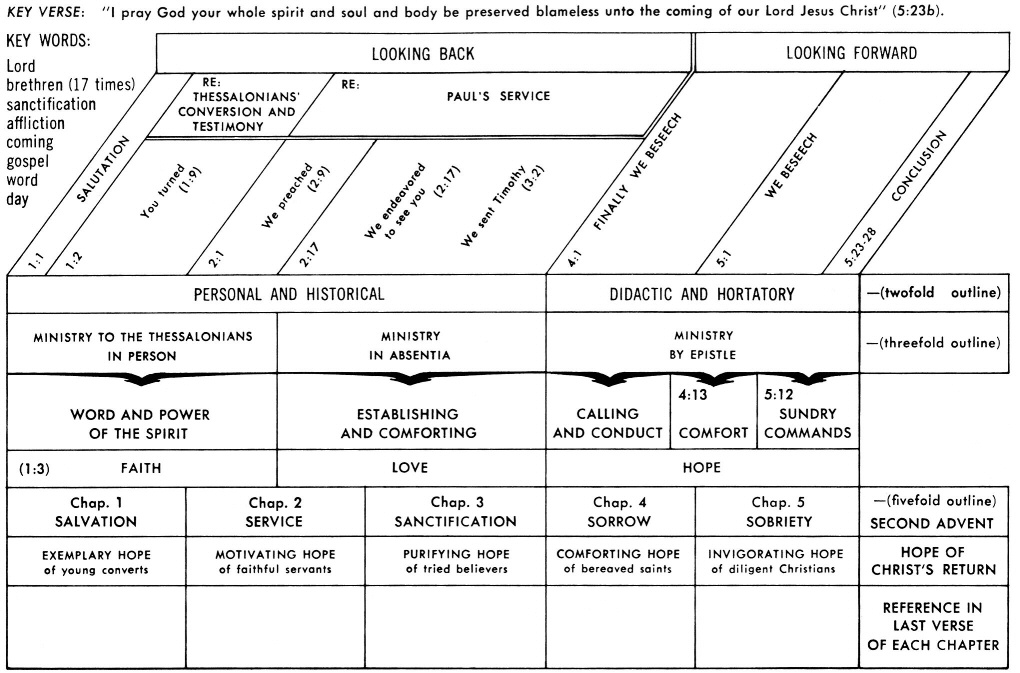 JESUS IS COMING AGAIN
Click chart to enlarge
Charts from Jensen's Survey of the NT - used by permission
Another Overview Chart - 1 Thessalonians - Charles Swindoll
Another Overview Chart
---
CHRIS BENFIELD
JOSEPH BENSON
BIBLICAL ILLUSTRATOR
STEVEN COLE
JOHN DUMMELOW
EXPOSITOR'S DICTIONARY OF TEXTS
GENE GETZ - short videos emphasizing key priniciples
BRUCE GOETTSCHE
GOSPEL COALITION
HOLMAN
ILLUSTRATIONS Multiple Sources
H A IRONSIDE
JOHN ANGELL JAMES
JOHN LILLIE, 1860 (Pastor of First Presbyterian, Kingston, NY)
ALEXANDER MACLAREN
F B MEYER
H A W MEYER
D. Edmond Hiebert - A thorough exposition of these epistles by a scholarly German professor of the past century. One of the justly celebrated older commentaries, with ample presentation of varying views on all important points. Dated but still of value for those familiar with the Greek or desiring the views of scholars of the past.
J R MILLER
James Rosscup writes "Some regarded this in its day as the best work on the Greek text." (Commentaries for Biblical Expositors: An Annotated Bibliography of Selected Works)

D. Edmond Hiebert - Greek text. A noted critical study by a pioneer authority in the papyri Has much valuable material in the introduction and the added notes.
MONERGISM
HENRY MORRIS Defender's Study Bible Note
ROBERT NEIGHBOUR Wells of Living Water
OUR DAILY BREAD Devotionals/Illustrations
J C PHILPOT
ALFRED PLUMMER
D Edmond Hiebert - While not as full as the author's excellent work on the Gospel of Luke, these volumes provide a critical exegetical unfolding of these epistles. Greek words are often quoted but generally in parentheses, so that the non-Greek reader can readily profit from these volumes.
PREACHER'S HOMILETICAL COMMENTARY
REFORMATION STUDY BIBLE
SERMON BIBLE COMMENTARY
CHUCK SMITH
TODAY IN THE WORD Devotionals
DAVID WILKERSON
A Courageous Preacher
1 Thessalonians 2:1-2
A Minister Without Boldness
W. Gurnal.
1 Thessalonians 2:1-2
Christian Devotion
1 Thessalonians 2:1-2
Essential Elements of Success in Preaching: Boldness
G. Barlow.
1 Thessalonians 2:1-2
Influence of Character
Boston Review
1 Thessalonians 2:1-2
Ministerial Boldness
J. Hutchinson, D. D.
1 Thessalonians 2:1-2
Not in Vain
1 Thessalonians 2:1-2
The True Pulpit
D. Thomas, D. D.
1 Thessalonians 2:1-2
True Courage
Shaftesbury.
1 Thessalonians 2:1-2
Effectiveness of the Gospel
T. Croskery
1 Thessalonians 2:1-4
The Characteristics of St. Paul's Preaching At Thessalonica
B.C. Caffin
1 Thessalonians 2:1-12
The Manner of the Preachers; Or, Self-Portraiture
R. Finlayson
1 Thessalonians 2:1-12
Boldness in Declaring the Gospel
W.F. Adeney
1 Thessalonians 2:2
Advantages Sometimes Acquired by Guile
H. K. Burton.
1 Thessalonians 2:3-6
All Glory to God
Prof. Jowett.
1 Thessalonians 2:3-6
An Unfaithful Preacher
Henry Varley.
1 Thessalonians 2:3-6
But as We Were Allowed of God to be Put in Trust with the Gospel
C. Hodge, D. D.
1 Thessalonians 2:3-6
Deceit an Unsafe Element in Moral Building
Archbishop Whately.
1 Thessalonians 2:3-6
Displeasing Men
1 Thessalonians 2:3-6
Disregarding the Slanders of Men
1 Thessalonians 2:3-6
Emptiness of Worldly Glory
Sunday at Home.
1 Thessalonians 2:3-6
Essential Elements of Success in Preaching: Sincerity
G. Barlow.
1 Thessalonians 2:3-6
Exhortation
Prof. Jowett.
1 Thessalonians 2:3-6
Flattering Words
Bp. Home., La Rochefoucauld.
1 Thessalonians 2:3-6
Flattery Discouraged
1 Thessalonians 2:3-6
Glory Claimed for God Alon
Prof. Jowett.
1 Thessalonians 2:3-6
Gospel Trustees
W. Birch.
1 Thessalonians 2:3-6
Labour of Love
W. Montgomery.
1 Thessalonians 2:3-6
Not as Pleasing Men But God
E. Mellor, D. D.
1 Thessalonians 2:3-6
Sin Cloaked
J. Hutchison, D. D.
1 Thessalonians 2:3-6
St. Paul's Ministry -- Described
A. S. Patterson, D. D.
1 Thessalonians 2:3-6
The Christian Ministry
W. Bengo Collyer, D. D., R. Fergusson.
1 Thessalonians 2:3-6
The Danger of Popularity
J. R. Andrews.
1 Thessalonians 2:3-6
The Gospel and its Preachers
J. Cumming, D. D.
1 Thessalonians 2:3-6
The Mean Between Flattery and Severity
1 Thessalonians 2:3-6
The Minister's Trust, Faithfulness, and Trials
W. D. Horwood, M. A.
1 Thessalonians 2:3-6
The True Missionary Spirit
G. C. Needham.
1 Thessalonians 2:3-6
Tried by God
J. Caryl.
1 Thessalonians 2:3-6
Trustees for God
Reuen Thomas, D. D.
1 Thessalonians 2:3-6
Unmercenary Motives
D. L. Moody.
1 Thessalonians 2:3-6
Entrusted with the Gospel
W.F. Adeney
1 Thessalonians 2:4
The Spirit and Method of Apostolic Labor
T. Croskery
1 Thessalonians 2:5-8
Essential Elements of Success in Preaching: Gentleness
G. Barlow.
1 Thessalonians 2:7-8
Gentleness Essential to Nurses
Fanny Fern.
1 Thessalonians 2:7-8
Loved into Life
J. Halsey.
1 Thessalonians 2:7-8
Ministerial Affection and Devotedness
R. Grant.
1 Thessalonians 2:7-8
Ministerial Work and Character
Bp. D. Wilson.
1 Thessalonians 2:7-8
Ministers Should be Gentle
Dean Church.
1 Thessalonians 2:7-8
Ministers the Nursing Fathers of the Church
C. H. Spurgeon.
1 Thessalonians 2:7-8
Tenderness Prepares for Usefulness
C. H. Spurgeon.
1 Thessalonians 2:7-8
The Love of Souls a Necessary Qualification for the Ministerial Office
S. Davies, A. M.
1 Thessalonians 2:7-8
The Nurse -- Mother
A. S. Patterson, D. D.
1 Thessalonians 2:7-8
The Use of Affectionateness in Commending the Gospel
W.F. Adeney
1 Thessalonians 2:7, 8
Truth Warmed by Love
A Holy Life Recognized
1 Thessalonians 2:9-12
A Walk Worthy of God
Dean Vaughan.
1 Thessalonians 2:9-12
An Unmercenary Teacher
1 Thessalonians 2:9-12
Apostolic Behaviour and Methods
J. Hutchison, D. D.
1 Thessalonians 2:9-12
Christian Magnanimity
J. Witherspoon, D. D.
1 Thessalonians 2:9-12
Consistency At Home
1 Thessalonians 2:9-12
Eagles and Flies
C. H. Spurgeon.
1 Thessalonians 2:9-12
Essential Elements of Success in Preaching
G. Barlow.
1 Thessalonians 2:9-12
Holy Instruments
R. McCheyne.
1 Thessalonians 2:9-12
Not to Disgrace Religion
W. Buxton.
1 Thessalonians 2:9-12
Preaching While Walking
Paxton Hood.
1 Thessalonians 2:9-12
Sixty Years of Pure Life
1 Thessalonians 2:9-12
St. Paul's Labours in Thessalonica
Bp. Alexander.
1 Thessalonians 2:9-12
That Ye Would Walk Worthy of God
F. A. Noble, D. D.
1 Thessalonians 2:9-12
The Dignity and Duty of God
1 Thessalonians 2:9-12
The Faithful Pastor
J. Hill, B. D.
1 Thessalonians 2:9-12
The Influence of a Holy Life
F. W. Farrar.
1 Thessalonians 2:9-12
The Power of a Christian Life
D. Thomas, B. A., of Bristol.
1 Thessalonians 2:9-12
Walk Worthy of God
W. Birch.
1 Thessalonians 2:9-12
Walking Worthily
A. Maclaren, D. D.
1 Thessalonians 2:9-12
Walking Worthy of God
Appeal Alike to Man and to God Respecting His Personal and His Official Work At Thessalonica
T. Croskery
1 Thessalonians 2:10-12
Worthy of God
W.F. Adeney
1 Thessalonians 2:12
A Due Reception of the Gospel
C. Simeon, M. A.
1 Thessalonians 2:13
A Happy Ministers' Meeting
C. H. Spurgeon.
1 Thessalonians 2:13
Converted by the Word
1 Thessalonians 2:13
Experimental Evidence to the Word
J. Cumming, D. D.
1 Thessalonians 2:13
God's Word and Man's; Their Relative Effect
W. Baxendale.
1 Thessalonians 2:13
God's Word and Man's; Their Relative Value
W. Baxendale.
1 Thessalonians 2:13
God's Word Intelligently Received
Maurice C. Hime, M. A.
1 Thessalonians 2:13
God's Word Prayerfully Received
Der Glaubensbote.
1 Thessalonians 2:13
God's Word Soul Quickening
1 Thessalonians 2:13
Hearing and Receiving the Word
G. Swinnock, M. A.
1 Thessalonians 2:13
Inspiration of the Spoken Word
J. Hutchison, D. D.
1 Thessalonians 2:13
Life-Giving Energy of the Word of God
1 Thessalonians 2:13
Receiving the Scriptures as the Word of Man
Archbishop Tait.
1 Thessalonians 2:13
Receiving the Word
E. Brown.
1 Thessalonians 2:13
The Authenticity of the Scriptures
A. Barber.
1 Thessalonians 2:13
The Correct Estimate of Gospel Truth
G. Barlow.
1 Thessalonians 2:13
The Efficacy of the Word of God and the Way of Receiving It
E. Cooper, M. A.
1 Thessalonians 2:13
The Gospel Message: its Instrument and Reception
Weekly Pulpit
1 Thessalonians 2:13
The Logic of Life
W. L. Watkinson.
1 Thessalonians 2:13
The Power of the Word
S. T. Coleridge.
1 Thessalonians 2:13
The Preaching of the Word and its Effects
J. Benson.
1 Thessalonians 2:13
The Right Reception of the Gospel
G. W. Humphreys, M. A.
1 Thessalonians 2:13
The Thessalonian Reception of the Truth
T. Croskery
1 Thessalonians 2:13
The Unity of the Bible
Bp. Huntington.
1 Thessalonians 2:13
The Word and its Works
G. Swinnock, M. A.
1 Thessalonians 2:13
The Word of God
W.F. Adeney
1 Thessalonians 2:13
Response of the Thessalonians to the Proclamation of the Gospel by Paul and His Companions
R. Finlayson
1 Thessalonians 2:13-16
The Effects of the Gospel
B.C. Caffin
1 Thessalonians 2:13-16
Benefit of Persecution
Cawdray.
1 Thessalonians 2:14
Consolation in Persecution
1 Thessalonians 2:14
Persecution a Stimulus
T. De Witt Talmage, D. D.
1 Thessalonians 2:14
Persecution Elicits Sympathy
1 Thessalonians 2:14
Suffering the Test of Conversion
G. Barlow.
1 Thessalonians 2:14
The Honour of Persecution
1 Thessalonians 2:14
The Secret of Persecution
J. Spencer.
1 Thessalonians 2:14
Guilty of the Death of Christ
1 Thessalonians 2:15-16
Paul's Indictment of the Jews
J. Hutchison, D. D.
1 Thessalonians 2:15-16
Severity Consistent with Benevolence
Dr. J. Buchanan.
1 Thessalonians 2:15-16
The Fury of the Old Religion Against the New
G. Barlow.
1 Thessalonians 2:15-16
The Jews Under the Wrath of God
1 Thessalonians 2:15-16
Fullness of Sins
W.F. Adeney
1 Thessalonians 2:16
Paul's Absence from the Thessalonians
D. Mayo.
1 Thessalonians 2:17
The Discipline of Absence
Free Methodist.
1 Thessalonians 2:17
The Power of Satan Great But Restricted
G. Barlow.
1 Thessalonians 2:17
The Apostle's Anxiety to Visit the Thessalonians
T. Croskery
1 Thessalonians 2:17, 18
Great Desire to See the Thessalonians
R. Finlayson
1 Thessalonians 2:17-20
St. Paul's Love for His Converts
B.C. Caffin
1 Thessalonians 2:17-20
Hindered by Satan
W.F. Adeney
1 Thessalonians 2:18
Satan a Hinderer
Christian Herald
1 Thessalonians 2:18
Satan as a Hinderer
Homiletic Review
1 Thessalonians 2:18
Satan Hindering Paul
J. Hutchison, D. D.
1 Thessalonians 2:18
Satan the Hinderer
J. Parker, D. D.
1 Thessalonians 2:18
Satanic Hindrance
C. H. Spurgeon.
1 Thessalonians 2:18
Satanic Power
J. M. McNulty, D. D.
1 Thessalonians 2:18
The Hinderer
T. Kelly.
1 Thessalonians 2:18
Believers the Joy of Ministers
C. Evans, D. D.
1 Thessalonians 2:19-20
Consistent Christians a Minister's Joy
C. H. Spurgeon.
1 Thessalonians 2:19-20
Culture of Character the Work of the Christian Pastor
R. Tuck, B. A.
1 Thessalonians 2:19-20
Heavenly Recognition
H. Kollock, D. D.
1 Thessalonians 2:19-20
Hope, Joy, Crown
Andrew Fuller.
1 Thessalonians 2:19-20
Paul's Crown and Glory
J. Hutchison, D. D.
1 Thessalonians 2:19-20
The Grand Reward Anticipated by the Genuine Gospel Minister
D. Thomas, D. D.
1 Thessalonians 2:19-20
The Minister's Joy
James Parsons.
1 Thessalonians 2:19-20
The Minister's Joy
D. Wilcox.
1 Thessalonians 2:19-20
The Pastor's Crown of Rejoicing
J. Stoughton, D. D.
1 Thessalonians 2:19-20
The Pastor's Joy and Crown
R. Davey.
1 Thessalonians 2:19-20
The Way to the Crown
J. R. Miller.
1 Thessalonians 2:19-20
Those We Lead to Christ an Element of Our Final Reward
T. T. Duryea, D. D.
1 Thessalonians 2:19-20
Book