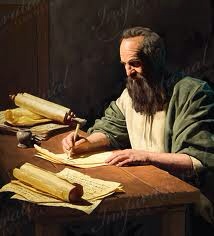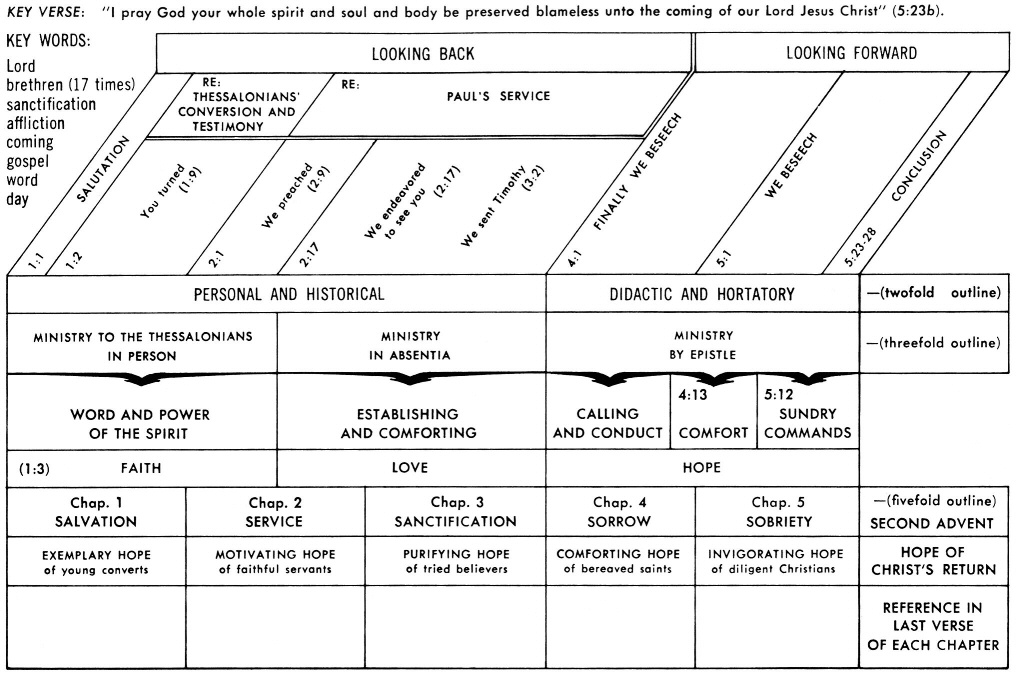 JESUS IS COMING AGAIN
Click chart to enlarge
Charts from Jensen's Survey of the NT - used by permission
1 Thessalonians
Overview

1 Th 1:1-10
1 Th 2:1-20
1 Th 3:1-13
1 Th 4:1-18
1 Th 5:1-28

LOOKING BACK

LOOKING FORWARD

Personal Reflections
History

Practical Instructions
Hortatory

Ministry
In
Person
Ministry
in Absentia
(Thru Timothy)
Ministry
by
Epistle
Word and Power
of the Spirit
Establishing &
Comforting
Calling & Conduct
1Th 4:13ff
Comfort
1Th 5:12ff
Commands
1
Salvation
2
Service
3
Sanctification
4
Sorrow
5
Sobriety
Paul Commends
Spiritual Growth
Paul Founds
the Church
Strengthening of
the Church
Directions for
Spiritual Growth
Holy Living in Light of Day of the Lord
Exemplary Hope of Young Converts
Motivating Hope of
Faithful Servants
Purifying Hope of Tried Believers
Comforting Hope of Bereaved Saints
Invigorating Hope of Diligent Christians

Written from Corinth
Approximately 51AD

Key Words: Gospel (Word, Message), tribulation (suffering, affliction), Spirit, coming (Lord's return), holiness (sanctification, sanctify), faith, love, hope, Day of the Lord (day), Satan (tempter), brethren

See Introduction to 1Thessalonians by Dr John MacArthur: Title, Author, Date, Background, Setting, Historical, Theological Themes, Interpretive Challenges, Outline by Chapter/Verse. Excellent overview. From Grace To You ministries - same intro as in MacArthur Study Bible
---
MIKE ANDRUS AND JOSH BLACK - SERMON SERIES ON 1 THESSALONIANS
Each transcript averages about 10 pages.
BIBLE GATEWAY
THOMAS BROOKS
JOHN CEREGHIN
OSWALD CHAMBERS
VINCENT CHEUNG
THOMAS EDGAR
GOSPEL COALITION
L W GRANT
DANNY HALL Sermons
JAMES HASTINGS
DAVID HOCKING
HOLMAN STUDY NOTES
DAVID HOLWICK - sermons
HYMNS RELATING TO 1 THESSALONIANS
A E KNOCH - conservative, literal
KEITH KRELL
GOTTLEB LUNEMANN
JAMES MACKNIGHT
RICHARD MAYHUE
J R MILLER
JAMES MOFFATT The Expositor's Greek Testament
G CAMPBELL MORGAN - The Analyzed Bible
ROBERT MORGAN
HENRY MORRIS Defender's Study Bible Notes
Conservative. From one of the world's leading creationists.
ANDREW MURRAY
JOSEPH PARKER - People's Commentary 
J C PHILPOT
PRECEPT MINISTRIES
ADRIAN ROGERS
J. C. RYLE
JOHN SCHULTZ - 37 page commentary by former missionary to Irian Jaya, Indonesia
HAMILTON SMITH
JOE STOWELL
GEORGE WHITEFIELD
| | | |
| --- | --- | --- |
| Fenelon -- the Saints Converse with God | Various | 1 Thessalonians 5:1 |
| Certainty of the Time of the Second Advent | T. Croskery | 1 Thessalonians 5:1-5 |
| Exhortation in View of the Lord's Coming | R. Finlayson | 1 Thessalonians 5:1-11 |
| The Attitude of the Church Towards the Second Advent of Christ | G. Barlow. | 1 Thessalonians 5:1-11 |
| The Day of the Lord | B.C. Caffin | 1 Thessalonians 5:1-11 |
| The Profanity of Attempting to Determine the Time | Bp. Jewell. | 1 Thessalonians 5:1-11 |
| The Second Advent and its Issues | R. Fergusson. | 1 Thessalonians 5:1-11 |
| The Uncertainty of the Time of the Second Advent | J. Hutchison, D. D. | 1 Thessalonians 5:1-11 |
| Times and Seasons | Abp. Trench. | 1 Thessalonians 5:1-11 |
| Under Sealed Orders |   | 1 Thessalonians 5:1-11 |
| A Reminder of Mortality |   | 1 Thessalonians 5:2 |
| Christ Coming as a Thief in the Night | J. Hutchison, D. D. | 1 Thessalonians 5:2 |
| Preparedness | H. D. Mackay. | 1 Thessalonians 5:2 |
| The Day of the Lord | Canon Liddon. | 1 Thessalonians 5:2 |
| The Suddenness of the Second Advent | J. H. Newman, D. D. | 1 Thessalonians 5:2 |
| A Thief in the Night | W.F. Adeney | 1 Thessalonians 5:2-4 |
| A Deadly Peace | J. W. Hardman. | 1 Thessalonians 5:3 |
| Danger Near and Man Unconscious of It | J. W. Hardman. | 1 Thessalonians 5:3 |
| Delusions | C. H. Spurgeon. | 1 Thessalonians 5:3 |
| False Overconfidence | J. L. Nye. | 1 Thessalonians 5:3 |
| False Peace | C. H. Spurgeon. | 1 Thessalonians 5:3 |
| Men Lured to Destruction | Rowland Hill. | 1 Thessalonians 5:3 |
| Procrastination Leads to Sudden Destruction | C. H. Spurgeon. | 1 Thessalonians 5:3 |
| Secure in Sin | C. H. Spurgeon. | 1 Thessalonians 5:3 |
| The Day of Days | Canon Liddon. | 1 Thessalonians 5:3 |
| The Sinner's Doom | Sir E. Bayley, D. D. | 1 Thessalonians 5:3 |
| Unconsciousness of the Approach of Death | Canon Farrar. | 1 Thessalonians 5:3 |
| Ready to Die |   | 1 Thessalonians 5:4 |
| Responsibility for Religious Privileges | D. Moore, M. A. | 1 Thessalonians 5:4 |
| Two Views of Death | Sunday at Home. | 1 Thessalonians 5:4 |
| Children of Life and Light | A. Caldwell. | 1 Thessalonians 5:5 |
| Children of Light | Free Methodist Magazine | 1 Thessalonians 5:5 |
| Children of the Night and Darkness | W. C. Church. | 1 Thessalonians 5:5 |
| Judged by the Light We Give |   | 1 Thessalonians 5:5 |
| Light and Liberty | H. W. Beecher. | 1 Thessalonians 5:5 |
| Light Within Diffuses Radiance Without | H. Grey, D. D. | 1 Thessalonians 5:5 |
| The Children of the Day | R. A. Hallam, D. D. | 1 Thessalonians 5:5 |
| The Relation of Christianity to Intellectual Culture | C. N. Sims, D. D. | 1 Thessalonians 5:5 |
| Vigilance and Sobriety | J. Burns, D. D. | 1 Thessalonians 5:5 |
| A Warning Against Watchlessness | T. Croskery | 1 Thessalonians 5:5-8 |
| A Slumbering Church | C. Wadsworth, D. D. | 1 Thessalonians 5:6 |
| Awake Thou that Sleepest | Prof. Croskerry. | 1 Thessalonians 5:6 |
| Awake! Awake | C. H. Spurgeon. | 1 Thessalonians 5:6 |
| Be Sober | A. S. Patterson, D. D. | 1 Thessalonians 5:6 |
| Duty of Watchfulness | W. Mason. | 1 Thessalonians 5:6 |
| Let Us not Sleep | T. Binney. | 1 Thessalonians 5:6 |
| Life the Time for Work | Preacher's Monthly | 1 Thessalonians 5:6 |
| On Guard | G. Swinnock, M. A. | 1 Thessalonians 5:6 |
| Salutary Watchfulness | A Tamil Parable. | 1 Thessalonians 5:6 |
| Sleep | T. M. Morris. | 1 Thessalonians 5:6 |
| Sleep Not | C. H. Spurgeon. | 1 Thessalonians 5:6 |
| Spiritual Sleep | J. Morison, D. D. | 1 Thessalonians 5:6 |
| Taking Observations | W. Wilberforce. | 1 Thessalonians 5:6 |
| The Danger of Spiritual Slumber | J. W. Hardman, LL. D. | 1 Thessalonians 5:6 |
| The Deadening Effects of the Gospel When it Does not Arou | C. H. Spurgeon. | 1 Thessalonians 5:6 |
| The Enchanted Ground | C. H. Spurgeon. | 1 Thessalonians 5:6 |
| The Insensibility of the Sinner | C. H. Spurgeon. | 1 Thessalonians 5:6 |
| The Pilgrims on the Enchanted Ground | L. O. Thompson. | 1 Thessalonians 5:6 |
| The Soul Asleep | D. Moore, M. A. | 1 Thessalonians 5:6 |
| Watch | R. S. Barrett. | 1 Thessalonians 5:6 |
| Watch | C. H. Spurgeon. | 1 Thessalonians 5:6 |
| Watchfulness Must be Constant | J. F. B. Tinling, B. A. | 1 Thessalonians 5:6 |
| Watchfulness Overcome | J. L. Nye. | 1 Thessalonians 5:6 |
| Why Christians Should not Sleep | Preacher's Monthly | 1 Thessalonians 5:6 |
| Night and Day | W.F. Adeney | 1 Thessalonians 5:6-8 |
| A Manifold Drunkenness |   | 1 Thessalonians 5:7 |
| The Christian View of Drunkenness | T. H. Pattison. | 1 Thessalonians 5:7 |
| Aspects of Christian Life | T. Binney. | 1 Thessalonians 5:8 |
| Christian Sobriety, or Seriousness | A. Jessop, D. D. | 1 Thessalonians 5:8 |
| For an Helmet, the Hope of Salvation | C. Hodge, D. D. | 1 Thessalonians 5:8 |
| Good Counsel | D. Mayo. | 1 Thessalonians 5:8 |
| Hope of Salvation | Christian Age | 1 Thessalonians 5:8 |
| The Breastplate of Faith and Love | J. W. Burn. | 1 Thessalonians 5:8 |
| The Helmet | C. H. Spurgeon. | 1 Thessalonians 5:8 |
| The Sober Minded Children of the Day | A. Triggs. | 1 Thessalonians 5:8 |
| The Work and Armour of the Children of the Day | A. Maclaren, D. D. | 1 Thessalonians 5:8 |
| Assured Salvation Through Christ | L. O. Thompson. | 1 Thessalonians 5:9-10 |
| Called to Salvation | C. H. Spurgeon. | 1 Thessalonians 5:9-10 |
| Christ's Desire for His People's Company | A. G. Brown. | 1 Thessalonians 5:9-10 |
| God's Everlasting Purpose | C. Clayton, M. A. | 1 Thessalonians 5:9-10 |
| Oneness with Christ | C. H. Spurgeon. | 1 Thessalonians 5:9-10 |
| Salvation | Bp. Alexander., C. Hodge, D. D. | 1 Thessalonians 5:9-10 |
| The Divine Appointment of Christians | W.F. Adeney | 1 Thessalonians 5:9, 10 |
| The Source, Channel, and End of the Salvation Hoped for | T. Croskery | 1 Thessalonians 5:9-11 |
| Christian Comfort | Luther's Table Talk. | 1 Thessalonians 5:11 |
| Comfort and Edification | Bp. Villiers. | 1 Thessalonians 5:11 |
| Edification | Bp. Alexander. | 1 Thessalonians 5:11 |
| Edification the Aim of Christian Speech | C. H. Spurgeon. | 1 Thessalonians 5:11 |
| The Communion of Saints | W. Mudge, B. A. | 1 Thessalonians 5:11 |
| The Power of Comfort | Jeremy Taylor. | 1 Thessalonians 5:11 |
| The Power to Comfort a Test of Religion | W. Davenport Adams. | 1 Thessalonians 5:11 |
| Appreciation of a Clergyman's Work | W. Baxendale. | 1 Thessalonians 5:12-13 |
| Faithful Ministers Worthy of Respect | E. Payson. | 1 Thessalonians 5:12-13 |
| Ministers and People | A. Wickens. | 1 Thessalonians 5:12-13 |
| Pastoral Claims | J. A. James. | 1 Thessalonians 5:12-13 |
| Pastors and People | A. S. Patterson, D. D. | 1 Thessalonians 5:12-13 |
| The Due Recognition of Christian Pastors | T. Croskery | 1 Thessalonians 5:12, 13 |
| Closing Exhortations | B.C. Caffin | 1 Thessalonians 5:12-22 |
| Exhortations | R. Finlayson | 1 Thessalonians 5:12-22 |
| Inculcation of Mutual Peace | T. Croskery | 1 Thessalonians 5:13 |
| Helping the Weak | C. H. Spurgeon. | 1 Thessalonians 5:14 |
| Mutual Duties of Church Members | T. Croskery | 1 Thessalonians 5:14 |
| Patience | H. W. Beecher. | 1 Thessalonians 5:14 |
| Patience and Charity Needed | Dr. Spinning. | 1 Thessalonians 5:14 |
| Precept and Practice | G. Swinnock, M. A. | 1 Thessalonians 5:14 |
| Precepts | G. Barlow. | 1 Thessalonians 5:14 |
| Support the Weak | Told in Dr. Bernardo's "Night and Day. " | 1 Thessalonians 5:14 |
| The Contrast Between Heathenism and Christianity in the Treatment of the Weak | C. H. Spurgeon. | 1 Thessalonians 5:14 |
| The Difficulty of the Strong to Sympathize with the Weak | F. Jacox, B. A. | 1 Thessalonians 5:14 |
| The Feeble Minded | Bp. Alexander. | 1 Thessalonians 5:14 |
| Warnings | J. Richardson, M. A. | 1 Thessalonians 5:14 |
| Abstinence from Revenge, and the Steadfast Pursuit of Good | T. Croskery | 1 Thessalonians 5:15 |
| Following the Good | W. Birch. | 1 Thessalonians 5:15 |
| Good for Evil | H. R. Burton. | 1 Thessalonians 5:15 |
| Negative and Positive Precepts | G. Barlow., Prof. Jowett. | 1 Thessalonians 5:15 |
| Perseverance in Following the Good | W. Birch. | 1 Thessalonians 5:15 |
| The Duty and the Privilege of Constant Joy | T. Croskery | 1 Thessalonians 5:16 |
| A Trinity of Privileges | T. G. Horton. | 1 Thessalonians 5:16-18 |
| A Triple Commandment | H. Smith. | 1 Thessalonians 5:16-18 |
| Cheerfulness in God's Service | G. Dawson, M. A. | 1 Thessalonians 5:16-18 |
| Christian Joy | H. W. Beecher. | 1 Thessalonians 5:16-18 |
| Christian Rejoicing | J. Hamilton, D. D. | 1 Thessalonians 5:16-18 |
| Happiness in All Circumstances | J. F. B. Tinling, B. A. | 1 Thessalonians 5:16-18 |
| Rejoice Evermore | R. S. Barrett. | 1 Thessalonians 5:16-18 |
| Rejoice Evermore | C. H. Spurgeon. | 1 Thessalonians 5:16-18 |
| Rejoice Evermore | W. M. Hawkins. | 1 Thessalonians 5:16-18 |
| Rejoice Evermore | I. Barrow, D. D. | 1 Thessalonians 5:16-18 |
| Rejoice Evermore |   | 1 Thessalonians 5:16-18 |
| Rejoice Evermore | B. Beddome, M. A. | 1 Thessalonians 5:16-18 |
| Rejoice Evermore | D. Thomas, D. D. | 1 Thessalonians 5:16-18 |
| Rejoice Evermore |   | 1 Thessalonians 5:16-18 |
| Rejoice Evermore | A. S. Patterson, D. D. | 1 Thessalonians 5:16-18 |
| Rejoicing According to Individual Capacity | Billy Bray. | 1 Thessalonians 5:16-18 |
| The Duty and the Means of Cheerfulness | R. W. Dale, D. D. | 1 Thessalonians 5:16-18 |
| The Pleasantness of Religion | J. W. Diggle, M. A. | 1 Thessalonians 5:16-18 |
| Three Universal Exhortations | W.F. Adeney | 1 Thessalonians 5:16-18 |
| Constant Prayer in Practice | Clerical Library | 1 Thessalonians 5:17 |
| Continuous and Stated Prayer | Dean Goulburn. | 1 Thessalonians 5:17 |
| Continuous Prayer | Life of Dr. Raleigh. | 1 Thessalonians 5:17 |
| Ejaculatory Prayer | T. Fuller, D. D. | 1 Thessalonians 5:17 |
| Example of Constant Prayer | Life of Fletcher of Madeley. | 1 Thessalonians 5:17 |
| Given to Prayer | Joseph Cook. | 1 Thessalonians 5:17 |
| Habitual Communion with God in Prayer | Plain Sermons by Contributors to "Tracts for the Times." | 1 Thessalonians 5:17 |
| Necessity of Constant Prayer | C. H. Spurgeon. | 1 Thessalonians 5:17 |
| Pray Without Ceasing | C. H. Spurgeon. | 1 Thessalonians 5:17 |
| Prayer a Security |   | 1 Thessalonians 5:17 |
| Prayer a Training for Prayer | C. H. Spurgeon. | 1 Thessalonians 5:17 |
| Prayer All Pervading | J. H. Newman, D. D. | 1 Thessalonians 5:17 |
| Prayer Always Seasonable |   | 1 Thessalonians 5:17 |
| Prayer Independent of Moods | J. L. Nye. | 1 Thessalonians 5:17 |
| Prayer Without Petition | Independent. | 1 Thessalonians 5:17 |
| Regularity in Prayer | C. H. Spurgeon. | 1 Thessalonians 5:17 |
| The All Pervasiveness of Prayer | Dean Goulburn. | 1 Thessalonians 5:17 |
| The Duty of Constant Prayer | T. Croskery | 1 Thessalonians 5:17 |
| The Nature, Seasons, and Obligations of Prayer | Timothy Dwight, D. D. | 1 Thessalonians 5:17 |
| The Spirit of Prayer | T. Griffith, M. A. | 1 Thessalonians 5:17 |
| The Spirit of Prayer | T. Griffith, A. M. | 1 Thessalonians 5:17 |
| Unceasing Prayer | Prof. Shedd. | 1 Thessalonians 5:17 |
| Unceasing Prayer |   | 1 Thessalonians 5:17 |
| Value of Constant Prayer | C. H. Spurgeon. | 1 Thessalonians 5:17 |
| Watching and Prayer | J. Ruskin. | 1 Thessalonians 5:17 |
| Exemplary Thanksgiving |   | 1 Thessalonians 5:18 |
| Grounds for Thankfulness | J. Hamilton, D. D. | 1 Thessalonians 5:18 |
| Reasons for Thankfulness | J. L. Nye. | 1 Thessalonians 5:18 |
| Thankfulness |   | 1 Thessalonians 5:18 |
| Thankfulness and Unthankfulness | Christian Age | 1 Thessalonians 5:18 |
| Thanksgiving | A. T. Pierson, D. D. | 1 Thessalonians 5:18 |
| Thanksgiving to God | S. Ward. | 1 Thessalonians 5:18 |
| Thanksgiving with Prayer | The Christian | 1 Thessalonians 5:18 |
| The Duty of Thankfulness | J. Hamilton, D. D. | 1 Thessalonians 5:18 |
| The Duty of Thanksgiving | T. Croskery | 1 Thessalonians 5:18 |
| The Faculty of Thankfulness | H. W. Beecher. | 1 Thessalonians 5:18 |
| The Habit of Thankfulness | J. A. Broadus, D. D. | 1 Thessalonians 5:18 |
| The Perpetual Thanksgiving of a Christian Life | E. L. Hull, B. A. | 1 Thessalonians 5:18 |
| Unthankfulness | J. Hamilton, D. D. | 1 Thessalonians 5:18 |
| Danger of Deferring Reformation | J. Foster. | 1 Thessalonians 5:19 |
| Instance of Quenching the Spirit | Rufus W. Clark, D. D. | 1 Thessalonians 5:19 |
| On Quenching the Spirit | Bp. Temple. | 1 Thessalonians 5:19 |
| On the Holy Spirit | D. Katterns. | 1 Thessalonians 5:19 |
| Positive Duties | H. Smith. | 1 Thessalonians 5:19 |
| Protecting the Spirit's Light | Newman Hall, LL. B. | 1 Thessalonians 5:19 |
| Quench not the Spirit | E. Mellor, D. D. | 1 Thessalonians 5:19 |
| Quench not the Spirit | B. Beddome, M. A. | 1 Thessalonians 5:19 |
| Quench not the Spirit | Arthur G. Baxter. | 1 Thessalonians 5:19 |
| Quenching the Spirit | A. Raleigh, D. D. | 1 Thessalonians 5:19 |
| Quenching the Spirit | T. Boston, D. D. | 1 Thessalonians 5:19 |
| Quenching the Spirit |   | 1 Thessalonians 5:19 |
| Quenching the Spirit | J. Parsons. | 1 Thessalonians 5:19 |
| Quenching the Spirit | C. G. Finney, D. D. | 1 Thessalonians 5:19 |
| Quenching the Spirit | W. Jay. | 1 Thessalonians 5:19 |
| Quenching the Spirit | W.F. Adeney | 1 Thessalonians 5:19 |
| Self-Destroyed | W. Baxendale. | 1 Thessalonians 5:19 |
| The Coated Heart | A. Maclaren, D. D. | 1 Thessalonians 5:19 |
| The Spirit Quenched |   | 1 Thessalonians 5:19 |
| The Spirit Quenched | D. L. Moody. | 1 Thessalonians 5:19 |
| The Working of the Divine Spirit | Dean Vaughan. | 1 Thessalonians 5:19 |
| Words of Warning | R. W. Randall, M. A. | 1 Thessalonians 5:19 |
| Exhortations Regarding Spiritual Gifts | T. Croskery | 1 Thessalonians 5:19-21 |
| Careless Listening |   | 1 Thessalonians 5:20 |
| Despise not Prophesyings | B. Beddome, M. A. | 1 Thessalonians 5:20 |
| A Life Given to Proving All Things | Mark Pattison, B. D. | 1 Thessalonians 5:21 |
| Faith and Reason | Prof. Tillett. | 1 Thessalonians 5:21 |
| Hold Fast that Which is Good | B. Beddome, M. A. | 1 Thessalonians 5:21 |
| Holdfast | L. O. Thompson. | 1 Thessalonians 5:21 |
| Holdfasts | W. Birch. | 1 Thessalonians 5:21 |
| Holding Fast the Good | T. Jones, D. D. | 1 Thessalonians 5:21 |
| Innovation and Conservatism in Matters of Religion | T. G. Horton. | 1 Thessalonians 5:21 |
| Man in Relation to the Vast and the Specific | D. Thomas, D. D. | 1 Thessalonians 5:21 |
| Private Judgment | W.F. Adeney | 1 Thessalonians 5:21 |
| Prove -- Then Hold Fast | S. Martin. | 1 Thessalonians 5:21 |
| Prove All Things | J. Vaughan, M. A. | 1 Thessalonians 5:21 |
| Prove All Things | Bp. E. H. Bickersteth. | 1 Thessalonians 5:21 |
| Prove All Things | B. Beddome, M. A. | 1 Thessalonians 5:21 |
| Proving the Power of God's Grace |   | 1 Thessalonians 5:21 |
| Quinquagesima Sunday | F. D. Maurice, M. A. | 1 Thessalonians 5:21 |
| Testing the Bible | T. De Witt Talmage. | 1 Thessalonians 5:21 |
| The Bible and Free Inquiry | F. Tucker, B. A. | 1 Thessalonians 5:21 |
| The Right of Private Judgment in Matters of Religion | J. Burnet. | 1 Thessalonians 5:21 |
| Abstinence from the Appearance of Evil | G. Peck, D. D. | 1 Thessalonians 5:22 |
| Avoiding Sins of Every Appearance | C. F. Deems, D. D. | 1 Thessalonians 5:22 |
| Avoiding the Appearance of Evil | B. Beddome, M. A. | 1 Thessalonians 5:22 |
| Avoiding the Appearance of Evil | Memoir of Venn. | 1 Thessalonians 5:22 |
| Fear of Sin | C. H. Spurgeon. | 1 Thessalonians 5:22 |
| Safe Conduct | T. Brooks. | 1 Thessalonians 5:22 |
| The Appearance of Evil |   | 1 Thessalonians 5:22 |
| The Appearance of Evil | Great Thoughts | 1 Thessalonians 5:22 |
| The Need of Guarding Against All Evil | C. H. Spurgeon. | 1 Thessalonians 5:22 |
| Warning Against Every Form of Evil | T. Croskery | 1 Thessalonians 5:22 |
| A Short But Comprehensive Prayer | R. Fergusson. | 1 Thessalonians 5:23 |
| Body, Soul and Spirit Sanctified | T. Arnold, D. D. | 1 Thessalonians 5:23 |
| Body, Soul, and Spirit | Canon T. S. Evans, D. D. | 1 Thessalonians 5:23 |
| Body, Soul, and Spirit | Dean Goulburn. | 1 Thessalonians 5:23 |
| Complete Sanctification | W.F. Adeney | 1 Thessalonians 5:23 |
| Entire Sanctification | M. G. Pearse. | 1 Thessalonians 5:23 |
| Entire Sanctification | Dr. Jarbo. | 1 Thessalonians 5:23 |
| Entire Sanctification | W. B. Pope, D. D. | 1 Thessalonians 5:23 |
| Sanctification | Timothy Dwight, D. D. | 1 Thessalonians 5:23 |
| The King's Lodging | C. H. Spurgeon. | 1 Thessalonians 5:23 |
| The Prayer for Entire Consecration | Bp. Ellicott. | 1 Thessalonians 5:23 |
| The Sanctification of the Complete Man | E. L. Hull, B. A. | 1 Thessalonians 5:23 |
| The Spiritual Nature | Lyman Abbott. | 1 Thessalonians 5:23 |
| The Tripartite Nature of Man | Bp. Woodford. | 1 Thessalonians 5:23 |
| Prayer for the Sanctification and Preservation of Thessalonian Believers | T. Croskery | 1 Thessalonians 5:23, 24 |
| The Result of Obedience to These Commandments - Sanctification | B.C. Caffin | 1 Thessalonians 5:23, 24 |
| Prayer | R. Finlayson | 1 Thessalonians 5:23-28 |
| God's Faithfulness | C. H. Spurgeon. | 1 Thessalonians 5:24 |
| God's Faithfulness | W.F. Adeney | 1 Thessalonians 5:24 |
| The Faith of Man and the Faithfulness of God | W. Archer Butler, M. A. | 1 Thessalonians 5:24 |
| Prayer for Ministers | J. Vaughan, M. A. | 1 Thessalonians 5:25 |
| Prayer for Missionaries | J. Aldis. | 1 Thessalonians 5:25 |
| Prayer Helps Preaching | W. Buxton. | 1 Thessalonians 5:25 |
| The Force of Prayer | Bp. Westcott. | 1 Thessalonians 5:25 |
| The Ministers' Plea for the Peoples' Prayers | J. Gouge, D. D. | 1 Thessalonians 5:25 |
| The Minister's Prayer Book | Clerical Library | 1 Thessalonians 5:25 |
| The Prayers of Christian People in Relation to Ministerial Work | Evan Lewis, B. A. | 1 Thessalonians 5:25 |
| The Value of Prayer for Ministers | H. C. Fish, D. D. | 1 Thessalonians 5:25 |
| Three Closing Injunctions | T. Croskery | 1 Thessalonians 5:25-27 |
| Conclusion | B.C. Caffin | 1 Thessalonians 5:25-28 |
| A Smiling Greeting | The Christian | 1 Thessalonians 5:26 |
| Christian Greeting |   | 1 Thessalonians 5:26 |
| Fraternal Salutation | A. Barnes, D. D. | 1 Thessalonians 5:26 |
| The Holy Kiss | J. Neil, M. A. | 1 Thessalonians 5:26 |
| A Solemn Mandate | A. Barnes, D. D. | 1 Thessalonians 5:27 |
| Bible Reading in the Church | J. W. Burn. | 1 Thessalonians 5:27 |
| Desire to Know God's Word | Religious Tract Society Anecdotes | 1 Thessalonians 5:27 |
| The Authenticity of the Epistle | Archdeacon Paley. | 1 Thessalonians 5:27 |
| The Authority of St. Paul's Epistles | Bp. Alexander. | 1 Thessalonians 5:27 |
| The Witness to Christ of the Oldest Christian Writing | A. Maclaren, D. D. | 1 Thessalonians 5:27 |
Book