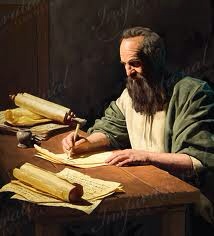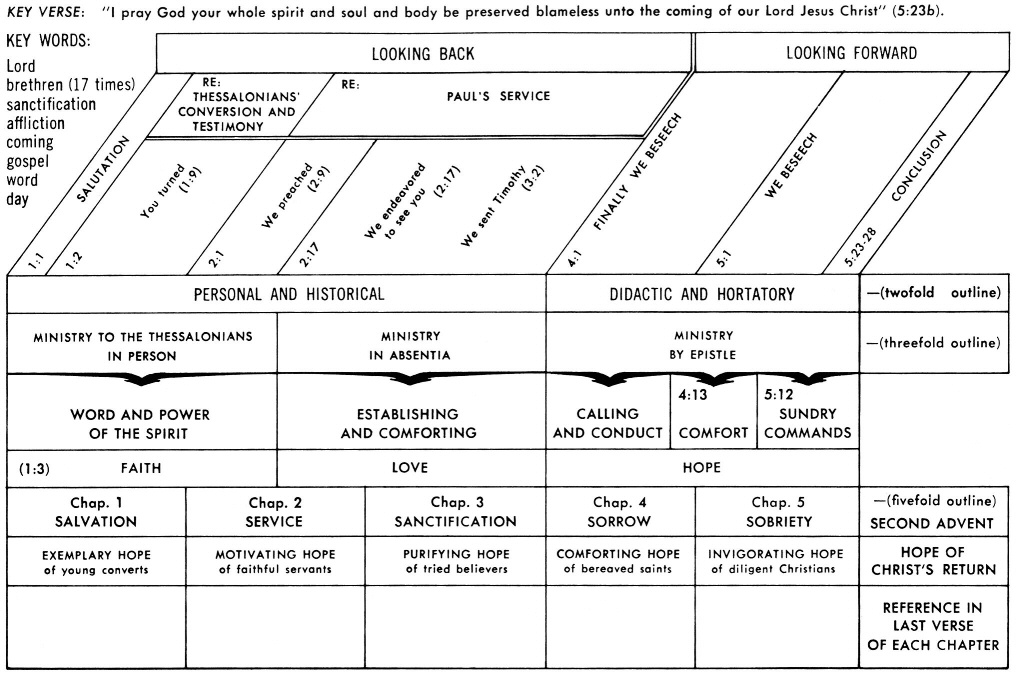 JESUS IS COMING AGAIN
Click chart to enlarge
Charts from Jensen's Survey of the NT - used by permission
1 Thessalonians
Overview

1 Th 1:1-10
1 Th 2:1-20
1 Th 3:1-13
1 Th 4:1-18
1 Th 5:1-28

LOOKING BACK

LOOKING FORWARD

Personal Reflections
History

Practical Instructions
Hortatory

Ministry
In
Person
Ministry
in Absentia
(Thru Timothy)
Ministry
by
Epistle
Word and Power
of the Spirit
Establishing &
Comforting
Calling & Conduct
1Th 4:13ff
Comfort
1Th 5:12ff
Commands
1
Salvation
2
Service
3
Sanctification
4
Sorrow
5
Sobriety
Paul Commends
Spiritual Growth
Paul Founds
the Church
Strengthening of
the Church
Directions for
Spiritual Growth
Holy Living in Light of Day of the Lord
Exemplary Hope of Young Converts
Motivating Hope of
Faithful Servants
Purifying Hope of Tried Believers
Comforting Hope of Bereaved Saints
Invigorating Hope of Diligent Christians

Written from Corinth
Approximately 51AD

Key Words: Gospel (Word, Message), tribulation (suffering, affliction), Spirit, coming (Lord's return), holiness (sanctification, sanctify), faith, love, hope, Day of the Lord (day), Satan (tempter), brethren

See Introduction to 1Thessalonians by Dr John MacArthur: Title, Author, Date, Background, Setting, Historical, Theological Themes, Interpretive Challenges, Outline by Chapter/Verse. Excellent overview. From Grace To You ministries - same intro as in MacArthur Study Bible
James Rosscup writes that Alford's series on the New Testament "contains much that is valuable in the Greek New Testament… though all of the Greek New Testament words have been changed to English throughout." (Commentaries for Biblical Expositors: An Annotated Bibliography of Selected Works)
MIKE ANDRUS AND JOSH BLACK - SERMON SERIES ON 1 THESSALONIANS
Each transcript averages about 10 pages.
JOHN ANGELL JAMES
I. The past: the work of faith (1 Thessalonians 1 Thessalonians 1:1–3:13) 
A. The commendation of the Thessalonians (1 Thessalonians 1 Thessalonians 1:1-10) 
1. The evaluation of Paul (1 Thessalonians 1 Thessalonians 1:1-4) 
2. The evidence of life (1 Thessalonians 1:5-7) 
3. The explanation of the evidence (1 Thessalonians 1:8-10) 
James Rosscup writes that Barnes "includes 16 volumes on the Old Testament, 11 on the New Testament. The New Testament part of this old work was first published in 1832–1851. Various authors contributed. It is evangelical and amillennial… Often the explanations of verses are very worthwhile." (Commentaries for Biblical Expositors: An Annotated Bibliography of Selected Works)

C H Spurgeon "Albert Barnes is a learned and able divine, but his productions are unequal in value, the gospels are of comparatively little worth, but his other comments are extremely useful for Sunday-school teachers and persons with a narrow range of reading, endowed with enough good sense to discriminate between good and evil… Placed by the side of the great masters, Barnes is a lesser light, but taking his work for what it is and professes to be, no minister can afford to be without it, and this is no small praise for works which were only intended for Sunday-school teachers." (Spurgeon, C. H. Lectures to my Students, Vol. 4: Commenting and Commentaries; Lectures Addressed to the students of the Pastors' College, Metropolitan Tabernacle)
CHRIS BENFIELD
James Rosscup writes "This work (Gnomon), originally issued in 1742, has considerable comment on the Greek, flavoring the effort with judicious details about the spiritual life. It has much that helps, but has been surpassed by many other commentaries since its day." (Commentaries for Biblical Expositors: An Annotated Bibliography of Selected Works)
JOSEPH BENSON 1 Thessalonians
BIBLE GATEWAY
JOHN CEREGHIN
VINCENT CHEUNG
"Designed for Pastors and Sunday Schools"
JAMES DENNEY
Eadie is worth checking - you have to "wade" through his lengthy, "Greek rich" comments but will often uncover some excellent insights.

Cyril Barber - Readers may not always agree with his exegesis, but he does provide a helpful evaluation of all the different points of view with an assessment of the strengths and weaknesses. An essay on "The Man of Sin" is appended.
CHARLES ELLICOTT Commentary on 1 Thessalonians 1858
A critical & grammatical commentary on St. Paul's Epistles to the Thessalonians

D Edmond Hiebert - Greek text. First published in 1861, this noted, scholarly, highly technical treatment of these epistles is still of value for the advanced student. Places strong emphasis on grammatical matters.
EXPOSITOR'S DICTIONARY OF TEXTS 1 Thessalonians Commentary
GENE GETZ - short videos emphasizing key priniciples
1 Thessalonians 1:2-10; Models of Maturity: As local churches, we are to become models of faith, hope, and love to other communities of faith. Video
GOSPEL COALITION
GOTQUESTIONS
L W GRANT
SCOTT GRANT
MATTHEW HENRY Commentary on 1 Thessalonians
DAVID HOCKING
HOLMAN STUDY NOTES
HYMNS RELATING TO 1 THESSALONIANS
ILLUSTRATIONS Multiple Sources
Sermon Illustrations on 1 Thessalonians - Most from Our Daily Bread, Also F B Meyer, G Campbell Morgan
A E KNOCH - conservative, literal, discussions vary from 4 pages to more than 20 pages depending on length of the book.
KEITH KRELL
JOHN LILLIE, 1860 (Pastor of First Presbyterian, Kingston, NY)
GOTTLEB LUNEMANN
JAMES MACKNIGHT
IAN MACKERVOY
H A W MEYER 1 Thessalonians Commentary
D. Edmond Hiebert - A thorough exposition of these epistles by a scholarly German professor of the past century. One of the justly celebrated older commentaries, with ample presentation of varying views on all important points. Dated but still of value for those familiar with the Greek or desiring the views of scholars of the past.
James Rosscup writes "Some regarded this in its day as the best work on the Greek text." (Commentaries for Biblical Expositors: An Annotated Bibliography of Selected Works)

D. Edmond Hiebert - Greek text. A noted critical study by a pioneer authority in the papyri Has much valuable material in the introduction and the added notes.
MONERGISM
G CAMPBELL MORGAN - The Analyzed Bible
HENRY MORRIS Defender's Study Bible Notes
ROBERT NEIGHBOUR Wells of Living Water
JOSEPH PARKER - People's Commentary 
PASTOR LIFE SERMONS 1 THESSALONIANS
J C PHILPOT
ALFRED PLUMMER
D Edmond Hiebert - While not as full as the author's excellent work on the Gospel of Luke, these volumes provide a critical exegetical unfolding of these epistles. Greek words are often quoted but generally in parentheses, so that the non-Greek reader can readily profit from these volumes.
MATTHEW POOLE 1 Thessalonians Commentary
PREACHER'S HOMILETICAL COMMENTARY 1 Thessalonians
PRECEPT MINISTRIES
RADIO BIBLE CLASS - DISCOVERY SERIES - Booklet
REFORMATION STUDY BIBLE
RAYMOND SAXE SERMONS
JOHN SCHULTZ - 37 page commentary by former missionary to Irian Jaya, Indonesia
SERMON BIBLE COMMENTARY
CHUCK SMITH Notes on 1 Thessalonians
JAMES SMITH HANDFULS OF PURPOSE 1943
DAVID THOMPSON SERMONS
TODAY IN THE WORD Devotionals
JAMES VAN DINE
DREW WORTHEN Sermons
XENOS CHRISTIAN FELLOWSHIP
STEVE ZEISLER Sermon 
| | | |
| --- | --- | --- |
| Address and Salutation | T. Croskery | 1 Thessalonians 1:1 |
| Grace be unto You and Peace | C. Bradley, M. A. | 1 Thessalonians 1:1 |
| In God the Father | J. Leckie, D. D. | 1 Thessalonians 1:1 |
| Introduction | R. Finlayson | 1 Thessalonians 1:1 |
| Peace | T. Guthrie, D. D. | 1 Thessalonians 1:1 |
| Peace of Christ | Scottish Christian Herald | 1 Thessalonians 1:1 |
| Phases of Apostolic Greeting | G. Barlow. | 1 Thessalonians 1:1 |
| Silvanus | W. L. Bevan, M. A. | 1 Thessalonians 1:1 |
| The Address | B.C. Caffin | 1 Thessalonians 1:1 |
| The Introduction to the Epistle | A. S. Patterson, D. D. | 1 Thessalonians 1:1 |
| The Note of a True Church | J. Hutchison, D. D. | 1 Thessalonians 1:1 |
| The Pastor's Prayer | J. Lyth, D. D. | 1 Thessalonians 1:1 |
| Timotheus | Bleek. | 1 Thessalonians 1:1 |
| To the Church | Prof. Jowett. | 1 Thessalonians 1:1 |
| Heartfelt Thanksgiving for Spiritual Prosperity | T. Croskery | 1 Thessalonians 1:2, 3 |
| Intercessory Prayer | H. W. Beecher. | 1 Thessalonians 1:2-4 |
| Ministerial Thanksgiving | G. Barlow. | 1 Thessalonians 1:2-4 |
| Prayer for Individuals |   | 1 Thessalonians 1:2-4 |
| The Apostle's Thanksgiving | B.C. Caffin | 1 Thessalonians 1:2-6 |
| Manifestation of Interest | R. Finlayson | 1 Thessalonians 1:2-10 |
| Works of Grace | W.F. Adeney | 1 Thessalonians 1:3 |
| A Favourite Triology | T. Adams. | 1 Thessalonians 1:3-4 |
| An Eye Fixed on Man | De Vere. | 1 Thessalonians 1:3-4 |
| Faith, Hope, and Love | Prof. Harless., Prof. Eadie. | 1 Thessalonians 1:3-4 |
| Love Wrought This | Christian Advocate. | 1 Thessalonians 1:3-4 |
| Man in the Sight of God | C. Kingsley, M. A. | 1 Thessalonians 1:3-4 |
| Patience of Hope | H. W. Beeches. | 1 Thessalonians 1:3-4 |
| Products of Love | Bishop Reynolds. | 1 Thessalonians 1:3-4 |
| Realization of God's Presence | Dean Goulburn. | 1 Thessalonians 1:3-4 |
| The Character of Thessalonian Christianity | T. Hughes. | 1 Thessalonians 1:3-4 |
| The Effects Produced by the Vital Graces in St | C. Simeon, M. A. | 1 Thessalonians 1:3-4 |
| The Habitual Recognition of God | N. W. Taylor, D. D. | 1 Thessalonians 1:3-4 |
| The Labour of Love | J. W. Burn. | 1 Thessalonians 1:3-4 |
| The Patience of Hope | J. W. Burn. | 1 Thessalonians 1:3-4 |
| The Patience of Hope | Family Treasury | 1 Thessalonians 1:3-4 |
| The Three Graces At Work | Weekly Pulpit | 1 Thessalonians 1:3-4 |
| The Vital Graces | C. Simeon, M. A. | 1 Thessalonians 1:3-4 |
| The Work of Faith | J. W. Burn. | 1 Thessalonians 1:3-4 |
| Conditional Election | H. Varley. | 1 Thessalonians 1:4-6 |
| Election | J. Hutchison, D. D. | 1 Thessalonians 1:4-6 |
| Evidences of Election | C. H. Spurgeon. | 1 Thessalonians 1:4-6 |
| God's Electing Providence |   | 1 Thessalonians 1:4-6 |
| Knowledge of Election | New Testament Anecdotes | 1 Thessalonians 1:4-6 |
| Proofs of Election | C. H. Spurgeon. | 1 Thessalonians 1:4-6 |
| Their Election and its Fruits Another Ground of Thanksgiving | T. Croskery | 1 Thessalonians 1:4-6 |
| The Dynamic Gospel | W.F. Adeney | 1 Thessalonians 1:5 |
| A Gospel of Power | Prof. James Legge. | 1 Thessalonians 1:5-10 |
| Degrees of Power Attending the Gospel | C. H. Spurgeon. | 1 Thessalonians 1:5-10 |
| How the Gospel Came to the Thessalonians | W. Jay. | 1 Thessalonians 1:5-10 |
| Luther's Assurance | C. H. Spurgeon. | 1 Thessalonians 1:5-10 |
| Much Assurance | Prof. Jowett. | 1 Thessalonians 1:5-10 |
| Power of the Gospel | D. Chamberlain. | 1 Thessalonians 1:5-10 |
| Power Through the Spirit | C. White. | 1 Thessalonians 1:5-10 |
| The Coming of the Gospel and its Effects | J. Stratten. | 1 Thessalonians 1:5-10 |
| The Gospel in Power | Robert Newton, D. D. | 1 Thessalonians 1:5-10 |
| The Gospel in Word | C. H. Spurgeon. | 1 Thessalonians 1:5-10 |
| The Gospel in Word | G. Barlow. | 1 Thessalonians 1:5-10 |
| The Gospel the Only Power unto Salvation |   | 1 Thessalonians 1:5-10 |
| The Might of the Gospel | R. W. Hamilton, LL. D. | 1 Thessalonians 1:5-10 |
| The Penetrating Power of the Gospel | C. H. Spurgeon. | 1 Thessalonians 1:5-10 |
| The Power and Assurance of the Gospel | G. Douglass, D. D. | 1 Thessalonians 1:5-10 |
| The Power of a Felt Gospel | T. Guthrie, D. D. | 1 Thessalonians 1:5-10 |
| The Power, Spirit, and Assurance of the Gospel | T. B. Baker. | 1 Thessalonians 1:5-10 |
| The Powerful Gospel | W. F. Adeney, M. A. | 1 Thessalonians 1:5-10 |
| The Practical Application of the Gospel | H. Allen, D. D. | 1 Thessalonians 1:5-10 |
| The Quiet Power of the Gospel | W. Antliff, D. D. | 1 Thessalonians 1:5-10 |
| The Subduing Power of the Gospel | J. Macgowan of Amoy. | 1 Thessalonians 1:5-10 |
| Word and Power | J. Jenkins. | 1 Thessalonians 1:5-10 |
| Affliction with Joy | W.F. Adeney | 1 Thessalonians 1:6 |
| Affliction and Joy | J. Hutchison, D. D. | 1 Thessalonians 1:6-8 |
| Christ the Only Sufficient Exemplar |   | 1 Thessalonians 1:6-8 |
| Christ's Example the Universal Rule | G. Macdonald, LL. D. | 1 Thessalonians 1:6-8 |
| Followers of the Apostles and of the Lord | D. Mayo. | 1 Thessalonians 1:6-8 |
| Not Disciples Merely, But Imitators | Canon Mason. | 1 Thessalonians 1:6-8 |
| Stimulating Example |   | 1 Thessalonians 1:6-8 |
| The Divinity of a True Man | D. Thomas, D. D. | 1 Thessalonians 1:6-8 |
| The Indispensableness of Following Christ | W. Gladden, D. D. | 1 Thessalonians 1:6-8 |
| The Motive for Following Christ | Percy. | 1 Thessalonians 1:6-8 |
| The Noble Army of Martyrs | Baldwin Brown, B. A. | 1 Thessalonians 1:6-8 |
| The Possibility of Following Christ | Canon Liddon. | 1 Thessalonians 1:6-8 |
| The Power of Example | W. Jay. | 1 Thessalonians 1:6-8 |
| The Practical Result of a True Reception of the Gospel | G. Barlow. | 1 Thessalonians 1:6-8 |
| The Profound Impression Made by the Conversion of the Thessalonians | T. Croskery | 1 Thessalonians 1:7, 8 |
| A Body of Divinity | C. H. Spurgeon. | 1 Thessalonians 1:7-10 |
| A Summary of Experience | C. H. Spurgeon. | 1 Thessalonians 1:7-10 |
| Absurdity of Idol Worship |   | 1 Thessalonians 1:7-10 |
| Achaia | Sir G. Grove, LL. D. | 1 Thessalonians 1:7-10 |
| And to Wait for His Son from Heaven |   | 1 Thessalonians 1:7-10 |
| Believers Kept Waiting Till Death that Men May Witness Their Piety | H. W. Beecher. | 1 Thessalonians 1:7-10 |
| Christian Example and Character | J. Hutchison, D. D. | 1 Thessalonians 1:7-10 |
| Christian Influence Diffusive | Bp. Jewell. | 1 Thessalonians 1:7-10 |
| Different Types of Believers | Prof. Jowett. | 1 Thessalonians 1:7-10 |
| Example: Converting | Rowland Hill., F. Morse, M. A., S. S. Times. | 1 Thessalonians 1:7-10 |
| Example: its Influence Instructive | J. Scott., C. H. Fowler. | 1 Thessalonians 1:7-10 |
| Example: its Nature and Value | I. Barrow, D. D. | 1 Thessalonians 1:7-10 |
| Example: its Superiority to Mere Precept | I. Barrow, D. D. | 1 Thessalonians 1:7-10 |
| Example: Self-Propagating | H. Melvill, B. D. | 1 Thessalonians 1:7-10 |
| Example: Stimulating | Phillips Brooks, D. D. | 1 Thessalonians 1:7-10 |
| Folly of Idolatry |   | 1 Thessalonians 1:7-10 |
| God's Trumpet | A. Maclaren, D. D. | 1 Thessalonians 1:7-10 |
| Idolatry Swept Away | Jackson Wray. | 1 Thessalonians 1:7-10 |
| Joyfully Awaiting Christ | T. B. Baker. | 1 Thessalonians 1:7-10 |
| Macedonia | Dean Howson. | 1 Thessalonians 1:7-10 |
| Pulpit Reflectors |   | 1 Thessalonians 1:7-10 |
| Repudiating Idols |   | 1 Thessalonians 1:7-10 |
| The Bible's Exposure of Idolatry | Earl of Chichester. | 1 Thessalonians 1:7-10 |
| The Character of Ministers Involved in the Conduct of Professors | C. H. Spurgeon. | 1 Thessalonians 1:7-10 |
| The Coming of the Redeemer | Dr. Belfrage. | 1 Thessalonians 1:7-10 |
| The Fame of Christian Character Better than Worldly Renow | Bp. Jewell. | 1 Thessalonians 1:7-10 |
| The Great Deliverer | T. Kelly. | 1 Thessalonians 1:7-10 |
| The Happy Results of the Conversion of the Thessalonians | B.C. Caffin | 1 Thessalonians 1:7-10 |
| The Living and True God | Canon Liddon. | 1 Thessalonians 1:7-10 |
| The Means of Securing Fame | T. Chalmers, D. D. | 1 Thessalonians 1:7-10 |
| The Notion Entertained of the Christian Religion | T. Sherlock, D. D. | 1 Thessalonians 1:7-10 |
| The Second Advent of Christ | E. Bayley, M. A. | 1 Thessalonians 1:7-10 |
| The Sounding Forth of the Word | Bp. Alexander. | 1 Thessalonians 1:7-10 |
| The Word of the Lord Sounding Forth | James Owen. | 1 Thessalonians 1:7-10 |
| The Wrath -- Principle |   | 1 Thessalonians 1:7-10 |
| The Wrath to Come | R. S. Barrett. | 1 Thessalonians 1:7-10 |
| The Wrath to Come | C. Bradley, M. A. | 1 Thessalonians 1:7-10 |
| True Fame | Charles Sumner. | 1 Thessalonians 1:7-10 |
| Vanity of Idols | Family Treasury | 1 Thessalonians 1:7-10 |
| Waiting | H. W. Beecher. | 1 Thessalonians 1:7-10 |
| Waiting for the Second Coming of Christ | E. P. Hood. | 1 Thessalonians 1:7-10 |
| Witnessing for Christ to the Whole World | John Harris. | 1 Thessalonians 1:7-10 |
| How the Word is Sounded Forth | W.F. Adeney | 1 Thessalonians 1:8 |
| A Summary of Experience and a Body of Divinity | Charles Haddon Spurgeon | 1 Thessalonians 1:9 |
| The Great Change | W.F. Adeney | 1 Thessalonians 1:9, 10 |
| The Nature of the Impression Made Upon the World by the Spectacle of Thessalonian Piety | T. Croskery | 1 Thessalonians 1:9, 10 |
Book