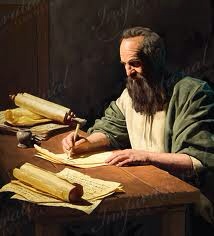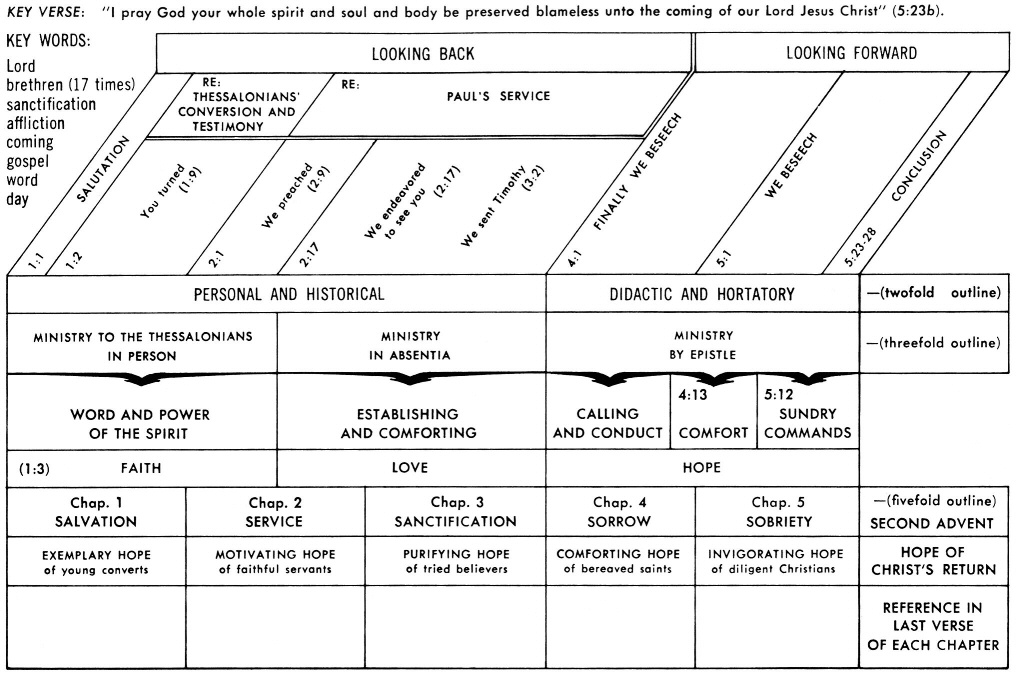 JESUS IS COMING AGAIN
Click chart to enlarge
Charts from Jensen's Survey of the NT - used by permission
1 Thessalonians
Overview

1 Th 1:1-10
1 Th 2:1-20
1 Th 3:1-13
1 Th 4:1-18
1 Th 5:1-28

LOOKING BACK

LOOKING FORWARD

Personal Reflections
History

Practical Instructions
Hortatory

Ministry
In
Person
Ministry
in Absentia
(Thru Timothy)
Ministry
by
Epistle
Word and Power
of the Spirit
Establishing &
Comforting
Calling & Conduct
1Th 4:13ff
Comfort
1Th 5:12ff
Commands
1
Salvation
2
Service
3
Sanctification
4
Sorrow
5
Sobriety
Paul Commends
Spiritual Growth
Paul Founds
the Church
Strengthening of
the Church
Directions for
Spiritual Growth
Holy Living in Light of Day of the Lord
Exemplary Hope of Young Converts
Motivating Hope of
Faithful Servants
Purifying Hope of Tried Believers
Comforting Hope of Bereaved Saints
Invigorating Hope of Diligent Christians

Written from Corinth
Approximately 51AD

Key Words: Gospel (Word, Message), tribulation (suffering, affliction), Spirit, coming (Lord's return), holiness (sanctification, sanctify), faith, love, hope, Day of the Lord (day), Satan (tempter), brethren

See Introduction to 1Thessalonians by Dr John MacArthur: Title, Author, Date, Background, Setting, Historical, Theological Themes, Interpretive Challenges, Outline by Chapter/Verse. Excellent overview. From Grace To You ministries - same intro as in MacArthur Study Bible
---
MIKE ANDRUS AND JOSH BLACK - SERMON SERIES ON 1 THESSALONIANS
Each transcript averages about 10 pages.
JOHN CEREGHIN
VINCENT CHEUNG
JAMES DENNEY
JOHN DUMMELOW
L W GRANT
DANNY HALL Sermons
HOLMAN STUDY NOTES
DAVID HOLWICK - sermons
HYMNS RELATING TO 1 THESSALONIANS
WILLIAM KELLY
A E KNOCH - conservative, literal, discussions vary from 4 pages to more than 20 pages depending on length of the book.
KEITH KRELL
GOTTLEB LUNEMANN
JAMES MACKNIGHT
HENRY MORRIS Defender's Study Bible Notes
Conservative. From one of the world's leading creationists. 
JOSEPH PARKER - People's Commentary 
JAMES MOFFATT The Expositor's Greek Testament
G CAMPBELL MORGAN - The Analyzed Bible
NET BIBLE NOTES
OUR DAILY BREAD - devotionals
RADIO BIBLE CLASS - DISCOVERY SERIES - Booklet
A T ROBERTSON
ADRIAN ROGERS
JOHN SCHULTZ - 37 page commentary by former missionary to Irian Jaya, Indonesia
HAMILTON SMITH
JAMES SMITH HANDFULS OF PURPOSE 1943
Comforting Words. 1 Thessalonians 4:13-18
JAY SMITH
| | | |
| --- | --- | --- |
| Christian Progress | W.F. Adeney | 1 Thessalonians 4:1 |
| Chrysostom -- Excessive Grief At the Death of Friends | Various | 1 Thessalonians 4:1 |
| Living and Dead When Christ Returns | Martin Luther | 1 Thessalonians 4:1 |
| Exhortation | B.C. Caffin | 1 Thessalonians 4:1, 2 |
| The Importance of Living in Harmony with the Divine Will | T. Croskery | 1 Thessalonians 4:1, 2 |
| Sanctification | R. Finlayson | 1 Thessalonians 4:1-5 |
| A Deepening Consecration | S. B. Bossiter. | 1 Thessalonians 4:1-8 |
| A Fuller Consecration | C. Simeon, M. A. | 1 Thessalonians 4:1-8 |
| Abounding More and More | H. K. Burton. | 1 Thessalonians 4:1-8 |
| Earnest Exhortations to a High Sanctity | G. Barlow. | 1 Thessalonians 4:1-8 |
| How to Walk So as to Please God | G. Burder. | 1 Thessalonians 4:1-8 |
| Of Abounding More and More | Plain Sermons by Contributors to "Tracts for the Times." | 1 Thessalonians 4:1-8 |
| Pleasing God | B. Pugh. | 1 Thessalonians 4:1-8 |
| Pleasing God Is | D. Thomas, D. D. | 1 Thessalonians 4:1-8 |
| So Ye Would Abound More and More |   | 1 Thessalonians 4:1-8 |
| The Christian's Walk and its Object | W. H. M. H. Aitken, M. A. | 1 Thessalonians 4:1-8 |
| The Necessity of Progress | Bp. Westcott. | 1 Thessalonians 4:1-8 |
| Walking So as to Please God |   | 1 Thessalonians 4:1-8 |
| God's Commandments a Protection and a Delight | J. Hamilton, D. D. | 1 Thessalonians 4:2 |
| God's Commandments Reasonable | J. Spencer. | 1 Thessalonians 4:2 |
| The Authority of Christ | J. Parker, D. D. | 1 Thessalonians 4:2 |
| The Lord Jesus and His Commandments | J. W. Burn. | 1 Thessalonians 4:2 |
| Sanctification a Divine Arrangement | T. Croskery | 1 Thessalonians 4:3 |
| Warning Against Sins of Impurity | T. Croskery | 1 Thessalonians 4:3 |
| Distinctive Features of a True Sanctification | G. Barlow. | 1 Thessalonians 4:3-7 |
| Holiness | or. M. Ashley, M. A. | 1 Thessalonians 4:3-7 |
| Human Holiness the Great Object of the Divine Will | D. Thomas, D. D. | 1 Thessalonians 4:3-7 |
| Of Sanctification |   | 1 Thessalonians 4:3-7 |
| Our Consecration the Will of God | Dean Vaughan. | 1 Thessalonians 4:3-7 |
| Our Sanctification | E. N. Kirk, D. D. | 1 Thessalonians 4:3-7 |
| Sanctification | J. Davies. | 1 Thessalonians 4:3-7 |
| Sanctification |   | 1 Thessalonians 4:3-7 |
| Sanctification of the Spirit | A. W. Hare, A. M. | 1 Thessalonians 4:3-7 |
| Sanctification the Will of God | J. F. Denham. | 1 Thessalonians 4:3-7 |
| Sanctification the Will of God | Family Churchman | 1 Thessalonians 4:3-7 |
| The Law of Purity | B.C. Caffin | 1 Thessalonians 4:3-8 |
| A Call unto Holiness | F. Cook, D. D. | 1 Thessalonians 4:4-7 |
| A Caution Against Impurity | R. Fergusson. | 1 Thessalonians 4:4-7 |
| A Holy Atmosphere | Dr. Williams. | 1 Thessalonians 4:4-7 |
| Called to Holiness | Jones' Bampton Lectures. | 1 Thessalonians 4:4-7 |
| Commercial Morality | G. Swinnock, M. A. | 1 Thessalonians 4:4-7 |
| Conscientiousness | Quarterly Review | 1 Thessalonians 4:4-7 |
| Desire for Holiness |   | 1 Thessalonians 4:4-7 |
| Holiness | T. Chalmers, D. D. | 1 Thessalonians 4:4-7 |
| How Personal Purity is to be Maintained | Prof. Croskery. | 1 Thessalonians 4:4-7 |
| Licentiousness | Prof. Jowett. | 1 Thessalonians 4:4-7 |
| Purity | A. T. Lyttelton, M. A. | 1 Thessalonians 4:4-7 |
| Purity of Life | B. C. Cairn, M. A. | 1 Thessalonians 4:4-7 |
| Refusing to Defraud | T. De Witt Talmage. | 1 Thessalonians 4:4-7 |
| The Curse of Fraud | W. Arthur, M. A. | 1 Thessalonians 4:4-7 |
| The Divine Call | J. W. Burn. | 1 Thessalonians 4:4-7 |
| The Importance of Purity | Guesses at Truth. | 1 Thessalonians 4:4-7 |
| The Vessel of the Body | R. W. Evans, B. D. | 1 Thessalonians 4:4-7 |
| How Personal Purity is to be Maintained | T. Croskery | 1 Thessalonians 4:4-8 |
| A Word to She Despiser | G. Barlow. | 1 Thessalonians 4:8 |
| The Cause of Despising | W. Cawdray. | 1 Thessalonians 4:8 |
| The Causes Which Induce a Despising of Divine Revelation | T. Archer, D. D. | 1 Thessalonians 4:8 |
| The Impotence and Folly of Despising the Truth | C. H. Spurgeon. | 1 Thessalonians 4:8 |
| The Sin of Despising God | C. W. H. Kenrick, M. A. | 1 Thessalonians 4:8 |
| The Sinfulness of the Despiser | J. Parker, D. D. | 1 Thessalonians 4:8 |
| Love of the Brethren | W.F. Adeney | 1 Thessalonians 4:9 |
| Inculcation of Brotherly Love | T. Croskery | 1 Thessalonians 4:9, 10 |
| A Lady Once Made a Complaint to Frederick the Great | Clerical Library | 1 Thessalonians 4:9-11 |
| A Lesson for Busybodies | Clerical Library | 1 Thessalonians 4:9-11 |
| A Precept on Business | J. Hamilton, D. D. | 1 Thessalonians 4:9-11 |
| Brotherly Love | W. Jay. | 1 Thessalonians 4:9-11 |
| Brotherly Love Divinely Taught | J. Burns, D. D. | 1 Thessalonians 4:9-11 |
| Brotherly Love the Proof of a True Sanctification | G. Barlow. | 1 Thessalonians 4:9-11 |
| Brotherly Love the Test of Religion | J. Parker, D. D. | 1 Thessalonians 4:9-11 |
| Brotherly Love, the Sham and the Real | C. H. Spurgeon. | 1 Thessalonians 4:9-11 |
| Business | Bp. S. S. Harris. | 1 Thessalonians 4:9-11 |
| Business Life | J. O. Dykes, D. D. | 1 Thessalonians 4:9-11 |
| Christian Advancement | Bp. Jewell. | 1 Thessalonians 4:9-11 |
| Considerations Conducive to the Quiet Minding of Our Own Business | I. Barrow. | 1 Thessalonians 4:9-11 |
| Continuance in Brotherly Love | W. Baxendale. | 1 Thessalonians 4:9-11 |
| Energy of Quiet Forces | Advanced Textbook of Geology | 1 Thessalonians 4:9-11 |
| Instances of Brotherly Love | G. Barlow. | 1 Thessalonians 4:9-11 |
| Love in Practice | C. Simeon. | 1 Thessalonians 4:9-11 |
| Love One Another | S. S. Times | 1 Thessalonians 4:9-11 |
| Moral Increase | J. Armstrong, D. D. | 1 Thessalonians 4:9-11 |
| Of Quietness and Doing Our Own Business | Isaac Barrow, D. D. | 1 Thessalonians 4:9-11 |
| Peaceful, Humble Activity | J. H. Newman, D. D. | 1 Thessalonians 4:9-11 |
| Practical Brotherly Love | Sunday Magazine | 1 Thessalonians 4:9-11 |
| Progress | T. Guthrie, D. D. | 1 Thessalonians 4:9-11 |
| Quiet Work | H. J. W. Buxton. | 1 Thessalonians 4:9-11 |
| Reproof of a Busybody | W. Denton. | 1 Thessalonians 4:9-11 |
| The Business of Life | D. Thomas, D. D. | 1 Thessalonians 4:9-11 |
| The Business of Life | E. J. Hardy, M. A. | 1 Thessalonians 4:9-11 |
| The Christian's Growth | T. Guthrie, D. D. | 1 Thessalonians 4:9-11 |
| The Dignity of Labour | T. Carlyle. | 1 Thessalonians 4:9-11 |
| The Great Duties of the Christian Life | R. Fergusson. | 1 Thessalonians 4:9-11 |
| The Importance of Attending to Our Own Business | Bp. Jewell. | 1 Thessalonians 4:9-11 |
| The Means of Creating and Promoting Brotherly Love | J. T. Serjeant. | 1 Thessalonians 4:9-11 |
| The Nature of Brotherly Love | J. Parker, D. D. | 1 Thessalonians 4:9-11 |
| The Pacific Spirit Another Proof of a True Sanctification | W. Barlow. | 1 Thessalonians 4:9-11 |
| The Quiet Spirit | A. Craig. | 1 Thessalonians 4:9-11 |
| The Study of Quietness and the Practice of Our Own Busine | A. Farindon, B. D. | 1 Thessalonians 4:9-11 |
| The Unifying Power of Brotherly Love | J. Hutchinson, D. D. | 1 Thessalonians 4:9-11 |
| Work Should be Worship | William Grant. | 1 Thessalonians 4:9-11 |
| The Christian Circle and Accounting by Them that are Without | R. Finlayson | 1 Thessalonians 4:9-12 |
| The Law of Love | B.C. Caffin | 1 Thessalonians 4:9-12 |
| The Industrial Life | W.F. Adeney | 1 Thessalonians 4:11 |
| Inculcation of the Duty of Quiet and Honest Industry | T. Croskery | 1 Thessalonians 4:11, 12 |
| Christians Before the World | W.F. Adeney | 1 Thessalonians 4:12 |
| Exemplary Honesty | H. W. Beecher. | 1 Thessalonians 4:12 |
| Honesty | C. E. Little. | 1 Thessalonians 4:12 |
| Honesty Rewarded |   | 1 Thessalonians 4:12 |
| Honesty Towards Those Without | C. H. Spurgeon. | 1 Thessalonians 4:12 |
| Motives to Industry | J. W. Burn. | 1 Thessalonians 4:12 |
| The Disciplinary and Educational Function of Business | Bp. S. S. Harris. | 1 Thessalonians 4:12 |
| A Suggestive Contrast | Handbook to Scripture Doctrines. | 1 Thessalonians 4:13 |
| Christ Died that Saints Might Sleep in Death | W. Bates, D. D. | 1 Thessalonians 4:13 |
| Christian Mourning | H. Kollock, D. D. | 1 Thessalonians 4:13 |
| Consolation for the Bereaved | W. Naylor. | 1 Thessalonians 4:13 |
| Consolations Accompanying the Death of Saints | J. Walker. | 1 Thessalonians 4:13 |
| Death a Sleep | J. Parsons. | 1 Thessalonians 4:13 |
| Death a Sleep | W. Landells, D. D. | 1 Thessalonians 4:13 |
| Different Ideas of Immortality | Dr. Storrs. | 1 Thessalonians 4:13 |
| Gone Before | Whitecross. | 1 Thessalonians 4:13 |
| Having no Hope | C. W. Camp. | 1 Thessalonians 4:13 |
| Hope in Death |   | 1 Thessalonians 4:13 |
| Hope in Death | J. F. B. Tinling, B. A. | 1 Thessalonians 4:13 |
| Hopeless Death | H. Hayman, D. D. | 1 Thessalonians 4:13 |
| Ignorance Concerning the Dead | D. Mayo. | 1 Thessalonians 4:13 |
| Pilgrims At Rest | J. S. Withington. | 1 Thessalonians 4:13 |
| Reasons for Comfort Concerning Them that Die in the Lord | J. Benson. | 1 Thessalonians 4:13 |
| Sleeping in Jesus |   | 1 Thessalonians 4:13 |
| Sleeping in Jesus | J. Young, D. D. | 1 Thessalonians 4:13 |
| Sorrow for the Dead | G. Barlow. | 1 Thessalonians 4:13 |
| Sorrow for the Dead | T. Croskery | 1 Thessalonians 4:13 |
| Sorrow Without Hope | Du Chaillu. | 1 Thessalonians 4:13 |
| The Christian View of Death | W. H. Davison. | 1 Thessalonians 4:13 |
| The Coming of the Lord | Preachers' Monthly | 1 Thessalonians 4:13 |
| The Second Coming | Christian Age | 1 Thessalonians 4:13 |
| The Sleep of Death | R. D. Hitchcock, D. D. | 1 Thessalonians 4:13 |
| The Sleep of the Faithful Departed | Archdeacon Manning. | 1 Thessalonians 4:13 |
| The Sleep of the Faithful Departed | Canon T. S. Evans, D. D. | 1 Thessalonians 4:13 |
| The Soul Does not Steep in Death | J. Cumming, D. D. | 1 Thessalonians 4:13 |
| The State of Departed Saints | E. Steane, D. D. | 1 Thessalonians 4:13 |
| The Victory of Hope in Sorrow | H. W. Beecher. | 1 Thessalonians 4:13 |
| Without Hope |   | 1 Thessalonians 4:13 |
| Sorrow for the Dead Transfigured by the Resurrection of Christ | W.F. Adeney | 1 Thessalonians 4:13, 14 |
| Anxiety About the State of the Christian Dead | R. Finlayson | 1 Thessalonians 4:13-18 |
| The Resurrection | B.C. Caffin | 1 Thessalonians 4:13-18 |
| Christ's Resurrection and Ours | C. Molyneux, M. A. | 1 Thessalonians 4:14 |
| Christ's Resurrection the Pledge of Ours | R. S. Barrett. | 1 Thessalonians 4:14 |
| Resting on God's Word |   | 1 Thessalonians 4:14 |
| The Certainty and Blessedness of the Resurrection of True Christians | Abp. Tillotson. | 1 Thessalonians 4:14 |
| The Dead Christ and Sleeping Christians | A. Lind, D. D. | 1 Thessalonians 4:14 |
| Reasons Against Sorrow for the Dead | T. Croskery | 1 Thessalonians 4:14, 15 |
| The Second Advent of Christ | G. Barlow. | 1 Thessalonians 4:15 |
| The Waiting Congregation of the Redeemed | Bp. Alexander. | 1 Thessalonians 4:15 |
| The Order of the Second Advent | W.F. Adeney | 1 Thessalonians 4:15, 16 |
| A Child's Faith |   | 1 Thessalonians 4:16-18 |
| An Exulting Prospect |   | 1 Thessalonians 4:16-18 |
| Being Ever with the Lord | J. McKinlay, D. D. | 1 Thessalonians 4:16-18 |
| Christian Comfort | T. Massey, B. A. | 1 Thessalonians 4:16-18 |
| Christ's Coming | J. Gritton, D. D. | 1 Thessalonians 4:16-18 |
| Ever | G. Swinnock, M. A. | 1 Thessalonians 4:16-18 |
| Ever with the Lord | W. H. Davison. | 1 Thessalonians 4:16-18 |
| Ever with the Lord | S. Martin. | 1 Thessalonians 4:16-18 |
| Forever with the Lord | G. D. Evans. | 1 Thessalonians 4:16-18 |
| Forever with the Lord | C. H. Spurgeon. | 1 Thessalonians 4:16-18 |
| Heavenly Comfort |   | 1 Thessalonians 4:16-18 |
| Preparing for Heaven |   | 1 Thessalonians 4:16-18 |
| The Dead in Christ | T. G. Horton. | 1 Thessalonians 4:16-18 |
| The Doctrine of the Resurrection | C. Simeon, M. A. | 1 Thessalonians 4:16-18 |
| The Duty of Comforting One Another | A. Farindon, B. D. | 1 Thessalonians 4:16-18 |
| The Gospel Telescope |   | 1 Thessalonians 4:16-18 |
| The Order of Events At the Second Advent | T. Croskery | 1 Thessalonians 4:16-18 |
| The Resurrection of the Dead | Dr. Beaumont. | 1 Thessalonians 4:16-18 |
| The Second Coming of Christ | J. Hutchison, D. D., Bp. Alexander. | 1 Thessalonians 4:16-18 |
| There is Comfort | C. S. Robinson, D. D. | 1 Thessalonians 4:16-18 |
| Words of Comfort | R. W. Betts. | 1 Thessalonians 4:16-18 |
Book