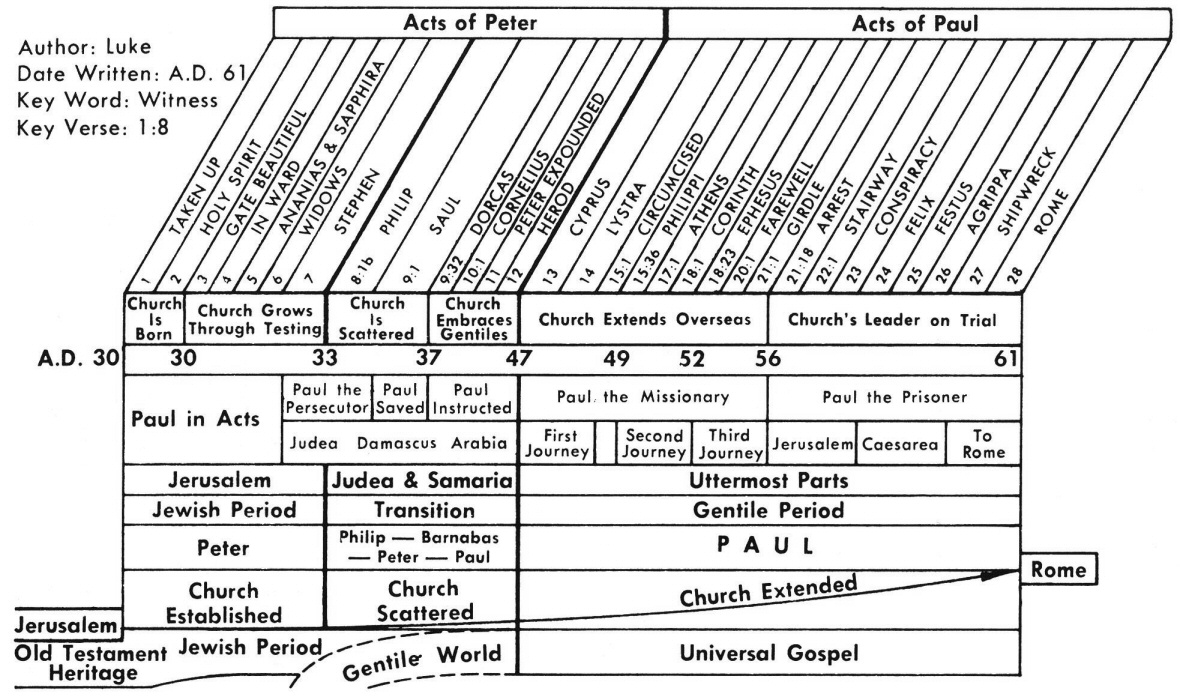 Click chart to enlarge
Chart from Jensen's Survey of the NT - used by permission
THE EXPANDING WITNESS OF THE SPIRIT-EMPOWERED CHURCH

Click chart to enlarge
---
MARK ADAMS - Sermons
JOSEPH A ALEXANDER Acts Commentary (1857, 1866)
James Rosscup: "This work, originally out in 1857, has proved helpful to many, though it is now far out of date as to literature commenting on Acts. For many basic details verse by verse, it still is of good value and often will help on word meaning and special problems. The fact that it was reprinted is indicative of its respected place in Acts studies." (Commentaries for Biblical Expositors)

Cyril Barber -  A beautifully produced work that brings within the reach of the busy pastor the benefits of this commentator's prodigious labors. A warmly devotional treatment. (The Minister's Library Volume 2)

D Edmond Hiebert - An exhaustive exposition of Acts by a conservative Presbyterian scholar of the past century. Gives a precise interpretation of the text on the basis of the original. Omission of technical matters makes it suitable to the English reader.
HENRY ALFORD - Greek Testament Critical Exegetical Commentary
FRANK ALLEN - ACTS OF THE APOSTLES(1931)
GREG ALLEN
PAUL APPLE -642 page commentary - check it out
JACK ARNOLD SERMONS BOOK OF ACTS
WILLIAM ARNOT Acts Commentary
Cyril Barber - These sermons reveal Arnot's thorough awareness of the original text and the milieu of the early church. His material is provocative as well as edifying. Both laypeople and pastors should read this book eagerly in order to better determine the course of the church, its commitments, and the criteria of its fellowship. Recommended.(The Minister's Library Volume 2)
WAYNE BARBER Acts - Life of Paul (through Acts 21)
WILLIAM BARCLAY'S DAILY STUDY BIBLE
Hiebert - Divides Acts into brief paragraphs, with the author's translation of the portion printed at the beginning. The comments are generally devotional in character, containing various religious and literary quotations. The author is at his best in his discriminating discussion of Greek words. The interpretation is liberal in spots.
ALBERT BARNES Notes on the New Testament on Acts
BRIAN BELL SERMON NOTES
CHRIS BENFIELD SERMON
JOHANN BENGEL
BIBLICAL ART - retrieved from Google search
BIBLICAL ILLUSTRATOR 
JIM BOMKAMP
JOHN CALVIN Commentary Acts of the Holy Spirit
CAMBRIDGE GREEK TESTAMENT FOR SCHOOLS AND COLLEGES - J. R. Lumby
RICH CATHERS - Sermon Notes - frequent illustrations
MATT CHANDLER Sermons on Acts
JOHN CHRYSOSTOM
ADAM CLARKE Commentary on Acts
STEVEN COLE Sermons Book of Acts
THOMAS CONSTABLE Expository Notes on the book of Acts
W A CRISWELL - Sermon on Acts 
CYBERHYMNAL
BOB DEFFINBAUGH EXPOSITORY SERMONS
DEVOTIONALS ON ACTS
Today in the Word (Moody), Our Daily Bread (Radio Bible Class), Our Daily Walk - F B Meyer, Our Daily Homily - F B Meyer, Our Daily Bread 
JOHN DUMMELOW
DAN DUNCAN - SERMON For corresponding Mp3's click here.
JOHN EADIE - Paul the Preacher
CHARLES ELLICOTT, EDITOR - E H PLUMPTRE - AUTHOR
EXPLORE THE BIBLE - studies
EXPOSITOR'S BIBLE Commentary on Acts of the Apostles - George T. Stokes
EXPOSITOR'S DICTIONARY
DON FORTNER
MICHAEL FRONCZAK
WILLIAM M FURNEAUX
ARNO C GAEBELEIN - THE ACTS OF THE APOSTLES - AN EXPOSITION (1912)
D Edmond Hiebert - A forceful, conservative unfolding of the message of Acts by a noted premillennial, dispensational Bible teacher active during the first half of this century. Emphasizes the transition from Judaism to Christianity as portrayed in Acts.
GENE GETZ - short videos (~10) emphasizing principles in the text
Acts 14:8-18; Video Glorifying God: Spiritual leaders must never allow people to honor them above God.
Acts 14:19-23; Video Qualified Spiritual Leaders: To lead people to become mature disciples of Jesus Christ, we must select and appoint qualified spiritual leaders in every local church
GEORGE GILBERT
JOHN GILL
GLOAG, PATON J - exegetical commentary - helps to know some Greek
Spurgeon "Dr. Hackett says aye Dr. Gloag's work: "I have examined it with special care. For my purposes I have found it unsurpassed by any similar work in the English language. It shows a thorough mastery of the material, philology, history, and literature pertaining to this range of study, and a skill in the use of this knowledge, which places it in the first class of modern expositions."  (Commenting on Commentaries - excellent resource with links to all 66 books)
GOSPEL COALITION
GOTQUESTIONS - questions related to the book of Acts (also Answers in Genesis)
MISCELLANEOUS - related to Acts 14
GRACE NOTES - Expositional Study by Warren Doud
L M GRANT
JAMES GRAY
W H GRIFFITH-THOMAS
DAVE GUZIK Commentary Notes on Acts
HORATIO B HACKETT A Commentary on the Original Text of the Acts of the Apostles
D Edmond Hiebert - A full verse-by-verse commentary by a conservative Baptist professor of the past century. Still valuable for a clear unfolding of the text of Acts.

C H Spurgeon writes that "Hackett occupies the first position among commentators upon the Acts."  (Commenting on Commentaries - excellent resource with links to all 66 books)
RICHARD HAWKER
F B HOLE
MATTHEW HENRY Commentary on Acts
HOLMAN PUBLISHING - study notes
DAVID HOLWICK SERMON NOTES
HOMILETICS - Acts 14
BARRY HORNER
INTERVARSITY PRESS Commentary on the Book of Acts - William J Larkin, Jr. - Well done
Cyril Barber -  Historically helpful. Contains some important insights. Critical matters are confined to the footnotes. Oriented toward the pastorate.
H A IRONSIDE Commentary on Acts
JAMIESON, FAUSSET, BROWN Commentary on Acts
S. LEWIS JOHNSON Sermons on Acts
WILLIAM KELLY
Hiebert -  An able devotional exposition by a noted Plymouth Brethren scholar of the past century. The viewpoint is premillennial; the volume reflects something of the author's ecclesiastical views. Contains much rich material on the meaning of Acts.
R J KNOWLING The Expositor's Greek Testament The Acts of the Apostles
D Edmond Hiebert - Greek text. Still one of the most thorough commentaries on the Greek text. Significant for the Greek student.
STEVE KRELOFF
PAUL KRETZMANN Popular Commentary of the Bible The Acts of the Apostles
LANGE'S COMMENTARY
JOHN MACARTHUR Verse by Verse Sermons on Acts
ALEXANDER MACLAREN Sermons on Acts
MAPS - related to Acts
P G MATTHEW - sermons
J VERNON MCGEE Thru the Bible The Acts of the Apostles
F B MEYER
HEINRICH A. W. MEYER
Greek text. An exhaustive exegetical study of Acts by a well-known German scholar of the past century. Still contains much of value, although unaware of later developments in the understanding of the Koine Greek.
MONERGISM
G CAMPBELL MORGAN The Acts of the Apostles: Commentary
Rosscup writes that this 1947 work is "one of Morgan's better commentaries and one which the student can profitably consult." (Commentaries for Biblical Expositors: An Annotated Bibliography of Selected Works).

D Edmond Hiebert - Expository messages on Acts by a noted Bible teacher-preacher. His exposition aims at setting forth the spiritual force and method of early Christianity. Stress is placed on the variety of ways in which the Spirit is seen at work in Acts. Offers many illuminating insights.
HENRY MORRIS -  Defender's Study Bible notes
ROBERT NEIGHBOUR Wells of Living Water Commentary
NET BIBLE NOTES
PHIL NEWTON Sermons on Acts
JAMES NISBET - Church Pulpit Commentary
OUR DAILY BREAD Devotional Illustrations
THOMAS E. PAGE  - 1895 Commentary
JOSEPH PARKER
ARTHUR PEAKE
F N PELOUBET
PETER PETT
PREACHER'S HOMILETICAL COMMENTARY The Acts of the Apostles
PULPIT COMMENTARY The Acts of the Apostles
RICHARD RACKHAM The Acts of the Apostles: An Exposition 1904 
Rosscup writes "This is a very good though at times terse commentary from the standpoint of Greek and, historical background. Rackham was conservative but amillennial. Verse by verse he often offers good help, and he has addenda on topics such as breaking of bread, Sadducees and Pharisees, etc." (Commentaries for Biblical Expositors)

D Edmond Hiebert - A thorough (513-page), informative exposition by a conservative Anglican scholar. Full treatment of introductory problems. Has a full index. One of the standard older commentaries on Acts.
RADIO BIBLE CLASS
WILLIAM RAMSAY - Sir William Ramsay
Cities of St. Paul - for Iconium see page 317 (religion of Iconium on page 320 - very interesting background)
ROBERT RAYBURN SERMONS BOOK OF ACTS
REFORMATION STUDY BIBLE STUDY NOTES
RON RITCHIE SERMON
A. T. ROBERTSON Word Pictures on Acts
ROB SALVATO - Sermons
JOHNNY SANDERS
JOHN SCHULTZ
CHARLES SIMEON
CHUCK SMITH Commentary and Sermon Notes
JAMES SMITH - Handfuls on Purpose - expanded sermon outlines
MISSIONARY EXPERIENCE. Acts 14:1-20
HELPING THE SAINTS. Acts 14:19-28
SPEAKER'S COMMENTARY
R C SPROUL - Devotionals
C H SPURGEON
RAY STEDMAN Sermon Series - Expository Studies in Acts
JOSEPH SUTCLIFFE
THIRD MILLENNIUM - SERMONS AND STUDY NOTES
DEREK THOMAS SERMONS BOOK OF ACTS
DAVID THOMPSON - Sermon expositions, well-done
TODAY IN THE WORD DEVOTIONALS Book of Acts
Moody Bible Institute - Dozens of Devotionals Arranged by Chapter. Click Chapters Below
Acts 14 - multiple devotionals on one page
JOHN TRAPP
BOB UTLEY - Acts Commentary
MARVIN VINCENT New Testament Word Studies On the Book of Acts
DANIEL WHEDON
STEVE ZEISLER
| | | |
| --- | --- | --- |
| Apostolic (Ministerial) Experience | W. Clarkson | Acts 14:1-7 |
| Faithful Service: Iconium | R.A. Redford | Acts 14:1-7 |
| The Calm Force of the Gospel Amid Many Distractions of Men | P.C. Barker | Acts 14:1-7 |
| The Gospel At Iconium | E. Johnson | Acts 14:1-7 |
| At Iconium | M. C. Hazard. | Acts 14:1-18 |
| Characteristics of Apostolic Preaching | G. R. Leavett. | Acts 14:1-18 |
| Courage Requisite in Reformers | W. H. Beecher. | Acts 14:1-18 |
| Effects of Gospel Preaching | S. S. Times | Acts 14:1-18 |
| God's Testimony to His Word | James Jeffrey. | Acts 14:1-18 |
| God's Testimony to the Word of His Grace | B. Beddome, M. A. | Acts 14:1-18 |
| God's Testimony to the Word of His Grace | H. Stowell, M. A. | Acts 14:1-18 |
| Iconium | Lyman Abbott, D. D. | Acts 14:1-18 |
| Iconium and Lystra | T. H. Hanna, D. D. | Acts 14:1-18 |
| Mode of Preaching the Gospel Adapted to Success | E. T. Fitch, D. D. | Acts 14:1-18 |
| Perils of Missionary Life |   | Acts 14:1-18 |
| Persecution Turned into Inspiration | J. Parker, D. D. | Acts 14:1-18 |
| Proper Witness Bearing | Lisco. | Acts 14:1-18 |
| Strike, But Hear Us | A. Fuller. | Acts 14:1-18 |
| The Courage of Devoted Christians |   | Acts 14:1-18 |
| The Ministry of the Apostles At Iconium | D. Thomas, D. D. | Acts 14:1-18 |
| Hinderers of Christian World | R. Tuck | Acts 14:2 |
| Gospel Preaching |   | Acts 14:4-7 |
| The Effects of the Gospel | J. W. Burn. | Acts 14:4-7 |
| The Gospel for All | W. Brock, D. D. | Acts 14:4-7 |
| The Gospel Ministry | T. Gibson, M. A. | Acts 14:4-7 |
| The Insufficient and the Efficacious | Homiletic Review | Acts 14:4-7 |
| The Permitted Flight of the Servant of God | K. Gerok. | Acts 14:4-7 |
| The Preaching of the Gospel | J. Angell James. | Acts 14:4-7 |
| The Insufficient and the Efficacious | W. Clarkson | Acts 14:7-20 |
| Apostolic Service and Temptation | J. Parker, D. D. | Acts 14:8-18 |
| Paul and Barnabas in Lystra | J. Dick, D. D. | Acts 14:8-18 |
| The Light Shining in Darkness - Lystra | R.A. Redford | Acts 14:8-18 |
| Three Instances of Faith | P.C. Barker | Acts 14:8-18 |
| Worship: the False and the True | M. C. Hazard. | Acts 14:8-18 |
| Healing of the Lame Man At Lystra | E. Johnson | Acts 14:8-20 |
| The Cripple At Lystra | Charles Haddon Spurgeon | Acts 14:9 |
| Essential Faith | C. H. Spurgeon. | Acts 14:9-10 |
| Faith to be Healed | C. H. Spurgeon. | Acts 14:9-10 |
| Faith to be Healed | C. S. Robinson, D. D. | Acts 14:9-10 |
| The Efficacy of Faith | J. Spencer. | Acts 14:9-10 |
| Deified and Stoned | Alexander Maclaren | Acts 14:11 |
| Dream and Reality | Alexander Maclaren | Acts 14:11 |
| The Theology of Heathendom | D. Thomas, D. D. | Acts 14:11-13 |
| The Worship of Success | H. C. Trumbull, D. D., W. Denton, M. A. | Acts 14:11-13 |
| No Gods, Only God | R. Tuck | Acts 14:15 |
| Apostolic Sincerity | G. V. Lechler, D. D. | Acts 14:15-18 |
| Effects of Turning to God |   | Acts 14:15-18 |
| Food and Gladness | Henry Jones, M. A. | Acts 14:15-18 |
| Food and Gladness |   | Acts 14:15-18 |
| Fruitful Seasons Are | J. Brown, D. D. | Acts 14:15-18 |
| God in Nature | K. Gerok. | Acts 14:15-18 |
| God Known by His Works |   | Acts 14:15-18 |
| God's Witnesses | Dean Vaughan. | Acts 14:15-18 |
| Man Must have Some Religion | W. Sparrow, D. D. | Acts 14:15-18 |
| Natural Religion, its Uses and Defects | I. Watts, D. D. | Acts 14:15-18 |
| Rain a Divine Blessing | J. Eadie, D. D. | Acts 14:15-18 |
| Revelation to be Expected | A. Oliver, B. A . | Acts 14:15-18 |
| Seasons of Spiritual Fruitfulness | R. G. Dillon, D. D. | Acts 14:15-18 |
| The Apostolic Testimony Against Heathenism | D. Jones Hamer. | Acts 14:15-18 |
| The Beneficence of God | J. Hambleton, M. A. | Acts 14:15-18 |
| The Book of Revelation and of Nature | Sir T. Browne. | Acts 14:15-18 |
| The Danger of Accepting False Homage | J. Bennett, D. D. | Acts 14:15-18 |
| The Flatterer Repulsed | Biblical Museum | Acts 14:15-18 |
| The Living God | H. J. Van Dyke, D. D. | Acts 14:15-18 |
| The Pastoral Office | M. B. Hogg, B. A. | Acts 14:15-18 |
| The Sublimity of Christianity and the Worthlessness of Human Popularity | D. Thomas, D. D. | Acts 14:15-18 |
| The Voices of the Harvest | F. W. Brown. | Acts 14:15-18 |
| The Witness of Harvest | John Hunter. | Acts 14:15-18 |
| The Witness of the Harvest | G. A. Bennetts, B. A. | Acts 14:15-18 |
| Witnesses for God | T. J. Judkin. | Acts 14:15-18 |
| God's Ways with the Nations | R. Tuck | Acts 14:16 |
| The Witness of Harvest-Times | R. Tuck | Acts 14:17 |
| Once was Stoned | P.C. Barker | Acts 14:19, 20 |
| Apostles and Crusaders on the Same Track | J. S. Howson, D. D. | Acts 14:19-28 |
| Dangers and Successes | R.A. Redford | Acts 14:19-28 |
| End of Paul's First Missionary Journey | Sermons by the Monday Club | Acts 14:19-28 |
| Fickleness of the Populace |   | Acts 14:19-28 |
| From Derbe to Antioch | D. Thomas, D. D. | Acts 14:19-28 |
| Stoning the Gods | T. Champness. | Acts 14:19-28 |
| The Best Gain of a Servant of God Returning Home |   | Acts 14:19-28 |
| The Close of the First Missionary Journey | J. Parker, D. D. | Acts 14:19-28 |
| The End of the First Missionary Journey | M. C. Hazard. | Acts 14:19-28 |
| The Fickleness of the Lystrians | J. S. Howson, D. D. | Acts 14:19-28 |
| The Minister's Work |   | Acts 14:19-28 |
| The Stoning of Paul | S. S. Times | Acts 14:19-28 |
| The Christian Leader and the Novitiate | W. Clarkson | Acts 14:21-23 |
| Return to Antioch: a Picture of Apostolic Activity | E. Johnson | Acts 14:21-28 |
| The Return Home | P.C. Barker | Acts 14:21-28 |
| Consolations on the Way to the Kingdom | Bp. Hall. | Acts 14:22 |
| Continuance in the Faith | C. J. Hoare, M. A. | Acts 14:22 |
| Difficulties in the Way | H. J. Wilmot Buxton, M. A. | Acts 14:22 |
| Spiritual Confirmation | R.A. Redford | Acts 14:22 |
| The Condition of Tribulation | Dean Alford. | Acts 14:22 |
| The Necessity of Tribulation | W. Arnot, D. D. | Acts 14:22 |
| The Necessity of Tribulation | T. Starr King. | Acts 14:22 |
| The Path of Tribulation | Essex Congregational Remembrancer | Acts 14:22 |
| The Process of Purification | W. G. Barrett. | Acts 14:22 |
| The Way of Tribulation | K. Gerok. | Acts 14:22 |
| The Way to the Kingdom | A. Raleigh, D. D. | Acts 14:22 |
| Through Tribulation to Glory | Homilist | Acts 14:22 |
| Through Tribulation to the Kingdom | R. Tuck | Acts 14:22 |
| Tribulation and its Uses | J. H. Evans, M. A. | Acts 14:22 |
| Tribulation, its Necessity |   | Acts 14:22 |
| Tribulation: its Necessity and Issue | H. Melvill, B. D. | Acts 14:22 |
| We Grow Best Under Weights | J. R. Miller, D. D. | Acts 14:22 |
| The Work of God | W. Clarkson | Acts 14:24-28 |
| Prayer as a Recommendation to the Grace of God | R. Tuck | Acts 14:26 |
| Apostles and Crusaders At Antioch | J. S. Howson, D. D. | Acts 14:26-28 |
| Apostolic Rehearsal | R. Treffry., K. Gerok. | Acts 14:26-28 |
| God's Open Doors | H. W. Beecher. | Acts 14:26-28 |
| Missionary Enterprises | T. Newsome. | Acts 14:26-28 |
| Missionary Reports | S. S. Times | Acts 14:26-28 |
| The Door of Faith | A. Maclaren, D. D. | Acts 14:26-28 |
| The Open Gate of Salvation |   | Acts 14:26-28 |
| The Report of the Mission | Dean Vaughan. | Acts 14:26-28 |
| The Door of Faith | W. Clarkson | Acts 14:27 |
| The Door of Faith | R. Tuck | Acts 14:27 |
| The Door of Faith' | Alexander Maclaren | Acts 14:27 |
Book