Tongues as of fire - Acts 2:3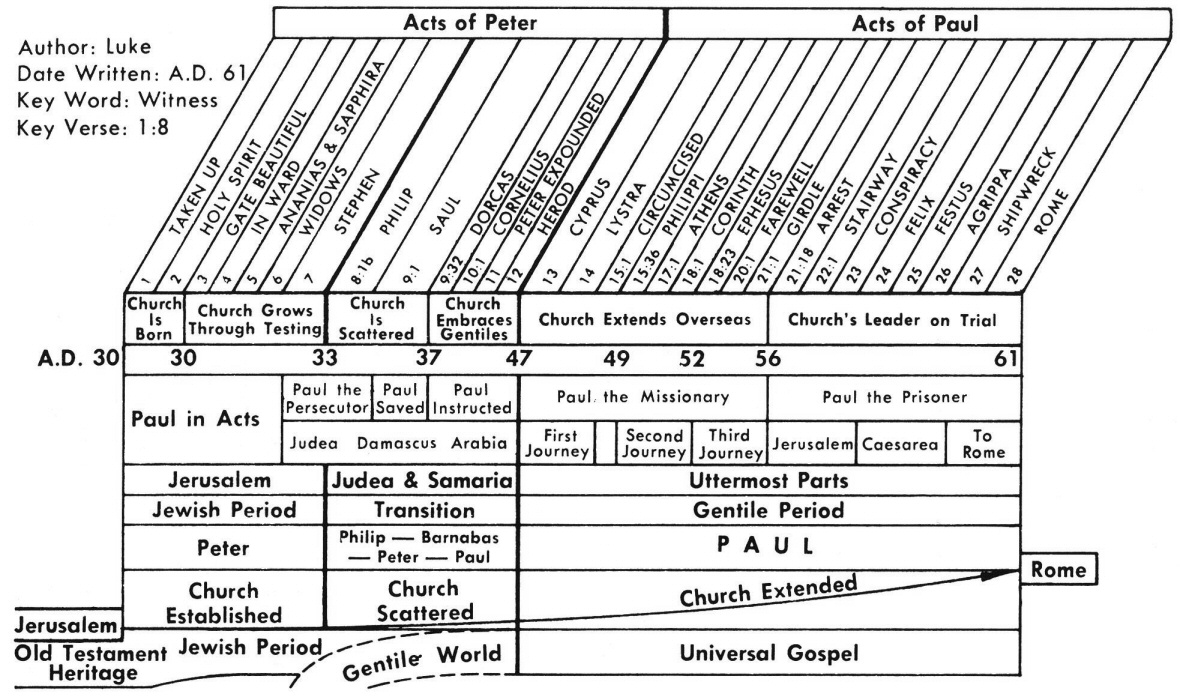 Click chart to enlarge
Chart from Jensen's Survey of the NT - used by permission
THE EXPANDING WITNESS OF THE SPIRIT-EMPOWERED CHURCH

Click chart to enlarge
ON SITE - RESOURCES ON THE HOLY SPIRIT
JOSEPH A ALEXANDER Acts Commentary (1857, 1866)
James Rosscup: "This work, originally out in 1857, has proved helpful to many, though it is now far out of date as to literature commenting on Acts. For many basic details verse by verse, it still is of good value and often will help on word meaning and special problems. The fact that it was reprinted is indicative of its respected place in Acts studies." (Commentaries for Biblical Expositors)

Cyril Barber -  A beautifully produced work that brings within the reach of the busy pastor the benefits of this commentator's prodigious labors. A warmly devotional treatment. (The Minister's Library Volume 2)

D Edmond Hiebert - An exhaustive exposition of Acts by a conservative Presbyterian scholar of the past century. Gives a precise interpretation of the text on the basis of the original. Omission of technical matters makes it suitable to the English reader.
HENRY ALFORD - Greek Testament Critical Exegetical Commentary
FRANK ALLEN - ACTS OF THE APOSTLES(1931)
GREG ALLEN - sermons
PAUL APPLE -642 page commentary 
JACK ARNOLD SERMONS BOOK OF ACTS
WILLIAM ARNOT Acts Commentary
Cyril Barber - These sermons reveal Arnot's thorough awareness of the original text and the milieu of the early church. His material is provocative as well as edifying. Both laypeople and pastors should read this book eagerly in order to better determine the course of the church, its commitments, and the criteria of its fellowship. Recommended.(The Minister's Library Volume 2)
WILLIAM BARCLAY'S DAILY STUDY BIBLE
ALBERT BARNES Notes on the New Testament on Acts
BRIAN BILL
BRIAN BELL SERMON NOTES
CHRIS BENFIELD SERMONS BOOK OF ACTS
JOHANN BENGEL
BIBLICAL ART - retrieved from Google search
BIBLICAL ILLUSTRATOR 
JIM BOMKAMP
JOHN CALVIN Commentary Acts of the Holy Spirit
CAMBRIDGE GREEK TESTAMENT FOR SCHOOLS AND COLLEGES - J. R. Lumby
ALAN CARR Sermons Acts of the Holy Spirit
RICH CATHERS - Sermon Notes - frequent illustrations
MATT CHANDLER Sermons on Acts
JOHN CHRYSOSTOM
ADAM CLARKE Commentary on Acts
STEVEN COLE Sermons Book of Acts
THOMAS CONSTABLE Expository Notes on the book of Acts
W A CRISWELL - Sermon on Acts 
BOB DEFFINBAUGH EXPOSITORY SERMONS
DEVOTIONALS ON ACTS
Today in the Word (Moody), Our Daily Bread (Radio Bible Class), Our Daily Walk - F B Meyer, Our Daily Homily - F B Meyer, Our Daily Bread 
JOHN DUMMELOW
ALFRED EDERSHEIM
CHARLES ELLICOTT, EDITOR - E H PLUMPTRE - AUTHOR
EXPOSITOR'S BIBLE Commentary on Acts of the Apostles - George T. Stokes
EXPOSITOR'S DICTIONARY
W FERGUSON
DON FORTNER
WILLIAM M FURNEAUX
ARNO C GAEBELEIN - THE ACTS OF THE APOSTLES - AN EXPOSITION (1912)
D Edmond Hiebert - A forceful, conservative unfolding of the message of Acts by a noted premillennial, dispensational Bible teacher active during the first half of this century. Emphasizes the transition from Judaism to Christianity as portrayed in Acts.
GENE GETZ - short videos (~10) emphasizing principles in the text
GEORGE GILBERT
GOSPEL COALITION
GOTQUESTIONS - questions related to the book of Acts
GRACE NOTES - Expositional Study by Warren Doud
DAVE GUZIK Commentary Notes on Acts
HORATIO B HACKETT A Commentary on the Original Text of the Acts of the Apostles
D Edmond Hiebert - A full verse-by-verse commentary by a conservative Baptist professor of the past century. Still valuable for a clear unfolding of the text of Acts.

C H Spurgeon writes that "Hackett occupies the first position among commentators upon the Acts."  (Commenting on Commentaries - excellent resource with links to all 66 books)
JAMES HASTINGS Sermons on Acts Great Texts of the Bible
MATTHEW HENRY Commentary on Acts
HOLMAN PUBLISHING - study notes
DAVID HOLWICK SERMON NOTES ACTS 
BARRY HORNER
INTERVARSITY PRESS Commentary on the Book of Acts - William J Larkin, Jr.
Cyril Barber -  Historically helpful. Contains some important insights. Critical matters are confined to the footnotes. Oriented toward the pastorate.
H A IRONSIDE Commentary on Acts
JAMIESON, FAUSSET, BROWN Commentary on Acts
S. LEWIS JOHNSON Sermons on Acts
WILLIAM KELLY
R J KNOWLING The Expositor's Greek Testament The Acts of the Apostles
D Edmond Hiebert - Greek text. Still one of the most thorough commentaries on the Greek text. Significant for the Greek student.
STEVE KRELOFF
PAUL KRETZMANN Popular Commentary of the Bible The Acts of the Apostles
LANGE'S COMMENTARY
STEVE LAWSON
DAVID LEGGE
LIFEWAY SERMONS
MARTYN LLOYD JONES - SERMONS
JOHN MACARTHUR Verse by Verse Sermons on Acts
ALEXANDER MACLAREN Sermons on Acts
BRYN MACPHAIL
MAPS - related to Acts
JAMES MCCULLEN - frequent illustrations
J VERNON MCGEE Thru the Bible The Acts of the Apostles
F B MEYER
HEINRICH A. W. MEYER
J R MILLER
MISCELLANEOUS RESOURCES RELATED TO ACTS 2 (IN NO SPECIFIC ORDER)
MONERGISM
G CAMPBELL MORGAN The Acts of the Apostles: Commentary
Rosscup writes that this 1947 work is "one of Morgan's better commentaries and one which the student can profitably consult." (Commentaries for Biblical Expositors: An Annotated Bibliography of Selected Works).

D Edmond Hiebert - Expository messages on Acts by a noted Bible teacher-preacher. His exposition aims at setting forth the spiritual force and method of early Christianity. Stress is placed on the variety of ways in which the Spirit is seen at work in Acts. Offers many illuminating insights.
HENRY MORRIS -  Study notes
ROBERT NEIGHBOUR Wells of Living Water Commentary
NET BIBLE NOTES
PHIL NEWTON Sermons on Acts
JAMES NISBET - Church Pulpit Commentary
OUR DAILY BREAD Devotional Illustrations
PASTOR LIFE SERMONS
ARTHUR PEAKE
F N PELOUBET
PETER PETT
JOHN PIPER Sermons on Acts
PREACHER'S HOMILETICAL COMMENTARY The Acts of the Apostles
RAY PRITCHARD
PULPIT COMMENTARY The Acts of the Apostles
RICHARD RACKHAM The Acts of the Apostles: An Exposition 1904 
Rosscup writes "This is a very good though at times terse commentary from the standpoint of Greek and, historical background. Rackham was conservative but amillennial. Verse by verse he often offers good help, and he has addenda on topics such as breaking of bread, Sadducees and Pharisees, etc." (Commentaries for Biblical Expositors)

D Edmond Hiebert - A thorough (513-page), informative exposition by a conservative Anglican scholar. Full treatment of introductory problems. Has a full index. One of the standard older commentaries on Acts.
RADIO BIBLE CLASS
REFORMATION STUDY BIBLE STUDY NOTES
ROBERT RAYBURN SERMONS BOOK OF ACTS
A. T. ROBERTSON Word Pictures on Acts
DON ROBINSON Sermons on Acts 
ROB SALVATO - Sermons
JOHNNY SANDERS
RAYMOND SAXE
JOHN SCHULTZ
CHARLES SIMEON Sermons on Acts Horae Homileticae
CHUCK SMITH Commentary and Sermon Notes
JAMES SMITH - Handfuls on Purpose - expanded sermon outlines
SPEAKER'S COMMENTARY
R C SPROUL - Devotionals
C H SPURGEON
RAY STEDMAN Sermon Series - Expository Studies in Acts
JOHN STEVENSON - Sermons
LEHMAN STRAUSS
JOSEPH SUTCLIFFE
DEREK THOMAS SERMONS BOOK OF ACTS
DAVID THOMPSON - Sermons, well-done
TODAY IN THE WORD DEVOTIONALS Book of Acts
Moody Bible Institute - Dozens of Devotionals Arranged by Chapter. Click Chapters Below
JOHN TRAPP
BOB UTLEY - Acts Commentary
MARVIN VINCENT New Testament Word Studies On the Book of Acts
RICK WARREN
DANIEL WHEDON
STEVE ZEISLER SERMONS ON ACTS
SERMONS BY VERSE - MULTIPLE SERMONS FROM OLDER EXPOSITORS
| | | |
| --- | --- | --- |
| Pentecost | Martin Luther | Acts 2:1 |
| Pentecost Monday | Martin Luther | Acts 2:1 |
| Pentecost Tuesday | Martin Luther | Acts 2:1 |
| The Abiding Gift and its Transitory Accompaniments | Alexander Maclaren | Acts 2:1 |
| A New Manifestation of the Divine Spirit | D. Thomas, D. D. | Acts 2:1-4 |
| A Whitsunday Meditation | A. Mackennal, D. D. | Acts 2:1-4 |
| Are We Ready for Spiritual Power | T. J. Longhurst. | Acts 2:1-4 |
| Awaking to Truth | Theodore T. Munger. | Acts 2:1-4 |
| Belief in the Holy Ghost | C. H. Spurgeon. | Acts 2:1-4 |
| Effect of the Holy Spirit |   | Acts 2:1-4 |
| Holy Spirit: the Method of His Bestowment Unrevealed | H. W. Beecher. | Acts 2:1-4 |
| It's No' Bilin' |   | Acts 2:1-4 |
| Pentecost | C. H. Spurgeon. | Acts 2:1-4 |
| Pentecost | Dean Vaughan. | Acts 2:1-4 |
| Pentecost -- the First-Fruits | George Deane, D. Sc. | Acts 2:1-4 |
| Pentecost a Spiritual Spring Feast | Gerok. | Acts 2:1-4 |
| Pentecost; Or, the First Christian Day | A. J. Morris. | Acts 2:1-4 |
| Revival Preceded by Prayer | T. De Witt Talmage. | Acts 2:1-4 |
| Revivals -- Occasional Things | T. H. Skinner. | Acts 2:1-4 |
| Revivals of Religion | C. Hodge, D. D. | Acts 2:1-4 |
| Spiritual Influence from Another World | M. G. Pearse. | Acts 2:1-4 |
| Sudden Revivals Explained | C. H. Spurgeon. | Acts 2:1-4 |
| The Advent of the Spirit | The Study and the Pulpit | Acts 2:1-4 |
| The Baptism of the Spirit Experienced | C. G. Finney, D. D. | Acts 2:1-4 |
| The Baptism of the Spirit: its Effects | Archdeacon Farrar. | Acts 2:1-4 |
| The Coming of the Holy Spirit | James Freeman Clarke. | Acts 2:1-4 |
| The Day of Pentecost | Baxter Dickinson. | Acts 2:1-4 |
| The Day of Pentecost | B. Dickinson, M. A. | Acts 2:1-4 |
| The Day of Pentecost | J. Cynddylan Jones, D. D. | Acts 2:1-4 |
| The Day of Pentecost | H. Allon, D. D. | Acts 2:1-4 |
| The Day of Pentecost: the Manifestation of the Spirit | R.A. Redford | Acts 2:1-4 |
| The Descending Spirit | G. H. Parkhurst, D. D. | Acts 2:1-4 |
| The Descent of the Spirit | D. J. Burrell, D. D. | Acts 2:1-4 |
| The Epoch of the Spiritual Dispensation | E. Johnson | Acts 2:1-4 |
| The Feast of Harvest | C. H. Spurgeon. | Acts 2:1-4 |
| The Fitness of the Day of Pentecost | Dean Plumptre. | Acts 2:1-4 |
| The Gift of Pentecost the Best Gift of God | Gerok. | Acts 2:1-4 |
| The Gift of the Spirit Dependent Upon Conditions | J. Marshall Mather. | Acts 2:1-4 |
| The Holy Spirit Indispensable | T. Guthrie, D. D. | Acts 2:1-4 |
| The Holy Spirit Needed | C. H. Spurgeon. | Acts 2:1-4 |
| The Outpouring of the Spirit | J. Parker, D. D. | Acts 2:1-4 |
| The Outpouring of the Spirit | J. Parker, D. D. | Acts 2:1-4 |
| The Outward Unity of the Pentecostal Church | G. T. Stokes, D. D. | Acts 2:1-4 |
| The Pentecostal Outpouring | Family Churchman | Acts 2:1-4 |
| The Sending of the Holy Ghost | Bp. Andrewes. | Acts 2:1-4 |
| The Symbols of the Spirit's Presence | R. Tuck | Acts 2:1-4 |
| The Time of the Spirit's Outpouring Proves the Unity of the Two Dispensations | G. T. Stokes, D. D. | Acts 2:1-4 |
| The White Sunday (Children's Sermon | J. Vaughan, M. A. | Acts 2:1-4 |
| Waiting Where the Spirit is Likely to Come | J. W. Harrald. | Acts 2:1-4 |
| Whir-Sunday | F. W. Brown. | Acts 2:1-4 |
| The Coming of God in Power | W. Clarkson | Acts 2:1-13 |
| The Day of Pentecost, and its Immediate Gifts | P.C. Barker | Acts 2:1-41 |
| Pentecost | A. Maclaren, D. D | Acts 2:2-3 |
| Pentecostal Seasons | Ray Palmer, D. D. | Acts 2:2-3 |
| Symbols of the Spirit | Gerok. | Acts 2:2-3 |
| The Building Up of the Family | Dean Goulburn. | Acts 2:2-3 |
| The Echo | A. Maclaren, D. D. | Acts 2:2-3 |
| The Fourfold Symbols of the Spirit | A. Maclaren, D. D | Acts 2:2-3 |
| The Necessity of the Fire | W. Arthur, M. A. | Acts 2:2-3 |
| The Sound from Heaven an Answer to Prayer | Apostolic Pastor | Acts 2:2-3 |
| The Tongues of Fire | W. B. Pope, D. D. | Acts 2:2-3 |
| The Tongues of Fire | G. T. Stokes, D. D. | Acts 2:2-3 |
| Tongues of Fire | W. Denton, M. A. | Acts 2:2-3 |
| Tongues of Fire | J. C. Jones, D. D. | Acts 2:2-3 |
| Tongues of Fire | Bp. Hacket. | Acts 2:2-3 |
| Tongues of Fire: Different Kinds Of | R. Steer, D. D. | Acts 2:2-3 |
| True Eloquence | J. C. Jones. | Acts 2:2-3 |
| Whitsunday | W. Clarkson, B. A. | Acts 2:2-3 |
| Baptism of the Holy Ghost | R.A. Redford | Acts 2:4 |
| Characteristics of Spirit-Inspired Speech | Cornelius a Lapide. | Acts 2:4 |
| Filled with the Spirit | Bp. Andrewes. | Acts 2:4 |
| Filled with the Spirit | H. Arnold Thomas, M. A. | Acts 2:4 |
| Filled with the Spirit | Cornelius a Lapide. | Acts 2:4 |
| Filled with the Spirit and Receiving the Spirit | W. Arthur, M. A. | Acts 2:4 |
| Fulness of the Spirit not Necessarily Miraculous | W. Arthur, M. A. | Acts 2:4 |
| Power of a Man When God Works by Him | Bp. Phillips Brooks. | Acts 2:4 |
| The Fulness of the Spirit the Need of the Church | T. G. Tarn. | Acts 2:4 |
| The Gospel for All Nations | M. Henry. | Acts 2:4 |
| The Great Lesson of the Pentecost | R. Tuck | Acts 2:4 |
| The Historic Movement Towards Spiritually | J. Parker, D. D. | Acts 2:4 |
| The New Tongue Which Ought to Fall to Our Lot by the Spirit of Pentecost | Gerok. | Acts 2:4 |
| The Soul Filled with the Holy Ghost | W. Arthur, M. A. | Acts 2:4 |
| How the Seed of the Word is Spread | W. Arnot. | Acts 2:5-11 |
| The First Congregation Appealed to by the Apostles | W. Hudson. | Acts 2:5-11 |
| The Thousand-Tongued Hallelujah of the World in Honour of God | Gerok. | Acts 2:5-11 |
| The Visitors At Jerusalem | Dean Plumptre. | Acts 2:5-11 |
| The Wonderful Works of God | W. Jay. | Acts 2:5-11 |
| Men's Attitudes Toward Things Beyond Explanation | R. Tuck | Acts 2:5-13 |
| Spiritual Facts in a World Unprepared to Receive Them | R.A. Redford | Acts 2:5-13 |
| The Amazement of the Multitude | E. Johnson | Acts 2:5-13 |
| The Multitude in Amazement | F. Wagstaff. | Acts 2:12,13 |
| Whit Sunday, or What Our Churches Need | A. G. Brown. | Acts 2:12,13 |
| Interpretation of the Phenomena of the Spirit | E. Johnson | Acts 2:14-21 |
| Prophecies of the Times of the Spirit | R. Tuck | Acts 2:14-21 |
| The Spirit Speaking Through the Voice of an Apostle | R.A. Redford | Acts 2:14-36 |
| Truths from Peter's Sermon | W. Clarkson | Acts 2:14-36 |
| A New Style of Religious Ministry | D. Thomas, D. D. | Acts 2:14-40 |
| A Sermon to Prick the Conscience | J. C. Jones. | Acts 2:14-40 |
| A Varied Ministry Blessed by the Holy Spirit | C. H. Spurgeon. | Acts 2:14-40 |
| Different Styles of Preaching | W. Arthur, M. A. | Acts 2:14-40 |
| Elements of Power in Peter's Sermon | Homiletic Monthly | Acts 2:14-40 |
| Peter's Impulsiveness Useful Because Wisely Directed | W. H. Blake. | Acts 2:14-40 |
| Plain Preaching |   | Acts 2:14-40 |
| Preaching on the Day of Pentecost | J. Thompson, A. M. | Acts 2:14-40 |
| St. Peter to the Multitude | D. Fraser, D. D. | Acts 2:14-40 |
| St. Peter's First Sermon | G. T. Stokes, D. D. | Acts 2:14-40 |
| The First Apostolic Appeal to the Multitude | W. Hudson. | Acts 2:14-40 |
| The First Sermon | Dean Vaughan. | Acts 2:14-40 |
| The Power of the Human Voice | J. Parker. | Acts 2:14-40 |
| The Scene | W. Arthur, M. A. | Acts 2:14-40 |
| A Young Man's Vision | C. H. Spurgeon. | Acts 2:17-21 |
| Features of the New Dispensation | W. Hudson. | Acts 2:17-21 |
| The Dispensation of the Holy Ghost and its Distinctive Character | Capel Molyneux, B. A. | Acts 2:17-21 |
| The Gospel Age | Homilist | Acts 2:17-21 |
| The Possibilities of Life | W. E. Chadwick, M. A. | Acts 2:17-21 |
| The Pouring Out of God's Spirit | Theological Sketch Book | Acts 2:17-21 |
| The Promise Kept | E. B. Conder, D. D. | Acts 2:17-21 |
| The Sending of the Holy Ghost | Bp. Andrewes. | Acts 2:17-21 |
| The Visionary Aspect of Christianity | J. F. Ewing, M. A. | Acts 2:17-21 |
| Visions Realised | W. E. Chadwick, M. A. | Acts 2:17-21 |
| The Great Assize | John Wesley | Acts 2:19 |
| Downfall of Christianity | T. De Witt Talmage, D. D. | Acts 2:20 |
| Calling on Christ | C. H. Spurgeon. | Acts 2:21 |
| Salvation | J. W. Burn. | Acts 2:21 |
| The Common Salvation | R.A. Redford | Acts 2:21 |
| The Secret Cry to God | J. McNeill. | Acts 2:21 |
| The Divine Humanity | R.A. Redford | Acts 2:22 |
| The First Facts of Gospel Preaching | R. Tuck | Acts 2:22-28 |
| Bonds Which Could not Hold |   | Acts 2:22-36 |
| Christ Crucified According to the Determinate Counsel and Foreknowledge of God | J. Beaumont, D. D. | Acts 2:22-36 |
| Christ Still Escaping from Entombment | C. H. Parkhurst, D. D. | Acts 2:22-36 |
| Miracles | Principal J. W. Dawson. | Acts 2:22-36 |
| Personal Preaching |   | Acts 2:22-36 |
| The Connection of the Christian Events | E. Johnson | Acts 2:22-36 |
| The Effect of Pentecost Upon Peter | J. Parker, D. D. | Acts 2:22-36 |
| The First Christian Apology | J. O. Dykes, D. D. | Acts 2:22-36 |
| The Gospel in its Simplicity | W. Hudson. | Acts 2:22-36 |
| The Inevitableness of Christ's Resurrection | J. Jowett, M. A. | Acts 2:22-36 |
| The Miracles of Christ Appealed to on the Day of Pentecost | Expository Outlines | Acts 2:22-36 |
| The Nature and Quality of the Death Christ Died Upon the Cross | J. Flavel. | Acts 2:22-36 |
| The Necessity of Christ's Resurrection | W. Gladden, D. D. | Acts 2:22-36 |
| The Resurrection | R. South, D. D. | Acts 2:22-36 |
| The Resurrection Inevitable | Canon Liddon. | Acts 2:22-36 |
| The Historical and Spiritual Causes of the Death of Christ | J. H. Beibitz | Acts 2:23 |
| A Prophetic Panorama of the Life of Jesus | W. Hudson. | Acts 2:25-28 |
| Christ's Descent into Hell and Rising Again from the Dead | W. Allen, D. D. | Acts 2:25-28 |
| The Experience and Prospect of a Real Christian | O. A. Jeary. | Acts 2:25-28 |
| The Parable of the Resurrection in David's Psalm | E. Johnson | Acts 2:25-28 |
| An Anti-Rationalist Argument | W. Hudson. | Acts 2:29-32 |
| Our Witness to the Resurrection | T. L. Claughton, M. A. | Acts 2:29-32 |
| The Witness of the Church | Canon Scott Holland. | Acts 2:29-32 |
| The Witness of the Disciples | J. Baldwin Brown, B. A. | Acts 2:29-32 |
| The First Argument for the Resurrection | R. Tuck | Acts 2:29-36 |
| Peter's First Sermon | Alexander Maclaren | Acts 2:32 |
| Royal Bounty | R.A. Redford | Acts 2:33 |
| The Explanation of the Signs of Pentecost | R. Tuck | Acts 2:33 |
| Jesus as Lord | S. Pearson, M. A. | Acts 2:33-36 |
| The Ascension and its Meaning | W. Hudson. | Acts 2:33-36 |
| The Effusion of the Spirit | E. T. Priest. | Acts 2:33-36 |
| The Exaltation of Christ | W. Arthur, M. A. | Acts 2:33-36 |
| The Lordship of Christ | J. Donne, D. D. | Acts 2:33-36 |
| The Name Above Every Name | A. Maclaren, D. D | Acts 2:33-36 |
| The Right Hand of God | D. Whitby, D. D. | Acts 2:33-36 |
| Pricked in Their Heart | Charles Haddon Spurgeon | Acts 2:36 |
| The Name Above Every Name | Alexander Maclaren | Acts 2:36 |
| Converting Power Permanent in the Church | W. Arthur, M. A. | Acts 2:37 |
| Conviction of Sin: Instantaneous |   | Acts 2:37 |
| Conviction of Sin: its Naturalness | W. Arthur, M. A. | Acts 2:37 |
| It is the Preaching that Pricks Men's Consciences that Saves Them | C. H. Spurgeon. | Acts 2:37 |
| Repentance | W. Antliff, D. D. | Acts 2:37 |
| Salvation | Sunday School Times | Acts 2:37 |
| Sham Repentance |   | Acts 2:37 |
| The Soul's Questions Answered | R.A. Redford | Acts 2:37 |
| The Work of Conversion | Joseph Sutcliffe. | Acts 2:37 |
| Want of Ministerial Results to be Deprecated | W. Arthur, M. A. | Acts 2:37 |
| The Gospel Demands from Men | R. Tuck | Acts 2:37-39 |
| The Gospel According to Peter | W. Clarkson | Acts 2:37-40 |
| A Famous Conversion | Bp. Brownrigg. | Acts 2:37-42 |
| A Sermon Without an Application | Bishop Home. | Acts 2:37-42 |
| A True Saving Conviction of Sin | E. Cooper. | Acts 2:37-42 |
| Awakened Sinners | W. Hudson. | Acts 2:37-42 |
| Being Pricked to the Heart |   | Acts 2:37-42 |
| Conversion | Homilist | Acts 2:37-42 |
| Evangelical Preaching | Theological Sketch-book | Acts 2:37-42 |
| Heart-Work God's Work | R. Baxter. | Acts 2:37-42 |
| Honest Preaching |   | Acts 2:37-42 |
| Life-Wounds |   | Acts 2:37-42 |
| On Being Pricked to the Heart |   | Acts 2:37-42 |
| Only God Can Heal the Wounds He Makes | Handbook of Illustration | Acts 2:37-42 |
| Powerful Preaching | E. Paxton Hood. | Acts 2:37-42 |
| Reaching the Heart | Scottish Christian Herald | Acts 2:37-42 |
| Revival Preachers | J. Jenkyn. | Acts 2:37-42 |
| Rightly Dividing the Word of Truth | W. Arnot, D. D. | Acts 2:37-42 |
| The Day of Spiritual Wonders | R.A. Redford | Acts 2:37-42 |
| The Effects of Gospel Preaching | J. Parker, D. D. | Acts 2:37-42 |
| The Effusion of the Holy Spirit | J. Saurin. | Acts 2:37-42 |
| The Gospel to be Preached to the Heart |   | Acts 2:37-42 |
| The Great Question and the Inspired Answer | J. M. Allis. | Acts 2:37-42 |
| The Operations of Truth | Professor Caird. | Acts 2:37-42 |
| The Results of Revivals not All Known |   | Acts 2:37-42 |
| The Truth the Sword of the Spirit | J. A. Wallace. | Acts 2:37-42 |
| We Must Preach to the Consciences of Men | L. A. Banks. | Acts 2:37-42 |
| Effects of the Divine Power Upon the Heart | E. Johnson | Acts 2:37-47 |
| A Repentance not So Earnest as it Seems | C. H. Spurgeon. | Acts 2:38 |
| Legal and Evangelical Repentance |   | Acts 2:38 |
| Peter's Direction | Lyman Abbott. | Acts 2:38 |
| Remission by God Only |   | Acts 2:38 |
| Remission for the Greatest Sinners | J. Fleming. | Acts 2:38 |
| Remission Gives Confidence Under the Accusations of the Law | D. L. Moody. | Acts 2:38 |
| Repentance | C. Hodge, D. D. | Acts 2:38 |
| Repentance Before Joy |   | Acts 2:38 |
| Repentance Produced by God |   | Acts 2:38 |
| Repentance, Thorough | S. Rutherford. | Acts 2:38 |
| Repentance, Universal | J. Spencer. | Acts 2:38 |
| Repentance: a Change of Course |   | Acts 2:38 |
| Repentance: its Beginning and End | J. M. Mason, D. D. | Acts 2:38 |
| Repentance: its Double Aspect | R. South, D. D. | Acts 2:38 |
| Repentance: its Nature | W. Nevins. | Acts 2:38 |
| St. Peter's Prescription | BP. Brownrigg. | Acts 2:38 |
| The Gift of the Holy Ghost | I. Barrow, D. D. | Acts 2:38 |
| The Gift of the Holy Spirit | W. Niven, B. D. | Acts 2:38 |
| The Gospel | J. W. Burn. | Acts 2:38 |
| The Magnitude of Repentance | C. H. Spurgeon. | Acts 2:38 |
| The First Practice of Baptism as a Christian Rite | P.C. Barker | Acts 2:38, 41 |
| Christianity a Religion of Promise | J. Hambleton, M. A. | Acts 2:39 |
| Effectual Calling | A. Burgess. | Acts 2:39 |
| God's Promise of the Spirit | R.A. Redford | Acts 2:39 |
| The Children May be Converted | T. De Witt Talmage. | Acts 2:39 |
| The Promise of the Holy Ghost | S. D. Waddy, D. D. | Acts 2:39 |
| The Three Covenants | M. C. Hazard. | Acts 2:39 |
| Why Christianity has Failed | H. S. Lunn. | Acts 2:39 |
| Much Exhortation is Needed | C. H. Spurgeon. | Acts 2:40 |
| Salvation from an Untoward Generation | Bp. Hall. | Acts 2:40 |
| Save Yourselves | C. H. Spurgeon. | Acts 2:40 |
| Save Yourselves -- Why | J. Z. Tyler. | Acts 2:40 |
| Saving Ourselves from a Crooked Generation | H. S. Trumbull. | Acts 2:40 |
| Untowardness | R. W. Evans, B.D. | Acts 2:40 |
| A New Development of Social Life | D. Thomas, D. D. | Acts 2:41-42 |
| Anxious for Baptism |   | Acts 2:41-42 |
| Attachment to the Church | J. C. Abdy, M. A. | Acts 2:41-42 |
| Christian Doctrine | S. Pearson, M. A. | Acts 2:41-42 |
| Christian Fellowship | A. Wilson, B. A. | Acts 2:41-42 |
| Church Life | Dean Vaughan. | Acts 2:41-42 |
| Church Life | Dean Vaughan. | Acts 2:41-42 |
| Marks of Having Received the Word | S. S. Times | Acts 2:41-42 |
| Model Church | D. J. Burrell, D. D. | Acts 2:41-42 |
| Prayer Meetings as Affecting the Prosperity of the Church | J. Burnet. | Acts 2:41-42 |
| Revivals Favourable to Doctrine |   | Acts 2:41-42 |
| Revivals Unfavourable to Unbelief | A. Maclaren. | Acts 2:41-42 |
| Safeguards of Religious Life | B. Bramham. | Acts 2:41-42 |
| Steadfastness |   | Acts 2:41-42 |
| Steadfastness in the Apostles' Doctrine and Fellowship | W. M. Arthur, M. A. | Acts 2:41-42 |
| The Beginning of Great Things | R.A. Redford | Acts 2:41, 42 |
| The Blooming Garden of God in the Primitive Church | C. Gerok. | Acts 2:41-42 |
| The Disciplined Life of the Church | W. E. Chadwick, M. A. | Acts 2:41-42 |
| The Faith and Stedfastness of the Early Christians | D. Bagot, D. D. | Acts 2:41-42 |
| The First Christian Church | G. Florey. | Acts 2:41-42 |
| The First Christians a Holy Family | Gerok. | Acts 2:41-42 |
| The First Revival | C. Stanford, D. D. | Acts 2:41-42 |
| The Newly Converted | W. Hudson. | Acts 2:41-42 |
| The Primitive Fellowship At Jerusalem Was | J. H. Rigg, D. D. | Acts 2:41-42 |
| The Use of Fellowship | C. S. Robinson, D. D. | Acts 2:41-42 |
| Early Impulses of Christian Disciples | R. Tuck | Acts 2:41-44 |
| Effects of the Pentecostal Day | E. Johnson | Acts 2:41-47 |
| Spiritual Fervor | W. Clarkson | Acts 2:41-47 |
| A Fourfold Cord | Alexander Maclaren | Acts 2:42 |
| The Necessity and Benefits of Religious Society | George Whitefield | Acts 2:42 |
| The First Regime of the Body of Christ's Disciples as a Christian Community | P.C. Barker | Acts 2:42-47 |
| The Church's Immediate Assertion of Her Own Moral Forces | P.C. Barker | Acts 2:43-47 |
| The Spiritual Commonwealth | R.A. Redford | Acts 2:43-47 |
| Characteristics of the Primitive Christians | E. Leigh. | Acts 2:44-47 |
| Christian and Anti-Christian Communism | C. Gerok, D. D. | Acts 2:44-47 |
| Christian Communism Distinguished from Unchristian | C. Gerok, D. D. | Acts 2:44-47 |
| Christian Festivity | W. Arnot, D. D. | Acts 2:44-47 |
| Communism | W. F. McDowell. | Acts 2:44-47 |
| Constancy in the Performance of Holy Duties |   | Acts 2:44-47 |
| Constancy in the Performance of Holy Duties Makes Them Easy |   | Acts 2:44-47 |
| Gladness of Heart Springs from Singleness of Heart | R. Paisley. | Acts 2:44-47 |
| Importance of Daily Prayer |   | Acts 2:44-47 |
| Man's Willingness to Trust Everything to God But Money | E. S. Robinson. | Acts 2:44-47 |
| Public Worship | S. Price. | Acts 2:44-47 |
| The Apparent Communism of the Infant Church | J. B. Brown, B. A. | Acts 2:44-47 |
| The Atmosphere of a Church | H. W. Beecher. | Acts 2:44-47 |
| The Bright Side of Life | J. W. Burn. | Acts 2:44-47 |
| The Communism of Christianity | Geo. Dawson, M. A. | Acts 2:44-47 |
| The Equalities and Inequalities of Human Lots | Canon Ainger. | Acts 2:44-47 |
| The Holy Communion a Feast of Love | G. J. Zollikofer. | Acts 2:44-47 |
| The Primitive Christians, as Here Depicted | W. Hudson. | Acts 2:44-47 |
| The Soul's Atmosphere | H. W. Beecher. | Acts 2:44-47 |
| The Means of Grace | John Wesley | Acts 2:44 |
| A Pure Church an Increasing Church | A. Maclaren, D. D | Acts 2:47 |
| Additions to the Church | C. H. Spurgeon. | Acts 2:47 |
| At Once Godly and Popular | W. Arnot, D. D. | Acts 2:47 |
| Church Members: Wrong and Right Sort Of | H. W. Beecher. | Acts 2:47 |
| Church Membership Does not Ensure Final Salvation | H. W. Beecher. | Acts 2:47 |
| Church Membership not the Measure of Christianity | H. W. Beecher. | Acts 2:47 |
| Church Membership: its Importance | T. De Witt Talmage, D. D. | Acts 2:47 |
| Church Membership: its Value to the Young | J. Morley Wright. | Acts 2:47 |
| Converts Should Join the Church | C. H. Spurgeon. | Acts 2:47 |
| God's Work Amongst Men | R.A. Redford | Acts 2:47 |
| Graduality and Divinity of Human Salvation | D. Thomas, D. D. | Acts 2:47 |
| Success | B. D. Johns. | Acts 2:47 |
| The Relation of the Church to the Individual | H. Allon, D. D. | Acts 2:47 |
| The Saved Added to the Church |   | Acts 2:47 |
Book