k
Apostle Matthew

Click chart to enlarge
Charts from Jensen's Survey of the NT - used by permission
Another Chart from Charles Swindoll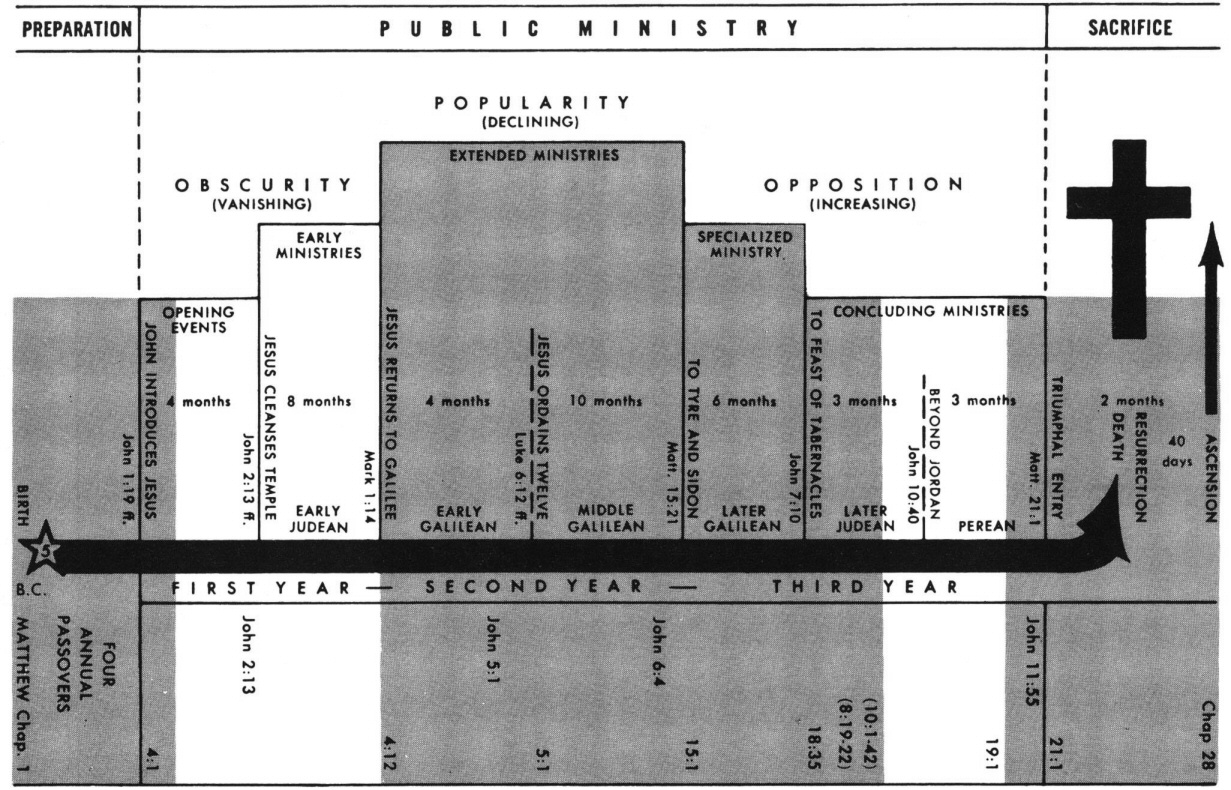 Click chart to enlarge
MATTHEW 1 
MATTHEW 2 
MATTHEW 3
MATTHEW 4 
MATTHEW 5
MATTHEW 6
MATTHEW 7
Inductive Study Notes on Sermon on the Mount
MATTHEW 8
Matthew 9
Matthew 10 Commentary - not complete
Matthew 11 Commentary
Matthew 12 Commentary
Matthew 13 Commentary
Matthew 14 Commentary
Matthew 15 Commentary
Matthew 16 Commentary - Not complete
MATTHEW 5-7 - click for sermons below
Happy Are The Humble Matt. 5:1-3
Happy Are The Hurting Matt. 5:1-4
Happy Are The Harnessed Matt. 5:1-5 
Happy Are The Hungry Matt. 5:1-6 
Happy Are The Helpers Matt. 5:1-7
Happy Are The Holy Matt. 5:1-8
Happy Are The Healers Matt. 5:1-9
Happy Are The Harassed Matt. 5:1-12
Salty Saints Matt. 5:13 
This Little Light Of Mine Matt. 5:14-16
Jesus and His Bible Matt. 5:17-19
Goodness That Isn't Good Enough Matt. 5:20
Heart-Murder Matt. 5:21-22
Something More Important Than Worship Matt. 5:23-26 
Hidden Lust Matt. 5:27-30
Jesus Teaches On Divorce Matt. 5:31-32
To Tell the Truth Matt. 5:33-37
Releasing Our Rights Matt. 5:38-42
Loving Your Enemies Matt. 5:43-48
Religious Exhibition or Sunday Is Not Showtime Matt. 6:1-5, 16-18
Getting Ready To Pray Matt. 6:5-8
Focus On the Father Matt. 6:9-13
Honoring Your Heavenly Father Matt. 6:9-13 
Watching For Kingdom Advances Matt. 6:10
Desiring God's Will In Our Life Matt. 6:10
Daily Bread Living Matt. 6:11 
Receiving and Practicing Forgiveness Matt. 6:12
Our Heavenly Guidance System Matt. 6:13 
A Beautiful Doxology Matt. 6:13 1
Fasting without Fanfare Matt. 6:16-18
Investing For Eternity Matt. 6:19-24 
Why Do You Worry? Matt. 6:25-34 
Are You a Faultfinder? Matt. 7:1-5 
Dogs and Hogs Matt. 7:6 
Knocking On Heaven's Door Matt. 7:7-11 
The Golden Rule Matt. 7:12 
The Road to Heaven Matt. 7:13-14
Beware of the Wolves Matt. 7:15-20 
Professors of Possessors Matt. 7:21-23
Building On the Rock Matt. 7:24-29 
MATTHEW 8-28 - click for sermons below
1. Touching the Untouchable Matthew 8:1-4
2. A Man Whose Faith Amazed Jesus Matthew 8:5-13
3. The Cost of Discipleship or Fickle Followers Matthew 8:14-22
4. Facing the Storms of Life Matthew 8:23-27
5. Releasing Your Demons Matthew 8:28-34
6. The Forgiveness of Sins Matthew 9:1-8
7. Matthew's Personal Testimony Matthew 9:9-13
8. The Lord of the Harvest It's Harvest Time Matthew 9:35-38
9. Jesus' Ordination Sermon to His Disciples Matthew 10:1-11:1
10. Depressed and Impressed Matthew 11:1-15
11. This Generation Matthew 11:16-19
12. The Great Invitation Matthew 11:28-30
13. Why Parables? Matthew 13:10-17, 34-35
14. Broadcasting the Gospel Matthew 13:1-9, 18-23
15. Counterfeit Christians Matthew 13:24-30, 36-43
16. The Wheat and the Weeds Matthew 13:24-30, 36-43
17. Is Bigger Better? Matthew 13:31-32
18. The Case of the Sneaky Housewife Matthew 13:33
19. God's Personal Treasure Matthew 13:44-46
20. The Pearl of Great Price Matthew 13:45-46
21. The Dragnet Matthew 13:47-50
22. The Church That Jesus Built Matthew 16:13-19
23. The Absolute Necessity of the Cross Matthew 16:21-23
24. Don't Forget Your Cross Matthew 16:24-26
25. A Preview of our Lord's Majesty Matthew 17:1-13
26. Bring Him to Me! Matthew 17:14-21
27. Straight From the Fish's Mouth Matthew 17:24-27
28. Kids in the Kingdom Matthew 18:1-6; 19:13-15
29. A Search and Rescue Mission Matthew 18:5-14
30. Restoring an Offending Brother Matthew 18:15-20
31. Forgiveness From the Heart Matthew 18:21-23
32. Jesus Speaks About Divorce Matthew 19:1-12
33. The Rich Young Ruler Matthew 19:16-26
34. That's Not Fair! No, That's God's Grace Matthew 20:1-16
35. What's In It For Me? Matthew 20:17-28
36. What Do You Want Jesus to Do For You? Matthew 20:29-33
37. Jesus' "First" Triumphal Entry Matthew 21:1-11
38. His House Matthew 21:12-17
39. The Two Sons Matthew 21:28-32
40. Murder in the Vineyard Matthew 21:33-46
41. The Greatest Commandment Matthew 22:34-40
42. You Might Be A Hypocrite If … Matthew 23:1-13
43. Eight Woes of False Religion Matthew 23:13-36
44. Safe Beneath His Wing Matthew 23:37-39
45. What on Earth is Going to Happen? Matthew 24:1-3
46. General Signs of our Lord's Return Matthew 24:1-14
47. Tribulation Preachers Matthew 24:14
48. The Worst Day on Earth or Matthew 24:15-20;
49. The Abomination of Desolation 2 Thessalonians 2:1-12
50. The Second Coming of Christ Matthew 24:29-31
51. Freedom From Fear Matthew 24:32-51
52. Don't Be Foolish Matthew 25:1-13
53. Use What God Has Given You Matthew 25:14-30
54. Sheep on the Right – Goats on the Left Matthew 25:31-46
55. Living in the Shadow of the Cross Matthew 26:1-5
56. Extravagant Love Matthew 26:6-13
57. The Sins of Judas Matthew 26:14-16, 20-25
58. The Last Supper Matthew 26:17-20, 26-30
59. Prelude to Denial Matthew 26:31-35, 69-75
60. The Agony in Gethsemane Matthew 26:36-46
61. The Arrest in Gethsemane Matthew 26:47-68
62. Sin When It Is Finished Matthew 27:1-10
63. Jesus Before Pilate Matthew 27:1-2, 11-14
64. Jesus or Barabbas? Matthew 27:15-26b
65. The Suffering and Death of Jesus Matthew 27:26-50
66. Pondering at the Cross of Jesus Matthew 27:35-36
67. Calvary Miracles Matthew 27:45-54
68. The Burial of Jesus Matthew 27:57-66
69. Resurrection Lies Matthew 28:11-13
70. Three Days Matthew 28:1-10
72. The Great Commission or The Great Omission Matthew 28:18-20
Cyril Barber - Published posthumously in 1861 and covering (in detail) only chapters 1-16, this volume contains the same richness of thought and close attention to detail that is found in Alexander's other commentaries.
INDEX - Note that chapters 17-28 are only brief summaries. 
Read his fascinating brief biography - Henry Alford and Phil Johnson's related comments/p>
Comment by Alford on Mt 24:21 describing the "Great Tribulation" showing that he is at least in part "futuristic": "Our Lord still has in view the prophecy of Daniel (Da 12:1), and this citation clearly shews the intermediate fulfilment, by the destruction of Jerusalem, of that which is yet future in its final fulfilment: for Daniel is speaking of the end of all things. Then only will these words be accomplished in their full sense."
James Rosscup writes that Alford's series on the New Testament "contains much that is valuable in the Greek New Testament… though all of the Greek New Testament words have been changed to English throughout." (Commentaries for Biblical Expositors: An Annotated Bibliography of Selected Works)
Charles Haddon Spurgeon (see his comments in following entry on Alford).
Editorial Note: If you are not proficient in Greek, you will find this work considerably more useful than the following work by Alford, because in this volume he translates the Greek and Latin into English. While the "The Greek New Testament" is longer (e.g., English version of 1John = 66 pages compared to Greek version = 94 pages in part because the latter includes comments of more technical nature), the substance of the commentary is otherwise similar to that found in the "NT for English Readers".
Interprets Mt 24:15 as fulfilled in 70AD.
James Rosscup writes that "This was the great work in the life of the versatile Dean of Canterbury. An outcome of this production was the New Testament for English Readers (4 vols.). Alford was a Calvinist, conservative and premillennial, though not dispensational. He takes a literal interpretation of the thousand years in Rev. 20 and has a famous quote there, is strong on sovereign election as in Ro 8:29, 30 and 1Pe 1:2, but, unfortunately, holds to baptismal regeneration in such texts as Titus 3:5 and John 3:5. He shows a great knowledge of the Greek text and faces problems of both a doctrinal and textual nature." (Commentaries for Biblical Expositors: An Annotated Bibliography of Selected Works)
John Piper writes ""When I'm stumped with a… grammatical or syntactical or logical [question] in Paul, I go to Henry Alford. Henry Alford… comes closer more consistently than any other human commentator to asking my kinds of questions."
Charles Haddon Spurgeon writes that this text "is an invaluable aid to the critical study of the text of the New Testament. You will find in it the ripened results of a matured scholarship, the harvesting of a judgment, generally highly impartial, always worthy of respect, which has gleaned from the most important fields of Biblical research, both modern and ancient, at home and abroad. You will not look here for any spirituality of thought or tenderness of feeling; you will find the learned Dean does not forget to do full justice to his own views, and is quite able to express himself vigorously against his opponents; but for what it professes to be, it is an exceedingly able and successful work. The later issues are by far the most desirable, as the author has considerably revised the work in the fourth edition. What I have said of his Greek Testament applies equally to Alford's New Testament for English Readers,* which is also a standard work." (Lectures to my Students, Vol. 4: Commenting and Commentaries; Lectures Addressed to the students of the Pastors' College, Metropolitan Tabernacle)
---
Literalist Interpretation
What a Way to Go! - "When I go to heaven..." were Jack Arnold's last words before dying instantly in the pulpit from a heart attack. The extraordinary event made international headlines. and was picked up by the AP wire, CNN, and even Paul Harvey." (Click for more detail) (Watch memorial service - Pt 1, Pt 2, Pt 3, Pt 4, Pt 5).
---
D Edmond Hiebert - Divides the gospel into brief sections intended for daily study. The author follows his own translation; his comments "aim to make the results of modern scholarship available to the non-technical reader in a form that it does not require a theological education to understand." Word studies and refreshing insights abound, with a stress upon the relevance of the gospel for modern life. Liberal in spots.  (from Hiebert's critique of Barclay on Peter's epistles - "Barclay holds that Christ's descent into Hades gave those who there heard Him a second chance.")
Comment: I appreciate Barclay's unique insights on Greek words, but clearly his teaching about a "second chance" is NOT sound doctrine! Be an Acts 17:11 Berean with Barclay. See discussion of his orthodoxy especially the article "The Enigmatic William Barclay".
---
---
Same Material but Alternative Source
NEW TESTAMENT OUTLINES - each 4-5 pages
SERMONS
Note: If not proficient in Greek, see Critical English Testament below. Not Futuristic on Mt 24
James Rosscup writes "This work (Gnomon), originally issued in 1742, has considerable comment on the Greek, flavoring the effort with judicious details about the spiritual life. It has much that helps… " (Commentaries for Biblical Expositors: An Annotated Bibliography of Selected Works)
---
Represents Combination of Bengel's Gnomon (above) and Comments by more modern expositors (in brackets) to make this more usable for those who do not read Greek. Interprets Mt 24:15 as fulfilled in 70AD.
C H Spurgeon -- "'A Critical New Testament, so compiled as to enable a reader, unacquainted with Greek, to ascertain the exact English force and meaning of the language of the New Testament, and to appreciate the latest results of modern criticism.' Such is the professed aim of this commentary, and the compilers have very fairly carried out their intentions. The whole of Bengel's Gnomon is bodily transferred into the work, and as one hundred and twenty years have elapsed since the first issue of that book, it may be supposed that much has since been added to the wealth of Scripture exposition; the substance of this has been incorporated in brackets, so as to bring it down to the present advanced state of knowledge. We strongly advise the purchase of this book, as it is multum in parvo, and will well repay an attentive perusal. Tischendorf and Alford have contributed largely, with other German and English critics, to make this one of the most lucid and concise commentaries on the text and teachings of the New Testament" (Ibid)
---
720 Pages Packed with Material from Various Authors
James Rosscup writes that "In many ways it is the finest and most satisfying overall older commentary on Matthew. It helps the student on almost every verse. Broadus deals frontally with problems and gives much rich material that throws light on the text. His citations from other sources are often very helpful. From the standpoint of the Greek text, he is also sound. This 1886 work, long a part of the American Commentary on the New Testament series, is still one of the best in detailed explanation of the text where it counts." (Ibid)
Rosscup rates this as the #2 best detailed exegetical commentary on Matthew.
Cyril Barber - Very complete. Tackles interpretative problems honestly. Provides "Homiletical and Practical" suggestions for preachers. Adopts an amillennial interpretation of Christ's parables and teaching about the Kingdom. Valuable.
D Edmond Hiebert - One of the ablest American commentaries on Matthew from the past century and still valuable for the systematic interpretation of the gospel. It is the work of an accomplished conservative scholar.
Note: Broadus does interpret Mt 24:15 as fulfilled in 70AD.
---
Note: Calvin interprets Mt 24:15, 21 ;as fulfilled in 70AD - literal reading of the passage strongly argues against his interpretation. Be a Berean especially with older commentators such as Calvin, Henry, Jamieson (JFB is one of the best older works), Gill.
---
Well Done expositions. 
Fullerton Calvary Chapel. 
Frequent Illustrations: Below are four examples of illustrations from the notes on Matthew 7:
Illustration Related to Matthew 7:1: Too Many Umbrellas - The story is told of Mr. Jones who picked up the wrong umbrella in a hotel lobby and was about to walk out when the rightful owner called attention to his mistake. Embarrassed, he offered his apologies. Finding his own, he went on his way. The incident, however, reminded him that he had promised to buy both his wife and daughter an umbrella. To his delight he found that a local store nearby had them on sale, so he bought two. Just as he was getting into his car with his unwrapped purchases, he saw the man he had encountered earlier. He was eyeing him suspiciously. Seeing the three umbrellas hooked over his arm, the stranger exclaimed sarcastically, "I see you had a good day after all!" Although Mr. Jones blushed, he was not guilty of any wrongdoing. Things are not always what they seem. We need to be reminded that our first impressions, even many impressions, may be misleading.
Illustration Related to Matthew 7:11: In The Whisper Test, Mary Ann Bird writes: I grew up knowing I was different, and I hated it. I was born with a cleft palate, and when I started school, my classmates made it clear to me how I looked to others: a little girl with a misshapen lip, crooked nose, lopsided teeth, and garbled speech. When schoolmates asked, "What happened to your lip?" I'd tell them I'd fallen and cut it on a piece of glass. Somehow it seemed more acceptable to have suffered an accident than to have been born different. I was convinced that no one outside my family could love me. There was, however, a teacher in the second grade whom we all adored—Mrs. Leonard by name. She was short, round, happy—a sparkling lady. Annually we had a hearing test. ... Mrs. Leonard gave the test to everyone in the class, and finally it was my turn. I knew from past years that as we stood against the door and covered one ear, the teacher sitting at her desk would whisper something, and we would have to repeat it back—things like "The sky is blue" or "Do you have new shoes?" I waited there for those words that God must have put into her mouth, those seven words that changed my life. Mrs. Leonard said, in her whisper, "I wish you were my little girl." God says to every person deformed by sin, "I wish you were my son" or "I wish you were my daughter." You may not always understand it, but God does love you. He will give good gifts to those who ask Him.
Illustration Related to Matthew 7:12:A recently divorced woman is walking along the beach contemplating how badly treated she got in the divorce settlement, when she spies a magic lamp washing up onshore. She rubs the lamp, and out pops a magical genie. The genie notices her anger and lets her vent her troubles to him. As a consolation, the genie informs her that he will give her three wishes. But he cautions her that because he does not believe in divorce, he will give her ex-husband ten times the amount of whatever she wishes. The woman is steaming mad, thinking that this is hardly fair, but she makes her first wish. The first wish was for a billion dollars. The genie grants her wish and she finds herself sitting in pile of one billion one-dollar bills. The genie then reminds her that her husband is now the recipient of 10 billion dollars. The woman can barely contain her anger when she makes her second wish. The second wish was for a beautiful mansion on the shore of her own private beach. In an instant it was granted, but the genie then reminds again that her ex-husband now owns ten of what she wished for, and points out to a small development of ten such mansions down the beach. Upon hearing this, the woman takes her time to contemplate her last wish. Just as the genie was about to give up on her, the woman informs the genie that she wants to make the last wish. But before she can do this, the genie again warns her that her ex-husband will get ten times what she wishes for. "No problem," said the woman as she grinned in ecstasy. "For my last wish, I'd like to give birth to twins." Be careful what you wish for …How do you want others to treat you?
Illustration Related to Matthew 7:12: Mr. Charles Schwab was one of the first men ever to earn a million dollars a year. Why did Andrew Carnegie pay Schwab more than $3,000 a day? Because he knew more about the manufacture of steel than other people? No. Schwab said that he had many men working for him whose technical knowledge surpassed his. Schwab was paid such a handsome amount largely because of his ability to deal with people. Here is the secret set down in his own words: "I consider my ability to arouse enthusiasm among the men the greatest asset I possess, and the way to develop the best that is in a man is by appreciation and encouragement. There is nothing else that so kills the ambitions of man as criticisms from his superiors. I never criticize anyone. I believe in giving a man incentive to work. So I am anxious to praise but loath to find fault. If I like anything, I am hearty in my approbation and lavish in my praise."
Devotionals related to Matthew
Futuristic
D Edmond Hiebert (these comments relate specifically to Criswell's actual commentary but are judged to still be relevant) - A clear and concise running interpretation by a noted conservative Baptist minister. Views Matthew as the fitting connecting link between the Old and New Testaments. Critical problems are not dealt with. The section-by-section interpretation is adapted to the lay Christian reader.
D Edmond Hiebert A well-outlined paragraph-by-paragraph interpretation by a noted conservative Presbyterian teacher and writer. Intended for the lay reader. His understanding of the Olivet Discourse is premillennial.
This commentary is easy to read often with a devotional flavor.
---
Sunday School Helps from Founders Ministries
Interprets Mt 24:15 as fulfilled in 70AD.
D Edmond Hiebert - Greek text. Provides introductory material on the synoptics in relation to each other and individually. The notes provide many illuminating insights for the Greek student. Due to its age, it does not reflect the latest insights concerning the Greek.
Hold Pointer over the Scripture link to pop up Bible text.
Frequent Illustrations
472 pages
Note that Keener is not Futuristic on Matthew 24-25
Comment: Keener is an outstanding exegete. His commentary is distinctive in its emphasis on the social-historical context of the Gospel. It also contains a very useful 150 page bibliography of secondary resources on the Gospel of Matthew. (Ligonier)
Click for Another Critique on Keener's commentary on Matthew
Tim Challies: Keener's work receives high recommendations and significant warnings about the limits of its usefulness. It may also be going out of print since it is not available at Westminster Books and is currently available only from Amazon resellers. This is the kind of commentary I tend to avoid since I don't consider myself sufficiently schooled to confidently sort through the weaknesses. However, most experts do recommend it with certain caveats. (Challies.com)
Futuristic on Matthew 24-25
Functions like a Commentary
Futuristic on Matthew 24-25 These function much like a commentary - Recommended
JOHN MACARTHUR'S
ANSWERS TO QUESTIONS
Answers are excerpts from his NT Commentary on Matthew
Our Daily Homily, Our Daily Walk (ODW) and Select Sermons
Note: Be a Berean especially with older commentators like John Calvin, Adam Clarke, Matthew Henry, Jamieson & Fausset & Brown [generally one of the best, most literal of the "older" commentaries!], John Gill. They often do not interpret the prophetic passages such as Matthew 13, 24, 25 from a literal, futuristic perspective (See also note below on "Best Commentaries). I would recommend notes by John MacArthur, Dave Guzik, Ray Stedman and John Walvoord (to name just a few) for an alternative interpretation of the prophetic passages in Matthew 13, 24,25 as yet future not as fulfilled in the past.
Best Commentaries
Caveat Emptor! (Caveat emptor) Virtually all of the top rated commentaries in the preceding two lists of "Best" commentaries interpret the Abomination of Desolation in Mt 24:15+ as the Roman Army (See Why the Abomination of desolation is Not the Roman Army), indicating that these lists have a distinctly non-futuristic bias! To wit, neither of these lists even give honorable mention to one of the best expositional commentaries ever published on the Gospel of Matthew, the four volume series by Dr John MacArthur. Therefore in interest of fairness, below is Dr Jim Rosscup's critique of Dr MacArthur's work:
MacArthur, John, Jr. Matthew. 4 volumes (You might also want to click the following link to see how many "Stars" 30 random reviewers give to The MacArthur New Testament Commentary on the Gospel of Matthew) - Conservative, premillennial exposition which often deals in some detail with problem verses and shows the vital lessons of Jesus' teachings in a very readable manner. The author often explains customs, gives views and reasons. In Matthew 13, he sees the fourth soil only as representing a genuinely saved person, and the leaven in a good sense. In Matthew 24, he views verses 15ff. as related to tribulation and Second Advent, not A. D. 70, the one taken as removed in judgment and the one left as preserved on earth safely to enter the earthly kingdom promised in Old Testament prophecy. (Commentaries For Biblical Expositors- Dr. Jim Rosscup - highly recommended)
See critiques on the top commentaries as rated by Challies and Mathison above. The critiques below deal primarily with how each author interprets Matthew 24:15:
*Alexander, Joseph Addison. The Gospel According to Matthew. Lynchburg, Va.: James Family Publishers, 1979. Published posthumously in 1861 and covering only chapters 1-16, this volume contains the same richness of thought and close attention to detail that is found in Alexander's other commentaries. (Online Commentary)
Beare, Francis Wright. The Gospel According to Matthew: Translation, Introduction and Commentary. San Francisco: Harper & Row, 1981. A well-informed commentary that skillfully correlates Matthew's unique presentation of the life and ministry of Jesus, though it adheres to supposed Marcan sources. Has much to commend it. For the discerning reader.
Blomberg, Craig L. Matthew. New American Commentary. Nashville: Broadman Press, 1992. Based on the text of the NIV (that Blomberg frequently has to correct). Contains impressive background material. Excellent for preachers who will find this a most helpful volume.
Broadus, John Albert. Commentary on Matthew. Grand Rapids: Kregel Publications, 1990. First published in 1886. Very complete. Tackles interpretative problems honestly. Provides "Homiletical and Practical" suggestions for preachers. Adopts an amillennial interpretation of Christ's parables and teaching about the Kingdom. Valuable.
Brown, Raymond Edward. The Birth of the Messiah: A Commentary on the Infancy Narratives in Matthew and Luke. Garden City, N.Y.: Doubleday and Company, 1977. †Parallels Leon Morris's Story of the Christ Child. Fits Matthean and Lukan accounts into the perceived perspective of each writer. Discusses the basic thrust of the narrative. The treatment, however, is marred by critical views concerning the origin, purpose, and composition of each book. The exegetical insights are of value. Roman Catholic.
Bruner, Frederick Dale. The Christbook: A Historical Theological Commentary. Waco, TX: Word Books, 1987. Covers the Gospel of Matthew, chs. 1-12. Provides a detailed, scholarly explanation of the text. The exposition is far-ranging, and there are occasional word studies that pastors will find valuable
Davenport, Gene L. Into the Darkness: Discipleship in the Sermon on the Mount. Nashville: Abingdon Press, 1988. Contains a devastating critique of contemporary Western society and the Western church. Challenges theologians to the theological right as well as the left to restructure their beliefs in accordance with Christ's teachings. One "plus" in this treatment of Christ's discourse is the author's use of Jewish materials.
Davies, William David, and Dale C. Allison, Jr. A Critical and Exegetical Commentary on the Gospel According to Saint Matthew. In process. International Critical Commentary. Edinburgh: T. and T. Clark, 1988- . A massive work. Learned, yet not so erudite that it is beyond the comprehension level of a seminary-trained pastor. The nuances of the Greek text are ably elucidated. Scheduled for 3 volumes. Replaces the earlier work by W. C. Allen
Dickson, David. A Brief Exposition of the Evangel of Jesus Christ According to Matthew. Edinburgh: Banner of Truth Trust, 1981.Though highly praised by C. H. Spurgeon, this work fails to treat the narrative consecutively or thematically. There are rich devotional thoughts contained within these pages, but they bear little relationship to the purpose of this gospel
Dockery, David S., and David E. Garland. Seeking the Kingdom: The Sermon on the Mount Made Practical for Today. Wheaton, IL: Harold Shaw Publishers, 1992. A practical guide applying the contents of Matthew 5--7 to the needs of people today who are waiting for Christ' return and the inauguration of His Kingdom.
Ferguson, Sinclair B. Kingdom Life in a Fallen World: Living Out the Sermon on the Mount. Colorado Springs, CO: NavPress, 1986. A challenging discussion of the relevance of Matthew 5--7 to the life of the believer.
France, Richard T. Matthew, Evangelist and Teacher. New Testament Profiles. Downers Grove, IL: InterVarsity, 1998. First published in 1989. Contains just about all the data an aspiring theologue needs to know about the first gospel. Treats historical criticism with clarity. Provides a useful summary of the setting and literary character of Matthew's record. Climaxes with Matthew's portrait of Jesus. Here is a work that is permeated with sound wisdom.
Frances, Richard T. The Gospel According to Matthew: In Introduction and Commentary. Tyndale New Testament Commentary. Grand Rapids: Wm. B. Eerdmans Publishing Co., 1988. Replaces Tasker's commentary. Reveals Matthew's close attention to details. While nontechnical, this volume provides preachers with many pertinent insights into the text. France, however, fails to follow the thematic approach to this gospel and the result is the division of what Matthew wrote into geographic areas. This conceals the real essence of what Matthew was trying to present. In spite of this major weakness, there are many valuable ideas to be gleaned from this study.
Glassock, Ed. Matthew. Moody Gospel Commentary. Chicago: Moody, 1997. A verse-by-verse exposition written in the best evangelical tradition. Adequately explains the theme of Matthew's gospel, the unique aspects of his theology, and the historic background to Christ's life and work. Recommended.
Green, H. Benedict. The Gospel According to Matthew. New Clarendon Bible. London: Oxford University Press, 1975. Relying heavily on source criticism, Green provides little more than a summary of modern critical opinion regarding matters of authorship, date, and the like. His comments on the text are of help to the discerning reader, but his failure to expound the theme of this gospel and his handling of Christ's virgin conception, ministry, vicarious death, and resurrection leave much to be desired.
Green, Michael. The Message of Matthew: The Kingdom of Heaven. Downers Grove, IL: IVP, 2001. The author gives as his reason for writing this exposition the "paucity of commentaries that one would want to pick up and actually read." His extensive bibliography reveals a total lack of awareness of the writings of men of the caliber of J. F. Walvoord (1974) and S. D. Toussaint (1980). His perceived message of Matthew is clearly presented, but his treatment of Matthew 13 and 24—25 leaves much to be desired.
Gundry, Robert Horton. Matthew: A Commentary on His Literary Art. Grand Rapids: Wm.  Eerdmans Publishing Co., 1982. †Carefully analyzed and clearly outlined, this interpretative commentary treats Matthew's gospel as a Christian midrash. Because that form of literature did not come to the fore in Jewish thinking until much later, Gundry errs in superimposing that literary genre on a first-century document.
Hagner, Donald A. Matthew 1--13. Word Biblical Commentary. Dallas, TX: Word Books, 1993. Another scholarly contribution. Covers the crucial issues pertaining to matters of authorship, date, et cetera. Evidences a thorough grasp of key issues , Treats the text thematically. The concept of the kingdom is mentioned, but not as a vital part of Matthew's theme and purpose. Hagner, Donald A. Matthew 14--28. Word Biblical Commentary. Dallas, TX: Word Books, 1995. Completes Hagner's commentary. This is an erudite discussion. As with the other books in this series there is in this one an emphasis on source material with much attention being paid to what data in Matthew parallels Mark and/or Luke, as opposed to what is unique to Matthew. Hagner provides a helpful discussion of social customs, the history of the times, some textual problems, and the development of Matthean theology.
Hendriksen, William. Exposition of the Gospel According to Matthew. New Testament Commentary. Grand Rapids: Baker Book House, 1973. Following a comprehensive introduction, the writer treats his readers to 900 pages of detailed exposition. His approach is geographic and his style pedantic. There is an elaborate explanation of the text and a full discussion of varying views.
Hill, David. The Gospel of Matthew. New Century Bible Commentary. Grand Rapids: Wm. B. Eerdmans Publishing Co., 1981.†A form-critical study that discusses recent developments in NT scholarship, followed by comments on the text of the RSV The author does not expound the purpose of this gospel, and his treatment of Matthean theology beclouds the issues.
Hostetler, Jonathan J. Matthew Explained: The Gospel Story of Jesus as King. Scottdale, PA: Herald Press, 1988. A longtime Christian educator retells the story of the Gospel of Matthew. Along the way he explains in simple terms the purpose of the book, its intended audience, and its major teachings.
Howard, George. The Gospel of Matthew According to a Primitive Hebrew Text. Macon, GA: Mercer University Press, 1987. Presents evidence that a Hebrew text of Matthew's gospel was preserved by Jews during the early and late Medieval periods. Argues that beneath an upper layer of scribal revision lies an old substratum to a Hebrew text of the first gospel that represents the original composition--not a translation. The Hebrew text is presented in a parallel column with an English translation. Includes linguistic analyses as well as other documentation of importance to the scholar.
Ironside, Henry Allan. Matthew. Revised ed. Neptune, NJ: Loizeaux, 1994. This excellent lay person's exposition was first published in 1948. Now, with the type completely reset, it has been given a format that makes it ideal for devotional reading. One limitation is the fact that each exposition is based on the KJV. Reliance upon a more recent translation such as the NKJV would have given it wider appeal.
Keener, Craig S. A Commentary on the Gospel of Matthew. Grand Rapids: Eerdmans, 1999. This commentary offers an interpretative approach that focuses on the socio-historical context of the Gospel and the nature of Matthew's exhortation to his first-century audience. By merging a careful study of the text with the needs of his readers Keener uncovers significant truths not found in other commentaries.
MacArthur, John E, Jr. Kingdom Living Here and Now. Chicago: Moody Press, 1980. Representing exposition at its best, these sermons on the Beatitudes of Matthew 5 will challenge and edify the reader in much the same way they did when MacArthur's congregation first heard them. Recommended.
*_______ Matthew 1-7. The MacArthur New Testament Commentary. Chicago: Moody Press, 1985. This pace-setting volume is the first of three on this gospel. It reveals MacArthur's expository method; thorough grasp of the theme of the biblical writer; warm, evangelistic style; and remarkable ability to apply the text to life. No preacher can afford to be without this fine work.
MacArthur, John F., Jr. Matthew 8--15. MacArthur New Testament Commentary. Chicago: Moody Press, 1987. This is the author's second volume of expository messages on Matthew's gospel. He deals realistically with the theme, avoids technical/critical issues, and succeeds in leading his readers through to a clearer understanding of the text. When completed, this will stand among the best works of its kind.
MacArthur, John F., Jr. Matthew 16--23. MacArthur New Testament Commentary. Chicago: Moody Press, 1988. Continues the writer's exposition of the first gospel. Well produced, and well worth the time spent reading it. Recommended.
MacArthur, John F., Jr. Matthew 24--28. MacArthur New Testament Commentary. Chicago: Moody Press, 1989. Completes MacArthur's excellent expositional commentary. Handles the Olivet Discourse skillfully so as to draw out Christ's prediction of His second coming. Then treats His arrest, trial, crucifixion, and resurrection. Ranks as one of the finest expositions extant. Recommended.
MacArthur, John F., Jr. The Beatitudes: The Only Way to Live. Chicago: Moody, 1998. First published in 1980 under the title Kingdom Living Here and Now. Contains review and study questions by J. S. Bell, Jr. An excellent devotional resource.
Meyer, Frederick Brotherton. Inherit the Kingdom: Meditations on the Sermon on the Mount. Wheaton, Ill.: Victor Books, 1984. Meyer does not interpret Matthew 5-7 accurately. As a result, this work, though deeply devotional, does not make a lasting contribution.
Minear, Paul S. Matthew: The Teacher's Gospel. New York: Pilgrim Press, 1982. Approaches the gospel from the perspective of the writer as a teacher and shows how what he wrote was designed to strengthen the faith of believers in the early church. 
*Morison, James. A Practical Commentary on the Gospel According to St. Matthew Minneapolis: Klock & Klock Christian Publishers, 1981. A worthy addition to any preacher's library. The practical and devotional thoughts alone are worth many times the cost of the book.
Morris, Leon Lamb. The Gospel According to Matthew. Grand Rapids: Wm. B. Eerdmans Publishing Co., 1992. In his inimitable style, Morris provides a clear, complete, and conservative exposition of Matthew's gospel. He does not engage in debate over higher critical issues, but rather treats the text as it has come down to us. He dates the writing of the gospel somewhere in the late 50s or early 60s; the place of origin he believes to have been Syria or possibly Palestine; the author, Matthew; and of Matthew's sources (i.e., the vexing Synoptic Problem), he claims that they cannot be determined with any degree of certainty. Thus free of the minutia that occupies such a large place in the writings of others, Morris devotes the rest of his commentary to exposition. Interspersed throughout the text is a discussion of terms like "kingdom," "kingdom of heaven," and "kingdom of God." His discussion of these matters, as well as his remarks on Matthew chapters 13 and 24--25 is from an amillennial point of view. If there is one major weakness to Morris' approach, it is that he works within the framework of Reformed theology and the writings of premillennialists are ignored.
Morrison, George H. Matthew. 3 vols. Chattanooga, Tenn.: AMG Publishers, 1978. These eloquent messages expound the meaning of Matthew's gospel with a force that is compelling.
Morrison, George H. Meditations on the Gospels. Chattanooga, TN: AMG Publishers, 1996. The 713 pages that make up this book contain approximately 240 vignettes that focus light on the words and works of the Lord Jesus. Each meditation reveals the devout heart of the author. Preachers may wish to look upon these chapters as "seedbeds" to be cultivated and developed into sermons. If so, then they will find in them a rich resource for several years of ministry
Plummer, Alfred. An Exegetical Commentary on the Gospel According to St. Matthew. Grand Rapids: Baker Book House, 1982. First published in 1915, this work remains one of the best treatments of Matthew's gospel ever written.
Ryle, John Charles. Matthew. Crossway Classic Commentaries. Edited by A. E. McGrath and J. I. Packer. Wheaton, IL: Crossway Books, 1993. A welcome reprint. Must reading for lay people.
Scroggie, William Graham. A Guide to the Gospels. Grand Rapids: Kregel Publications, 1995. Filled with charts, maps, outlines, and topical as well as expository ideas. Favors the priority of Mark. Contains just about everything a student of the gospels or an expository preacher will need. Includes a resume of the life of Christ. Recommended!
Senior, Donald P The Passion Narrative According to Matthew. Leuven, Belgium: Leuven University, 1975. Based on the latest Redaktionsgeschichte, this study of Matthew 26:1-27:56 shows how the Matthean account of the passion differs literally and substantively from the Marcan account. A work for the specialist.
Smith, Robert H. Matthew. Augsburg Commentary on the New Testament. Minneapolis: Augsburg Publishing House, 1988. Explains the significance of Matthew's gospel in contemporary terms. Uses Greek words to highlight important points in the narrative. A clear presentation.
*Stott, John Robert Walmsey. Christian Counter-Culture: The Message of the Sermon on the Mount. Downers Grove, Ill.: InterVarsity Press, 1978. A work of rare brilliance. Demonstrates the relevance of the Bible to the needs of believers. Should enjoy widespread acceptance.
Thomas, Robert L., and Stanley N. Gundry, eds. The NIV Harmony of the Gospels with Explanations and Essays. San Francisco: Harper and Row, 1988. Builds upon the exemplary work of J. A. Broadus and A. T. Robertson. Retains the strengths of Harmony of the Gospels and refines the sequence of entries to follow a more accurate and reliable chronology. The essays--all 12 of them--deal with the legitimacy of developing a harmony of the gospels; Source, Form, and Redaction Criticism; the language Jesus spoke; the genealogies of Matthew and Luke; and much more. An indispensible work.
Thompson, William G. Matthew's Story: Good News for Uncertain Times. New York: Paulist Press, 1989. A clear introduction to Matthew as story theology for Christians who wish to have their faith stimulated.
*Toussaint, Stanley Dale. Behold the King: A Study in Matthew. Portland, Oreg.: Multnomah Press, 1980. A work that expounds the theme of Matthew's gospel in the most able manner. Toussaint's exposition is based on a thorough exegesis of the text. He unfolds Matthew's purpose in writing about Jesus as the Messiah and convincingly demonstrates that He is Israel's long awaited King. The kingdom is shown to be the central theme of Matthew's gospel. It is fair to say that Tousssaint has produced a work that places all Bible-believing Christians in his debt. Recommended.
Vos, Howard Frederick. Matthew: A Study Guide Commentary. Grand Rapids: Zondervan Publishing House, 1979. A careful presentation. Of value to lay readers.
*Wagner, Gunter, ed. An Exegetical Bibliography of the New Testament: Matthew and Mark. Macon, Ga.: Mercer University Press, 1983. A work of immense value. Originally published by off-set printing from cards, this work now has the type completely reset. It contains information found in books and 248 journal articles covering every verse in these two gospels. A most important resource tool.
Walvoord, John Flipse. Matthew: my Kingdom Come. Chicago: Moody Press, 1974. In this book we have a modern attempt to expound Matthew's gospel thematically. Though it lacks a solid introduction, this commentary deserves a place in the library of the expository Bible teacher and preacher. Recommended. First published in 1974, this valuable contribution follows a consistent method of interpretation that ably expounds the theme of Matthew's gospel. Users of this commentary will find something worth noting on every page.
Watson, Thomas. The Beatitudes: An Exposition of Matthew 5:1-12. New ed. London: Banner of Truth Trust, 1971. A Puritan work originally published in London in 1660. Deeply devotional but fails to interpret this passage in the light of the writer's theme.
White, Reginald Ernest Oscar. The Mind of Matthew Philadelphia: Westminster Press, 1979. Though he uses the form-critical approach to Matthew's gospel, the author nevertheless has grasped the thematic structure of the evangelist's narrative, and he explains the purpose of this canonical book accordingly.
Wiersbe, Warren Wendell. Live Like a King: Making the Beatitudes Work in Daily Life. Chicago: Moody Press, 1976. A devotional masterpiece. Practical, relevant, rich in insights, and rewarding in its application of truth to life. This brief work deserves to be read slowly and carefully. Wiersbe recognizes the present and future implications of the "Sermon on the Mount," and expounds the Beatitudes (Matthew 5:1-16) with God's Kingdom program in mind. Here is a work that is rich in insights and spiritual application. Each message deals with the realities of living the Christian life as a "King's kid." Recommended.
Wiersbe, Warren Wendell. Wiersbe's Outlines on the New Testament. Wheaton, IL: Victor Books, 1992. This is a book of exceptional merit. Pastors, missionaries, and Christian workers will profit from its use. Wiersbe introduces each book of the NT, provides an outline, and then furnishes his readers with a chapter-by-chapter discussion of the contents. The homiletic style is a "plus." Recommended.
Wilkins, Michael J. The NIV Application Commentary. Grand Rapids: Zondervan, 2004. Wilkins writes: "The gospel of Matthew … was the most widely read and frequently used of any of the four Gospels in the formative years of the church." Using the text of the NIV, the writer explains the plan and purpose of the first gospel. His treatment is very full, and his application of the text to life is refreshing.
Zodhiates, Spiros, comp. The Complete Word Study Dictionary: New Testament. Iowa Falls, IA: World Bible Publishers, 1992. This is a monumental tome that is divided into two parts: (1) A Translation Reference Index (pp. 1-55) arranged in alphabetic order according to the English word. The reference number(s) to part 2 is given together with any significant Biblical reference; and (2) the dictionary itself (pp. 57- 1505) containing 5,642 discussions of Greek words. The treatment is just what a user with little or no knowledge of a Greek word will find helpful. The word is located by means of the Translation Reference Index. All things considered, this is a most useful lay level dictionary.
HENRY MORRIS
Defender's Study Bible - Excellent, conservative, literal study Bible notes from a leading creationist commentator, Dr Henry Morris. Notes on only selected verses - Click the chapter you are interested in studying and see the right side of page for notes that are available.
BILL BALDWIN
BRYN MACPHAIL - sermons
HAROLD W MARE 
JAMES MCCULLEN - uses many illustrations
STUART OLYOTT - a believer may expect to be the subject of slander
Matthew 21:1-17 Life Is Found Only In Jesus, The Prince Of Peace
Matthew 28:16-20 Life Forever Present
Matthew 28:1-10 Life Cannot Be Found In A Cemetery
B B WARFIELD
CRAIG WEBB
JOHN WESLEY
STEPHEN WESTERHOLM
GEORGE WHITEFIELD
CALVIN WITTMAN
ANDY WOODS
TOM WRIGHT
ARTHUR CARR (1883) Cambridge Bible for Schools and Colleges
ARTHUR CARR (1883) Cambridge Greek Testament for Schools and Colleges
Not Futuristic - Same author as above but different book with more emphasis on Greek
D Edmond Hiebert - Greek text. Prints the Greek text of Matthew in the Textus Receptus as edited by Scrivener. The introduction presents the old traditional view concerning Matthean authorship. The notes on the Greek text are selective, placing primary stress on the form and meaning of the original. Briefly alludes to historical matters.
ADAM CLARKE
This one is generally futuristic but not always
Not Futuristic
Hiebert - Following an introduction of 46 pages, each section is divided into three parts, exegetical and critical, doctrinal and ethical, and homiletical and practical. A wealth of information for those willing to dig into fine print. The approach is evangelical and conservative.
Hiebert comments on "A Practical Commentary on the Gospel According to St. Matthew" (1895) - The lengthy introduction covers critical problems and supports traditional Matthean authorship. This volume of some 650 closely printed pages offers a thorough interpretation by an accomplished conservative scholar of the previous century. It shows wide acquaintance with the scholarly work on the gospel to his day. (Ed: His comments are verse by verse, phrase by phrase, often with a devotional "flavor.")
JOSEPH PARKER - PEOPLE'S COMMENTARY
ALFRED PLUMMER - An Exegetical Commentary on the Gospel According to St Matthew
Not Futuristic
Intro 1 2 3 (Mt 3:13-17) 4 (Mt 4:19ff) 5 6 7 8 9 (Mt 9:35ff) 10 11 12 13 14 15 16 17 18 19 20 21 22 23 24 25 26 27 28
D Edmond Hiebert - Long recognized as an outstanding commentary on Matthew (first published in 1909). It provides a scholarly handling of the critical problems and gives a balanced interpretation of the gospel, for the most part conservative. Does not accept apostolic authorship.
Rosscup - Any work by Plummer is helpful, for he possessed a keen ability to write with clarity and deep scholarship. He is good in the Greek and historical background, and does not dodge problems, though he at times takes a liberal view. He was amillennial in eschatology. He held a position which the liberals of his day considered too conservative and which the conservatives reckoned too liberal. This commentary is valuable. He holds to a non-Matthean authorship of the book.
Cyril Barber says "

this work remains

one of the best treatments of Matthew's gospel ever written."
TODAY IN THE WORD DEVOTIONAL - Moody Bible Institute
Simeon is generally Futuristic and teaches a literal Israel.
DANIEL WHEDON
Not futuristic on Mt 24:15-28
Watch an interesting overview of G Campbell Morgan by Pastor Skip Heitzig.
Hiebert - The prince of biblical expositors covers the entire gospel in a series of seventy-three biblical expositions. This volume on Matthew is the best of his expository volumes on the four gospels. Does not deal with critical introductory problems. The volume requires careful and intent reading, and offers many rich spiritual insights into Matthew's gospel.
---
Futuristic with frequent illustrations
Futuristic. NETBible notes are in the right panel. You can also select the tab for Constable's Notes.
Scroll Down for Sermon Text. Futuristic. Well done
>160 transcripts
Not Futuristic
Interpretation of Mt 24 Not Futuristic
Hint: The links below also include homilies indexed above, but you must scroll down page
Well done, Futuristic
Futuristic
Greek Word Studies - Not Futuristic
Futuristic
BOOKLETS:
SERMONS:
Not Futuristic. Classic work - old but pithy and practical!
The Temptation Matthew 4:1-11
Characteristics Of Christians Matthew 5:1-12
Christian Influence Matthew 5:13-16
The Two Ways Matthew 7:13-14
The Two Builders Matthew 7:24-27
Three Suggestive Attitudes Of Jesus Matthew 11:20-28
Great Faith Matthew 8:5-10
Evil: Its Nature And Remedy Matthew 8:28-33
The Call Of The Publican Matthew 9:9-13
Come Take Learn Matthew 11:28-30
The Character Of Christ Matthew 12:18-21
The Sower Matthew 13:1-8 Matthew 13:18-23
The Tares Matthew 13:24-30; Matthew 13:37-43
The Mustard Seed Matthew 13:31-32
The Leaven Matthew 13:33
The Treasure Matthew 13:44
The Pearl Matthew 13:45-46
The Net Matthew 13:47-50
The Unexpected Appearance Matthew 14:22-27
A Supernatural Walk Matthew 14:28-34
The Woman Of Canaan Matthew 15:22-28
The Great Physician Matthew 15:29-31
The Transfiguration And Its Lessons Matthew 17:1-9
The Unforgiving Servant Matthew 18:23-35
The Labourers Or Lessons For Christian Workers Matthew 20:1-16
The Two Blind Men Matthew 20:30-34
The Two Sons Matthew 21:28-32
The Wicked Husbandmen Matthew 21:33-41
The Marriage Feast Matthew 22:1-14
The Last Days Matthew 24:37-39
Foolish Virgins Matthew 25:1-12
The Talents Matthew 25:14-30
Gethsemane Matthew 26:36-46
The Gospel Of An Angel Matthew 28:1-8
See Also Spurgeon's 500 Page Commentary on Matthew
Morning and Evening. Faith's Checkbook
Not Futuristic on Mt 24-25 See Commentary on Matthew in Pdf
NOTE: This is a different set of expository notes
Matthew 24-25
Chapter 1
Chapter 2
Chapter 3
Chapter 4
Chapter 5
Chapter 6
Chapter 7
Chapter 8
Chapter 9
Chapter 10
Chapter 11
Chapter 12
Chapter 13
Chapter 14
Chapter 15