Good morning. My name is Bruce Hurt. I am 73 and I was saved by grace through faith in Jesus Christ (Eph 2:8-9+) at age 39 as I was reading the Minor Prophets in Bible Study Fellowship. The Spirit of God performed a miracle just as He did with Lydia in Acts 16:14, when He opened my heart to respond to the things spoken about Jesus in the Old Testament. Yes JESUS is alive and well in the Minor Prophets! As J Vernon McGee said "I believe He is on every page of Scripture if only we have eyes to see Him
I have the wonderful privilege to preach a message at the installation of your new teaching pastor Jason Peters who I have discipled for the past 7 years. Let me say at the outset that the words of the apostle John in 3 John 4 are apropos
"I have no greater joy than this, to hear of my children walking in the truth." (3 John 4)
And so for the past 7 years I have been passing the baton to Jason, my Timothy. And this is in one sense my final pass as I echo Paul's words to his young Timothy…
You therefore, my son, be strong (present imperative) in the grace that is in Christ Jesus. The things which you have heard from me in the presence of many witnesses, entrust (aorist imperative) these to faithful men (and women) who will be able to teach (didasko) others also. (2 Timothy 2:1-2+)
Notice the four generations of disciples Paul describes - himself, Timothy, faithful men and women and others also. You who will be listening to Jason are the third generation and Jesus has left you with His last command (last words should always be lasting words) which begs the question (under grace not law) are you obeying His command? Here it is...
Go therefore and make disciples (matheteuo in the aorist imperative just like "entrust" in the verse above) of all the nations, baptizing them in the name of the Father and the Son and the Holy Spirit, teaching (didasko - present tense) them to observe all that I commanded you; and lo, I am with you always, even to the end of the age." (Mt 28:19-20+).

Comment: See our continual Need for the Holy Spirit to obey Jesus' commands to make disciples. It is not our strength or sufficiency but His - cf 2 Cor 3:5-6+).
So let me ask again "Are you actively, intentionally making disciples of Jesus?" In my humble opinion, the "great evangelical disaster" is the failure of the church in America (there are exceptions) to obey Jesus' command to actively make disciples. The "Great Commission" has become the "Great Omission!" We have paid more attention to the first word "Go" to the neglect of the one command in the commission to make disciples. Where are the older Pauls and Paulettes who are making learners (literal meaning of disciples) of the Timothys and Timotheas in their midst? I was born again and immediately began attending a Bible church but much to my dismay and chagrin, I was unable to find an older man (I was 39 at the time) to meet with me and teach me how to follow Jesus. And I even made this request of several of the leading pastors in the church and they could not give me a name to contact! They did give me a book from Campus Crusades on how to become a disciple! Let me encourage you, that if you want fullness of joy (3 John 4), you will experience it when you begin to obey Jesus' last command!
Well, let's jump in – A preacher was rushed to the hospital and an inexperienced nurse was assigned to him. She put a barometer in his mouth instead of a thermometer and it read, "Dry and windy." My first charge is Jason don't ever let them put a barometer in your mouth in the ER! My prayer is may you never be dry and windy but dynamic and wind driven, continually filled with God's Word and God's Spirit (pneuma - wind). "May the wind be always at your back." Amen.
We will read 2 Timothy 4:1-2 but first let's set the context – This is Paul's last letter for in 2 Timothy 4:6+ he tells Timothy
I am already being poured out as a drink offering (spendo), and the time of my departure (analusis) has come.
Paul is in prison (2 Ti 2:9+ I suffer hardship even to imprisonment as a criminal). He is condemned to die and these are His last words. If you have ever heard anyone speak their last words, you know that it is a sacred time, for if they are believers they are not going to speak about trivial matters. So that fact alone makes the words in 2 Timothy some of the most important words Paul ever spoke.
Let's read the LAST OF THE LAST WORDS – Listen to the inerrant, inspired, infallible, all sufficient Word of God. Remember that when the Bible speaks, God speaks. Now hear the Word of the Lord
2 Timothy 4:1-2 I solemnly charge you in the presence of God and of Christ Jesus, Who is to judge the living and the dead, and by His appearing and His kingdom: preach the word; be ready in season and out of season; reprove, rebuke, exhort, with great patience and instruction.
Prayer - May the Spirit of God enable me to preach this most blessed portion of God's Word for the glory of God and renown of Christ Jesus our soon returning King of kings. Amen
I solemnly charge you in the presence of God and of Christ Jesus, Who is to judge the living and the dead, and by His appearing and His kingdom. (2 Ti 4:1+)
My contention is that Paul's emphasis on "Future Focus" should serve to continually stimulate every believer's "Present Priority" to preach the Word!
Solemnly charge (Greek = diamarturomai) is a word used in Paul's day in a court setting. It is as if Paul is issuing Timothy a subpoena to appear in court. Anyone ever received a subpoena? If so you are beginning to get in Timothy's sandals!
What is the implication? – Timothy you have a future court date!
What is the question the Judge will ask – "Did you faithfully preach the Word?"
Solemnly charge is in the present tense which seems strange for this tense generally speaks of continuous action and yet Paul will soon depart. This gives me the picture of that this solemn charge is to be continuously "ringing" in Timothy's ears. I would call it "divine tinnitus."
Last words!
Ever ringing.
Ever reminding.
Jason, this is Paul's charge to you. But it is not only to Jason but to all of us because we are all in one way or another preaching the Word. The little poem says it well…
You are writing a gospel, a chapter each day;
By things that you do; By things you say.
Others read that gospel, whether faithless or true!
Say! What is the Gospel According To You?
You might be saying to yourself, "That's a cute poem but I'm not a preacher and I don't have a pulpit." I beg to differ. You do have a "pulpit" and it is wherever God's hand of providence has placed you! In defense of this contention consider Paul's present "pulpit" is a dank, dark, dreary prison cell in Rome and yet he himself says "the Word of God is not imprisoned" and so he "preaches a sermon" with his pen! Beloved, you have a pulpit and it has not been given you by accident but by purposeful providence! And not only do you have a pulpit, you have a charge to "preach" from your pulpit. Listen to Jesus' charge (not a suggestion but a command from the General to His soldiers on the field) to all His followers…
"Let your light shine (aorist imperative) before men in such a way that they may see your good works, and glorify your Father Who is in heaven." (Mt 5:16+)

(Explanatory Note: Supernatural commands cannot be obeyed in our natural strength. Try it and you will fail, become frustrated, and may even fall into legalism by trying to carry this "burden" that only Jesus can carry - read the Need for the Holy Spirit to obey NT commands or "How to Keep All 1642 Commandments in the New Testament!")
Do you understand what Jesus is commanding? He is saying that by your supernatural good ("good" with an "o" knocked out! = "God works") works (works not readily explained naturally) others will see this demonstration of divine power in and through your life (and lips) and will in turn receive a proper presentation of God the Father. In other words, the visible things they see point to and give a proper opinion of the invisible God we cannot see. Does that make sense? If so you understand that you do not have to be "ordained" to preach the Word, but you do have to be willing to do so. Are you willing? Hopefully, a genuine understanding of Paul's Future Focus in 2 Timothy 4:1 will be used by the Holy Spirit to energize your desire to "preach the Word" wherever and whenever He gives you a "pulpit."
APPLICATION - So beloved, DON'T CHECK OUT ON ME (thinking I am just exhorting the new pastor to be installed today) BECAUSE WE ARE ALL PREACHING A GOSPEL TO THE both the lost and the saved. The question we all need to ask ourselves is what "Gospel" am I preaching in my "pulpit"? WHAT WAS MY SERMON LIKE LAST WEEK – DRY AND WINDY OR WIND DRIVEN BY THE SPIRIT? Am I letting my Gospel light shine like a city on a hill or a lamp on the lampstand or am I putting it "under a basket" (Mt 5:14-15+)? Or let me ask it another way so that you don't get caught trying to live by a list of do's and don'ts (subtle, grace suffocating "legalism"). Regarding whatever I am doing, ask yourself will it enhance God's reputation? Will those who watch me know that I know God from my behavior? Or will I have to apologize to them later? Ruth Graham defined a "saint" as "someone who makes it easy to believe in Jesus!" (Are you as convicted as I am?)
(Explanatory Note - If you need a push to let your light shine listen to this old kid's song - This Little Light of Mine!)
THINK ABOUT THIS -- Paul could have stopped with a solemn charge = "I solemnly charge you…preach the Word." That would have gotten Timothy's (and our) attention. But remembering that SOLEMNLY CHARGE is a courtroom term, it is as if Paul like a master prosecutor proceeds to call "4 WITNESSES" to the stand to substantiate his SOLEMN WARNING. Therefore it behooves us to not pass over these 4 truths too quickly.
(1) In the presence of God and Christ Jesus
Presence (Gk - enopion) = in the face of, in the eye of. Latin phrase Coram Deo, "Before the face of God." I have a plague someone gave me after my first teaching 34 years ago and the words still ring in my ears (I place it above my desk as I write commentaries)...
Tempus Fugit
Carpe Diem
Coram Deo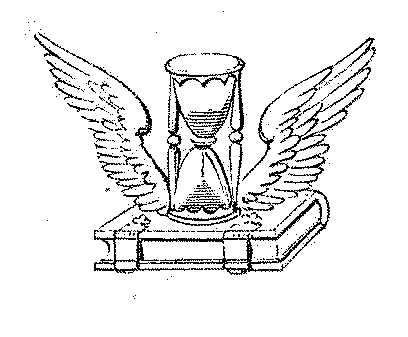 Tempus fugit - time flies (click picture to enlarge). The Bible "quantifies" our life with several powerful pictures - a breath (Ps 39:5, 144:4, Job 7:6-7), a vapor (James 4:14), a shadow...grass (Ps 102:11; Ps 37:2, 103:15, Ps 40:6-8)!
Carpe Diem - Seize the Day. Making the most of the time for the days are evil (Eph 5:16+ see Redeem the Time). (Play great song "Redeem the Time")
Coram Deo - living ALL of my life with a sense of "acute" God consciousness, in essence "practicing the presence of God"
So remember that when we are preaching the Gospel, letting Gospel light shine through us, be it in a literal pulpit or in our daily lives (our "providential pulpit"), we are doing it in the presence of God and Christ Jesus, CORAM DEO. In effect we have an audience of ONE! It is God and Christ Jesus we are to please, not men. (cf Ps 19:14NIV+, Pr 29:25, Eph 5:10+, Ro 14:18NET+, Php 4:18+, 1 Ti 2:3ESV)
APPLICATION - What if we really believed that everything we did was in the sight of God (because it is)? Would that make any difference in the choices I make this week, the words that fly out my mouth, the things I allow before my eyes? And be encouraged that the same eyes that see and assess our actions are the same eyes that supply grace…

2 Chronicles 16:9 "For the eyes of the LORD move to and fro throughout the earth that He may strongly support those whose heart is completely His."
(2) Who is to judge the living and the dead
Who refers in context to JESUS. So Jesus is to Judge the living and the dead. Not the Father but Jesus for in John 5:22 Jesus said "not even the Father judges anyone, but He has given all judgment to the Son." (cf Acts 17:31+, Jn 5:27) So the Judge is Jesus. And the living and the dead takes care of just about everyone ever born, those who have believed the Gospel and those who have not believed in Jesus!
Notice the little verb "IS" which in English does not convey that much meaning. But in the original Greek the little verb "IS" (mello) actually means something is at the point of occurring. We might say it is imminent. It is looming. The Latin word that gives rise to "imminent" is imminere which means "overhanging." Do you get a sense of the picture Paul is painting? Paul as saying "Jesus is about to come to Judge everyone and this judgement is imminent."
James 5:9 pictures it this way "Behold, the Judge is standing right at the door." (cf Mt 24:33+, 1 Pe 4:7+, Heb 10:37+)
If we really believe that Jesus' return to Judge the living and the dead is imminent ("right at the door") and could occur at any time, it would stir in our hearts a sense of URGENCY and NECESSITY TO PREACH THE WORD while there is still time. Even Jesus alluded to this sense of urgency when He declared "We must work the works of Him who sent Me as long as it is day; night is coming when no one can work." (John 9:4)
(S Lewis Johnson adds John 9:4 is "a good text for us who are believers [and still breathing]! It's important for us to remember, whether young or old, that we have just one opportunity to be faithful to our Lord, to accomplish things for Him. And it is NOW. This is our opportunity. And incidentally, if your life is almost up humanly speaking, He still has a purpose for you. You're here for a purpose, and the purpose is that in your life you may glorify Him. It's all optimism as long as you're breathing. God evidently has a distinct purpose for you.")
As Robert Moffatt said "We have all eternity to celebrate our victories but one short hour before sunset in which to win them."
(Addendum quote from missionary Adoniram Judson - "A life once spent is irrevocable. It will remain to be contemplated through eternity… If it has been a useless life, it can never be improved. Such will stand forever and ever. The same may be said of each day. When it is once past, it is gone forever. All the marks which we put upon it, it will exhibit forever… Each day will not only be a witness of our conduct, but will affect our everlasting destiny (Note: Not in loss of salvation but of rewards - cp 1Co 3:11, 12, 13, 14, 15, Jn 15:5, 2Co 5:10+, cp 1Ti 4:7, 8+). No day will lose its share of influence in determining where shall be our seat in heaven. How shall we then wish to see each day marked with usefulness! It will then be too late to mend its appearance. It is too late to mend the days that are past. The future is in our power. Let us, then, each morning, resolve to send the day into eternity in such a garb as we shall wish it to wear forever. And at night let us reflect that one more day is irrevocably gone, indelibly marked." (See page 33-34 of A memoir of the life and labors of the Rev. Adoniram Judson)
This TRUTH ALSO begs the question - to what Judgment is Paul referring? He does not state specifically but we know there are 3 main judgments –
2 Cor 5:10+ For we must (not optional) all appear before the judgment seat of Christ (bema seat), so that each one (each one individually) may be recompensed for his deeds in the body, according to what he has done, whether good (Good Deeds) or bad (phaulos = not sin, just worthless works)." (see also Ro 14:10-13+)
(ii) Judgment of the Sheep and Goats – Takes place at the end of this age, to determine which Gentiles ("sheep") who will enter His Kingdom (read Mt 25:30-46) and which ("goats") will be sent "into the eternal fire which has been prepared for the devil and his angels." (Mt 25:41) (More explanation).
(iii) Great White Throne Judgment - after the 1000 years Jesus will judge all unbelievers at the Great White Throne judgment (Read Revelation 20:11-15+).
THIS IS WHY WE NEED TO PREACH THE WORD.

THE ETERNAL DESTINY OF SOULS IN AT STAKE.
Dear pastor (dear saints) may these truths be RINGING IN YOUR EARS AS (aka "Divine Tinnitus") a constant reminder that your accountability is not primarily to the church or to the elders, but to Christ Jesus Himself to whom you will give an account.
(3) And by His appearing –
To what does Paul refer? While this could be the Rapture (1 Th 4:13-18+), it certainly describes Jesus return as King of kings and Lord of lords in Revelation 19:11-16. The word appearing is epiphaneia which literally means a "shining upon," and conveys the sense that the appearance will be sudden and unexpected.
Epiphaneia was also used of a Roman emperor's appearance in a town which would clean up all the trash before the emperor's arrival.
APPLICATION - Can you see the application to our life? IS THERE ANY TRASH YOU NEED TO CLEAN UP? Jesus is coming back as Judge and it will be sudden and unexpected.
The truth of the Second Coming is mentioned directly or indirectly in 1 in 30 NT passages so clearly the Spirit wants the Second Coming on our "spiritual radar."
APPLICATION - GOD knows that what we are looking for will (or at least should) impact what we are living for. What would happen if the church began to look expectantly for Jesus' Return?
QUOTE - The primitive church thought more about the Second Coming of Jesus Christ than about death or about heaven. The early Christians were looking not for a cleft in the ground called a grave but for a cleavage in the sky called Glory. They were watching not for the undertaker but for the Uppertaker. – Alexander Maclaren
The early church was on fire preaching the word – they were fueled by the truth that Jesus might return in their day. They had a secret way of identifying with one another – they would whisper "Maranatha." (See A Maranatha Mindset; play "Maranatha")
What impact might an expectancy of the imminency of the Second Coming have on our sermons? D L Moody the greatest evangelist of the 19th century testified that "For many years I have never given an address without the consciousness that the Lord may come before I have finished." Do you think he preached the word with Spirit empowered passion and a sense of urgency?
ILLUSTRATION - Many years ago I heard a true story about Shepherd's Home for children with developmental disabilities where they taught that Jesus would save them and one day heal them of all disabilities. The director said that his biggest problem was dirty windows Because the disabled children would press their hands, noses and lips against the windows always looking to see if today might be the day that Jesus would return for them and take them home where they will be healed of all their disabilities. Talk about having your priorities in the right place! Oh, to have the heart attitude of these precious little children! Amen!
Paul motivates Timothy and us with his second use of epiphaneia in chapter 4. This is made even more poignant because epiphanea is used only 6 times in the NT and here in Paul's last words he uses the word twice! Could his message be any clearer? (Rhetorical question).
2 Timothy 4:8+ "in the future there is laid up for me the crown of righteousness, which the Lord, the righteous Judge, will award to me on that day; and not only to me, but also to all who have loved His appearing (epiphaneia)."
APPLICATION - Do you love His appearing? Do you look for His appearing? Do you live your life in light of His appearing? DO YOU HAVE DIRTY WINDOWS (so to speak)? "Dirty Windows" lead to "Clean lives" – read the purifying hope of Christ's imminent return in 1 John 3...

Beloved, now we are children of God, and it has not appeared as yet what we will be. We know that when He appears, we will be like Him, because we will see Him just as He is. And everyone who has this hope fixed on Him purifies himself, just as He is pure. (1 John 3:2-3+)
Does this sobering truth motivate you to live with an eternal view ("Future Focus") like Jonathan Edwards America's greatest theologian who prayed
"O Lord, please stamp eternity on my eyeballs!"
Jonathan Edwards was saying that he DESIRED that every choice he made WOULD BE ASSESSED IN THE CONTEXT OF ITS POTENTIAL ETERNAL CONSEQUENCES. Dearly beloved, may that be our prayer also. Yes Lord, stamp eternity on our eyeballs. Amen
4) His Kingdom –The 4th truth to motivate us to preach the Word
How or why might the truth of "His kingdom" motivate us to preach the word? What does "Kingdom" imply? A king, correct? And we know Jesus the King is returning at the end of this age to crush His enemies (cf Da 2:35, 45+) and set up His 1000 year reign on the earth.
And guess who is coming with Him when He returns as King of kings and Lord of Lords?
In Revelation 19:14+ John writes that "the armies which are in heaven, clothed in fine linen, white and clean, were following Him on white horses."
Beloved that is us. We will return with Jesus when He comes to set up His Kingdom as depicted below...
And not only will we return but we will reign with Him for 1000 years…
Revelation 5:10+ You have made them to be a kingdom and priests to our God; and they will reign upon the earth." (Rev 20:6+ adds we "will reign for a 1000 years")
So we will return and reign with Jesus Christ in His Kingdom. And many think that the rewards we receive at the judgment seat of christ have something to do with what we will reign over in the coming millennial kingdom (read Luke 19:16-19+).
IN CONCLUSION - May Paul's solemn charge AMPLIFIED WITH THESE 4 POWERFUL TRUTHS (Coram Deo, Judgments of Jesus, His Second Coming and His coming Kingdom) motivate us ALL to earnestly seek to PREACH THE WORD.
Father may we the "divine tinnitus" of these solemn truths be kept vibrant and strong in our hearts and not be dissipated by the worries of the world, and the deceitfulness of riches, and the desires for other things. In Jesus' Name. Amen
2 Timothy 4:2 preach the word; be ready in season and out of season; reprove, rebuke, exhort, with great patience and instruction.
Paul now gives Timothy a series of 5 "staccato-like" commands like a military general ordering his junior officer.
Preach the Word
Preach the Word means preach the Gospel, the word of God, the word of truth (2 Ti 2:15+, James 1:18+), the word of life (Php 2:16+, 1 Jn 1:1+), the word of the Cross which to those who are perishing is foolishness but to us who are being saved in the power (dunamis - supernatural power) of God (1 Cor 1:18), for without preaching the word, sinners cannot be saved and saints cannot be sanctified or grow in Christlikeness (progressive sanctification).
PREACH - Verb is "kerusso" a command in the aorist imperative. You say what's that? The aorist imperative is what I like to call the "Nike Commercial" command – "Just do it!" Do it now! Don't delay! Don't procrastinate! Don't prevaricate! I picture a town crier going through town crying "Hear ye! Hear ye! "The Word of the Lord!"
And so Preach in the aorist imperative calls for us to preach with a sense of urgency. The image that comes to mind is PAUL REVERE's midnight ride (pix) to warn of danger - "The British are coming! The British are coming!" Our cry is to be even more urgent - "The Judge is coming! The Judge is coming!" "Eternity is coming! Eternity is coming!" We are to be like Peter who filled with the Spirit cried out "Be saved (aorist imperative) from this perverse generation!" (Acts 2:40+)
Preach was used of a herald who had personal access to the king and when he heard his message went out in the highways and byways proclaiming the king's message with the king's authority and those who heard were to obey. The herald did not change the message.
APPLICATION - Pastor (and this applies to all us) sit expectantly at the feet of our King during the week to hear His message so you can preach His message to His CHURCH. Don't add to it or subtract from it. Proclaim it boldly without compromise and with the King's full authority.
PREACH THE WORD – WHAT WORD?
Remember that context is king in interpretation. Most cults are started by craftily taking a text out of context. And remembering that the chapter breaks are not inspired, we see the answer clearly in the preceding context.
2 Timothy 3:15-17+ From childhood you have known the sacred writings which are able to give you the wisdom that leads to salvation through faith which is in Christ Jesus. 16+ All Scripture is inspired by God and profitable for teaching, for reproof, for correction, for training in righteousness; 17 so that the man of God may be adequate, equipped for every good work.
So there it is – the sacred writings (Old Testament) save and the inspired Scripture (Old Testament and what was written of NT) sanctifies. In summary why preach the Word? The Word alone saves sinners and sanctifies saints.
Let me add one more reason to Preach the Word, the whole Word and nothing but the pure milk of the Word, so help you God! Because only the Word of God has the following promise..
Isaiah 55:11 So will My word be which goes forth from My mouth; It will not return to Me empty, Without accomplishing what I desire, And without succeeding in the matter for which I sent it.
ILLUSTRATION - Spurgeon was to preach in a huge auditorium and went early in the day to check the acoustics. Standing on the podium he declared "Behold, the Lamb of God Who takes away the sin of the world." (John 1:29) Unbeknownst to him there were two workmen in the rafters who heard him and one of the men related later that he had been saved when he heard those powerful, piercing words!
ILLUSTRATION - When Martin Luther was asked how he was able to bring about reformation that spread through Europe he responded "I simply taught, preached and wrote God's Word; otherwise I did nothing…the Word did it all."
I love it! This ought to take the pressure off in one sense – God is not looking for preachers be clever but just be faithful to the text.
WHAT IS THE POINT OF EMPHASIZING THE INHERENT POWER OF THE WORD OF GOD? Clearly God is not asking us to make an eloquent, convincing argument for the Gospel, speaks for
"the Gospel (euaggelion) is the power (dunamis - supernatural power) of God (not our persuasiveness or perfect presentation but God's power inherent and residing in the words of the Gospel) for salvation (soteria) for everyone who believes (pisteuo), to the Jew first and also to the Greek." (Romans 1:16+).
Every PULPIT NEEDS a good foundation so that it does not topple over. And since preaching the Word is of central importance let me give you SIX pillars of WORD CENTERED preaching –
We will look at Power, Preparation, Prayer, Passion, Pattern, Purpose, but today only have time for Power.
1) Power
a) PREACH LIKE JESUS
Paul commanded us to be imitators (present imperative = continually) of him just as he was of Christ in 1 Corinthians 11:1+
So it behooves us if we are to preach like Jesus we need to know how Jesus preached. Let's look at Luke 4 – What is the context? Jesus has just been baptized in the Jordan, the Spirit has come upon Him in bodily form, and the Father has affirmed Him as "My beloved Son."
Luke 4:1 "Jesus full of the Spirit returned from the Jordan and was led around by the Spirit in the wilderness." (cf Gal 5:18+, Ro 8:14+)

Luke 4:14 "Jesus returned to Galilee in the power ( dunamis) of the Spirit." (cf Acts 1:8+)

Luke 4:15 "He began teaching in their synagogues."

Lk 4:18 "The Spirit of the Lord is upon Me, because He appointed Me to preach the Gospel to the poor. He has sent Me to proclaim (kerusso) release to the captives and recovery of sight to the blind, to set free those are oppressed."
What do we learn from Luke's description? It is clear that Jesus began His 3 year ministry in reliance upon the power of the Holy Spirit. In so doing He gave us the perfect example to imitate.
Empowered by the Spirit pastor, and you and I (even right this moment) must preach not in our own strength but in the supernatural power of the Holy Spirit.
b) PREACH LIKE PAUL
Paul said be imitators of me as I imitate Christ. We have seen how Jesus preached. Now we need to see how Paul preached, how he imitated Jesus. Specifically we want to discover what was the Source of Paul's power in preaching? In his first letter to the church at Corinth he makes it very clear…
My message and my preaching were not in persuasive words of wisdom, but in demonstration of the Spirit and of power, (1 Cor 2:4)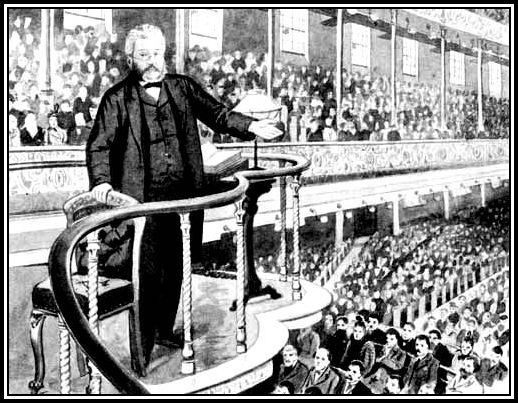 ILLUSTRATION - The Prince of preachers C H Surgeon understood this vital need in his life. In the huge Metropolitan Tabernacle Spurgeon would sing the hymns down at floor level and then he would mount the 14 steps to the elevated pulpit and with every step he took he would utter "I believe in the Holy Spirit. I believe in the Holy Spirit."
APPLICATION - In summary, pastor, imitate Paul who imitated Jesus. Rely on the Holy Spirit to empower your preaching. Preach the Word in the power of the Spirit.
ONE FINAL ILLUSTRATION - to emphasize why we must preach the Word.
Charles Haddon Spurgeon once described his adolescence "I was years and years upon the brink of hell—I mean in my own feeling. I was unhappy, I was desponding, I was despairing. I dreamed of hell. My life was full of sorrow and wretchedness, believing that I was lost."
In God's amazing providence, He sent a fierce snowstorm, so violent that the 15-year-old Spurgeon's path to church was diverted down a side street. For shelter, he ducked into the Primitive Methodist Chapel on Artillery Street. And because the storm forced the pastor to stay home, from among the 12 or so who were there that day an unknown layman stood up and opened the word and read.
Isaiah 45:22 "Look to Me and be saved, all you ends of the earth; For I am God, and there is no other. (NKJV)
Spurgeon writes "He did not even pronounce the words rightly, but that did not matter. There was, I thought, a glimpse of hope for me in that text. The preacher began thus:--'
'My dear friends, this is a very simple text indeed. It says, 'Look.' Now lookin' don't take a deal of pains. It ain't liftin' your foot or your finger; it is just, 'Look.' Well, a man needn't go to College to learn to look. You may be the biggest fool, and yet you can look. A man needn't be worth a thousand a year to be able to look. Anyone can look; even a child can look. But then the text says, 'Look unto Me.' Ay! ....''Many of ye are lookin' to yourselves, but it's no use lookin' there. You'll never find any comfort in yourselves. Some look to God the Father. No, look to Him by-and-by. Jesus Christ says, 'Look unto Me.' Some on ye say, 'We must wait for the Spirit's workin'.' You have no business with that just now. Look to Christ. The text says, 'Look unto Me.' ''
Then the good man followed up his text in this way:-- (AND IT IS POSSIBLE THIS UNKNOWN PREACHER HAS A WORD FOR SOMEONE HERE TODAY. IF SO DON'T RESIST THE SPIRIT'S WORK IN YOUR HEART AND IF HE WORKS COME TALK TO ME AFTER THE SERVICE).
''Look unto Me; I am sweatin' great drops of blood. Look unto Me; I am hangin' on the cross. Look unto Me; I am dead and buried. Look unto Me; I rise again. Look unto Me; I ascend to Heaven. Look unto Me; I am sittin' at the Father's right hand. O poor sinner, look unto Me! Look unto Me!''
When he had gone to about that length, and managed to spin out ten minutes or so, he was at the end of his tether. Then he looked at me under the gallery, and I daresay, with so few present, he knew me to be a stranger. Just fixing his eyes on me, as if he knew all my heart, he said,
''Young man, you look very miserable.''
Well, I did; but I had not been accustomed to have remarks made from the pulpit on my personal appearance before. However, it was a good blow, struck right home.
He continued,
''and you always will be miserable--miserable in life, and miserable in death,--if you don't obey my text; but if you obey now, this moment, you will be saved.''
Then, lifting up his hands, he shouted, as only a Primitive Methodist could do,
''You man, look to Jesus Christ. Look! Look! Look! You have nothin' to do but to look and live.''
I saw at once the way of salvation. I know not what else he said,--I did not take much notice of it -- I was so possessed with that one thought." (See C.H.Spurgeon's Testimony)
AND AS THEY SAY, THE REST IS HISTORY AS SPURGEON BECAME THE MOST POWERFUL PREACHER SINCE THE TIME OF JESUS AND PAUL.
My prayer for each person hearing my voice is…
Father motivated by the truth of Paul's solemn warning continually ringing like "divine tinnitus" in our ears and empowered by Your Holy Spirit, may we all seek to daily preach the Gospel with our life and our lips, so that we too might be able to confidently say with our last words "I have fought the good fight, I have finished the course, I have kept the faith" and then to hear those blessed words from Jesus, "Well done my Good and faithful servant. You have been faithful over a little. I will set you over much. Enter into the joy of your Master." Let it be so Lord. In the Name of our Lord Jesus Christ, our soon coming King of kings and Lord of lords. Amen
Book